Every once in a while, when we are in a hurry or just want something simple to eat, we make the sandwich. Depending on what place on the planet you live in, the sandwich is different, and it's usually made with the most common ingredients in that country.
For example, if you live in Switzerland, it's more likely that your sandwich would consist of lots of cheese. By definition, a sandwich is a food item consisting of one or more types of food placed on or between slices of bread; you get the idea.
We have gathered some unusual sandwich recipes from all around the globe, which is very simple to make, and of course, they are very delicious. What's your country's special sandwich?
1.Turkey and Cranberry Chutney Sandwich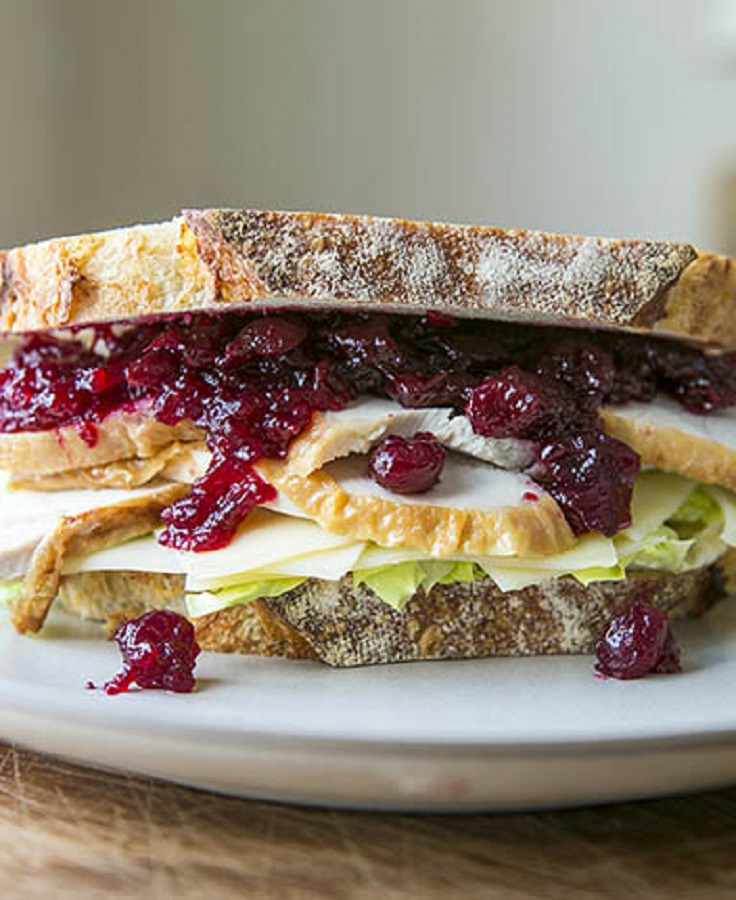 via spoon.com
Have some leftover turkey and want to be creative with it? Make this delicious sandwich using: slices of thick sourdough bread, 2 large leaves of lettuce, 3 slices of Swiss cheese, leftover turkey, 2 tablespoons cranberry chutney, and 1 tablespoon mayonnaise. Spread the mayo on the bread, place the lettuce leaves and the turkey, top with the cranberry chutney, and add the top layer of bread.
2. Double-Onion Turkey Sandwich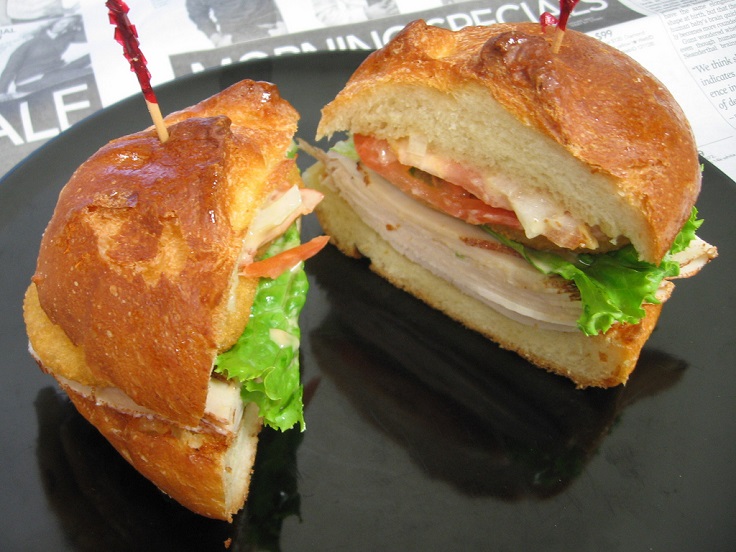 via flickr.com
Are you a lover of those sweet onion fries? Add them to your sandwich and reach the heavens. Ingredients: 1 tablespoon mustard, one soft onion roll, 2 ounces of turkey, 2 slices of tomatoes, 2 pickles and a couple of french-fried onions, and 2 slices of bread. Spread mustard on bread, add the rest ingredients and top with the other slice of bread.
3. Ham and Pickled Tomato Sandwich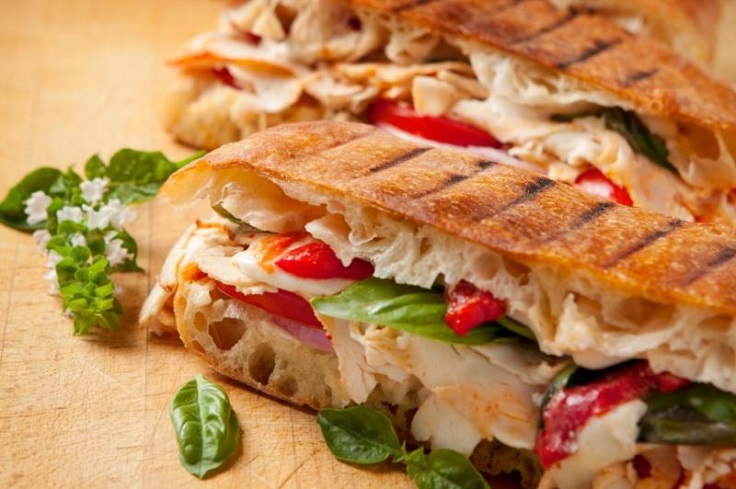 via picassodeli.com
Instead of using slices of bread for this sandwich, get a baguette and taste the south of France. Ingredients: 1 tablespoon butter, baguette, 2 ounces ham, 2 pickled tomatoes, 2 leaves radicchio. Spread the butter on the baguette, place the ham, the pickled tomatoes, and the radicchio.
4. Tropical Ham Sandwich
This is a typical Hawaiian sandwich known to every household. Ingredients: 2 slices pumpernickel bread, 2 ounces ham, 2 slices pineapple, 3 ounces fresh mozzarella, 1/4 cup basil leaves, and 2 teaspoons olive oil. On the first slice of the bread, place ham, pineapple, mozzarella, and basil. Drizzle with oil and add the other layer of bread on top.
5. Roast Beef and Sweet Cherry Pepper Sandwich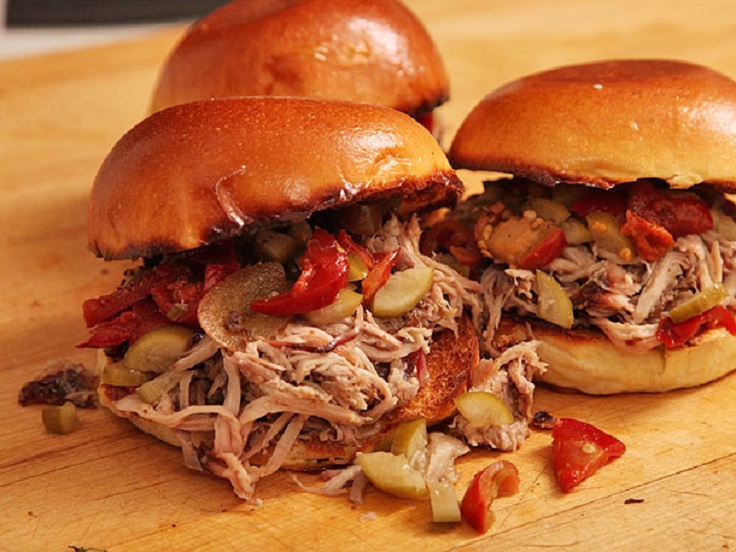 via seriouseats.com
Let's move on to pork. For this flavor blasting sandwich, you will need 1 ciabatta roll, 2 ounces thinly sliced roast beef, 4 pickled sweet red cherry peppers, 2 teaspoons capers, one lettuce leave, and 1 tablespoon olive oil. To the bottom half of the roll, add the roast beef, peppers, capers, and lettuce. Drizzle some oil and add the top layer of the sandwich.
6. Roast Beef, Gouda, and Apple Sandwich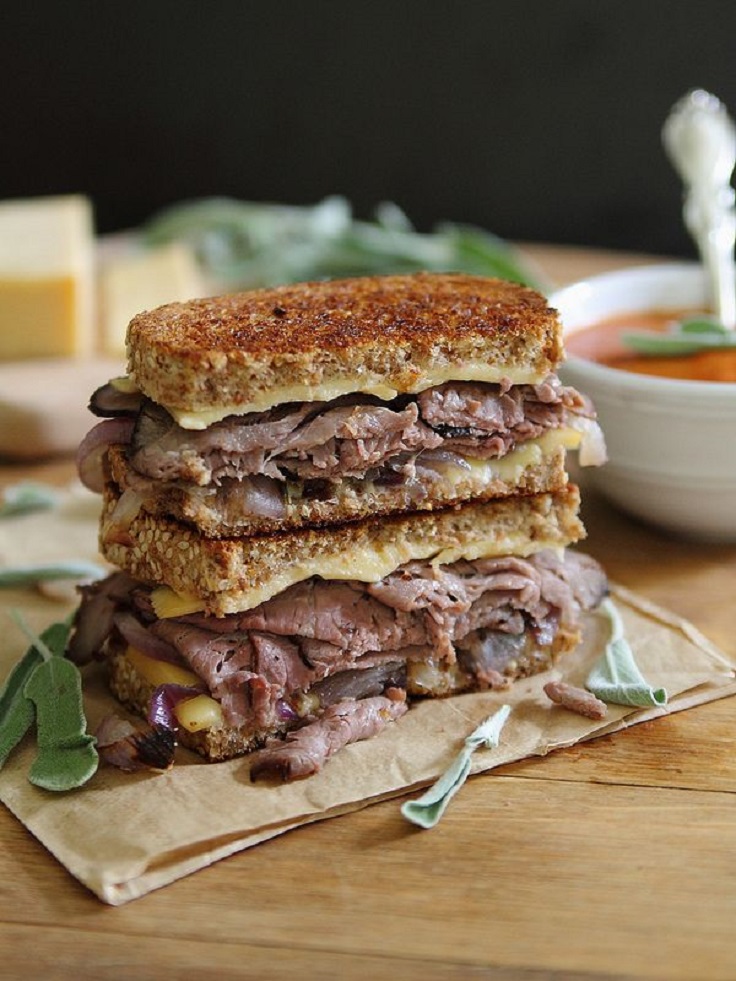 There are two versions of this sandwich: regular and grilled. If you prefer the grilled one, then make the basic sandwich toss it in a heated skillet. Ingredients: 1 tablespoon mustard, 2 slices challah bread, 2 ounces thinly sliced roast beef, 1 ounce sliced Gouda, 1/4 apple, 1/2 cup watercress. Spread the mustard on the bread and add the roast beef, Gouda, apple, and watercress.
7. Avocado and Snow Pea Sandwich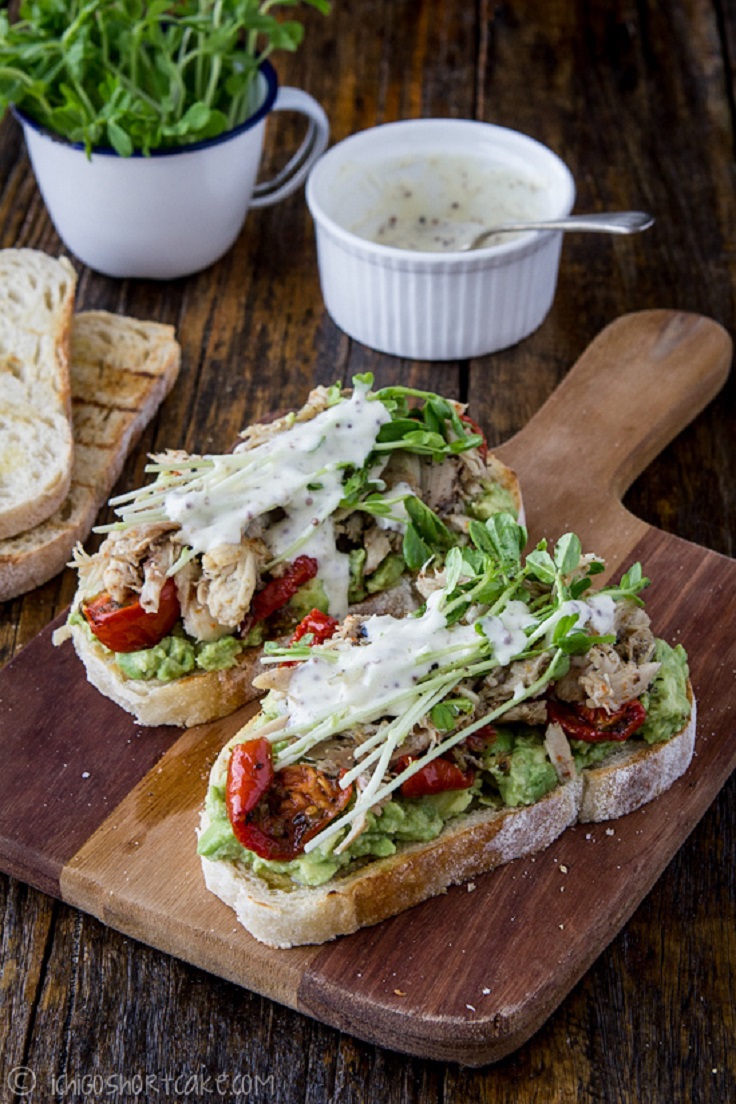 A great way to start the day with this avocado sandwich, you will need 150 g  chicken (roast or poached), 4 slices sandwich bread, 2 tablespoons mayonnaise, 1 tablespoon lemon juice, 1 tablespoon mustard seeds, 10 pieces semi-dried tomatoes, 30 g snow pea shoots, 1/2 large avocado, salt, and pepper to taste and olive oil to drizzle. In a small bowl, mix mayonnaise, lemon juice, mustard seeds, and a dash of olive oil. Add the mashed avocado seasoned with lemon juice and salt and pepper. The spread avocado mixture on bread, add the tomatoes, chicken, and tomatoes. Add mayonnaise and drizzle with olive oil.
8. Peanut Butter, Celery, and Raisin Sandwich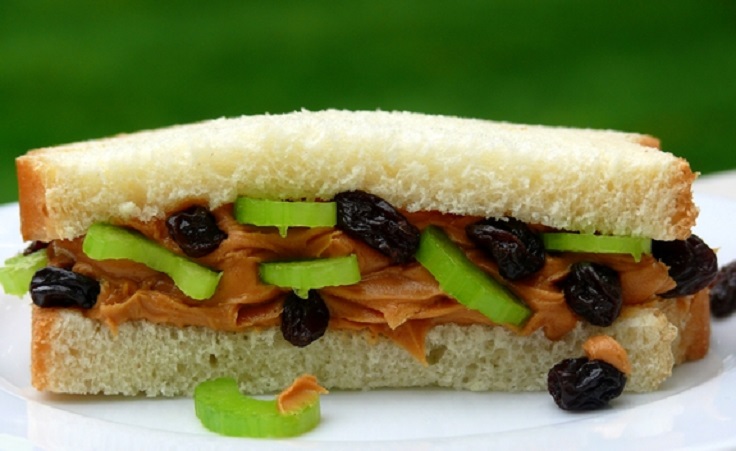 via noblepig.com
This is a very simple but unusual sandwich consisted of peanut butter, some celery, and 2 tablespoons of raisins. Spread peanut butter on a slice of bread, add the sliced celery and raisins. Top with the other slice of bread.
9. Honey and Cheese Grilled Sandwich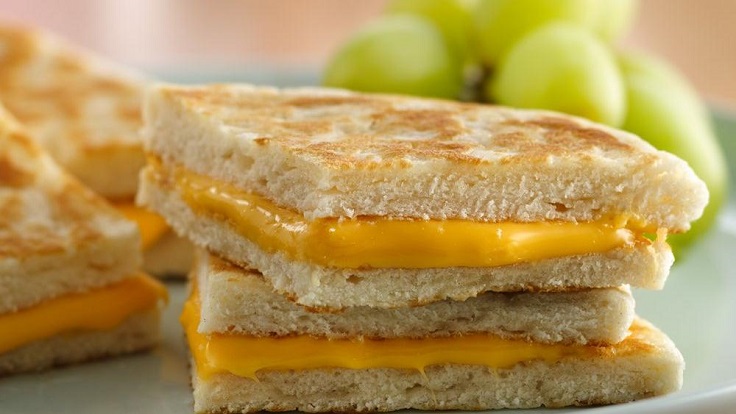 via pillsbury.com
Do you only have some cheese leftover in your fridge? No problem. This 2 ingredient sandwich is a way to go. You will only need some cheese and honey. Heat the skillet and fry the bread slices. Add the cheese, add the top layer of bread, and drizzle with honey.
10. Chocolate Spread, Strawberries Grilled Sandwich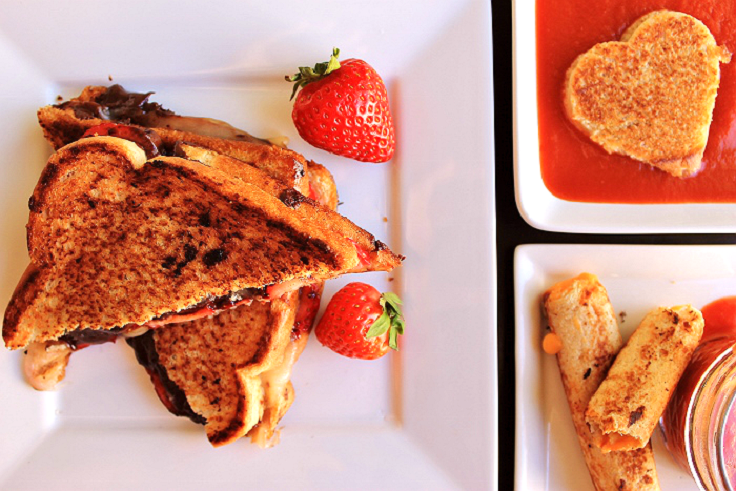 Another sweet sandwich recipe is this grilled chocolate sandwich with fresh strawberries. You will need hazelnut cream, a couple of fresh strawberries, and 2 slices of bread. Layer each slice of bread with chocolate and add the sliced strawberries. On a medium heated skillet, add the sandwich and remove from heat after 2-3 minutes.