Don't you just hate when your favorite earrings get lost because you don't have a safe place to put them and they get scattered all over your purses, make up boxes and the toilet cabinets.
That is not how you should store and take care of your jewelry. Jewelry are very fragile things,often times small and valuable, that is why we have some of the best ways to store them and keep them safe and sound. And why not showing off your jewelry while keeping them safe at the same time?
There are many ways to store jewelry, it all depends of the space you have and the effort you are ready to put in. Keep your precious jewelry safe and untangled with these simple storing ideas that will beautify your home. What do you think?
1. Make a Jewelry Tree
via greenderella.com
It is so simple, the only thing you need is a big branch, some stones and a glass bottle. In the glass bottle put the stone/sand and the branch. On the branch place the jewelry and put the vase on your dresser or on your table.
It might also be a good idea to put aside the gold jewelry you no longer wear and try selling it to your local gold buyer to make more room and earn some cash instead of letting it collect dust on your table.
2. Picture Frame Jewelry Store
via thedesignfile.net
It's so simple and easy to make. Just get the back part of the frame, using a hammer and some thumbtacks place wires that go from the one end of the frame to the other. Hang your earrings on the wires and that's it.
3. Martini Glass
via wikihow.com
If you are not the DIY-person, then do this simple storing hack. Place your earrings at the edges of a glass. No more messy, tangled earrings. If you don't have a glass then get your old coffee mug and use it this way.
4. Hinged
via eyesofstyle.com
If you like to make this vertical display to hang your jewelry then you will need: Two wooden blocks, some hooks, hinges and spray paint. Start with spray painting the wood. Attach the hinges. Start drilling holes fr the hooks and put the hooks in the wood.
5. Tie rack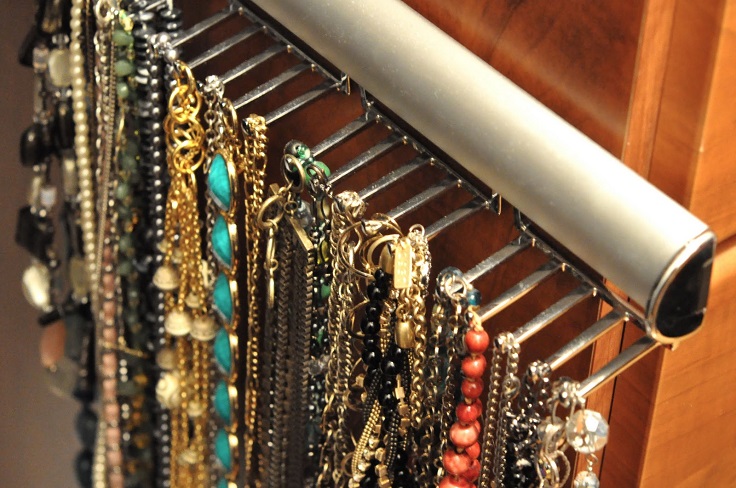 via style-n-naina.blogspot.com
Let your jewelry hang in your closet on the tie racks. By hanging your jewelry you prevent tangling and ripping. So make some space on the tie rack and hang your necklaces, earrings and bracelets.
6. Plastic Trays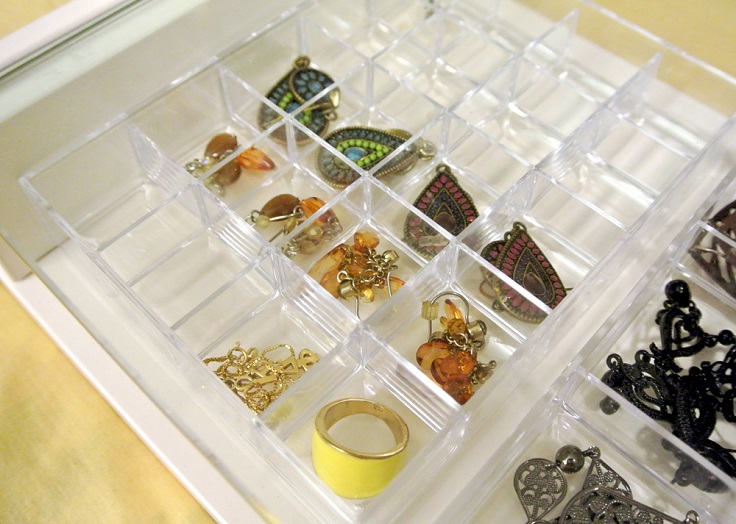 via mstapioca.com
These kind of plastic trays are perfect for storing smaller jewelry like earrings, rings, small bracelets. You can put the earrings separably or in a one  compartment. Make sure you get an transparent one, so you will be able to see what is in the compartments, and that is how you will wear jewelry more often because they are easy at reach. This method is also ideal for storing your preowned engagement ring safely and keeping it free from damage. By having a designated spot for your vintage engagement ring, you can ensure it remains in good condition and retains its value over time.
7. Burlap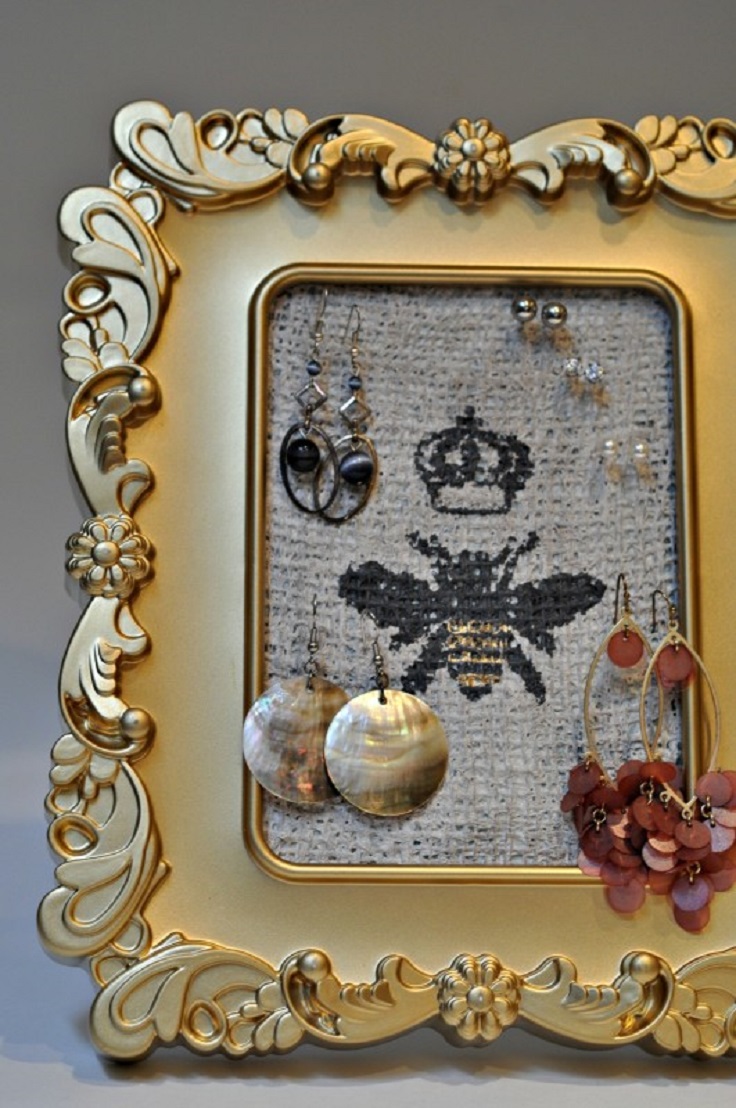 via suburble.com
Get some picture frames and paint them so they look fresh(optional). Paint the burlap and stuck it on the cork board. Wait until the paint is completely dry and then you can easily hang jewelry without them falling down. If you want to spice things up, get a shaped stencil and paint it on the burlap.
8. Driftwood Hanger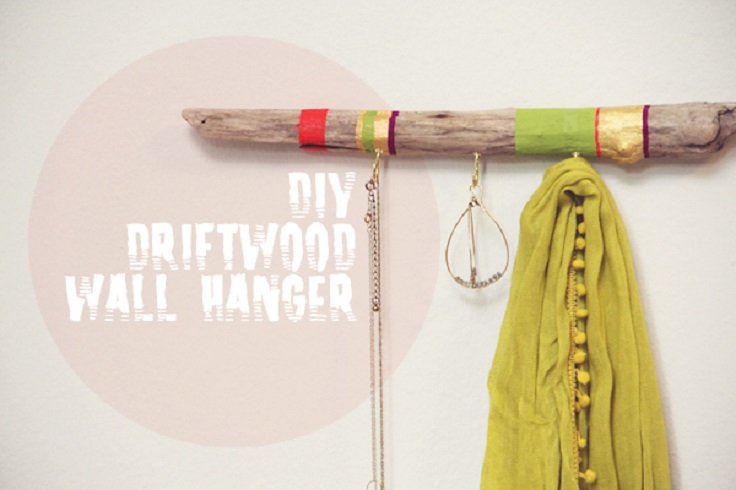 via lovelyindeed.com
Make this rustic looking jewelry hanger with little effort. First, choose a wood and decorate it. make stripes, dots, whatever you prefer. Choose the flatter side of the wood and hang picture hangers. At the other side of the wood hang hooks for the jewelry to hang on.
9. Clothing Hanger
via lovelyindeed.com
Grab your old coat hangers (make sure they are wooden). On the inner side attach hooks for the jewelry to hang and then place the hanger on your wall. This is one of the best ways not to tangle your jewelry and keep them visual.
10. Grater
via endlessacresfarmtiques.com
Be an open minded person, see beyond the rustiness. Do you have an old grater? Good. You will only need a spray paint. Paint the grater, let it dry out for couple of hours and then hang your jewelry inside the holes. Creative!