Have you ever even thought about it, that it is possible to make something this awesome with the shells from the pistachios you eat? You will totally change your mind about this thing that you usually throw away after reading this post.
The pistachios have an amazing taste, but also they have a price that not everyone can afford very often. But as we said, this will totally change the way you look at them, because besides that, you will eat that delicious green seeds, you will also have material for your new DIY accessory projects.
Their hard shells will allow you to manipulate with them, make holes to add chains, paint them, and many other things that you will learn if you read the whole article. Don't forget to tell us which is the one that catches your eyes!
Pistachio Shell Halter Top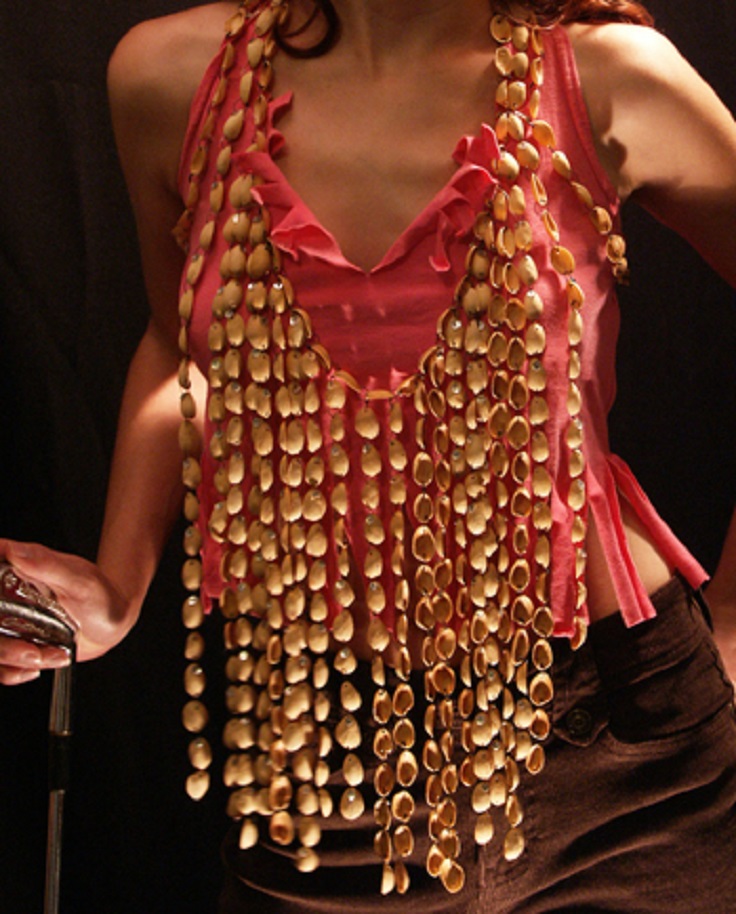 One of our favorite projects from this post is definitely this one. You can decorate every simple shirt with this gorgeous halter top. This sure takes a lot of work, but it is sure worth it a lot!
Gold Pistachio Necklace
via guide centre.al
Paint them in gold, then glue them one to each other in a way that you will be sure that they are safe and secure. When the glue dries, make two holes to attach the chain. There you have your fancy gold necklace.
Mint Pistachio Shell Necklace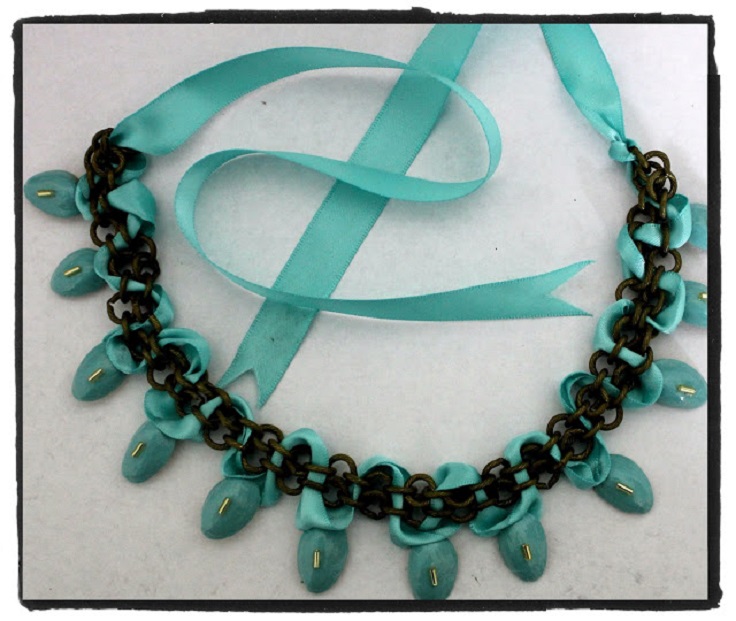 via trythisdiy.com
If you like the mint blue color, you will probably want to know more about making this cute necklace. Find out just how by clicking the link. You will need many things here, chain, ribbon, beads, nail polish in mint color, and of course – pistachio shells!
Pattern Tissues Pistachio Necklace and Earrings
via radhika-hobbycrafts.blogspot.com
If you want to do one easy necklace, that this one is for you. To create that beautiful patterns, you can use pattern tissues that will save you from the effort of drawing every shell one by one. But, if you enjoy that process, then you can use henna for the drawings.
Nude and Gold Nail Polish Pistachio Necklace
via kittenhood.ro
To make this look, you should first find a piece of felt, then some pistachio shells, glue, and your favorit4e nail polish. The first thing you should do is think about the shape and design that you want your necklace to be, and if you already like the one in the picture, you will have an easy and fun time doing it.
Breaded Dangle Earrings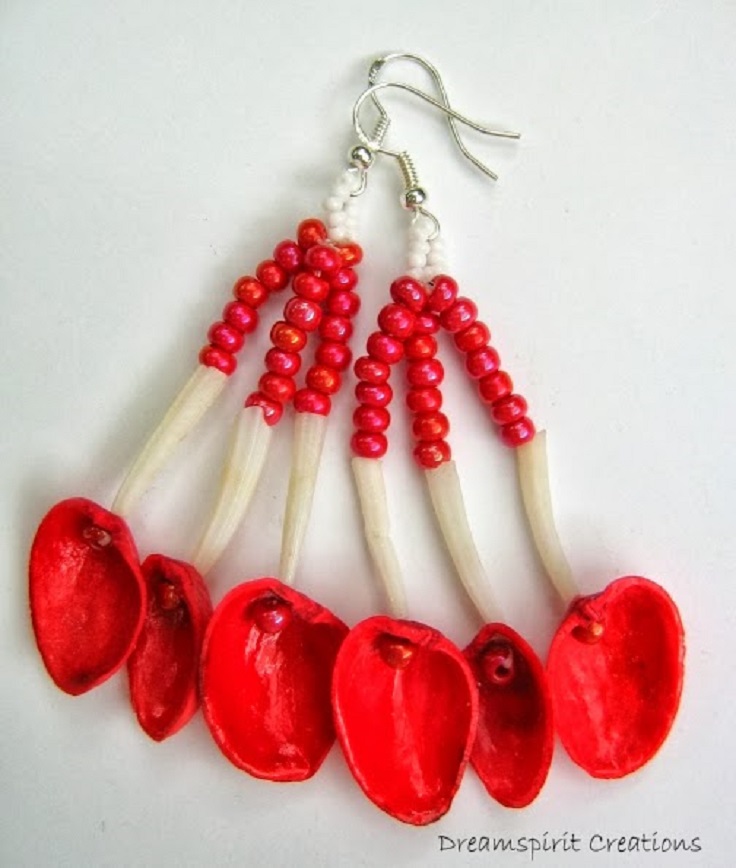 via theekissoflife.blogspot.com
If you would like to know how to make these cute red dangle earrings, you will learn in a moment. Choose how many pistachio shells you want to use, create one hole on the upper side to each of them. Paint them red, and attach them to one thread that has a little bead in the middle, connect the two ends of the thread, and put them into the hole of the shell. Then by your choice, add beads the way you like them, and when you repeat the process for the other ones, you can finish by adding earring findings.
Pistachio Nut Shell Hair Falls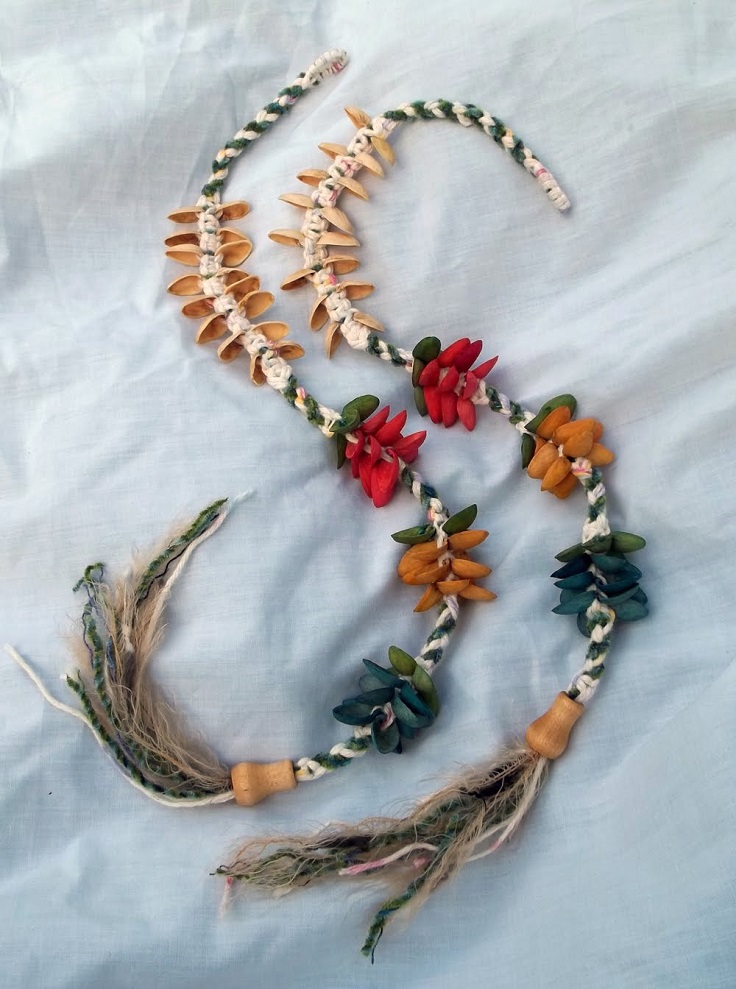 Accessorize your hair and make this beautiful hair falls, you can use them for yourself or make them a gift. They are both for women and girls. Every different style allows different things, so if you are into hair falls, I hope you enjoy this one.
Pistachio Shell and Bead Necklace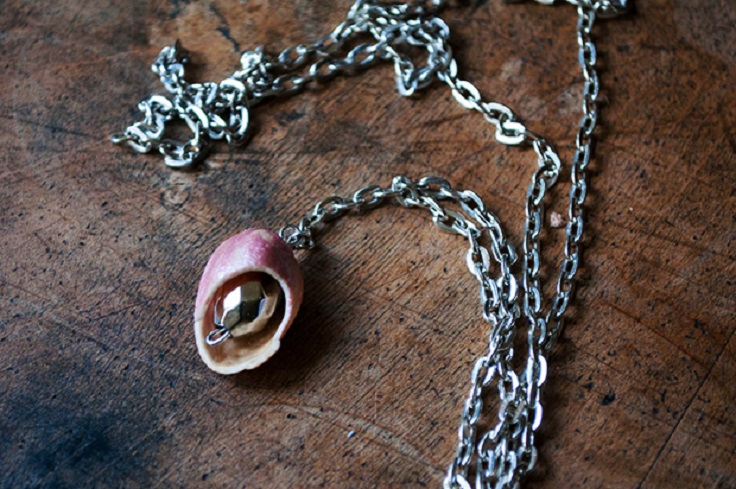 via kittenhood.ro
For this one, you will have to get the pistachio out of its shell very carefully and in a way that the shell is not completely opened. When you do that, the next thing is to paint the shell with the color you want and add the bead inside. Good luck with this cute necklace.
Pistachio Ombre Necklace
Here is one great idea, how to make an ombre pistachio shell necklace all by yourself. You sure are already guessing that the main thing for this look is the nail polish, and you are right! Do not spare your pistachios this time; eat one fair amount and then paint the shells that are left in different colors, in a way that they will go from dark to light, to create one beautiful ombre look.
Tribal Bracelet
The tribal style will never fade out because it takes its roots from how fashion never even existed. And today, where there are millions of styles and rules, the tribal touch is still present. So if you like that kind of look, then you can consider doing this one.