Garden lovers don't necessarily have to stop working outdoors, even in the winter. Many plants thrive in autumn and winter in the garden as well as in containers.
The weather is often mild enough to sit outside, so why not dress up your balcony with nice evergreens, shrubs, or herbs? Even when it gets too cold, it is so nice to look out your window and watch your colorful plants blooming. We have put together a list of plants that will survive the chilly months, giving your balcony or patio a face-lift.
1. Winter Heathers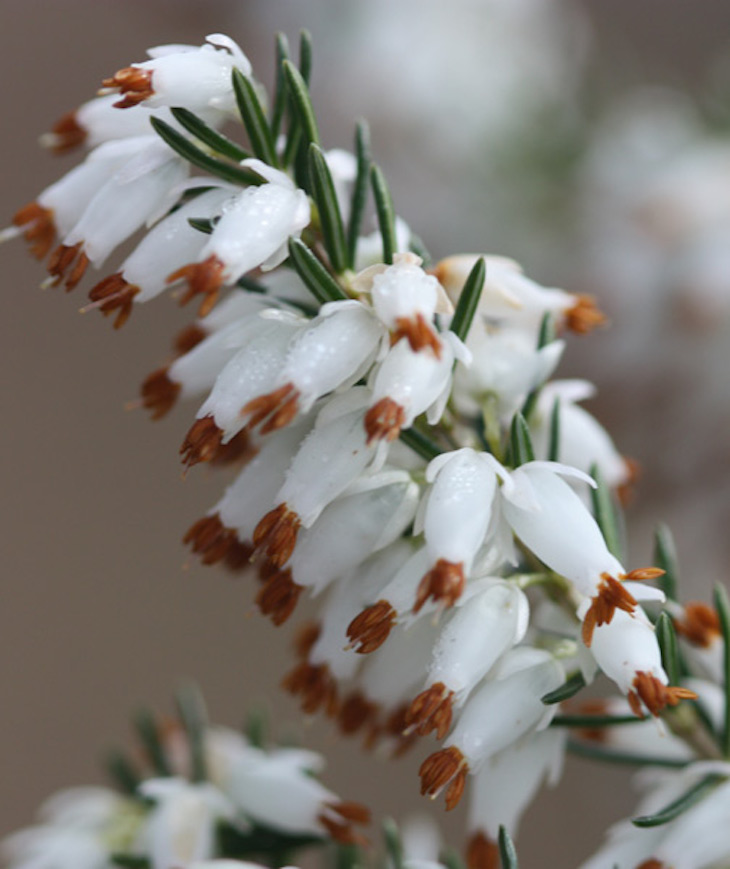 via www.crocus.co.uk
Winter-flowering heathers such as this beautiful Erica carnea are fully hardy, and they love the wind and rain. Pretty white, urn-shaped flowers appear from January to March among bright green foliage. They are perfectly suitable container plants. Plant them in a pot or container on your balcony, and you will have a blooming plant during the coldest months.
2. Dwarf and Slow-Growing Conifers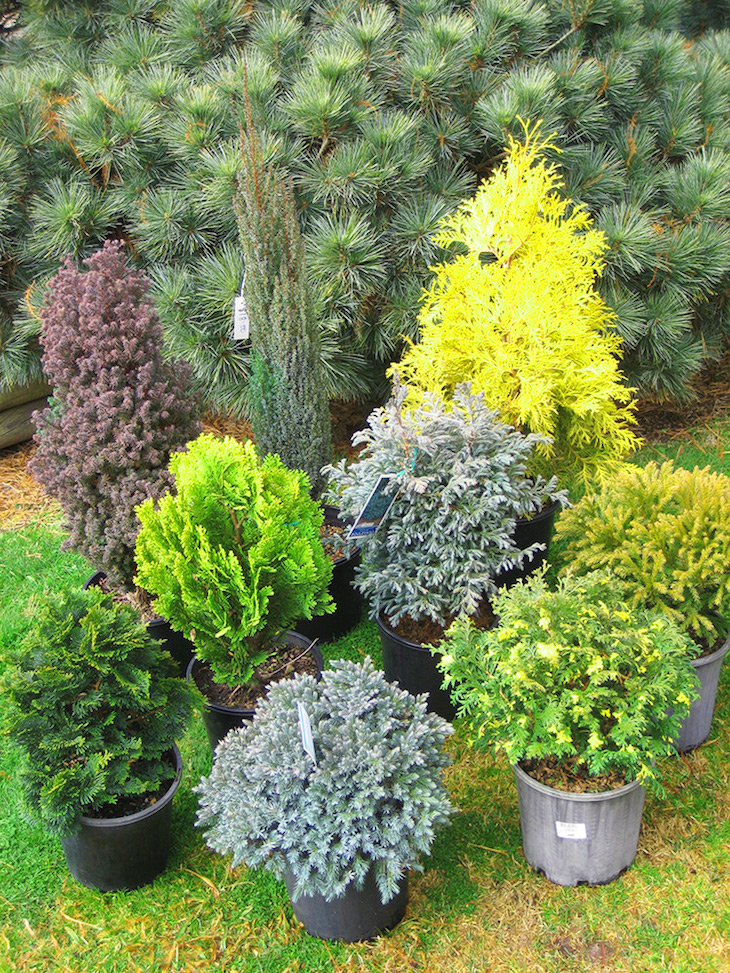 via www.rossconifers.com
Conifers will give your garden or patio structure and color even in wintertime when other plants die down. They are also good companions for heathers providing bright green foliage. Juniperus communis, also called 'Compressa,' is a dwarf, cone-shaped variety that will look beautiful on your balcony.
3. Climbing Plants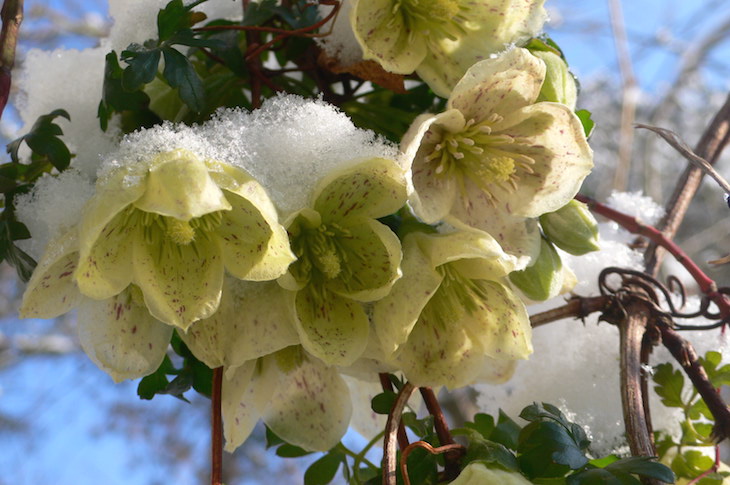 via www.secretgardens-bs.ch
There are just a few climbing plants in bloom in the depths of winter. One of them is the beautiful Clematis cirrhosa var. balearica. With its fragrant, creamy-white flowers and bronze-tinted evergreen leaves, it will be an eye-catching plant on the otherwise empty patio. There are other climbers such as Lonicera fragrantissima or Clematis cirrhosa that will survive winter.
4. Ornamental Kale and Cabbage
To create a unique texture on your balcony, plant some cool-looking ornamental kale and cabbage varieties. They are some of the most popular winter plants. Watch how the inner leaves begin to develop their pink shades as soon as the temperature gets below 10°C (50°F). They can be used as an excellent garnish or just attractive winter foliage in the garden.
5. Holly and False Holly
via www.monrovia.com
False Holly or Variegated osmanthus is a small evergreen shrub with holly-like leaves irregularly spined and dark green edged in creamy-white. These two shrubs are great winter plants that will attract birds to your container garden and provide privacy as hedge, border, or foundation plants.
6. Swiss Chard and Kale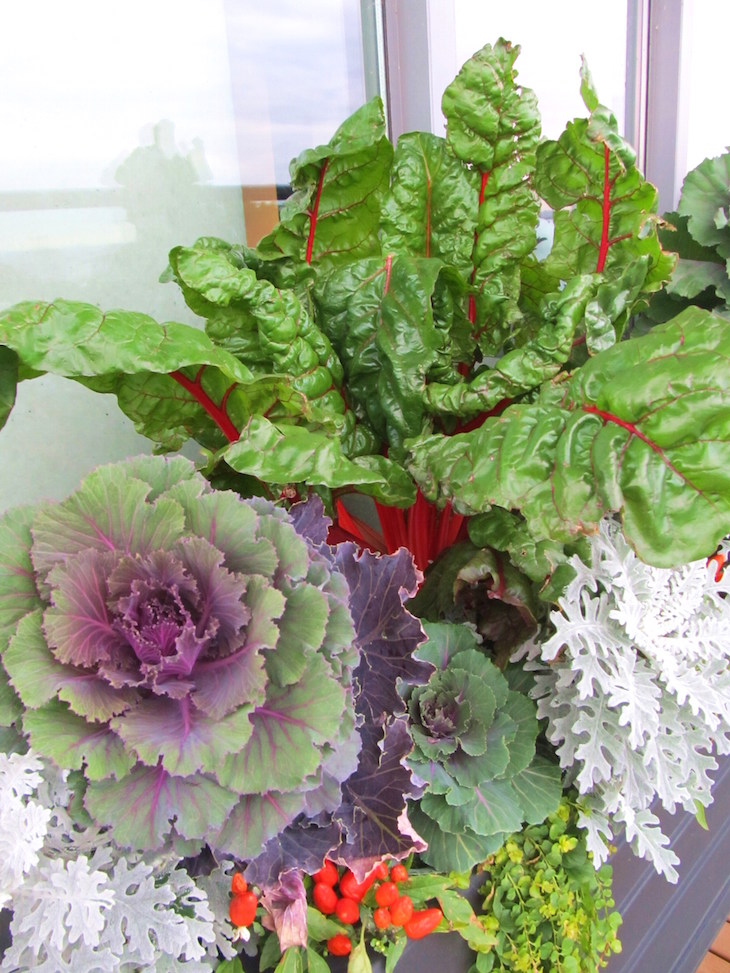 via verkadedesign.wordpress.com
Swiss Chard is a popular vegetable grown for fall, highly nutritious, and super tasty. Some varieties don't perform well in the cold season, while others are remarkably cold-tolerant, surviving dips to 15 °F (-10 °C) without protection. Green or white chards are more cold-hardy, and one of your best bets is variety Vates.
7. Christmas Box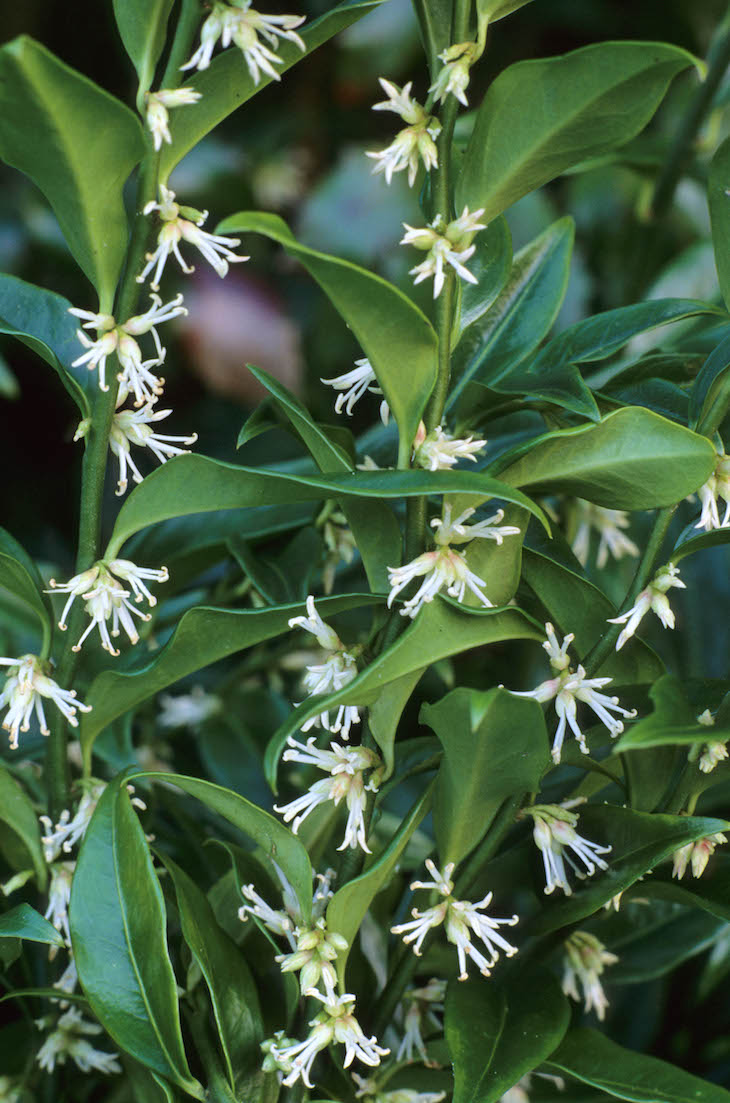 via www.monrovia.com
Sarcococca confusa is an evergreen shrub with dark, glossy green foliage and tiny creamy white flowers. The sweetly scented flowers are followed by glossy blackberries that will attract birds on your patio or balcony.
8. Coral Bells, Heuchera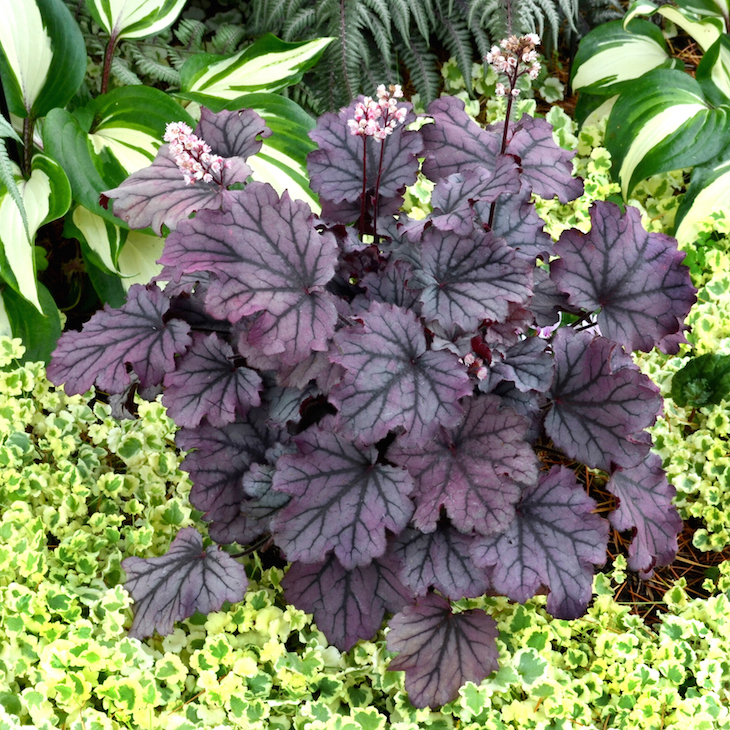 With its colorful foliage, Heuchera is the perfect perennial to brighten up your balcony throughout the winter season. Also called Coral Bells, this plant comes in various color varieties. The leaves can be heart-shaped, rounded, triangular, smooth, wavy, or ruffled, and the coloration is also very versatile. There are amber, bronze-green, green, gold, pink, purple, and silver veined varieties.
9. Hellebores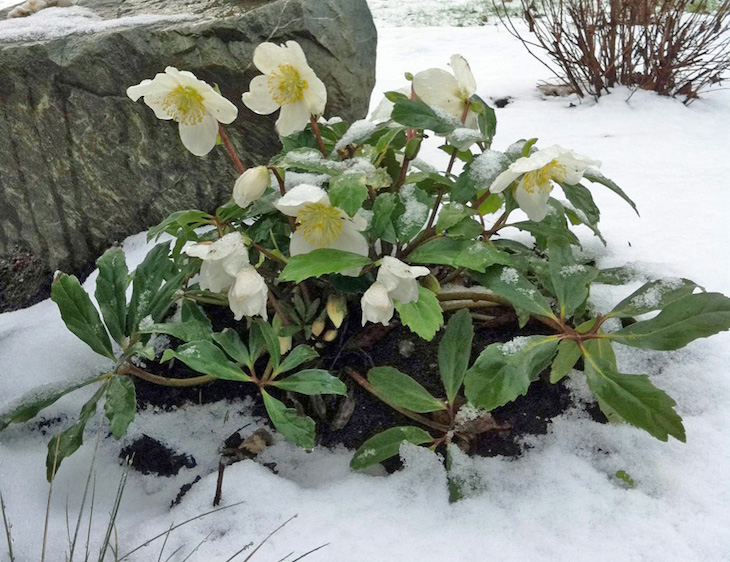 via blackgold.bz
There are not many plants that are actually blooming in the snow in January, but Hellebores are one of them. This pretty winter gem can withstand the cold, wind, and rain, thriving in the coldest time of the year. Their elegant flowers and evergreen foliage is perfect for brightening up the containers.
10. Creeping Thyme
via static.99roots.com
Creeping Thyme is an evergreen subshrub with typically aromatic foliage that you can use for cooking similarly to other Thyme varieties. In summer, the plant will have clusters of purple blossoms that are very attractive to bees. This mat-forming plant, keeping low to the ground and spreading steadily, can fill in areas as a ground cover as well.