You may have been imagining your dream home for years. But, aren't you tired of just fantasizing about it and not doing anything?
Dreaming is nice, but you won't get anywhere without taking the actual steps toward building it to reality. And, today is the day that you should finally stop dreaming and start designing your dream home for actual construction. 
Here are some tips on how you can achieve a home design that suits your preferences and needs:
1. Consider Your Life And Future
First off, you need to start by taking a closer look at your lifestyle and take it from there. 
Do you want a lovely outdoor patio to relieve your daily stress or are you more of an indoor person?  Are you obsessed with cooking?  Do you like watching movies?  Are you into gardening?
You need to ask yourself what you want in your home. This should depend whether you're single or have a family. Goal planning and setting should help you know how you want your home to look and feel like. 
Do you have aging parents?  Do you have kids?  Planning to have more in the coming years?  A growing family will have a different preference than, say, a couple reaching retirement age. 
Basically, when you plan the design of your house, you need to think about the amenities that your future self and family will be thankful for. 
2. Set A Budget
Most people would ask, "How much will my dream house cost?"  However, the correct question should be, "How much house can I actually afford?" 
This should help you in getting a more realistic figure and making your vision clearer. But, before you can truly set a budget for your dream home, you need to make sure to pay off any debt you have. It's best that you start designing your dream home with a clean slate. 
Then, when you set a realistic budget, it will be the principal guiding force for the design process to move forward. If this is your first time, then you need to set up a different budget, which will include land fees and taxes. It should also include professional fees for your team, as well as budget for construction, materials, decorating, and furniture. 
3. Come Up With A Floor Plan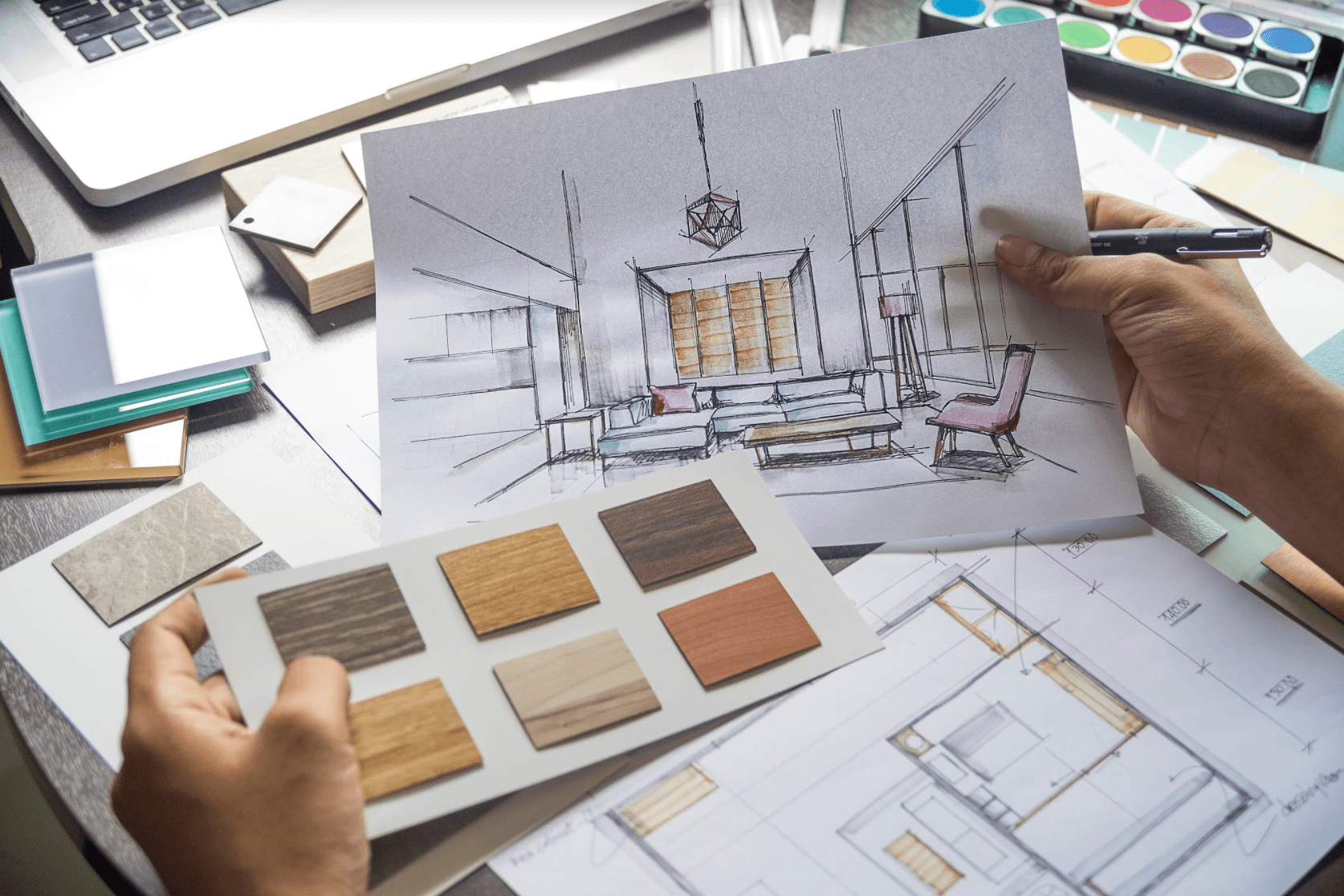 Yes, you've already imagined it, but you need to create a physical expression of your dream home. You can sketch out a rough floor plan of your home. You can block out the basic area layout—bedrooms, kitchen, dining laundry, bathroom, and any other room or area you want. 
If it's a multi-story home, then make sure to focus on completing one level at a time. This should help keep your floor plan from getting confusing. 
If you have the skills or want a more professional floor plan presentation, then you can use software. Programs like Home Designer Suite, SketchUp, and even mobile apps, like Room Planner, can make it easy to bring people's home designs to life on a digital screen. 
They offer various tools and features that can help you in recreating every aspect of your hand-drawn or imagined floor plan. You can find free versions of virtual home design apps and software. However, if you want a full range of tools and sophistication when designing, you can get a paid version, which typically costs you USD$50 up to USD$100. 
4. Visit Open Houses
While you may already have a home design in mind, it doesn't hurt to visit open houses in order to get fresh ideas and experience how certain home designs feel in person. 
They can also help you in figuring out what kind of home is in your price range and what ideas you can adopt. They should provide you with insights into the latest home design trends. And, since most open houses are often done on a budget, it can help get your creative juices flowing on how you can incorporate these wallet-friendly tricks to design your home. 
5. Consider The Location
Not every home design and style will work equally well in a specific setting. Although your main task is to imagine how your living space will look, it's equally important that you gather information about the land or area where your home will be situated. 
For instance, is there a supermarket or a gas station within a fair distance?  Do you have access to necessary services or will your home be isolated?  How long will your commute to work or the nearest social hub be? 
Also, keep in mind that it can be more difficult to build a home on rocky or uneven terrain, or near hills. Also, there'll be additional expenses on excavation. Also, there'll be additional expenses on excavation, especially for the rocky terrains, as well as adding fill dirt in order to provide a level base for your home's foundation.
6. Consult With a Professional Designer
Whether you're having a tough time finalizing your home design plan or ready to finally put your ideas to reality, make sure to consult with a professional home designer. It doesn't have to be intimidating or expensive. 
A reliable designer should be able to point out any problem area on your design and work around your design ideas. They can also offer you modern insights, helping you to choose in-between ideas and guiding you throughout the process. With a professional designer, the designing process should be as simple as possible, and help you start your building journey as soon as possible, without a hiccup. 
Finalize The Design 
Once you and your professional architectural designer have your floor plans looking the way you want them, without any functional problem, it's time to hand them off to the building team. However, you still need to accept last-minute changes in plans in case part of your home design proves unfeasible for your contractor. In general, your designer should help connect you with a reliable contractor. Together, your design and construction team should help break ground on your future home.