Amerisleep has been named as the best memory foam mattress for adjustable beds in 2022. The news follows the release of the list of recommended mattresses for an adjustable bed by sleep experts, EachNight . The 12-inch mattress is made using plant-based memory foam, which makes it perfect for couples that are eco-conscious.
The two-inch Affinity layer is made using HIVE® technology and features hexagonal segments that are designed to support various body parts. Heavier areas of your body, such as your hips and shoulders are supported by softer segments. Lighter body parts, such as your head and legs can rest upon firmer segments of the mattress.
What is an adjustable bed?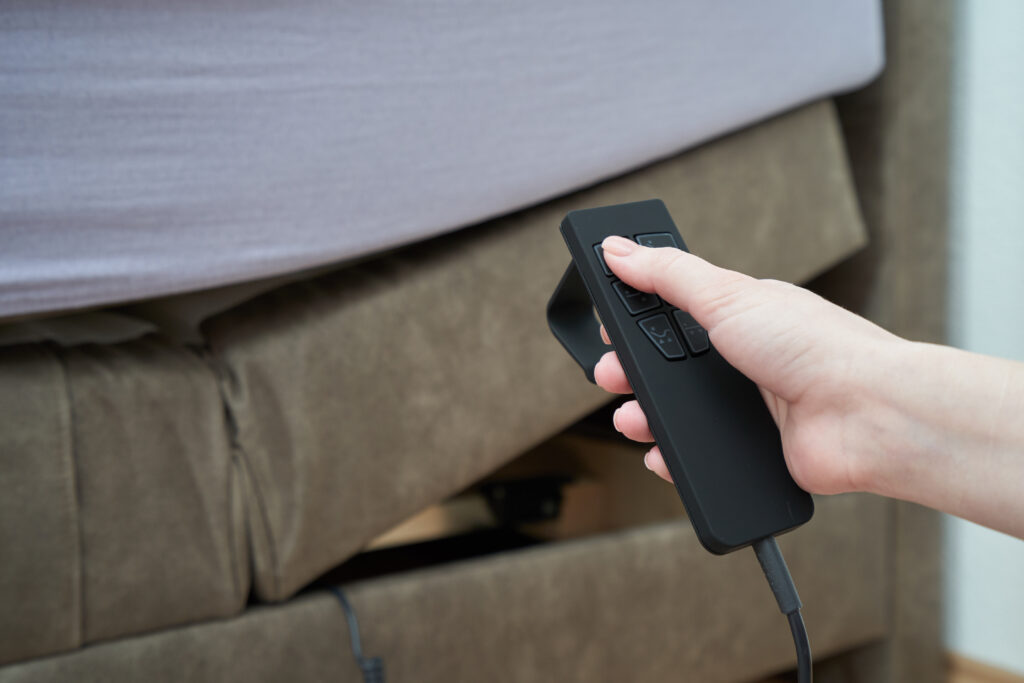 Adjustable beds have a frame that can change height due to mechanical controls. Some adjustable beds come with a remote control or smartphone apps that can control the bed's movements, whilst other models use manual controls.
There are various benefits of an adjustable bed. Lifting the upper torso and head higher than your lower body can increase blood flow, as well as reduce snoring. It can also help to reduce back pain by lowering the strain on your hips and back.
However, there are some drawbacks to having an adjustable bed frame. Adjustable bed frames tend to be pricier than standard beds, especially if there are lots of different features. They also tend to be heavy frames, which makes them harder to move around.
Top seven mattresses for adjustable beds
The Zoma mattress is the most budget-friendly option of EachNight's list of recommendations. With a price range of between $499 and $1198, you can enjoy gel-infused memory foam at an affordable cost. This mattress uses Triangulex™, which is a three-zone structured layer that is made of firm and soft triangles that are specifically designed to support the varying points of your body weight.
Triangulex™ features cooling gel which helps to dispel heat build-up. The next two-inch layer consists of Reactiv™, which is made from a material similar to latex. This layer gives the mattress a reasonable amount of bounce and helps give pressure relief to your joints. EachNight considers this model the best gel memory foam for adjustable beds.
Whilst some people tend to naturally fall into the same sleeping position each night, other people prefer to sleep in various positions. Stomach sleepers usually prefer a firm mattress, whereas side and back sleepers usually prefer a soft or medium-firmness rating. Luckily the Spindle mattress can cater to all of this and more.
One of the most popular features of the adjustable mattress is that you can switch the mattress' layers to get the firmness level that you want. You can switch between the latex foam layers until you find the right layer to relieve your pressure points and allow you to sleep in whichever position you want.
Alternatively, you could also try the Nest Bedding Sparrow Signature Hybrid, which is said to be the best dual-firmness mattress for adjustable beds. Whilst you can't swap between the firmness layers as you can with the Swindle mattress, the Sparrow Signature Hybrid innerspring mattress comes in three firmness options: plush, medium, and firm.
Nest Bedding's 14-inch hybrid mattress features eight inches of pocketed coils that are designed to reduce motion transfer whilst still giving the mattress some bounce. This layer of coils also helps to give the edge of the mattress some support, which will prevent you from feeling as if you might roll off.
A layer of SmartFlow allows good airflow throughout the mattress to help maintain a cool temperature, whilst the Blue Energex™ foam helps to draw heat away from your body. Hybrid innerspring mattresses combine the best points of contouring memory foam, as well as the support of coiled springs.
Below is a table showing the mattresses that EachNight has recommended for adjustable beds, along with the categories they excel in and their price ranges.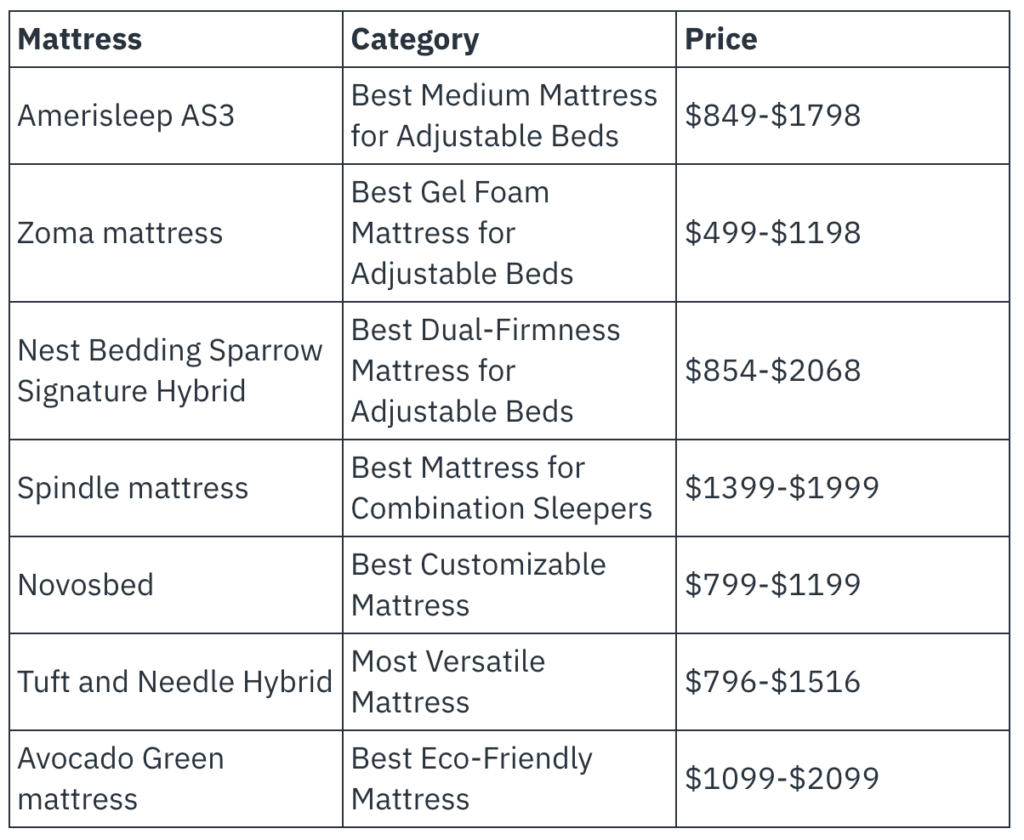 Everybody is different when it comes to their ideal sleeping position. One of the best customizable mattresses, the Novosbed, comes with the ability to unzip the cover and insert a new soft or firm layer to fit your individual comfort levels. The top memory foam layer is made using open-cell technology, which helps to keep you and the mattress cool throughout the night.
The Novosbed comes in three different firmness ratings, as well as six sizes. You may prefer a firmer mattress if you sleep on your front, whereas many people prefer soft memory foam mattresses if they sleep on their side as it gives pressure relief to their shoulders and neck.
Tuft and Needle's Hybrid mattress has been named as the most versatile mattress by EachNight. It is recommended for most sleepers, especially those that are shopping on a smaller budget. The mattress features two inches of T&N Adaptive® foam, which is a gel poly-foam that is made with graphite. This layer helps to diffuse heat buildup, as graphite helps to pull heat away from your body.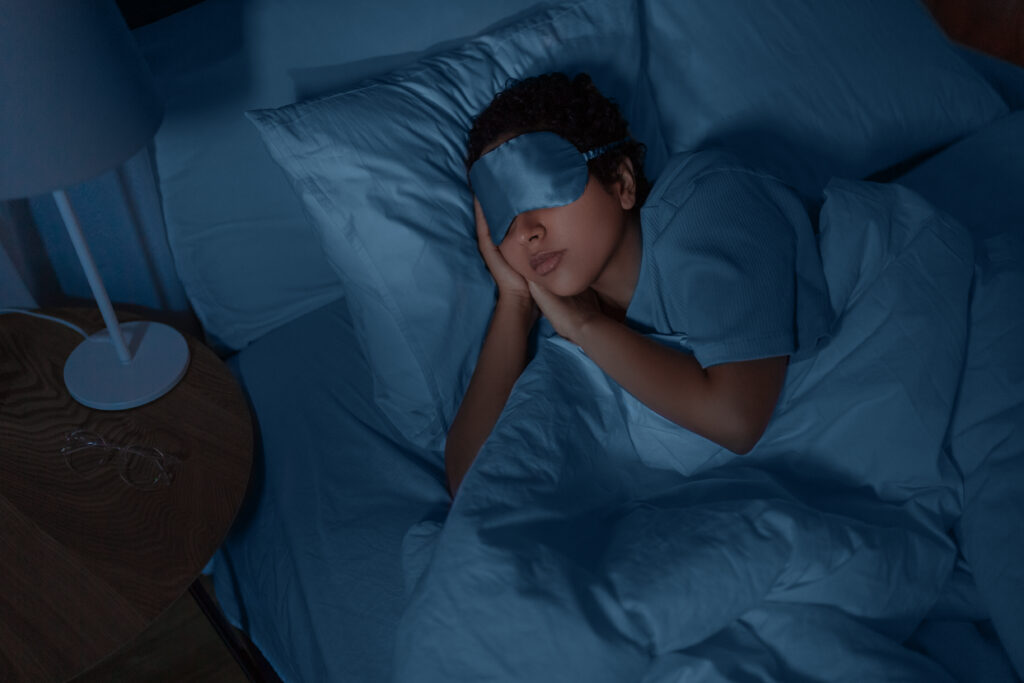 The Hybrid mattress is classed as a five on the firmness scale, which makes it a medium-firmness. There are six inches of pocketed coils, which helps give the surface of the mattress a responsive bounce.
Couples or individuals that are looking for an eco-friendly mattress should definitely consider the Avocado Green mattress. The mattress cover is made entirely of organic cotton and the main body is made from natural Dunlop latex. This material helps to give the mattress bounce, as well as contouring to your body's curves.
As well as latex, the Avocado Green mattress also features pocketed coils, which help to isolate motion and support the higher layers of latex. Thicker coils are positioned so that they can give support to the head, legs, and back, whilst thinner coils are positioned around areas such as your shoulders and hips.
Adjustable beds and suitable mattresses can be expensive, but they are a worthwhile investment when it comes to easing your aches and pains to give you a good night's sleep.