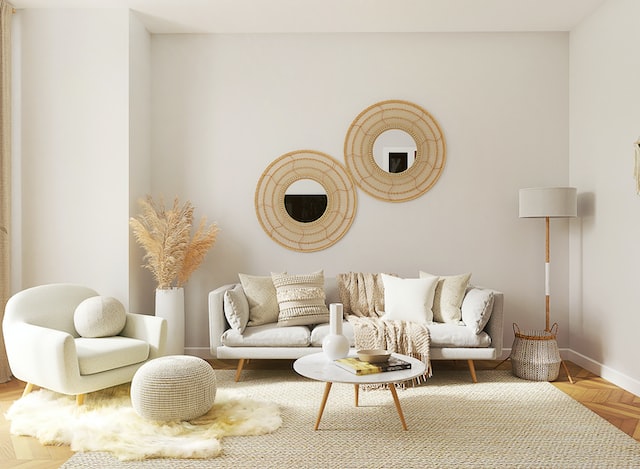 As is made quite clear by the name, many of us spend the majority of our at-home down time in our living rooms.
However, with so much of our time spent there, it's easy to become bored of the same tired old space. Luckily, unlike kitchens and bathrooms, living rooms are comparatively easier to renovate ­– and much cheaper too!
If you're looking for some interior design tips that will help you achieve the living room of your dreams, then check out our five fantastic renovation suggestions.
1) Freshen Up the Paint
Fresh paint can make all the difference to a space, especially if you haven't repainted since you moved in.
You could either match the existing colour – though if that colour is magnolia, you might want to consider something more modern – or go for something new altogether.
Paint companies, such as Dulux, offer a wide selection of colour options and you'll be sure to find the perfect shade for your room. However, if you're struggling, consider using their Colour Play service, or look at their expert guides to help you find inspiration for your room.
2) Hang Artwork
Hanging artwork is a great way to help a room feel more lived in without having clutter taking up floor space.
Whether your tastes are more traditional oil canvases or contemporary abstracts, there's plenty of art out there just waiting to be hung.
 Companies such as Artfinder offer a fantastic online selection of handcrafted artwork, letting you support independent and skilled artists by buying directly from them.
3) New Doors
Our internal doors are often not something we think about when planning a room renovation, however the right door can make a big difference.
If you're looking to improve your interiors, then discover the wide range of options offered by Oakwood Doors. From glass panel options to increase light in a room, to industrial looks for the modern home, these experts can help you find the ideal internal door for your living room.
4) Strategic Mirrors
Having a mirror in a room can work wonders when you're trying to make your space seem larger – it's all about the placement.
When you find the ideal mirror to suit your aesthetic, experiment with angles, taking note of the way it reflects light around the space.
Whether you choose a modern frameless option, or something antique and gilded, the right mirror can become the feature piece that your living room needs.
5) Choose Your Furniture Carefully
Finding the right furniture for your space is key.
Depending on the size of the room, you might want to opt for building the units into your alcoves or scrapping the idea of a coffee table all together.
Take measurements carefully, and make sure not to overcrowd the space with unnecessary pieces.
Have you recently reinvigorated your living room? Share your renovation tips and tricks in the comments below!