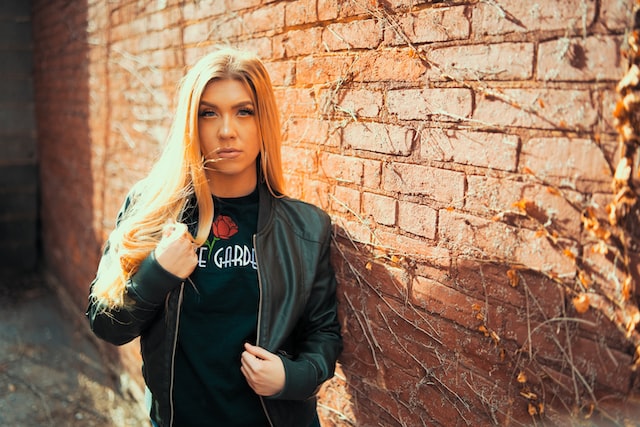 There are many women leather jackets that add appeal and class to its wearer. However, the biker style adds glamor with a badass attitude.
Whether you are an avid biker or not, there is no denying that the biker jacket is a versatile and timeless piece. Not only can it add a layer of warmth when the weather is chilly, but it also looks cool and stylish no matter what you are wearing it with.
A biker jacket is famed for its attractive fitted style. It can be worn to a formal event with minimalist features and cropped finish. Nevertheless, it can also be worn in informal events with embellishments and bold buttons. The adaptability of the biker jacket makes it a must-have staple for women around the globe.
Women usually see the biker jacket as a trans-seasonal clothing item. So, if you are in the market looking for a new piece of clothing that can take your style up a notch, we recommend checking out our five favorite outfits featuring a leather biker jacket for women.
The casual style
If you are planning on hitting the open road this weekend, then we recommend pairing your biker jacket with a pair of skinny jeans, a knit top and a pair of ankle boots to add a touch of glam to your look. Then complete your outfit with a pair of aviators to look chic while being practical on the road.
But if matching colors for top and bottom isn't your cup of tea, embrace black with whole heart. The all-black ensemble is always a winner. Pair a black t-shirt and black jeans together but don't forget to add some contrasting element. Add a colorful statement belt or a scarf to take this monochromatic outfit to the next level.
The statement style
A red leather biker jacket grants a daring and stylish choice that may give your ensemble an edge. There are numerous ways to style a red biker jacket for a fashionable finish, whether you want to dress up or down.
For a sensual style, wear a black blouse with black leather leggings and top it with your red jacket. Slip into high heels to complete the look.. 
However, a cropped red jacket with dark denim pants and a white button-down shirt creates a smart-casual outfit.
For visual intrigue, layer an oversized blazer over a short t-shirt and light-wash pants. The red biker will elevate your look as an eye-catching accessory that is simple to wear.
A cute and feminine piece that can be worn all year round for a fashionable look is a pink leather biker jacket. You can choose a hot pink color to display a daring tone or a soft pink for a delicate touch because pink biker jackets exist in so many various shades and shapes.
An elegant casual look may be achieved by pairing a light pink blazer with a white shirt, black skinny pants, and high-end sneakers. Style a cropped hot pink biker jacket with a black midi dress, shoes, and boots for a current, edgy look.
For a chic winter look, pair a loose-fitted jacket with dark blue jeans and black clunky boots.
The fusion style
There is nothing quite like adding a bit of country charm to your wardrobe when you want to feel a little more relaxed, which is why we love this look. To create this outfit, pair a black t-shirt with your biker jacket and finish the look with a pair of light wash jeans and some cowboy boots for an effortlessly stylish vibe. For the element of fusion, simply throw on a faux fur scarf to add elegance to your look.
An ensemble that looks amazing in the spring and summer is a crop top paired with a biker jacket. The crop top is a stylish, laid-back shirt that is trimmed short for an edgy appearance. For a touch of fusion, add  booties or heels to the ensemble.
The laid back style
When in doubt, we suggest opting for an outfit that looks effortless yet chic, which is exactly the purpose of this look. To start, we recommend pairing a white blouse with your biker jacket and then completing the look with a pair of ripped denim jeans and a pair of flats. Finally, finish off the look with a pair of sunglasses for a subtle pop of color.
As we know, a biker jacket will always look excellent creating a timeless ensemble. Think about wearing mom jeans with designer shoes, a white shirt, and a black leather jacket for an effortless and casual look.
The party style
For women looking for an outfit that exudes festivity and cuteness, a biker jacket and dress can be in style. Your biker jacket is probably on the other side of your collection of dresses in your closet, if you were to look inside. You can add a dramatic touch to a girly look by wearing your dress with a biker jacket as an edgy and entertaining option. You can pair a cropped jacket with a fitted calf-length dress for a semi-formal and seductive appearance.
For a chic and relaxed party look in the spring and summer, layer your biker jacket over your sundress and add an oversized bag. It is simple to pair a biker jacket with either flowing or tailored dress designs to create a fierce, feminine look.
Conclusion
Biker jackets for women have a place in every wardrobe, regardless of how your daily life is going, the weather where you live, or the kinds of outfits you like to wear. The leather fashion industry definitely has something unique to offer everyone, and the things described above are simply the tip of the iceberg.