Floral decor has made a huge comeback in recent years, with designers using this versatile decor element for everything from understated elegance to bohemian chic.
Fortunately, you don't have to be a professional designer to incorporate florals into your decor. Here are six of the hottest DIY floral decor trends to try this year.
Decorating with Dried Flowers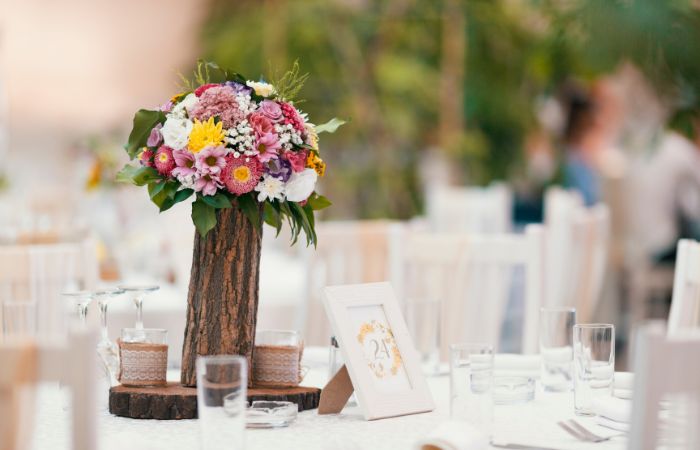 Dried flowers are making an impact in interior design and the wedding industry. With many couples being forced to elope or reschedule due to the pandemic, having access to fresh flowers can be challenging. As such, some creative couples have dried their bouquets. According to a popular Florist in Dallas, preserving a stunning wedding arrangement is nothing new.
Save your favorite seasonal and event bouquets by drying them and displaying them around your home. While there are several methods for drying flowers, hanging them upside down in a warm, dry area is often the most effective. Tuck these out of the way in a closet or attic space and forget about them for a few weeks.
Once the flowers are dry, spray them with hairspray or varnish to protect the fragile petals. Then, arrange them in a vase, bowl, or unique vessel to create a long-lasting display. This DIY floral decor project pairs well with the latest trend of using dried grasses and feathers as accent pieces.
Floral Garlands
Create a floral garland or backdrop to display your favorite blooms in a fun, festive manner. You can get seasonal flowers from your favorite florist or collect blooms from your garden.
Floral garlands look incredible as centerpieces or mantle displays during the holidays. Alternatively, you can create a hanging wall display using clear fishing line for a whimsical, Instagram-worthy event backdrop.
Windowsill Tulip Bulbs
Windowsill gardens are traditionally outside, but many aspiring interior decorators are incorporating living flowers indoors as well. To grow tulip bulbs, create a windowsill garden using test tubes or hurricane vases and river rocks. These living decor pieces are stunning at all stages and let you see how the flower grows each year.
Living Walls
Living walls are another incredible way to decorate with live flowers and plants. You can get a living wall installation or create your own using a wooden frame, landscaping fabric, plastic, and soil. Choose low-maintenance wildflowers, such as periwinkle and impatiens, and mount in an area with access to sunlight.
Get creative and fill space in with ivy and moss or select seasonal blooms for an ever-changing wall.
Pressed Flower Displays
Pressing flowers is a traditional DIY task that's become more popular since the pandemic. This fun DIY project is a great alternative to drying flowers and can help you keep the blooms for longer, as they're protected by barriers.
While you can get flower pressing kits, you don't need extra equipment to create this unique decor piece. Choose a few pieces of acid-free paper, arrange your blooms between them, and stack a pile of books on top for approximately a week. When the blooms are flat and dry, you can cover them with varnish and frame your work. Alternatively, dip the arrangement in resin to create coasters and floating displays.
Floral Hoops and Chandeliers
For a fun twist on hanging planters, defy gravity with floral hoop and chandelier displays. Use fishing wire to decorate the light fixture above your table or upcycle a vintage chandelier. For a modern alternative to a floral wreath, create a hanging sphere with wreath hoops and build a 3D display with your favorite flowers and greenery.
The beauty of these designs is that you can incorporate light for a stunning evening display. Add faux candles or twinkle lights to elevate this gorgeous decor piece.
Floral decor is a hot interior design trend that anyone can use. Try some of these fun ideas to create custom floral displays that elevate your home.