Maybe Austria is on your skiing bucket list, but do you have one saying "Perfect Christmas"? The exclusive assortment ranges from traditional handicrafts and nostalgic toys to lovingly designed Christmas decorations made of glass, wood, ceramics, paper, and tin are part of your perfect Christmas experience.
From a culinary menu that offers plenty of punch and mulled wine variations, to Austrian delicacies such as sugared pancakes with raisins, sweet chestnuts, or gingerbread. Visiting them is one of those travel must-do-things: for shopping, for romance and to get in the holiday-celebrating mood.
You will find Vienna's prettiest squares transform into magical Christmas places, with more stalls than you'll ever need. It is so unfair to pick only one. Here is a list of Austrian's best Christmas markets we highly recommend you to visit in the magical time!
1. VIENNA: City Hall – Rathausplatz (Magic of Advent)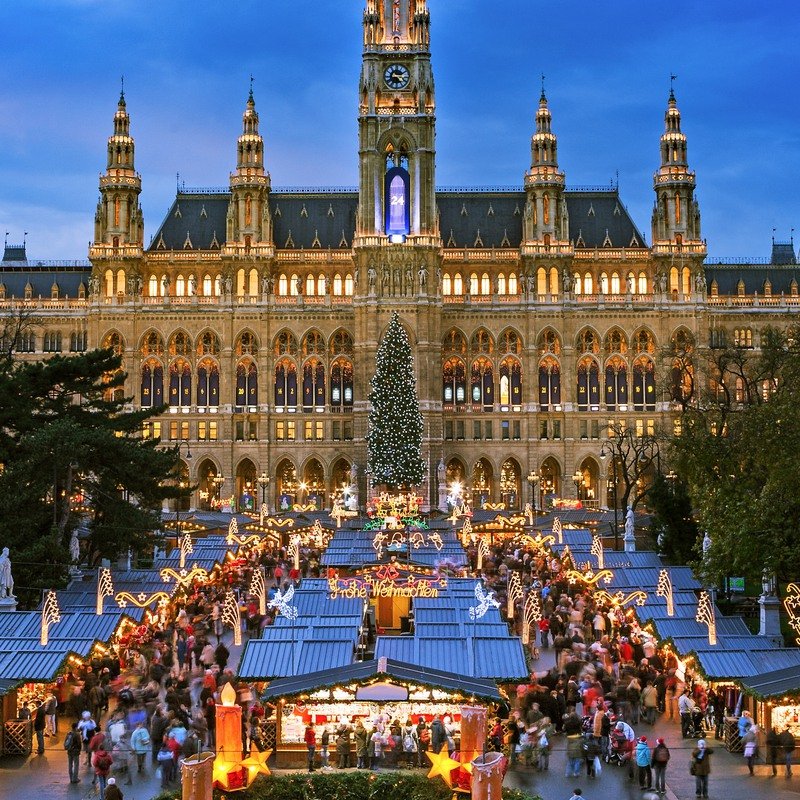 Photo Credit to travelawaits.com
This Christmas market is by far the largest in Austria. The market is held in front of the City Hall, however, Vienna offers several other Christmas markets which are scattered through the picturesque, romantic capital of Austria. The unique background gives this market the charm, and the delicious aromas are sure to blow away all visitors into the seasonal joy. If you travel as a family, inside the City Hall on the ground floor, is an area dedicated to children, where they can learn how to make Christmas cookies or candles.
2. INNSBRUCK: Old Town Christmas Market
Photo Credit to christkindlmarkt.cc
Christmas time in Innsbruck is magical. The market is located in the upper town square of this medieval old town in front of the famous Golden Roof turned into a lively place, bathing the square in soft lights. Imagine the lights of a Christmas tree rivaling with glistening tiles, the aroma of freshly made kiachln (doughnuts laced with icing sugar), and the sound of Christmas carols. Enjoy the ornaments, handicrafts, and other winter treats, together with traditional dishes and a mug of mulled wine.
3. TYROL: Market Square Christmas Market
Photo Credit to tyrol.tl
This latest addition to the Austrian Christmas markets in Tyrol is on the Bergisel hill which is also home to Innsbruck's Olympic ski jump. Many traditions long forgotten in other places are still celebrated here. These range from the "Anklöpfler", groups of men who visit houses in their neighborhood to sing Christmas carols, to the arrival of the Christ child bringing presents for children. Tirol is a place where Christmas has preserved its true meaning.
4. VIENNA: Karlsplatz Christmas Market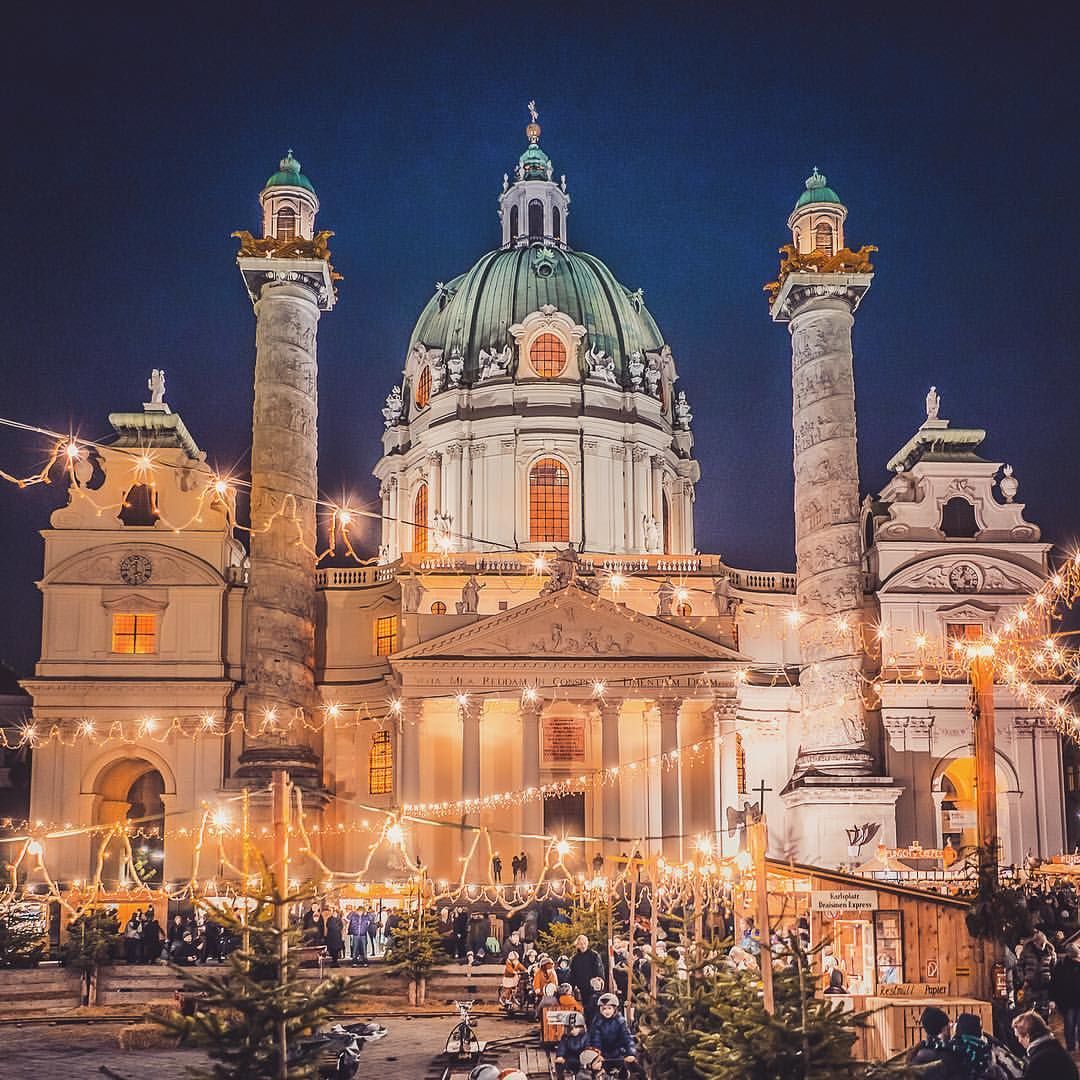 Photo Credit to pinterest.com
The market is more open-plan than most others, nestled in front of the imposing Karlskirche church and reserved for children's activities: piles of straw to muck about in, farm animals, art and craft workshops, etc. A central stage also hosts live music. Advent on Karlsplatz offers numerous booths full of artistic handicrafts to buy, workshops, and live bands. A unique experience, especially recommended for families with kids.
5. LINZ: Hauptplatz Christkindlmarkt (Main Square Christmas Market)
Photo Credit to pinterest.com
The Baroque scenery makes the Christmas Market on the Main Square in Linz truly unique. The fragrance of gingerbread and Linzer Torte from the stands, pastry shops and cafes, workshops showing how its traditional gifts are made, the lights of the city skyline combining old with new, will bring Christmas close to you. The city might be more metropolitan than a fairytale, but the scent of gingerbread houses and warming drinks is never far away.
6. GRAZ: Hauptplatz (Main Square Christmas Market)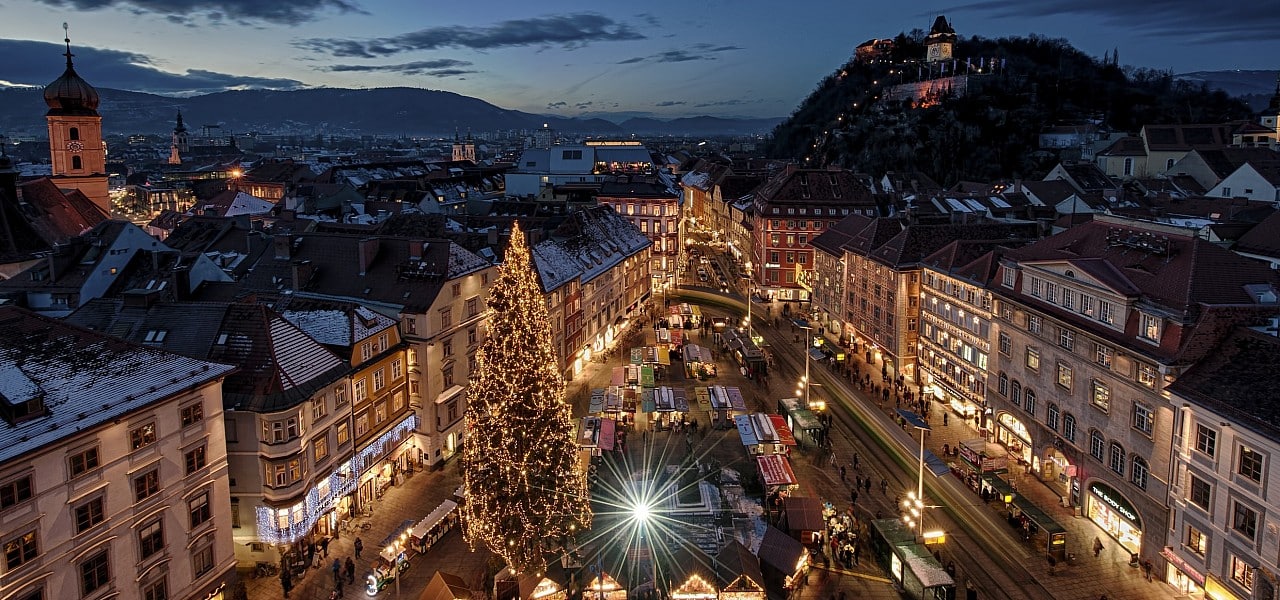 Photo Credit to europeanbestdestinations.com
Beneath the old monastery, around the Franciscan church, and in front of City Hall lies down Graz's Christmas market. Its welcoming village of stalls is offering traditional handicrafts and wonderful treats for the body and soul. With a giant Christmas tree and the old-fashioned merry-go-round for the children, be enchanted by the romantic lights, arts and crafts, regional farm products. The local festive drink is "Feuerzangenbowle" – a blend of wine and rum set on fire, and for the younger ones, the much-loved children's carousel will keep them entertained.
7. SALZBURG Christmas Market
Photo Credit to wanderlust.co.uk
Salzburg, the famous birthplace of Wolfgang Amadeus Mozart, is considered one of the most beautiful cities in Austria. Salzburg is worth visiting, especially magical during the advent period when the pealing of countless church bells reminds us that Christmas is near. The old town is beautifully lit in the evenings, and Christmas markets and stalls are set up throughout the venerable Cathedral.  Snow is often an added bonus covering in white the roofs, and towers.
8. VIENNA: Maria Theresien Square Christmas Village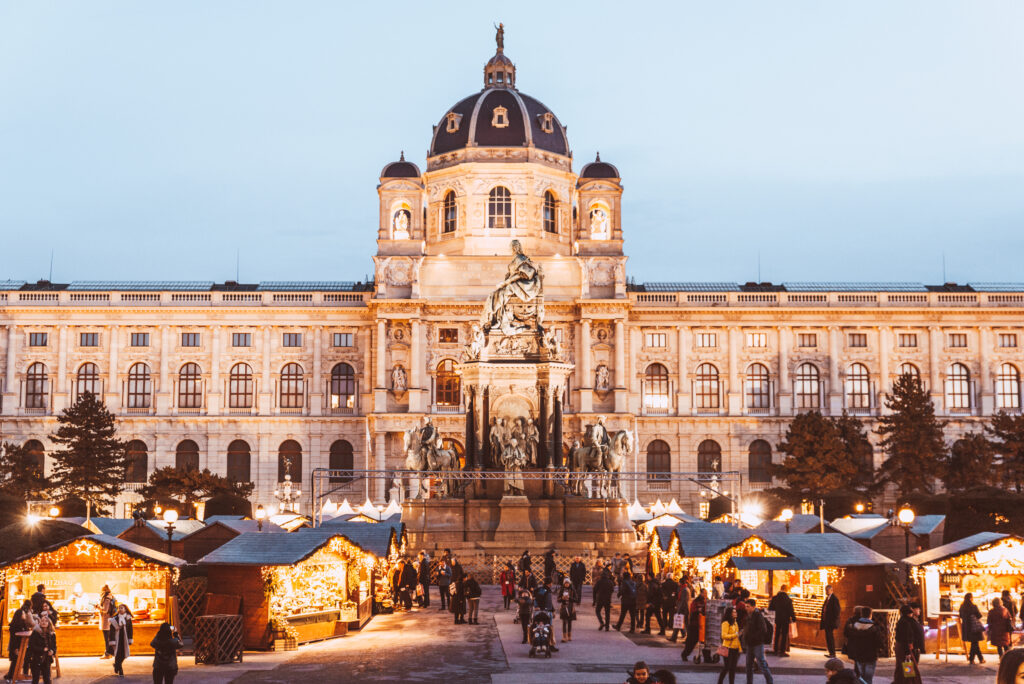 Photo Credit to lelongweekend.com
Step into the joy of Christmas with the beautiful streets of Vienna as your backdrop. The Christmas Village on Maria Theresien Square will make sure there is no escaping from the Christmas atmosphere with festively decorated market stalls and a vast array of culinary delights. Punch and chestnut stands draw customers with seasonal treats and stallholders get shoppers in the Christmas spirit with handcrafted goods.
9. VIENNA: Belvedere Palace Christmas Village
Photo Credit to thinkingnomads.com
Explore the baroque lifestyle and traditional handicrafts. The popular Christmas Village Belvedere Palace is set against the glorious baroque backdrop of the world-famous residence, one of Vienna's most beautiful and significant sights. More than 40 festively decorated market stalls offer traditional goods, elaborate Christmas decorations, and special culinary delights.
10. VILLACH Advent Market
Photo Credit to missclaire.it
The historic city center of Villach transforms into a picturesque Christmas Market with rustic huts that offer food, drinks, and handicrafts for sale. An event that starts with a wonderful show with dancers and music, a religious blessing, and a countdown that ends with twinkling lights. Roasting chestnuts, warm fires, and the smell of mulled wine in the air transform the city into a cheerful spot to celebrate.