Everyone loves pasta and for many people, this is a favorite meal option. But actually, what is pasta without an appropriate sauce that is full of so many different spices and flavors?!
There are thousands of recipes for delicious sauces which are based on many different ingredients, from classic Bolognese to unordinary and extravagant seafood pasta. Directly from Italy, we're representing you with a list of top ten most famous pasta sauces.
Check out our amazing list, make some of these great sauces and you'll bring a little Italy to your kitchen!
Parmesan Bechamel Sauce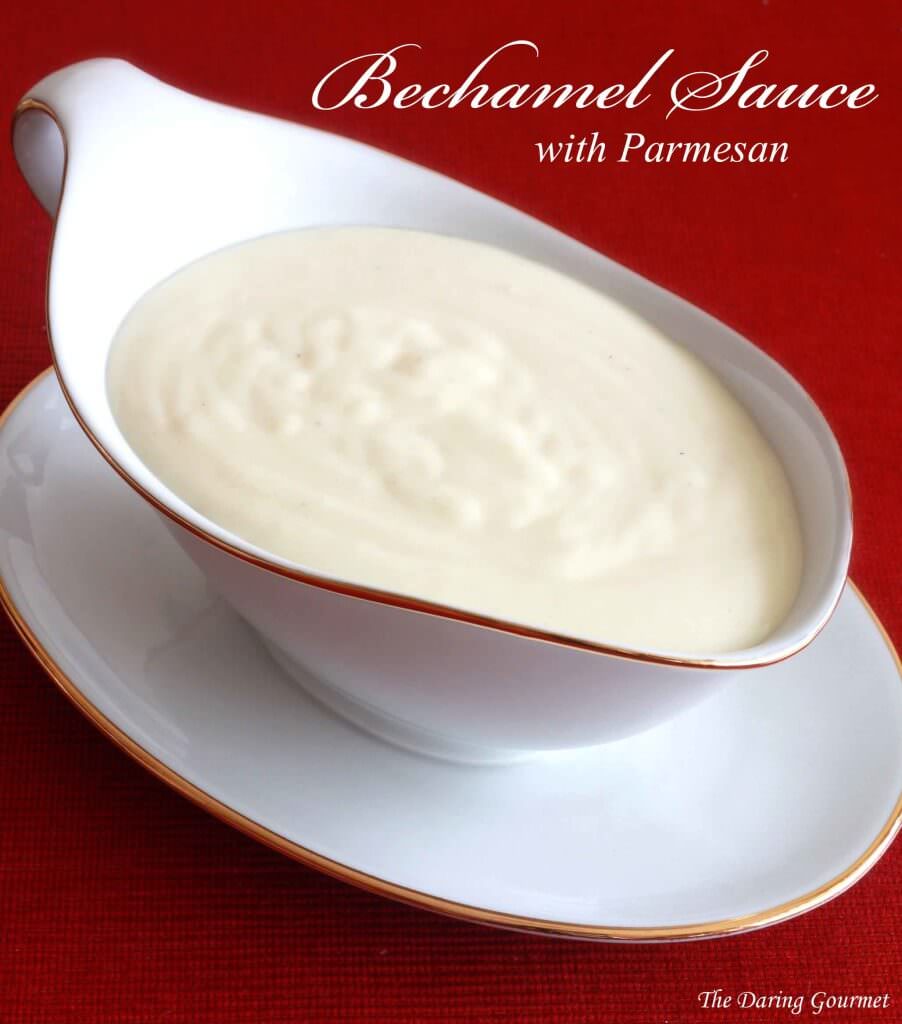 Recipe via daringgourmet.com
The bechamel is French, however, adding the beautiful Parma cheese to it totally makes it Italian. So here it goes. Bechamel is one of the mothers of all sauces, and is the base to so many other variants, even by adding just one simple ingredient to it. Italian cuisine is somewhat indispensable especially in the likes of say, lasagna. Very simple but one must stay over the stove stirring at all times, doing a figure of 8. Nonstop, not even to answer an important phone call. It will be ruined! Beautiful with freshly grated nutmeg. Do not be shy on the Parmesan.
Tagliatelle Salmone Sauce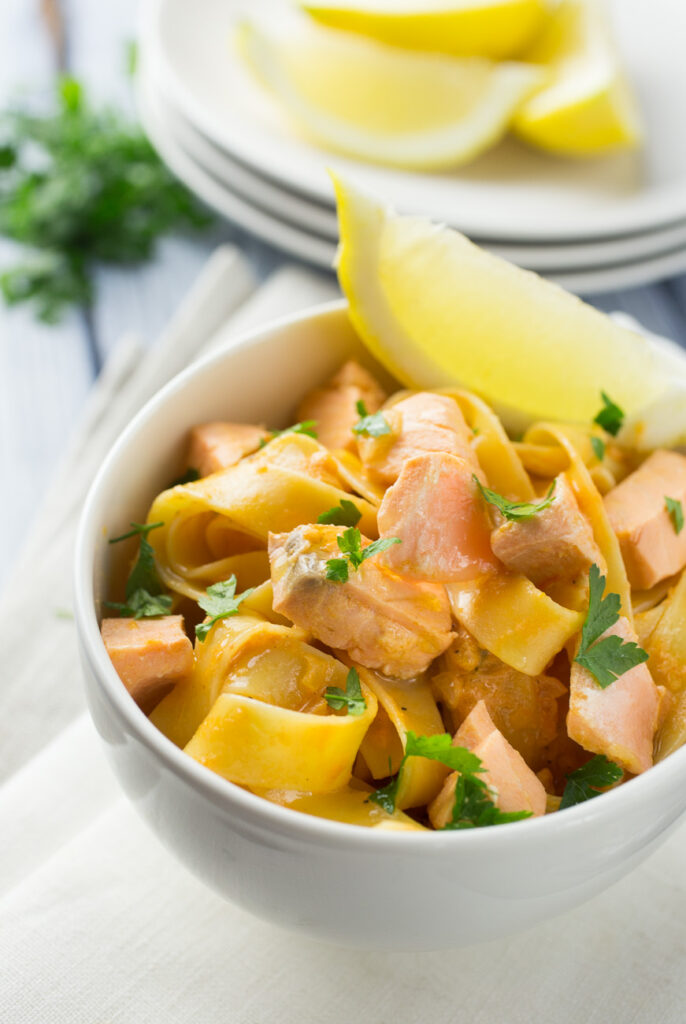 Recipe via thegirllovestoeat.com
Now this recipe uses fresh salmon, but smoked salmon is also ok. As well this recipe has many variants, and some of which will exclude the tomato sauce and even the cream element; leaving a simple yet super delicious white wine, garlic, and lemon sauce to the pasta. And this is what Italian cuisine is all about. It isn't like where one has to be rather strict, Italian cuisine can be somewhat flexible. However, when it comes to Carbonara it is a different thing…
Italian Spicy Seafood Tomato Sauce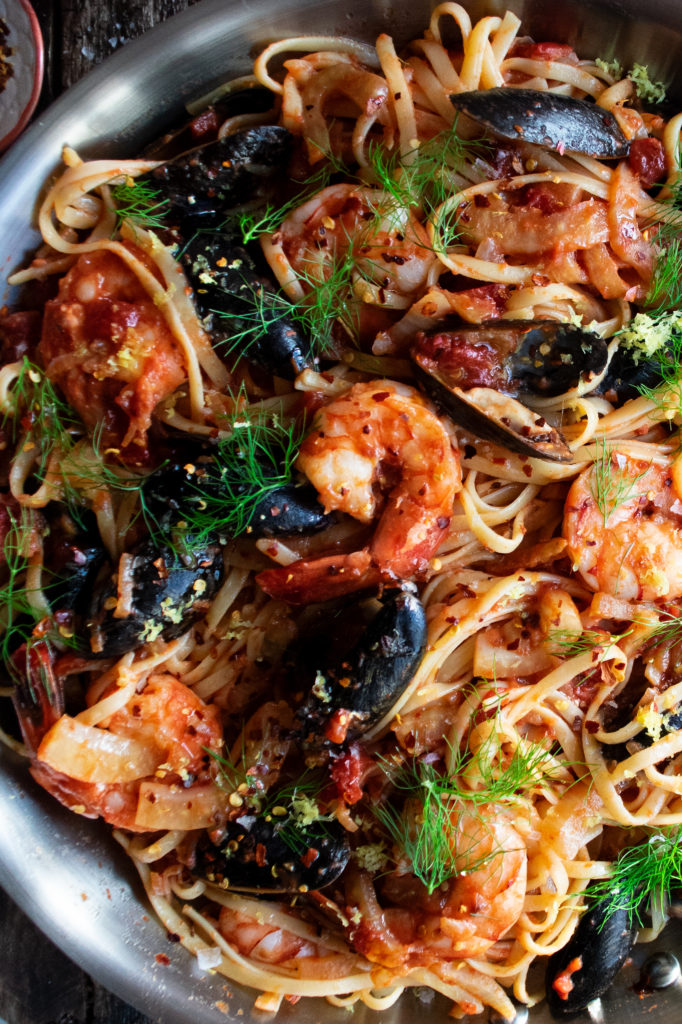 Recipe via theoriginaldish.com
If you are blessed with a fishmonger next door to your home or nearby, pay them a visit! Lovers of pasta and seafood we have your back. This is a great dish and one that you might wish to do over and over again, maybe using different fish and shellfish products to vary a little. The tomato sauce must be super thick so much so it has to stick to the pasta. If it doesn't, reduce it some more. Before serving add good olive oil, and do not forget, use your pasta water.
Italian Puttanesca Sauce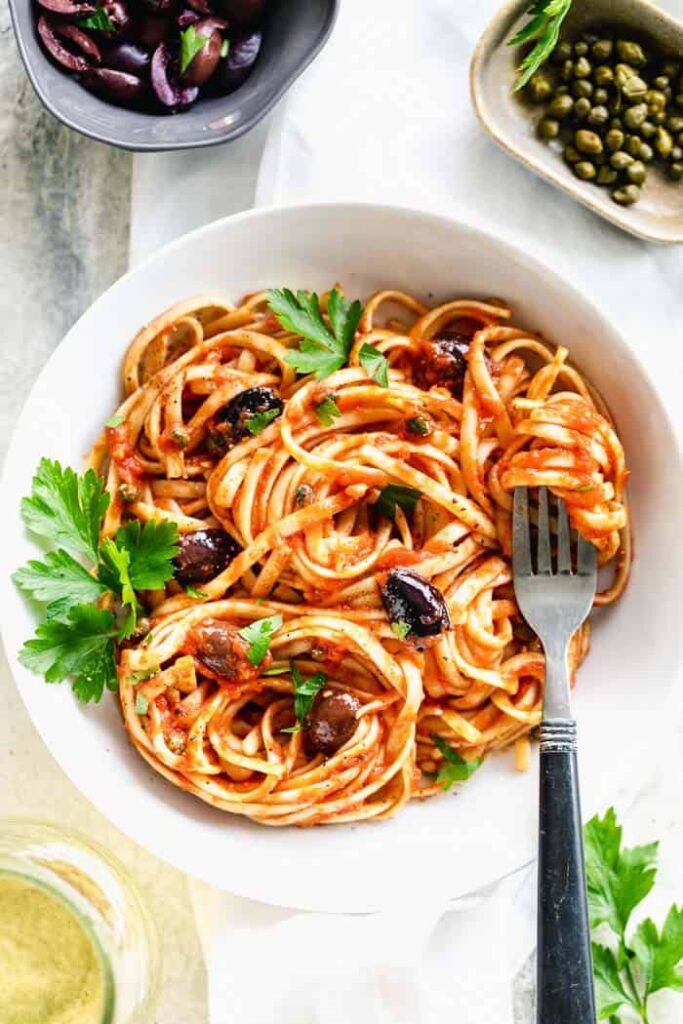 Recipe via healthyseasonalrecipes.com
This is a super dish. Use great anchovy filets left in olive oil, and fry slowly within the olive oil when you kick start your dish and wait until all of the anchovies have magically disappeared within the oil. The rest is rather straightforward. Beautiful dish and what's great you taste every single ingredient.
Four Cheese Pasta Sauce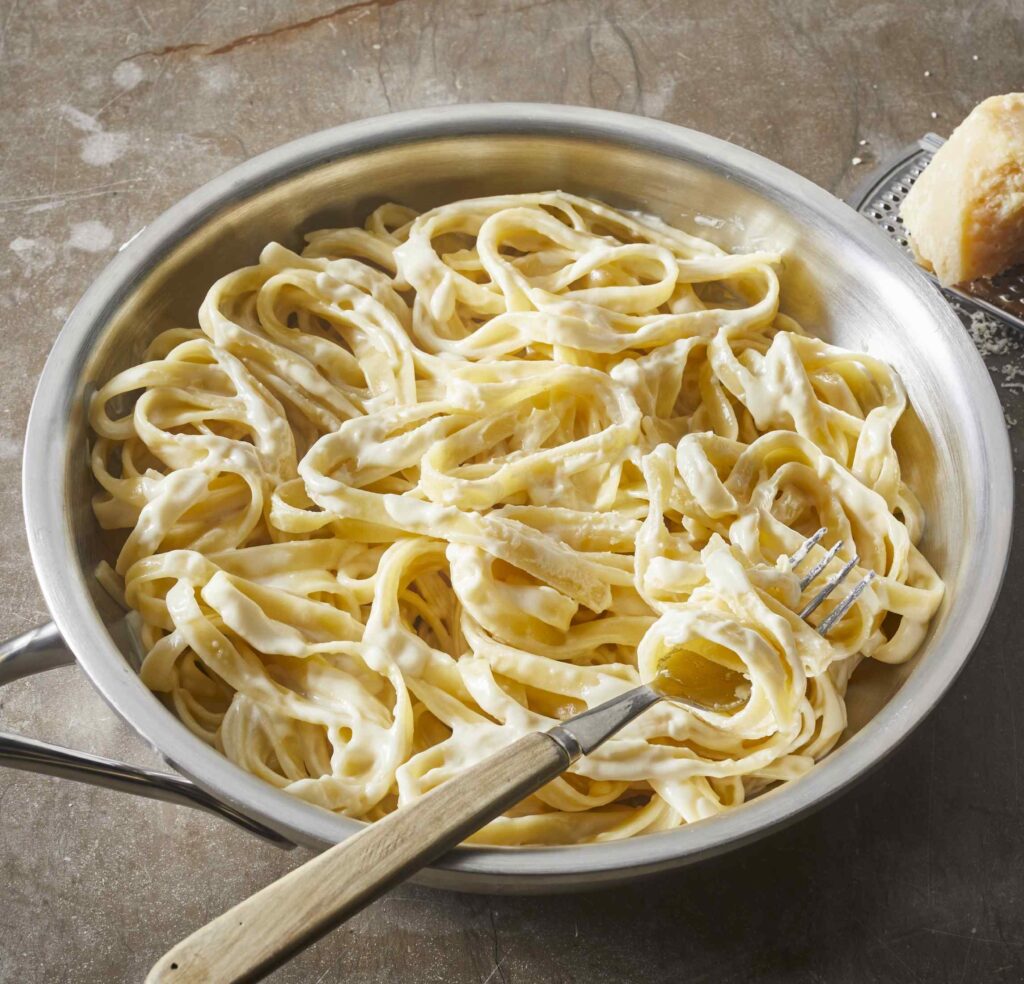 Recipe via allrecipes.com
Quattro Formaggi. This is definitely for the cheese lovers a cold night to warm up the senses. Not just any cheese can go into this, but chances are it will still be delicious. Not for the faint-hearted and not for those on a calorie count. This dish is for people who think, once in a while, never mind, let's do it, and have a cookie right after it! Your sauce must be ice and thick ready to stick to any shaped pasta.
Classic Bolognese Sauce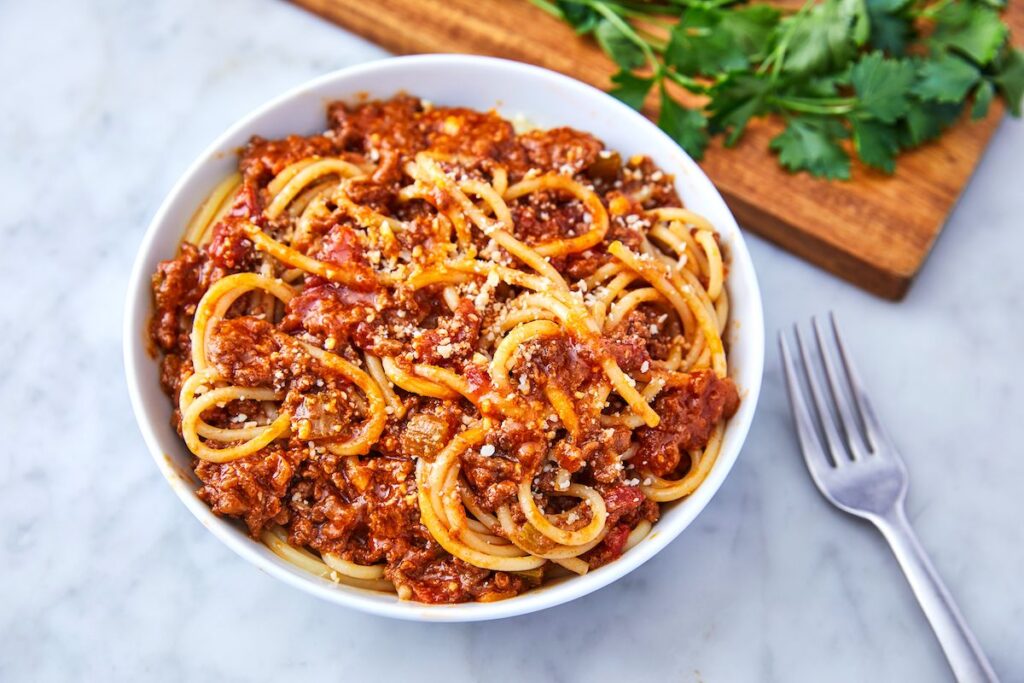 Recipe via delish.com
We aren't sure, but we reckon at least 8 in 10 people who love cooking had a go. But, with so many wrong recipes out there, we believe one with carrots and celery is ever so important. Nothing more or less. For great results, if within the season, use fresh tomatoes. Peel the skin off first, then add the tomatoes and reduce for, forever! We would not recommend the crusted bread bit, but once again you are free to try it out. For best results, do your sauce a day in advance.
Sausage and Marsala Pasta Sauce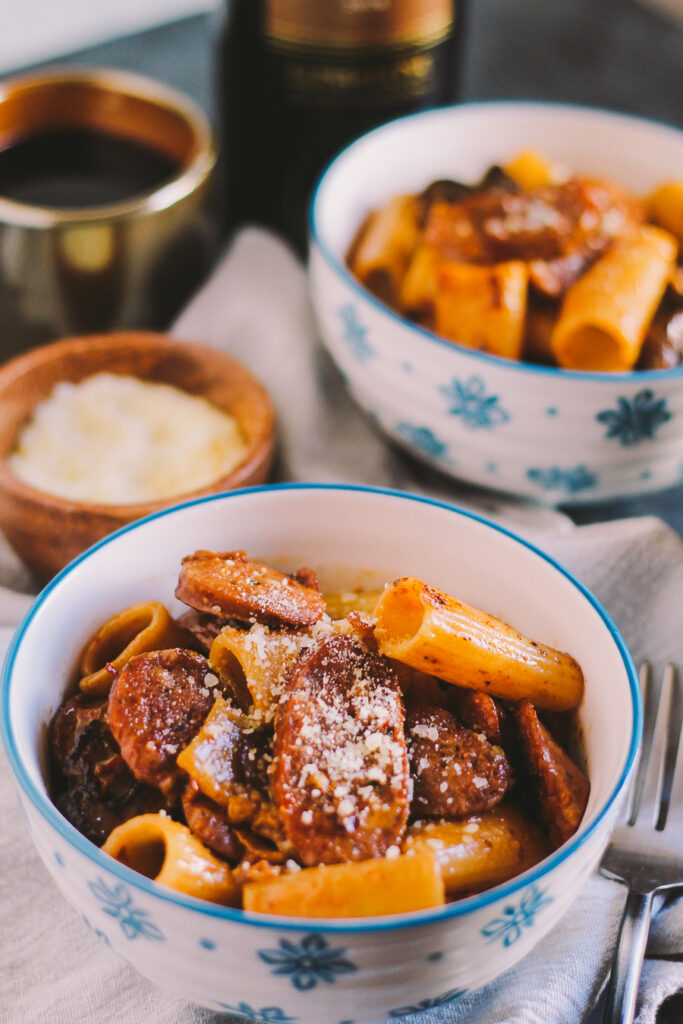 Recipe via playswellwithbutter.com
Italian sausage is generally speaking rather smoke with a hint of spice. So it is rather important to stay within the theme and not use any old sausages. Marsala and Madeira are very similar, a little like port and cherry. So again, best to keep to the same theme as red wine simply will not do it justice at all. Tricky dish this because there are rules to respect. But if you do and go you go beyond expectations, then honestly, the results are there straight away. Stunning dishes fit for lovers of simple, good food.
Amatriciana Pasta Sauce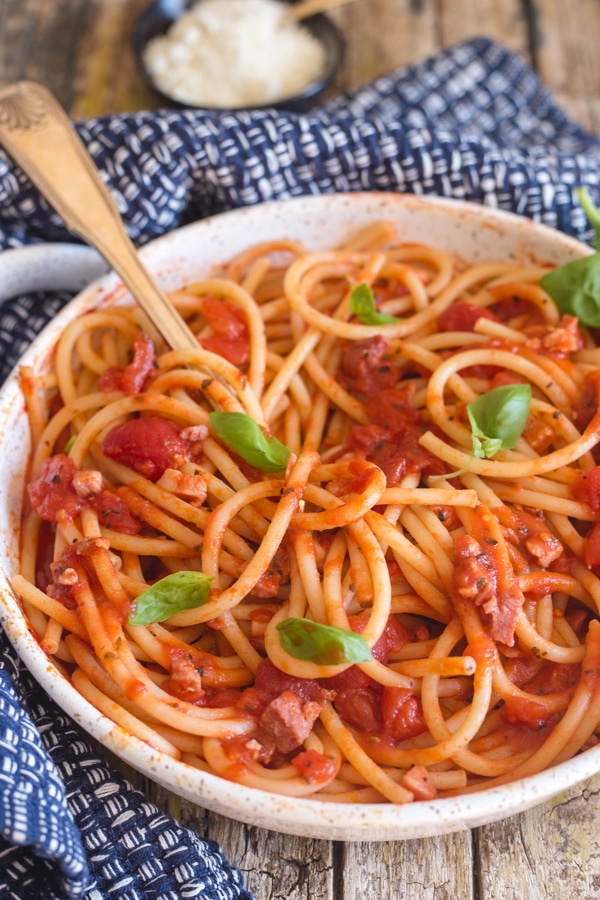 Recipe via anitalianinmykitchen.com
This recipe deserves a little guanciale, which is rather different from pancetta, being made from pork cheeks and not the belly. Cheeks from any animal are the most flavorsome as the animal uses his jaw more than anything else, putting flavor. If you are not within an Italian quarter, or Italy itself, then pancetta will do just fine. And it will be delicious. You would have noticed that in most Italian recipes you tend to use garlic. And if you do, always add twice the amount! Never ever enough garlic, unless you are intolerant which then, we truly are sorry!
Linguine with Sauteed Clams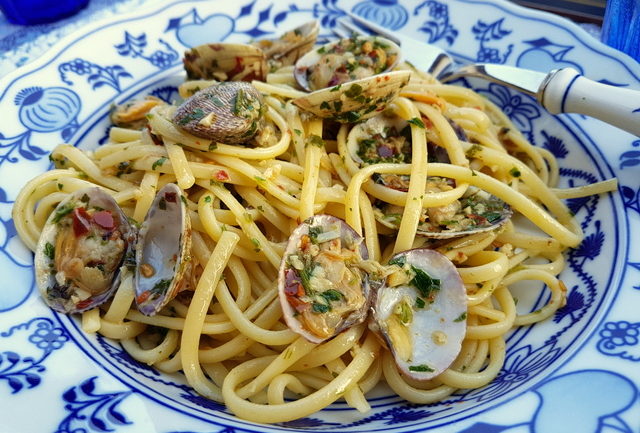 Recipe via the-pasta-project.com
Super simple and super delightful. This is all about the garlic, and the clams. So, best use the best you can find. The Linguini Alle Vongole is magnificent especially if you live near the sea, understanding that you could get fresh clams. Not the small frozen ones that simply, rarely delver. Spaghetti or vermicelli can replace the linguini so no worries there. Do not be shy about white wine either. This really is simple, but be generous within the seasoning. If it looks too much, it could mean it's ok!
Flavorful Carbonara Sauce
Recipe via recipesfromitaly.com
The first time we opened an Italian menu we were greeted with the famous carbonara. One of the king pasta dishes of the world and enjoyed by millions of us every single day. But how do we actually know the correct recipe? Well for a starter, the cream doesn't even come close to saying hello to the dish let alone being part of it. It is such a shame that if we do not come from the country, Italy that is, we are bombarded on a daily basis with incorrect recipes. So here it is, the Spaghetti Carbonara.