For a woman, having a hairstyle that looks good, yet takes a really short time to make is a real lifesaver and in these complicated and stressful times, you need to find some way to make your life easier.
The solution is trying fun and free boho hairstyles. The trick of the boho hairstyle is to look as individual and as natural as possible, yet not end up looking disheveled. Boho hairstyles are characterized by long hair tied in various loose braids or let down and flowing with gentle or strong waves and curls.
If this hairstyle sounds good for you, try out our top 10 flowings DIYs.
Bohemian Twist
Tutorial and photo credit to themerrythought.com
A great way to start the day, by working with your messy bed hair without having to hit the shower and the fuss that goes with it. You'll save an hour, we are certain of it! It is usually the messy looks that get the most out of your attraction and not always what you would class as the perfected hair look. There are a couple of tests to get used to, but after a few attempts at it, it really is rather simple to do and on top of that, you won't have to be too much of a perfectionist to get it right. Remember, boho style!
Bohemian Beachy Waves
Tutorial and photo credit to harpersbazaar.com
The beachy wave look was cool back in the '70s, and still is on top of the fashion radar today as Lona Vigi, the celebrity stylist for Nexxus NY Salon Care demonstrates. She gets effortlessly polished hair with movement and texture towards the mid to bottom hair flow. Throughout the world, this translates to being super cool and super gorgeous! All you'd need is to apply hair mousse to your damp hair, and have the use of a barrel curling iron in various sections of your hair. Be random with this, you do not want it to look perfect. The imperfection of this exercise will ensure the look will be pulled off without much effort, in minutes.
Two Minute Braided Hairstyle
Tutorial and photo credit to homeheartcraft.com
As the title promises, it does literally take two minutes! If you are leading a busy lifestyle, or simply are a person who hates spending too much time in front of the mirror, but still wishes to look beautiful, the braided hairstyle is like no other. It is youthful and perfect for hair that is over 24 hours after having been washed. Remember, washing your hair every day isn't advised. Leave 3-4 days if you can in between washes. It is beneficial for the messy look and your natural oils to come back naturally looking after your hair. Whether you wish to put a dress on or a pair of jeans, you will look the part with this hairstyle.
Boho Ponytail Hair Tutorial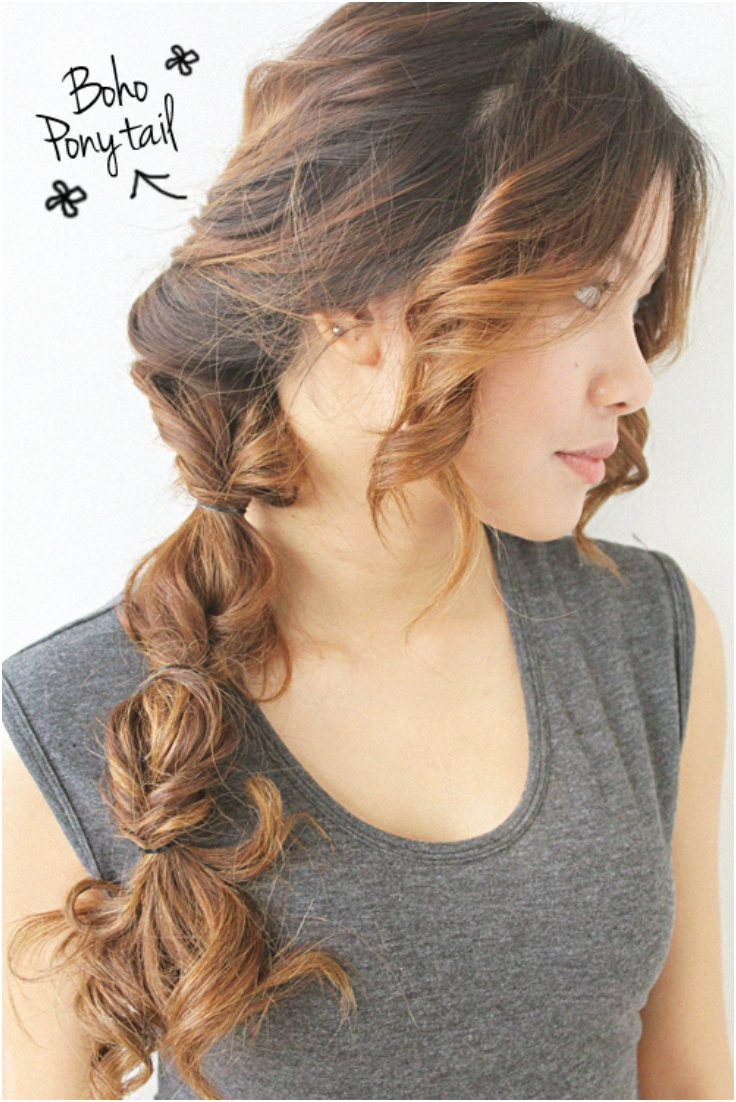 Tutorial and photo credit to hairalicious.tumblr.com
It is incredible to see what five simple hairbands can do to you and your new hairstyle! You'll need five minutes and it will be asking a little more out of you however, once again, it is all about replicating this over and over again to get used to it. If you have a girlfriend nearby, it could help! You will be creating a boho-style ponytail like no other ponytail can be pulled off. It is a relaxed approach and one that will last the entire day too with minimum fuss in between. You and your waterfall ponytail will have many hours of joy and keep your messy hair all tidied up! The longer the hair the more dramatic the look will be.
Fabric Maiden Braids
Tutorial and photo credit to abeautifulmess.com
This is a perfect spin on your favorite braided hair only this time with a fabric neck scarf within it! It is a really imaginative way to take something ordinary and take it to a different level. There is something a little to it when back in the day's ladies used to dress their hair up a little and used it as an accessory to complement their outfit. The great thing is, you can use a different scarf for each mood you're in then design the outfit based on this. It is all in the details and something new too.
Double Braid Boho Side Bun
Tutorial and photo credit to homeheartcraft.com
This braided hairstyle could soon be one of your top favorites. Long hair is great and looks rather terrific on some people, but let's face it, it needs way more maintaining; all day every day your friend the hairbrush must be with you at all times. And this can get exhausting really. Braiding the hair this way ensures that you have that chic look, the windswept and party night look too, but still looking glamorous. It is a simple step-by-step that really could change the entire appearance and aura of what you are trying to go for. All you will need is a couple of elastic hair bands instead of having dozens of hairpins hurting your neck rubbing against your skin.
Boho Chic Ponytail
Tutorial and photo credit to thirtyhandmadedays.com
Are you all about creating a look in minutes but looking like you have spent the better half of the day doing it? There is something fabulous about playing with your own hair and making something fun and beautiful with it; especially if we have been growing it for years. This hairstyle is all about feeling really good about yourself, making it look incredible and effortless. You can wear this style of hair wearing the most basics to an evening gown at the gala.
Boho Updo
Tutorial and photo credit to headcurve.com
This is possibly one of the fanciest and most polished boho hairstyles within this top 10, but one that deserves its place as the must-have if you wish to hit the street for a spot of shopping with the girls, going to a fancy restaurant, and even if you have been invited to a wedding or any special occasion for that matter. The finished look looks super intricate, however, you can make this happen in no time making it look to others like you've spent a fair bit of money having done it professionally.
Boho Fishtail Braid & 3 Strand Braid
Tutorial and photo credit to samvilla.com
Bohemian hair right now is the in thing and cannot be any more in fashion! It's about finding effortless beauty for women. Femininity in a woman is nothing short of abnormal. There is nothing more beautiful than a woman feeling womanly and loves the fact she feels empowered and as if the world is hers to take. Who does not love boho hair with braids in them? You can wear this style anywhere and for any occasion, from going to the shop next door or going to a fancy party somewhere posh. And on top of that, you can wear something super simple, letting your hair do all the world and the talking.
Boho Crown Braid
Tutorial and photo credit to littlemissmomma.com
The wonderful thing about this style is that you ought to not overthink it. More so, to simply let it happen naturally and flawlessly. It will work. This is a more reserved style hence the name crowd braid, and fit enough for royalty, literally; however, it is worn with such ease that it could become part of your morning ritual for a while. Plus, your hair is out of the way on a summer's day that's simply very hot, making you feel very uncomfortable. It's a great way to keep it neat.