Do you want some creemees and soft-serve dessert recipes? Do you love eating cookies and candies? But simply nowadays you just feel that you want to eat something both sweet and healthy. For all those who love to eat sweet there's a healthy pudding that can satisfy your cold-and-sweet tooth just as well, with a punch of protein and tons of tummy-filling substance.
Chia! Alone, chia pudding just tastes like a texture – but add yummy fruits, nut butters, cacao, and even yogurt – and you've got a serious creamy treat.
Check out these top 10 killer chia pudding recipes that we are offering to you! Enjoy!
Vanilla-Almond Chia Breakfast Pudding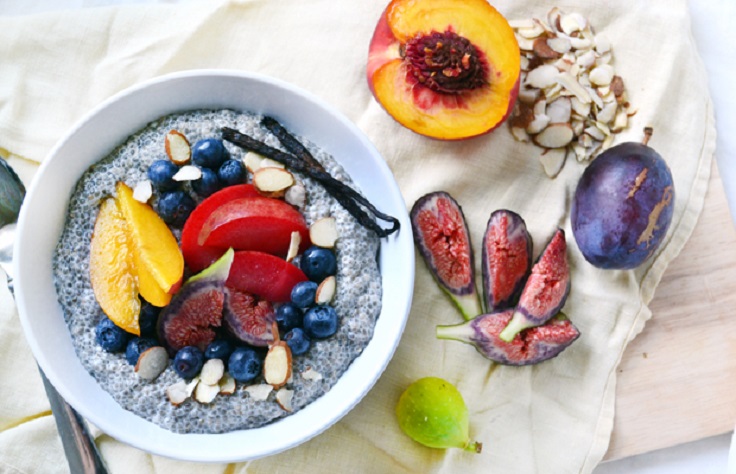 via dailyburn.com
Combine almond milk, chia seeds, vanilla and sweetener in a bowl. Mix well until combined and the mixture begins to thicken. Store covered in the refrigerator overnight or for at least an hour.Stir well before serving and add a bit of water to the pudding if it becomes too thick. Top with fresh fruit and nuts of your choice.
Vanilla Berry Chia Pudding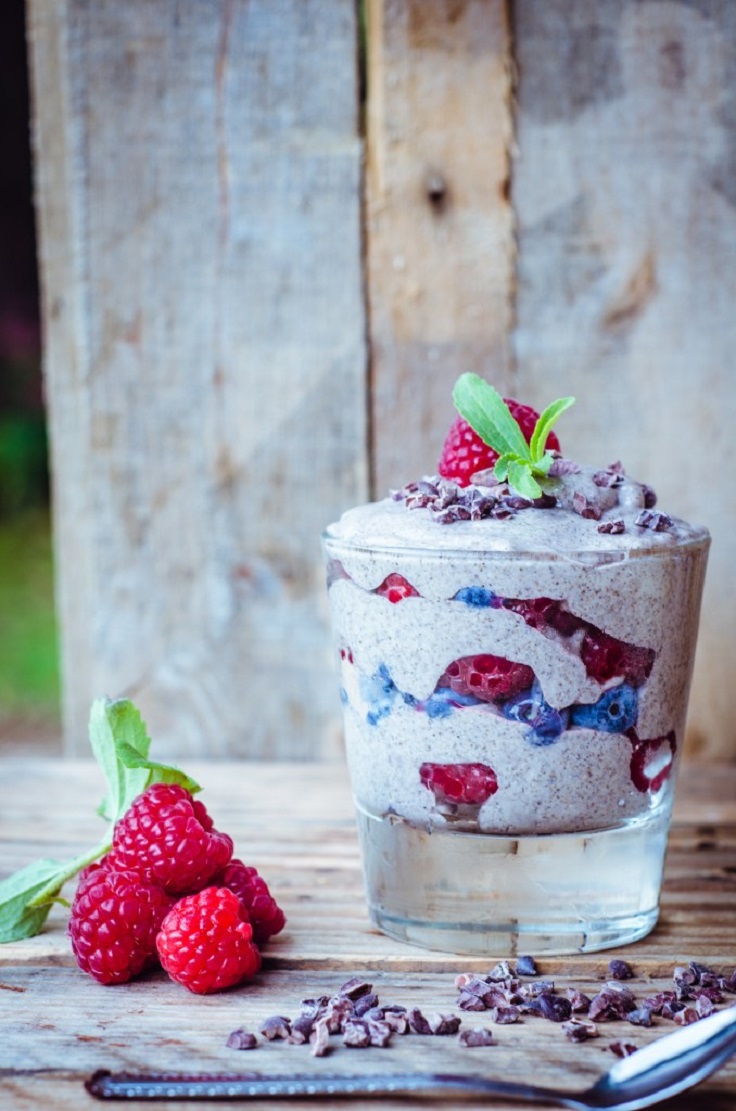 Soak the chia seeds, milk, vanilla, syrup + banana for at least an hour in a mason jar. Soaking overnight is ideal. Empty the contents into a blender + blitz until smooth. You may need to add a little more milk here for a yoghurt like consistency. Taste + adjust sweetness if necessary.Layer a glass bowl or tumbler with the pudding + berries + dress with cocoa nibs or your favourite nuts.
Quick Coconut and Chia Seed Pudding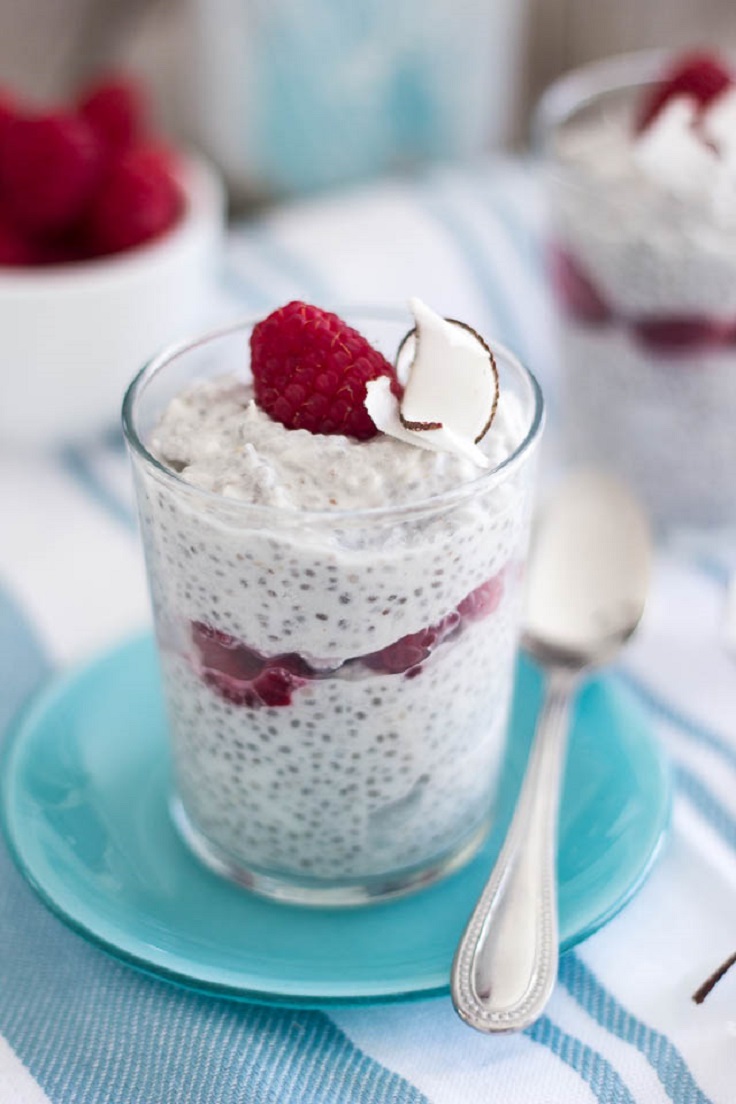 In a small bowl or half pint Mason type glass jar, add coconut, chia seeds, coconut milk, coconut water, vanilla and salt and mix until very well combined. Place in the refrigerator and allow to rest for at least 2 hours. Serve with fresh rapsberries or other fruit of your choice.
Choc Peanut Butter Chia Pudding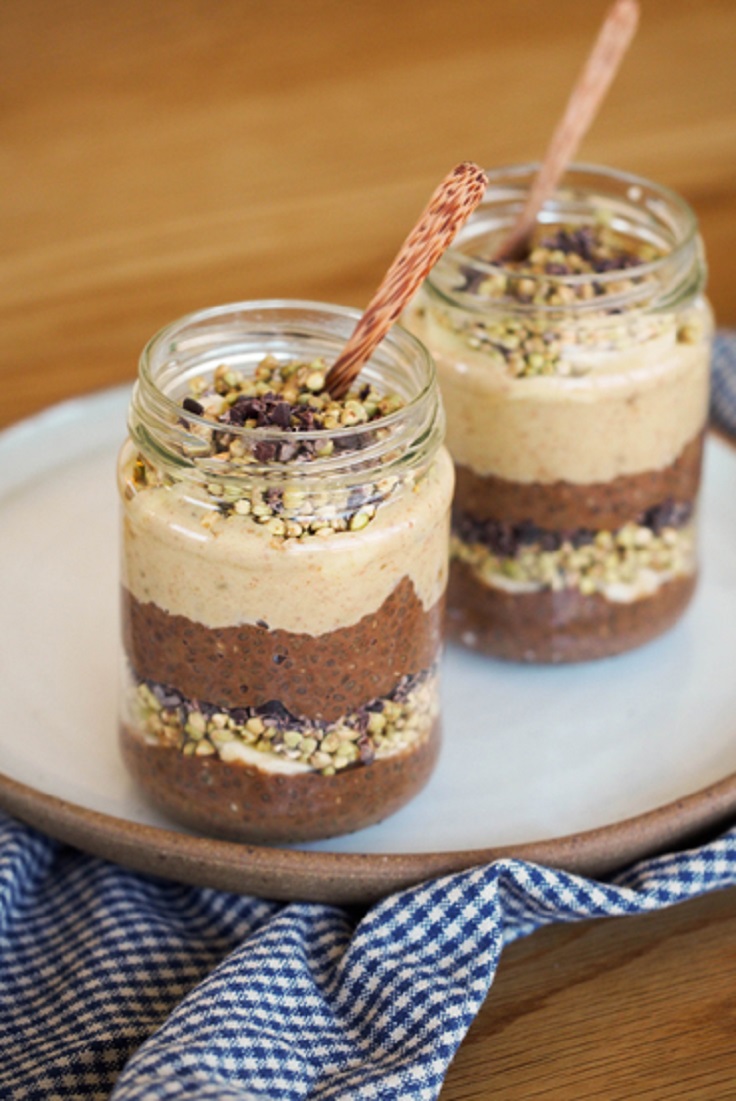 via lovingearth.net
In a bowl, mash banana with the back of a fork, until smooth. Add all remaining ingredients and whisk with a fork until mixed well. Leave in the fridge to soak overnight. Chia seeds will expand to make a pudding. This recipe is so unbelievably delicious and is a peanut butter lover's dream come true! It's just so inviting!
Banana Chia Seed Pudding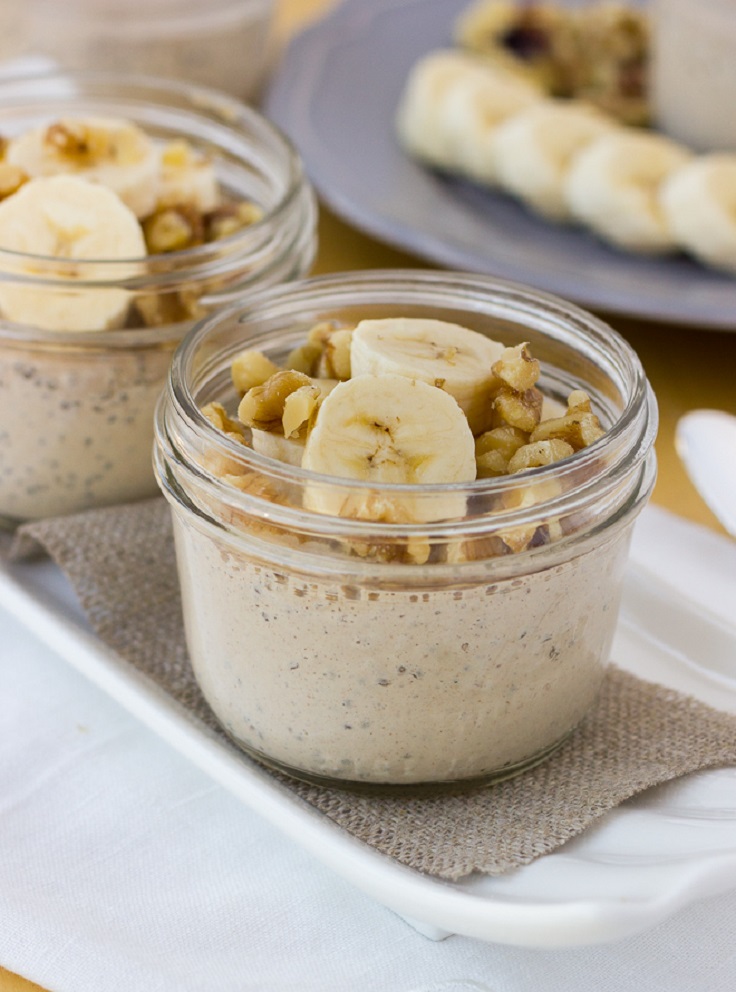 Pour the coconut milk into a saucepan and heat over medium heat. Place the egg yolks in a bowl. When the coconut milk starts to scald, slowly pour about 1 cup of the hot milk into the egg yolks while mixing vigorously with a whisk. Add the egg/milk mixture back to the pan and heat over medium heat for about 5 minutes, stirring constantly. Pour the hot liquid into a blender and add the banana, dates, vanilla, cinnamon, and salt. Blend on high speed to combine for 2-3 minutes, until very smooth. Add the chia seeds and pulse to evenly combine. Pour the mixture into small jars. Cover and refrigerate overnight. Serve topped with banana slices and toasted walnuts. Enjoy!
Cherry Chia Seed Pudding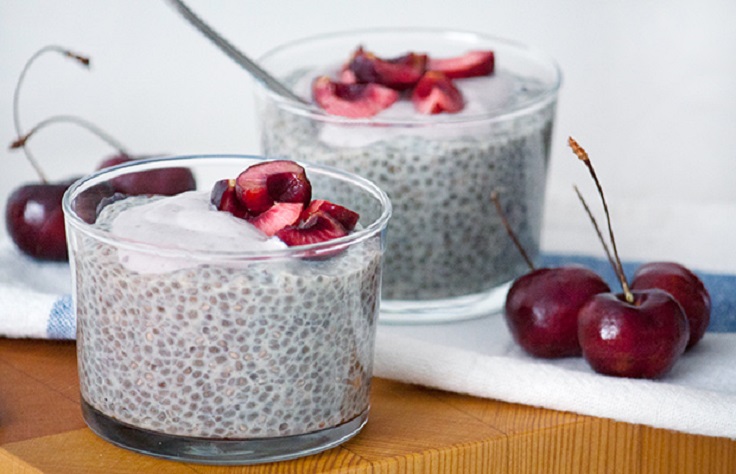 via dailyburn.com
Blend milk, cherries, cardamom, Stevia and vanilla together in a blender on high until smooth. Pour the cherry mixture over chia seeds and whisk thoroughly. Let rest for 5 minutes then stir again. After 10 minutes, stir again. Cover and refrigerate at least 3 hours or overnight. Soak the cashews in water and also refrigerate for at least 3 hours or overnight. To make the cream, blend the cherries in a blender until you have a smooth puree. Drain and rinse the soaked cashews and add to the blender along with cold water. Blend until the cashews are liquefied, and have a smooth texture. Add vanilla and Stevia and blend until well combined. Before serving, give the pudding a good stir and divide into 4 cups; top with cream and more cherries.
Blueberry Coconut Chia Pudding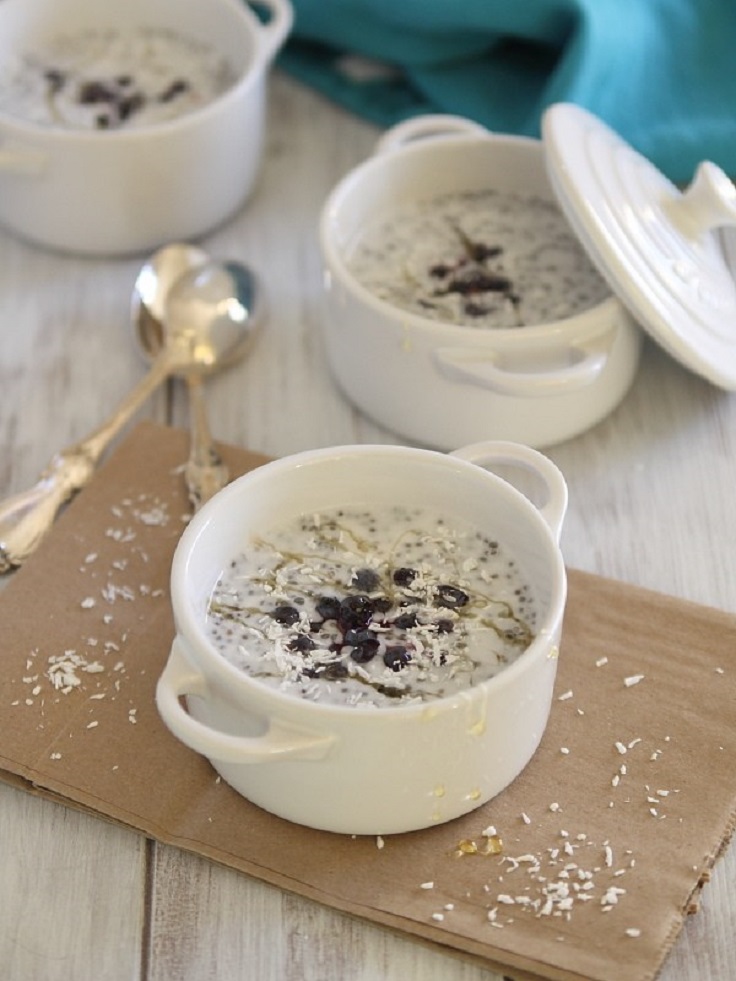 Whisk together the coconut milk, chia seeds, honey, salt and extracts in a bowl. Cover with plastic wrap and refrigerate for at least 3 hours. Once thickened, spoon into serving bowls and top with blueberries, shredded coconut and more honey if desired.
Chocolate and Raspberry Chia Pudding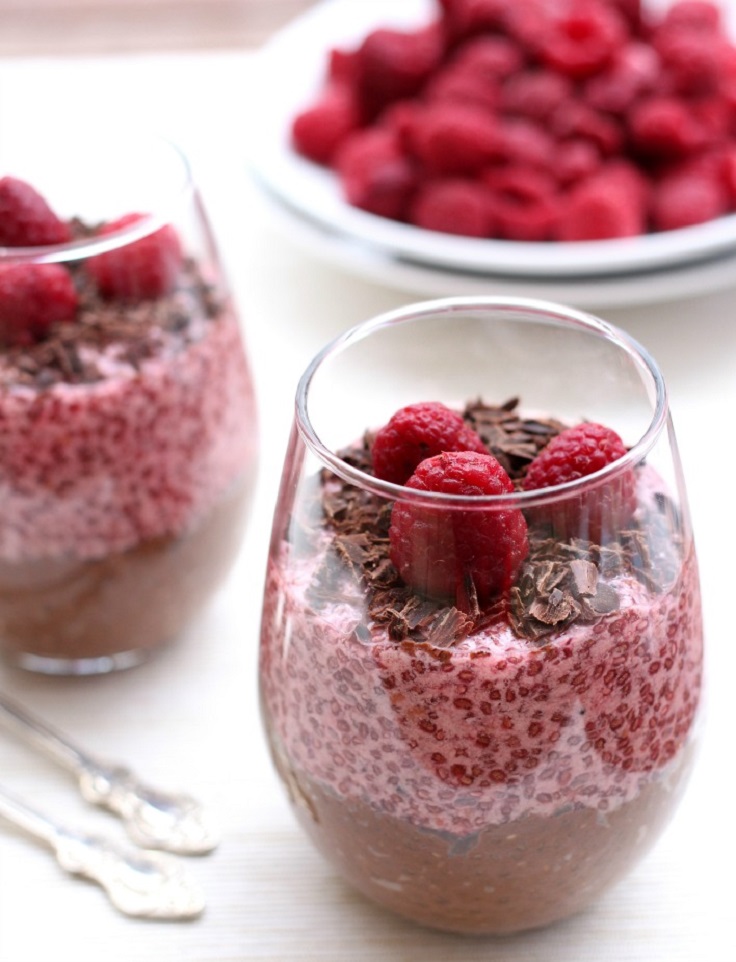 In a small pot melt about 4 chocolate squares over low heat (should yield about 2 tablespoon melted chocolate). Add 1 cup of the coconut milk beverage or your favourite non-dairy milk and stir. Add the raspberries and 1 cup of coconut milk beverage or non-dairy milk to a blender and puree until smooth. Pour the mixture into a jar or a glass container and add 3 tablespoons of chia seeds. Mix well until all the chia seeds are covered with the liquid. Cover with a tight lid and place in the refrigerator. Once the chocolate mixture is cool, pour it into a jar or a glass container and add 3 tablespoons of the chia seeds. Mix well until all the chia seeds are covered with the liquid. Cover with a tight lid and place in the refrigerator. Keep the chia seeds in the fridge over night or for at least 8 hours.
Pomegranate Chocolate Chia Pudding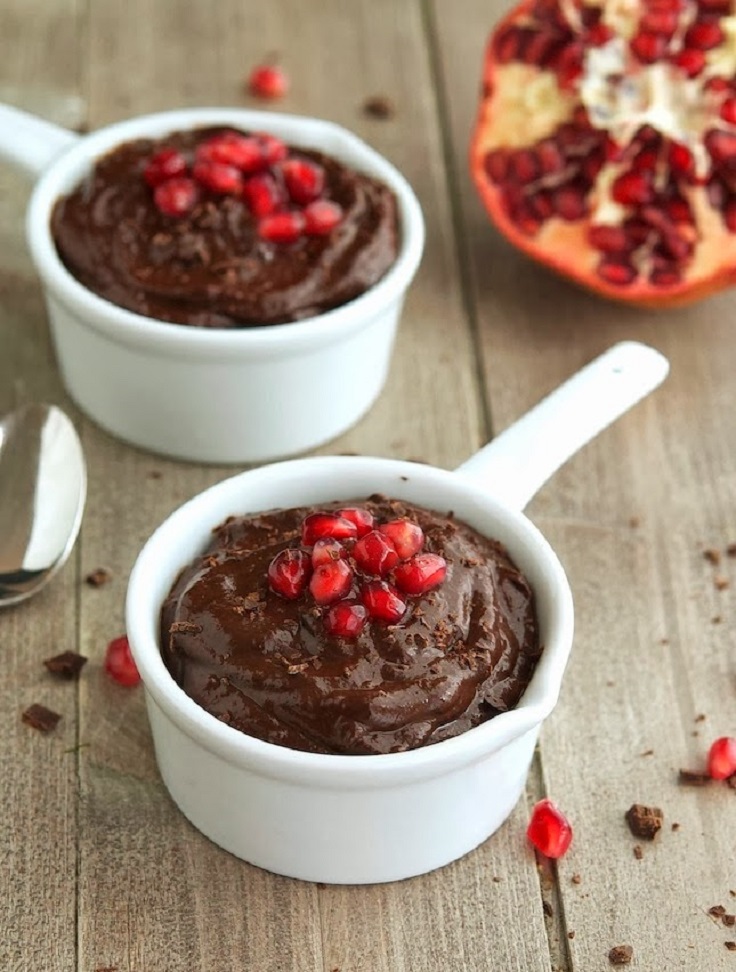 via theironyou.com
In a blender (or food processor) combine pomegranate juice, honey (or maple syrup), avocado, cocoa and chia seeds.
Blend until smooth and silky — you may need to stop the blender and mix with a spoon from time to time, to help the blending process. Divide pudding among ramekins/cups and refrigerate for at least 30 minutes (this allows the chia to thicken). Top with pomegranate arils before serving.
Nutella Chia Pudding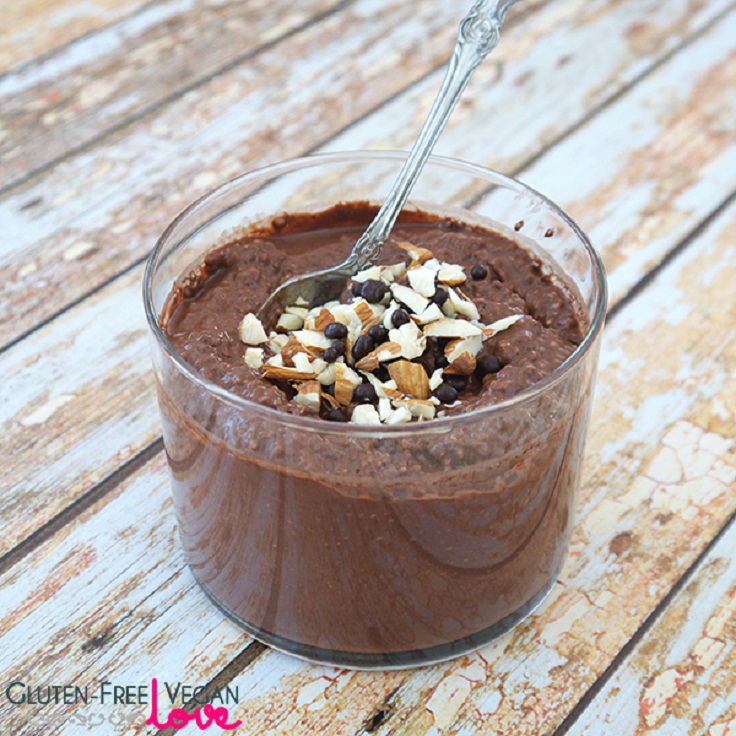 Strain the hazelnuts and put them in a blender. Add in 1 1/3 cups fresh water and blend until smooth. Strain the milk into a clean bowl through a cheesecloth or a nut milk bag to get rid of the pulp to make some hazelnut milk! Add the strained hazelnut milk back into the blender. Add in all remaining ingredients, except chia seeds, and process until mixture is smooth. Add in chia seeds and blend for just a few seconds to mix them in.Transfer everything into a glass bowl and place in the fridge overnight for the chia seeds to soak up some moisture and gel up. Enjoy!