Do you have a pretty punch bowl or trifle bowl that's just sitting around in the cupboard most of the year? Now that the festive season is soon here, you can make good use of it. Punch bowls are perfect for displaying desserts that combine cake with pudding, such as the classic punch bowl cakes or trifles.
The best thing about them is that you can make it a few hours ahead of time. The longer it sits, the more the layers mesh together into one thick, fudgy cake. Trifles are very practical to make as they don't have to look perfect. Try any of these recipes and impress your guests with a beautiful punch bowl dessert.
1. Leftover Halloween Candy Brownie Trifle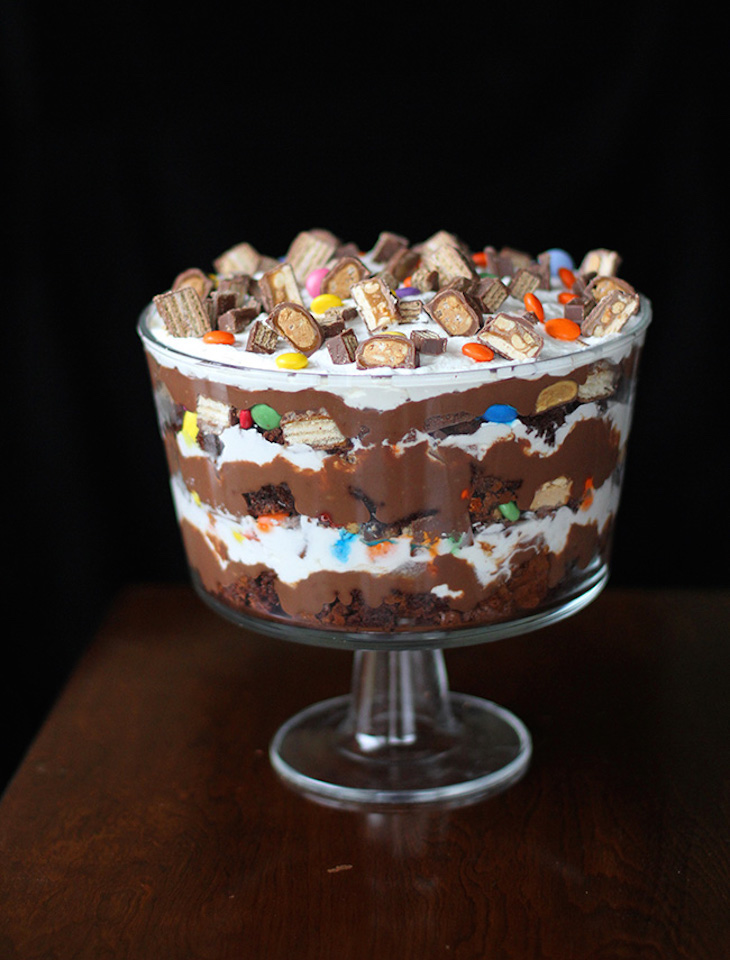 Recipe via www.thekitchenmagpie.com
After Halloween, everyone has lots of leftover sweets. To prepare this amazing trifle, you will need about three cups of chopped chocolate bars, a backed-up brownie, homemade chocolate pudding, and whipping cream. Use some M&M's to make it more colorful.
2. Triple Chocolate Punch Bowl Cake
This beautiful Triple Chocolate Cake is perfect for a family reunion. Thanksgiving is the best occasion to make it, as it serves a lot of people. With the rich chocolate cake, fudge pudding, and fresh whipped cream, everyone will love it!
3. Pumpkin Butterscotch Punch Bowl Cake
Recipe via thegoldlininggirl.com
Make this Pumpkin Butterscotch Cake, and this year you will have something unique and different to serve at Thanksgiving. An easy and elegant trifle with layers of pumpkin butterscotch pudding, cinnamon-spiced maple whip cream, and spice cake will surely impress everyone!
4. Cream Cheese Trifle in Punch Bowl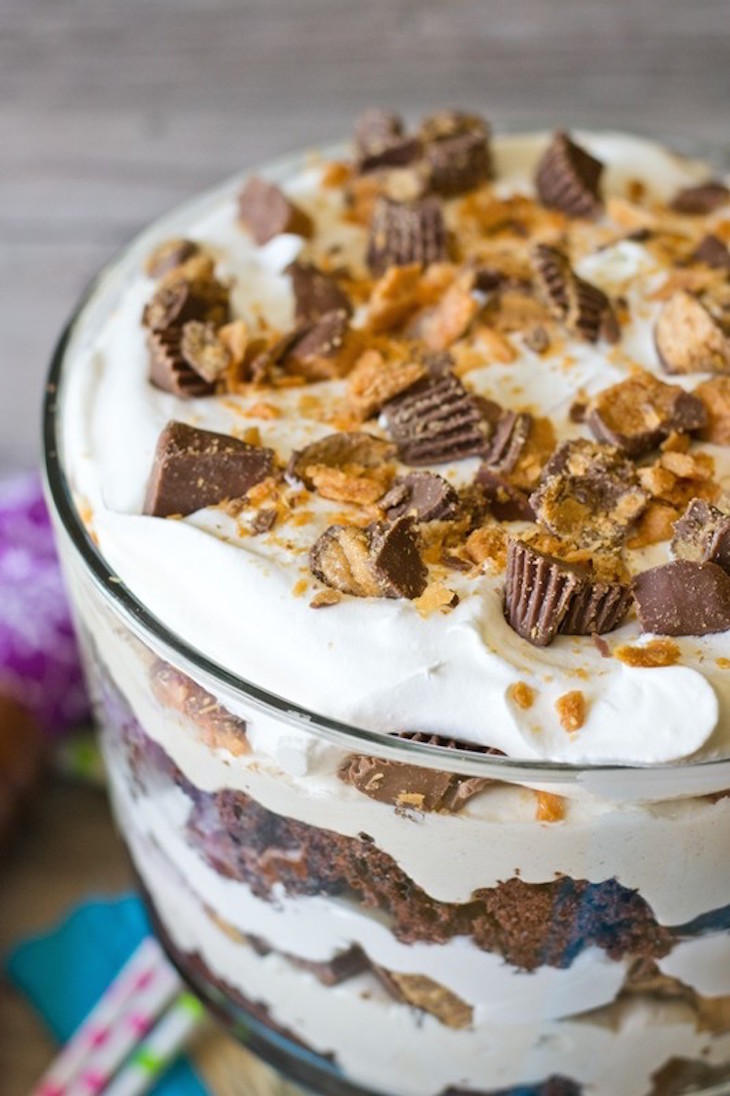 Recipe via tastesoflizzyt.com
Reese's Butterfinger Cream Cheese Trifle is a recipe for the ultimate peanut butter and chocolate lovers. An Oreo cake layered with fluffy cream cheese filling and chopped up Butterfinger and Reese's cups? We don't think it can get better than this!
5. Raspberry Lemon Meringue Vertical Trifle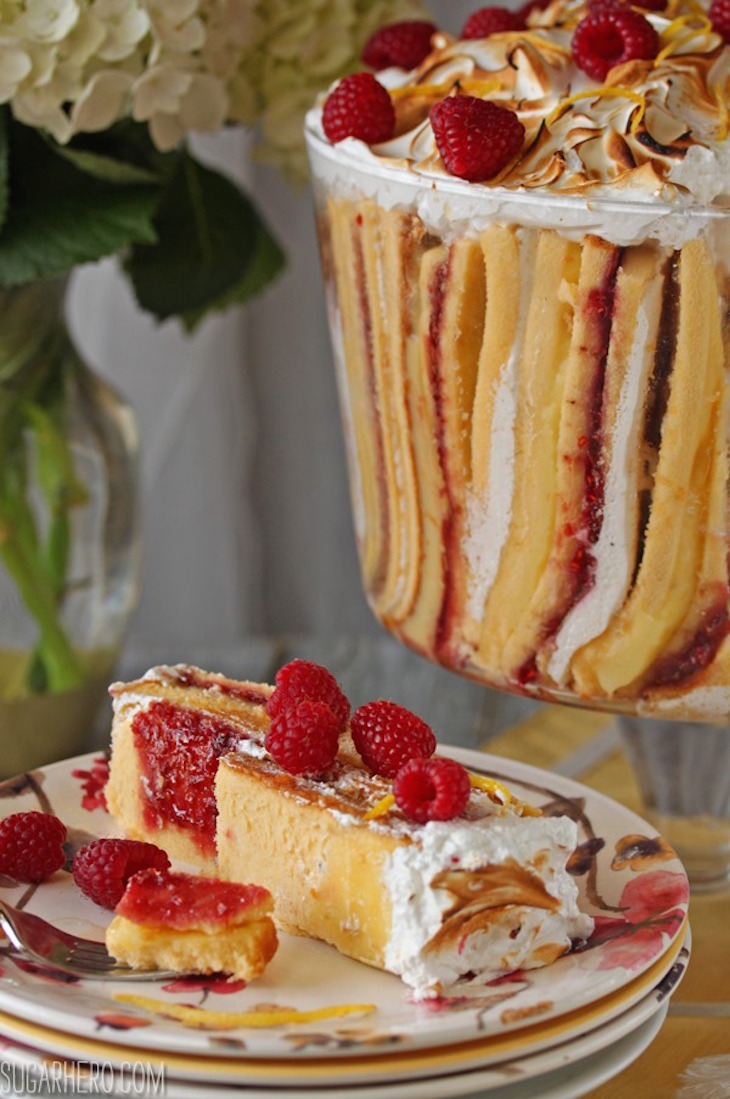 Recipe via www.sugarhero.com
Here is the solution- the vertical trifle for those who want to make something special or bored with the regular trifle cakes. You will need a sturdy cake and won't collapse; that's when the ready-made Pound Cake comes in handy. Layered with homemade lemon curd, raspberry jam, and vanilla meringue, this fruity and delicious cake won't disappoint anyone.
6. Eggnog Gingerbread Cake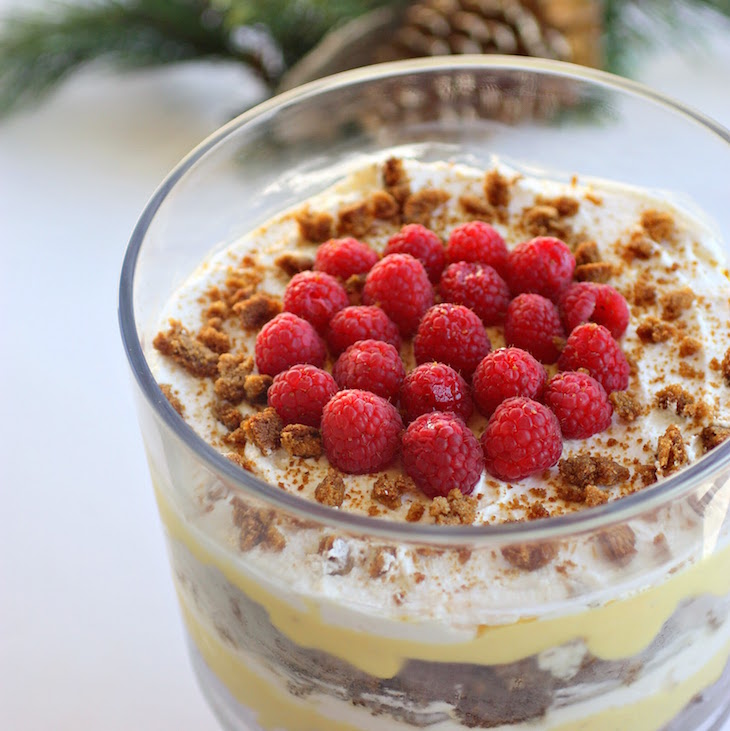 via www.the-girl-who-ate-everything.com
Eggnog and Gingerbread – two things that bring the taste of Christmas. This is the perfect Christmas dessert! Tasty gingerbread cake layered with creamy eggnog and vanilla pudding and fresh whipped cream makes a unique and festive cake.
7. Angel Food Berry Trifle
Recipe via www.chateauelma.com
This is a simple recipe that you can make for any occasion, even when you invite friends over a simple afternoon coffee. The light, fluffy angel food cake layered between whipped cream, pudding, and berries taste so light that it won't make you feel too guilty.
8. Chocolate Kahlua Punch Bowl Cake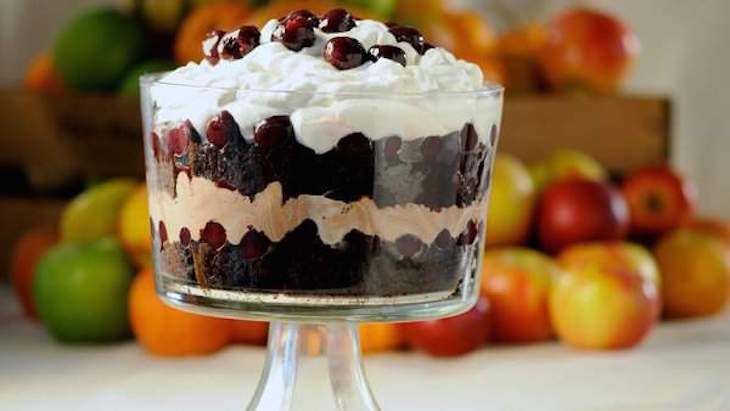 Recipe via recipesnfood.com
To make this amazing Chocolate Kahlua Punch Bowl Cake, you will need to pour Kahlua over the freshly baked brownies. Then spread a box of prepared mousse, spread the Cool Whip, and next sprinkle 3 crushed Chocolate bars over the top. Finish with the perfectly sweet and creamy whipped cream.
9. Peanut Butter Trifle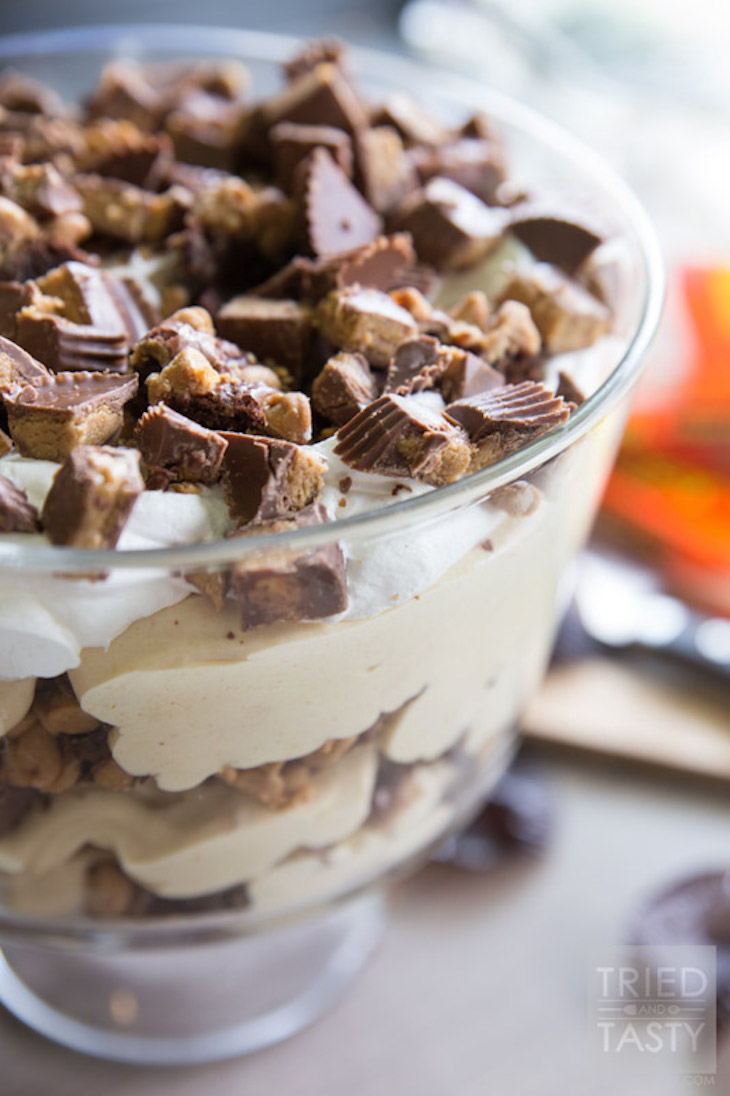 Recipe via triedandtasty.com
Here is another option for the brownie and peanut butter lovers. Make brownies and add a bag of peanut butter chips. Let it cool a bit. Mix peanut butter and vanilla pudding until smooth and creamy and fold in cool whip. Now you can layer the brownies with the pudding mixture and finish with the remaining cool whip and chopped Reese's cups.
10. Simple Punch Bowl Cake
Recipe via www.confessionsofacookbookqueen.com
Just like all the other cakes, you can serve this one in a giant punch bowl as well or in small individual jars. This way, you can avoid the cake getting too messy. Shredded coconut and pineapple will bring back the summer for a little while.