Chickpeas, also known as garbanzo beans, have many health benefits and that's why we should consider eating them regularly. They are a very good source of protein and this can really come in hand for the vegans and vegetarians.
Chickpeas are also an energy booster due to the fact they contain iron. They are recommended for weight loss diets because of the high fiber contain. So, not only they are very healthy, but they are very delicious too.
There are many recipes that you can try out with chickpeas. You can bake them spicy, with curry or you can combine them with spinach or rice. No matter what you decide to cook, the recipes shown below are definitely going to make your stomach happy for bringing such delicious and healthy food at the same time.
1. Chickpea Feta Salad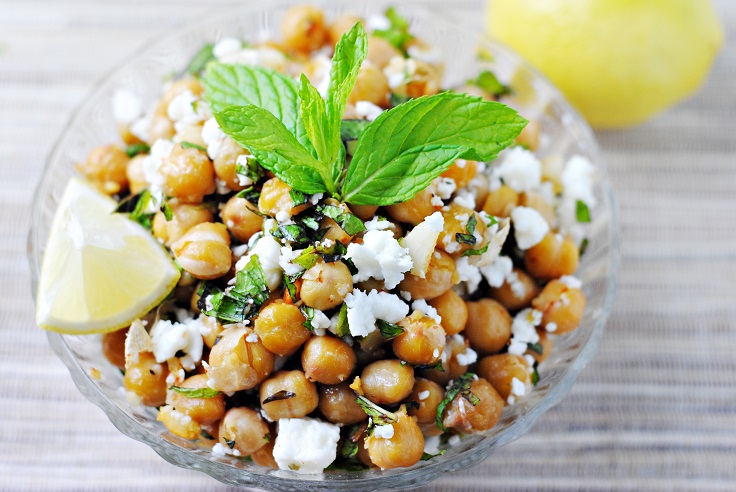 This chickpea salad will take only 25 minutes to be made and with the recipe you will get two side servings of it. In order to make it, you need chickpeas, garlic, feta cheese, fresh mint, lemon wedges, ground pepper and red pepper flakes. You'll need olive oil and salt to season it. Preparing the salad is very easy. First you combine together the chickpeas together with olive oil, garlic, ground pepper and red pepper flakes and then you put the mix in the oven to bake for about 15 – 20 minutes. When the chickpeas will get their light brown color, take them out and leave them to cool. The last step is adding the feta cheese and the mint and serving it with the lemon wedges.
2. Chickpea Patties
The mini chickpeas patties can be the perfect breakfast choice. You need chickpeas, onion, garlic, passata, basil leaves and breadcrumbs. First you fry the garlic and onions until they get their brownish color and get soften. Then, you add the chickpeas, the basil and the passata and you boil until the passata has simmered down. You put the mixture in the food processor and after that form the mixture into patties, add the breadcrumbs and bake them.
3. Baked Sweet Potatoes with Chickpeas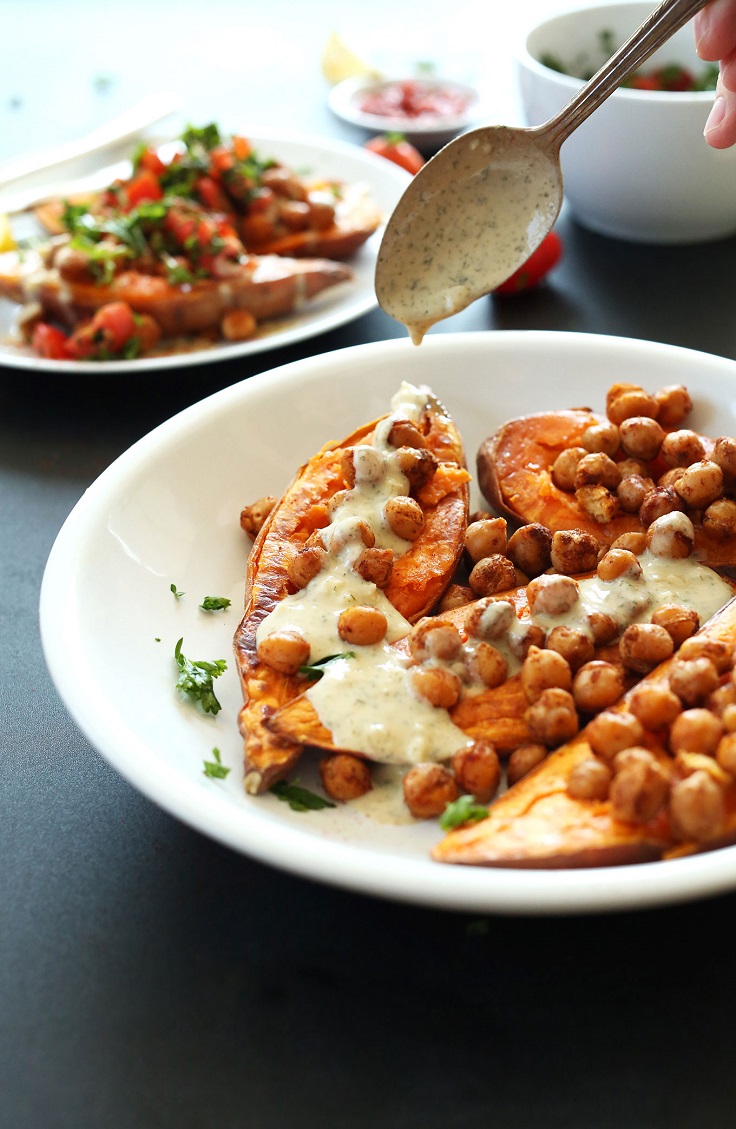 If you have no idea what to cook for lunch or dinner, having baked sweet potatoes with roasted chickpeas is a very delicious choice. The fact that it will take you only thirty minutes to get this healthy, savory recipe on a plate is even more amazing. The main four ingredients you need for this recipe are: sweet potatoes, chickpeas, garlic – herb sauce and parsley – tomato salad for garnish. The rest is just following the given instructions and you'll see that it's really simple to get this really amazing dish.
4. Kung Pao Chickpeas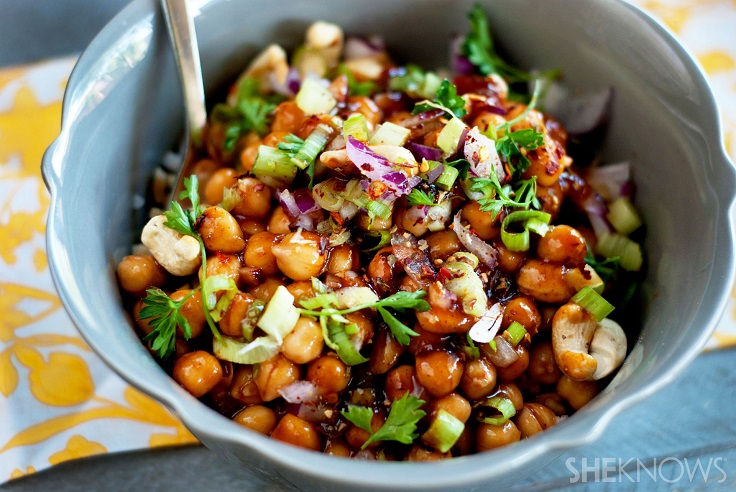 via sheknows.com
This dish has a very delicious garnish. What you get to eat is a garnish made of green onions, red jalapeños or Thai chili peppers, cashews and steamed white rice to serve the warm chickpeas with. You can also add cilantro to the garnish. The chickpea part and the chickpea marinade from the recipe are very easy to make as well. Just purchase the needed ingredients and follow the given instructions.
5. Baked Spiced Chickpeas
via fatgirltrappedinaskinnybody.com
It's always nice to have a healthy snack in the house for the times when you really need and want to eat something that will be healthy and delicious at the same time. The baked chickpeas are the perfect snack example. They are crunchy, spicy and best to eat when they are warm. Making this snack is simple. First you drain, wash and dry the chickpeas . Meanwhile you can make the spicy mix by combining all of the spices and then you just mix the spices with the chickpeas and bake them.
6. Quick Indian Chickpeas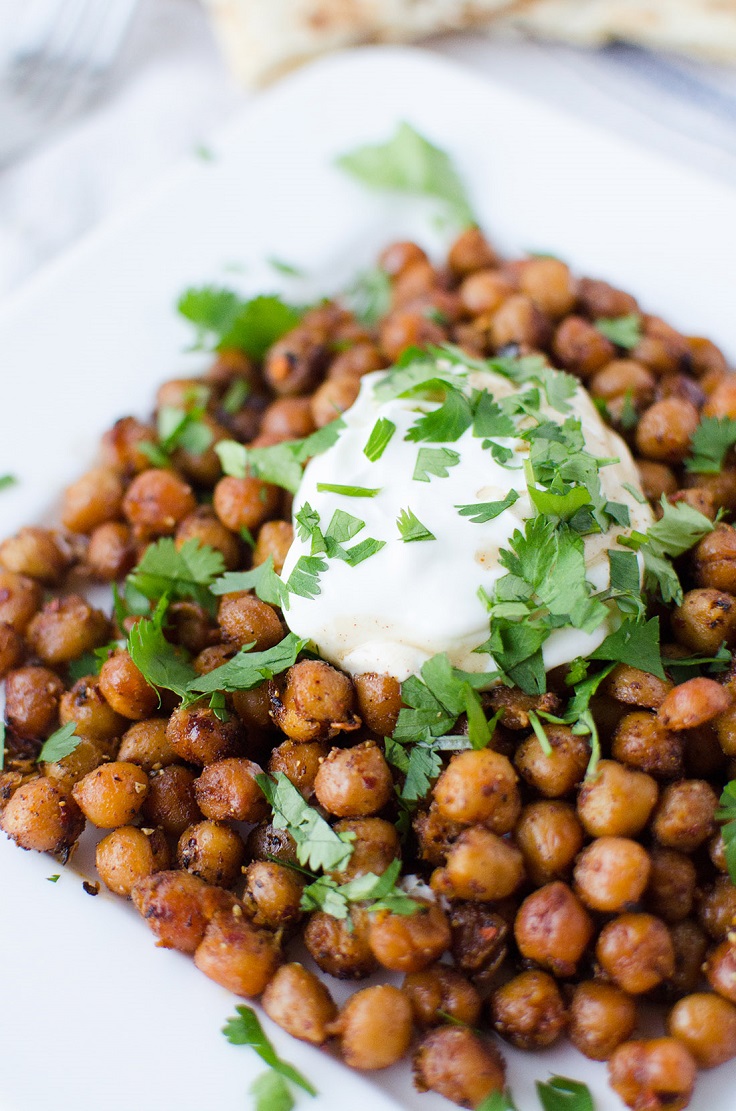 This recipe will get you to a healthy lunch or dinner option that will be done in 15 minutes. What you need to do is to first drain, rinse and dry the chickpeas. Put them in a pan over medium heat, add and fry them about 10 minutes until they don't get crispy and after that, it's seasoning time. Add masala indian powder, cayenne and a pinch of salt or/and pepper. Fry them for the next two minutes and then put the in a bowl and top with yogurt, cilantro and tamarind sauce.
7. Chickpea Pulav
The Chickpea Pulav is a delicious combination of chickpeas, vegetables, rice and spices. It can be a great lunch or dinner recipe and you can also serve it when you have guests. It's really easy to make it, you just need to follow the given instructions. When the chickpea pot is done, you can either serve it alone or with yogurt or pickles. With the recipe, you'll get lunch or dinner for three and it will take you less than hour to serve it.
8. Indian Chickpea Dip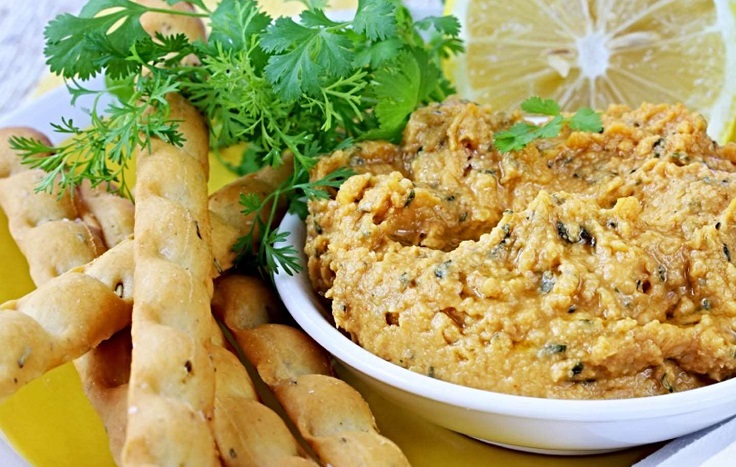 via kashi.ca
Spices, one can never have enough of them! Especially when it comes to the Indian cuisine. It's savory, spice, delicious and you can say "no" to it. If you are bored from all the regular dips, try this one out. Experimenting with the spices and flavors is always a good idea, especially when you have to deal with great dip ingredients such as tahini paste, cilantro leaves, mustard and cumin seeds and all these mixed with chickpeas.
9. Chickpea Coconut Curry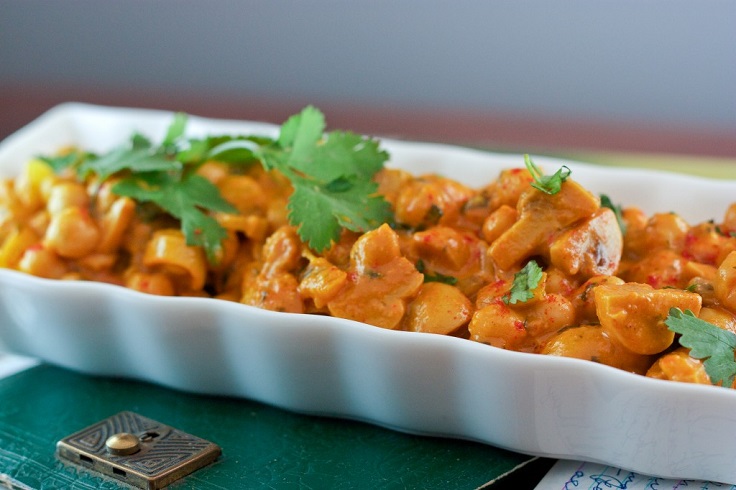 Creamed coconut with curry and chickpeas? And a naan bread as serving? Oh, yes! You may be thinking about whether you are going to like this dish or not, but either way it deserves your chance. After tasting, you'll want to make it again with no doubt. Besides the creamed coconut, chickpeas and curry powder, you'll also need for this recipe garlic, cilantro, mushrooms, small tomatoes, turmeric powder, grated ginger, paprika, vegetable stock and onions. Looks like all the ingredients are sent straight from heaven just to get in our hungry stomach.
10. Indian Chickpea Curry with Spinach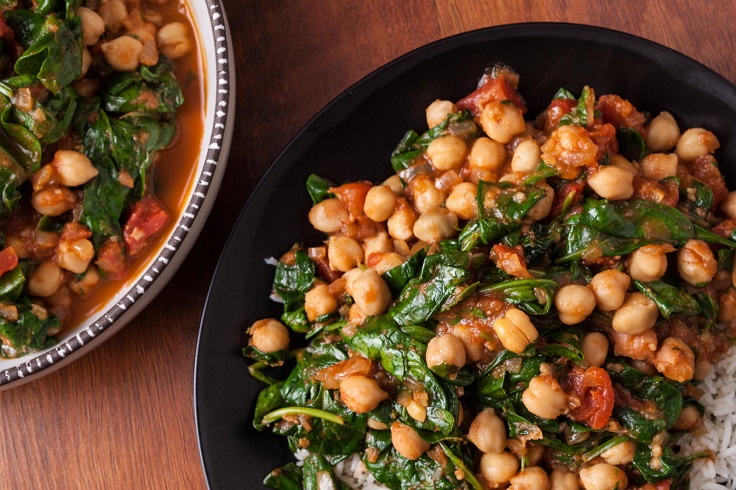 via chow.com
It looks like the Indian cuisine knows how to use the chickpeas very well. In this recipe, the chickpeas are combines with spinach – now that's a healthy dish! Also, this is a very good dish that can suit the food cravings of a vegetarian. The chickpeas + spinach is a great combination, especially if you spice it with coriander, paprika and cumin. This dish will take you longer to have it, but all the waiting is worth it when it comes to tasty food.