With Christmas coming soon, it's time to think about what you are going to cook, and you might wonder what to prepare for you or maybe your vegan friends. There are plenty of easy and budget-friendly recipes to consider, and in this article, you can read about ten of them.
From pasta salads to casseroles, there's something about everyone! Here you can read about ten main dishes you can prepare, and soon there will be another article about vegan desserts. Have fun cooking!
1.  Mushroom Wellington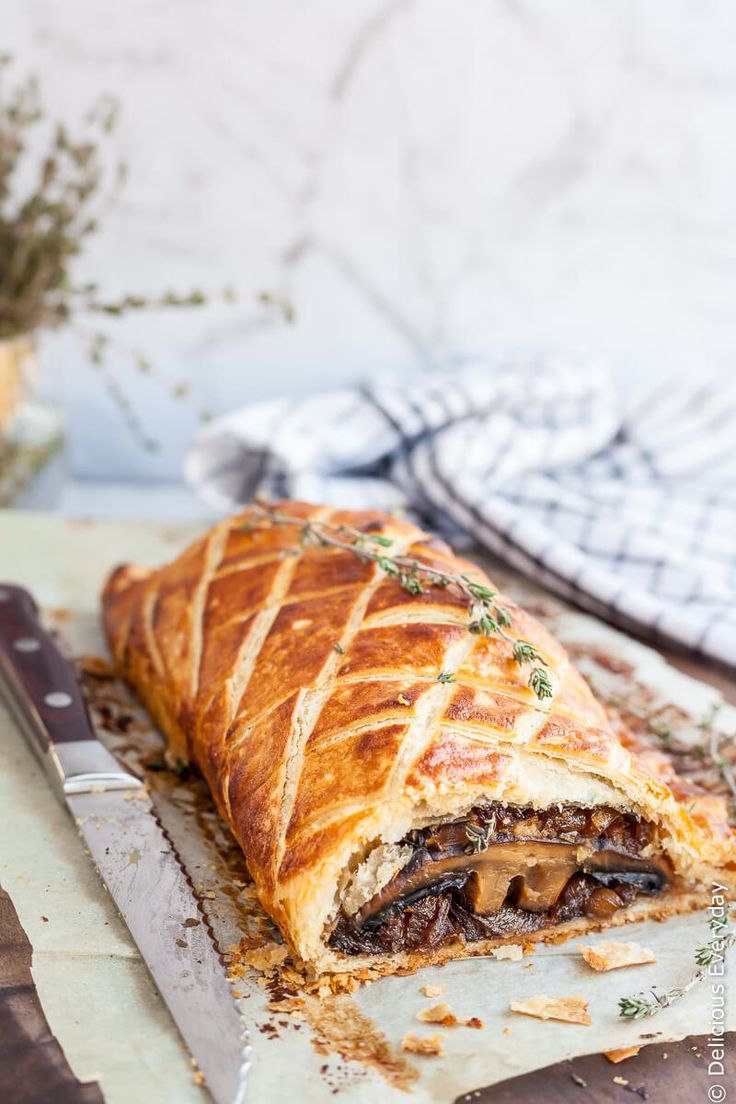 The famous Wellington recipe can be easily adapted to the vegan lifestyle. Instead of beef, fill it with other tasty ingredients, such as mushroom, spinach, and caramelized onions. You will also need a vegan puff pastry that you can either prepare yourself or get store-bought. The mushroom Wellington is ready in an hour, and it's best to eat it soon after you take it out of the oven.
2. Christmas Salad
Have you ever seen a salad that is so Christmas-y? Unlike most salads, this one includes cutting the vegetables into matchsticks, and that is exactly why this salad looks so good, besides the colorful look of the ingredients. For this recipe, you need celeriac root, medium beetroots, green apple, 2 carrots, chopped parsley, chopped walnuts, pomegranate seeds, and various dressings as wholegrain mustard, lemon juice, and olive oil.
3. Quinoa Stuffed Peppers
Bringing tastes from different cuisines for your Christmas dinner party will be an amazing idea, and one of the recipes you can prepare is exactly this one: Spanish – inspired quinoa stuffed peppers! The filling is made of tasty ingredients such as black beans, kernel corn, and quinoa, seasoned with different spices and herbs. You can serve these peppers with delicious toppings such as avocado, red onion, or hot sauce.
4. Butternut Squash Pasta Salad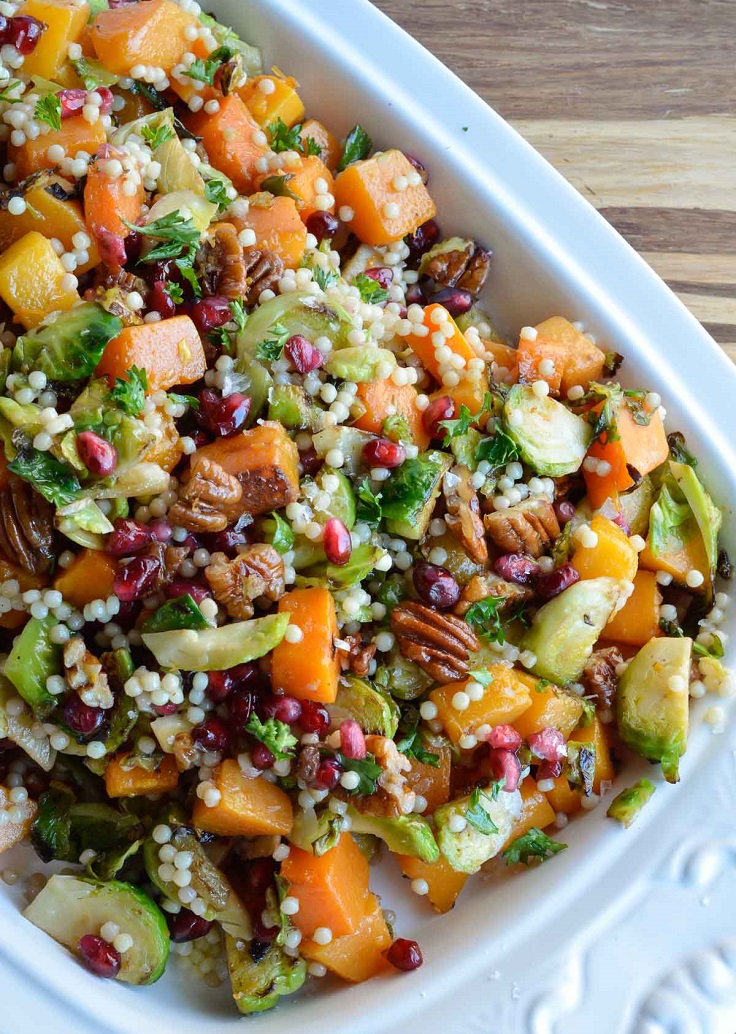 Salads can be dull side dishes, but there's an easy way to change that. Discard the usual salad recipes that you've heard thousand times before and go for something new! As much as we love tuna or Caesar salad, we have to say that this salad made of butternut squash, pasta, brussels sprouts, pecans, and pomegranate is going to satisfy your cravings and make you go for more of it. Healthy and delicious!
5. Vegan Broccoli Cheese Soup
via yummly.com
What's better than warming yourself on a cold Christmas night with a bowl of creamy soup? This soup is the perfect mixture of different ingredients, such as cashews, potatoes, and broccoli. It takes 40 minutes to prepare it, and it's best to serve it warm. You're going to like this recipe because one dish of the soup contains only 240 calories!
6. Pomegranate and Walnut Stew
This recipe is actually a vegan version of a famous Persian recipe known as fesenjan. Instead of meat, the vegan recipe contains tofu. It is an exciting mix of tastes, as it contains walnuts, pomegranates, couscous, onions, and spices such as cinnamon and black pepper. It is very easy to prepare it! You can serve it with side dishes such as baked potatoes.
7. Oven-Roasted Garlic Cauliflower
via holicoffee.com
This is one of the easiest and most budget-friendly recipes on the list, as it requires only a few ingredients – cauliflowers, olive oil, lemon juice, salt, black pepper, and vegan cheese. You can also serve it with chopped chives as a topping. Because the recipe contains cauliflowers, it's not high in calories, so that you can indulge a little bit more!
8. Veggie Lasagna
via veganricha.com
Forget the meat and the mozzarella – the vegan lasagna is as equally as delicious, and it's healthier! Imagine all things delicious and vegan in one meal – tofu thyme ricotta, vegan cheese slices, herbed mushrooms, tomato basil pasta sauce… Absolutely amazing recipe from the Italian cuisine, just adjusted to the vegan needs! However, we're pretty sure that even meat lovers would like to try this lasagna.
9. Creamy Wild Rice Mushroom Casserole
via ohmyveggies.com
Casseroles are a popular dish for Christmas, so it's no wonder why one of our favorite recipes is adjusted to be vegan! It will take you something less than two hours in total to have this casserole all done and ready. Still, all the waiting will be worth it in the end – it has the most delicious cashew sauce and many delicious and healthy ingredients, such as carrots, celery, mushrooms, and onions, to name a few!
10. Cauliflower Fried Rice
Can't have enough healthy meals? Here's another one you're really going to love, plus it's ready in less than 20 minutes, which makes it ideal for those of you who don't have much time or don't want to spend hours of cooking. The stars in this recipe are the cauliflowers and the rice, accompanied by other tasty ingredients that make this perfect Christmas dish!