Honey, propolis, beeswax, bee pollen – we all know that these 'bee products' are healthy and that we should try to incorporate them into our daily diet. But what exactly bee pollen is and why is it so healthy? Bee pollen has been used for years in Chinese medicine; it has recently gained more attention in Western societies.
It is actually the food of the young bee, made by honeybees. Bee pollen is considered an exceptionally nutritious food, sometimes even labeled as a 'superfood.' It contains nearly all nutrients required by humans. According to some nutritionists, we could live on bee pollen alone as it is such a perfect food.
Bee pollen is rich in proteins, free amino acids, vitamins, and folic acid. It is richer in proteins than any animal source. The great thing is that half of the protein is in the form of free amino acids that are ready to be used directly by the body.
It is fascinating to think that one teaspoon dose of pollen takes one bee working eight hours a day for one month to gather, and it contains over 2.5 billion grains of flower pollen. Using bee pollen is an effective way to strengthen your immune system and decrease the severity of seasonal allergies.
Precautions: Before adding bee pollen to your diet, make sure to check for signs of allergen sensitivity! Even if you are not allergic to bee stings, you may be sensitive to be pollen.
Start with a single bee pollen pellet, and watch out for intolerance signs such as impaired breathing, increased heart rate, or dizziness after eating it. Increase your bee pollen intake gradually; start with a granule or two of bee pollen daily and build your consumption to one tablespoon per day. Always buy local bee pollen at community farmer's markets and whole food grocery stores.
Let's see ten great ways to incorporate this superfood into your diet!
1. Blend bee pollen into your smoothie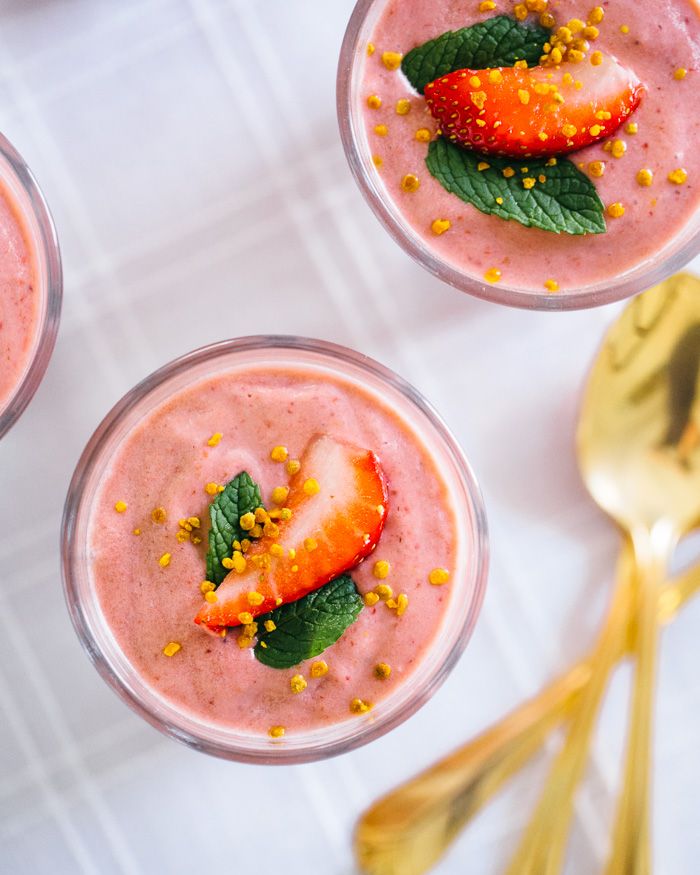 Recipe via www.acouplecooks.com
A very easy way to eat bee pollen is to add it to your morning smoothies. Check out this delicious vegan Strawberry Coconut Smoothie recipe with bee pollen. You'll need strawberries, pineapple, avocado, a few dates for sweetness, and coconut milk.
2. Add it to your favorite raw dessert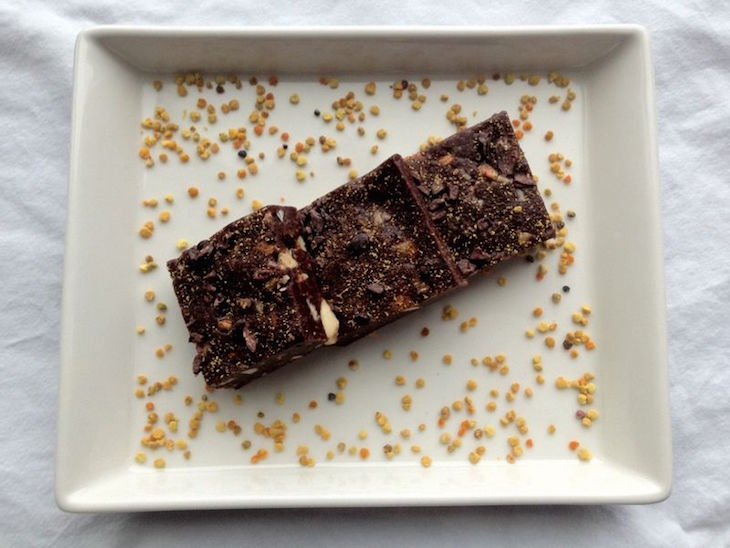 Recipe via www.instructables.com
We all just love brownies, don't we? Considered how much sugar and butter the original brownie has, it is no surprise we feel guilty after eating a small piece of it. Try these amazing no-bake, antioxidant-rich 100% Raw Brownies with bee pollen. You'll need almonds, dates, walnuts, raw cocoa nibs, and bee pollen.
3. Use as topping over yogurt or cereal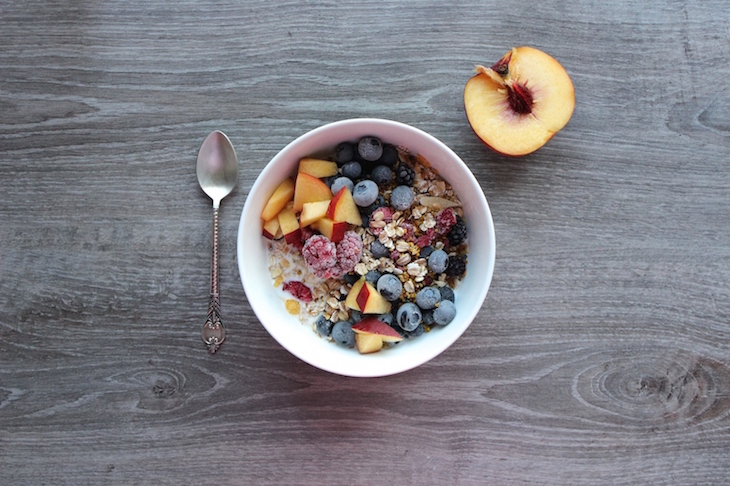 Recipe via www.healthyhappened.com
You can add bee pollen to your breakfast bowl.Whether it is cereals with milk, fruits with yogurt, or an acai bowl, sprinkle it on top, add a little honey, and you have a super healthy start to the day.
4. Add it to your homemade granola bars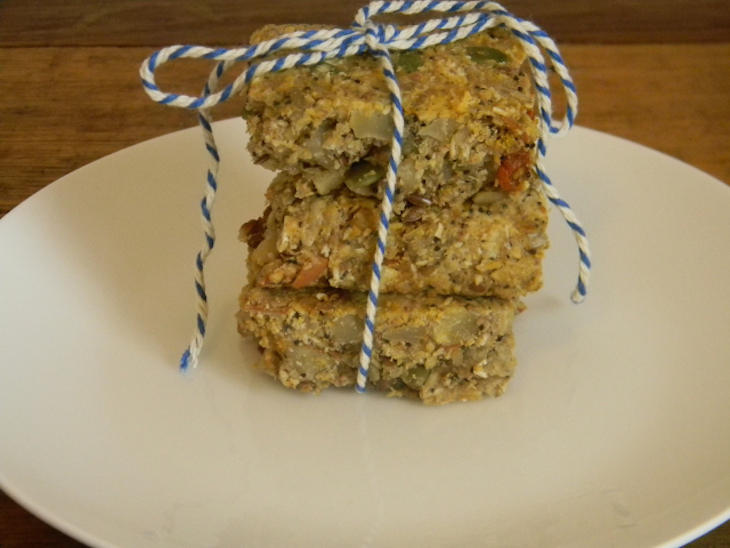 Recipe via timetoriseandshine.wordpress.com
Have you thought about adding an extra ingredient to your homemade granola bars? Well, that should be bee pollen then. Try this fantastic Nutty Granola Bar recipe with Bee Pollen. Mix quinoa flakes, rolled oats, ripe banana, very ripe pear, all kinds of mixed nuts and seeds, coconut flakes, spices (cinnamon, cardamom, vanilla), and bake it in a tin on baking paper.
5. Incorporate ground pollen into salad dressings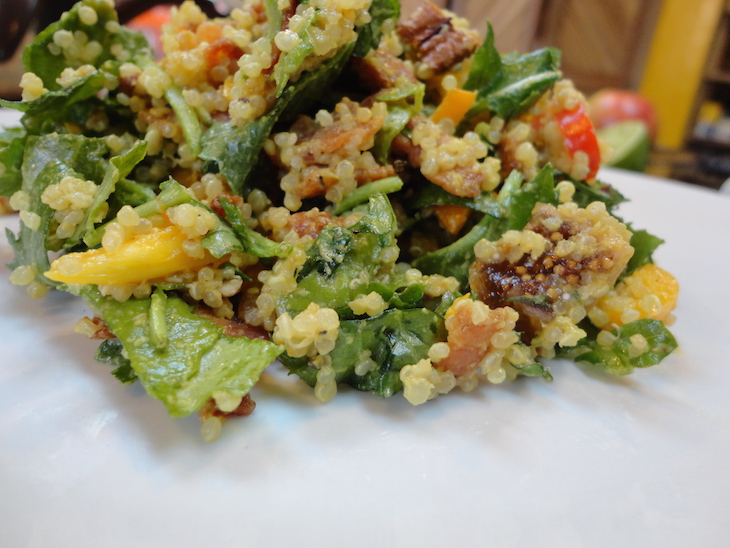 Recipe via cupcakecottle.wordpress.com
Add bee pollen to your salad dressings, or just sprinkle it over the salad if you eat it without dressing. This delicious Kale, Quinoa, Fig Salad recipe is a perfect nutritious lunch or dinner. Try to add bee pollen to the honey-mustard dressing next time you make it. Mix extra-virgin olive oil, lemon juice, apple cider vinegar, ground mustard, bee pollen, garlic, and agave syrup.
6. Sprinkle it over popcorn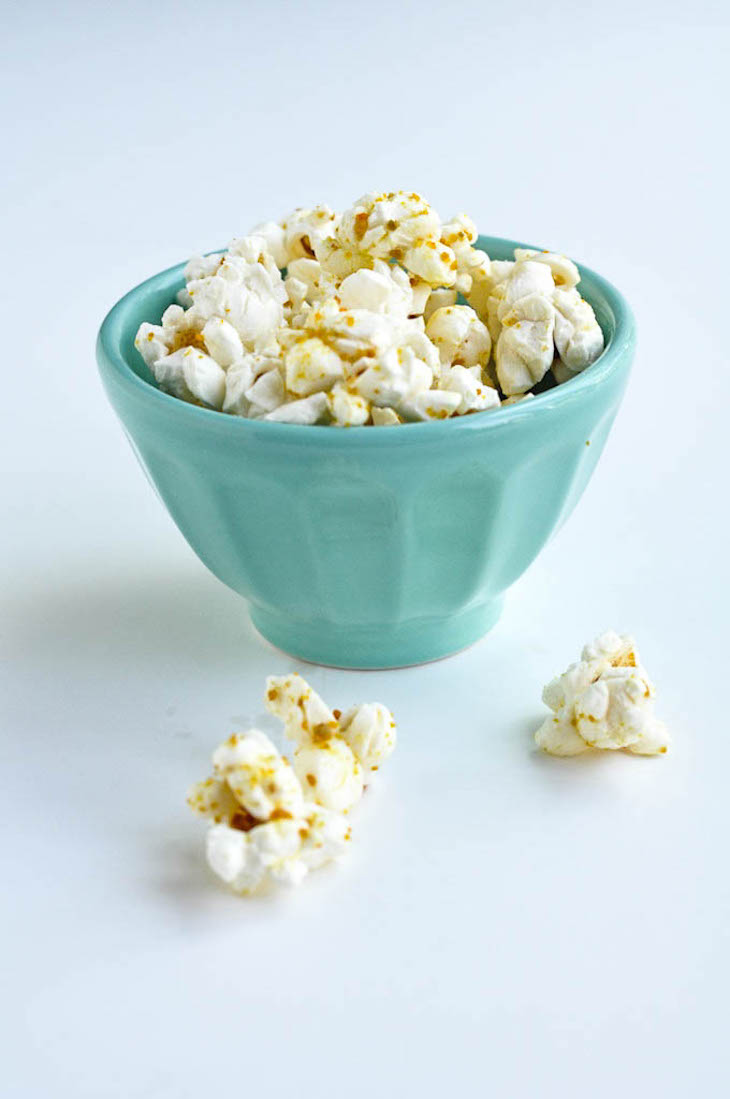 via fivefocus.ca
Add bee pollen to popcorn! Pour the melted coconut oil over your popcorn, covering all the kernels. Sprinkle the ground bee pollen over the top and mix to coat and season it with sea salt.
7. Use it in/on popsicles
Recipe via myskinnysweettooth.com
This Dark Chocolate Banana Popsicle is great when you crave something cold and something sweet. You'll need bananas, dark chocolate, coconut oil, and bee pollen. Stick the banana slices into melted chocolate, sprinkle them with bee pollen, wait until it gets solid. Keep them in the freezer in a plastic bag.
8. Sprinkle over Pies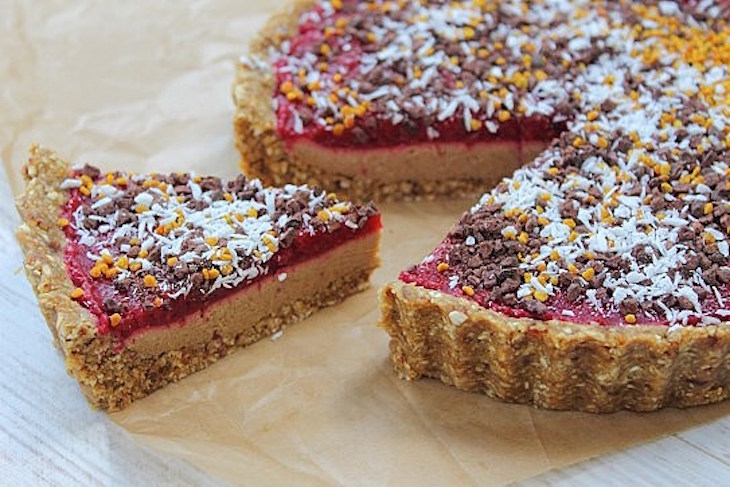 Recipe via www.bloglovin.com
This Raw Peanut Butter and Jelly Pie look amazing, tastes amazing, and everyone will just love it! It requires dates, almonds, and oats for the base, peanut butter, almond milk, and dates for the filling, raspberry, cacao, bee pollen, and coconut topping.
9. Try something new for breakfast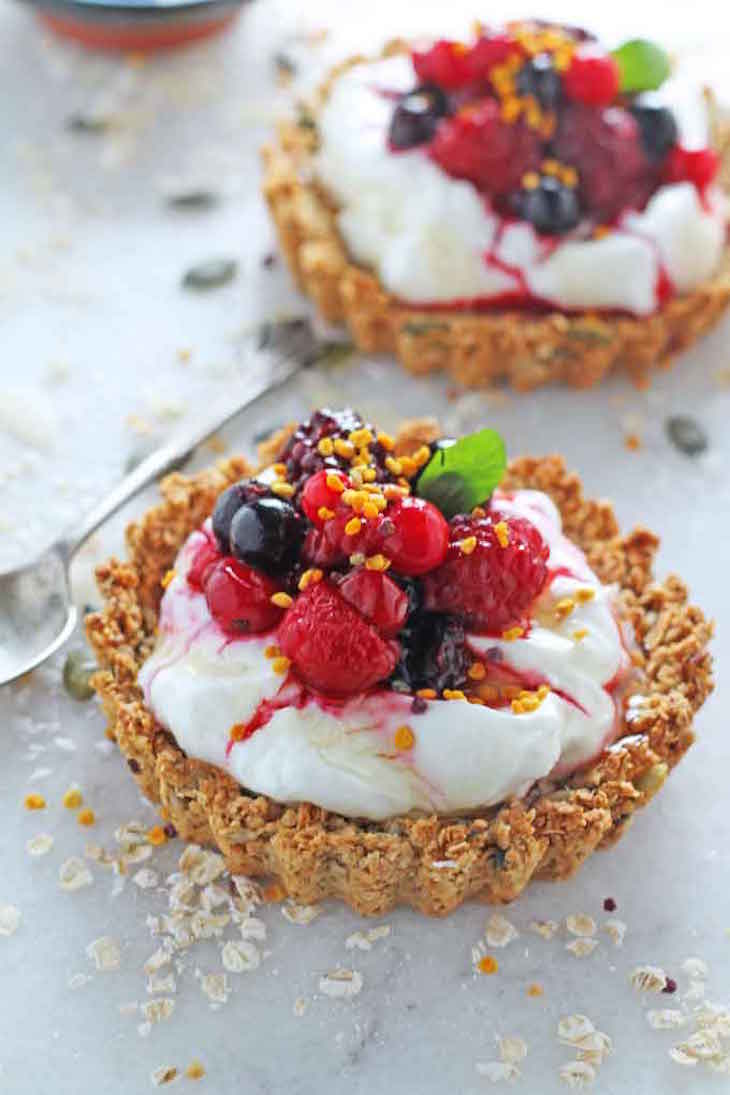 This Granola Crust Tart will make you get off the bed even on the laziest mornings. Fill it with yogurt and berries or other favorite fruits and sprinkle it with a spoonful of bee pollen. They are healthy, delicious, and beautiful. What more we need?
10. Add to Raw Chocolate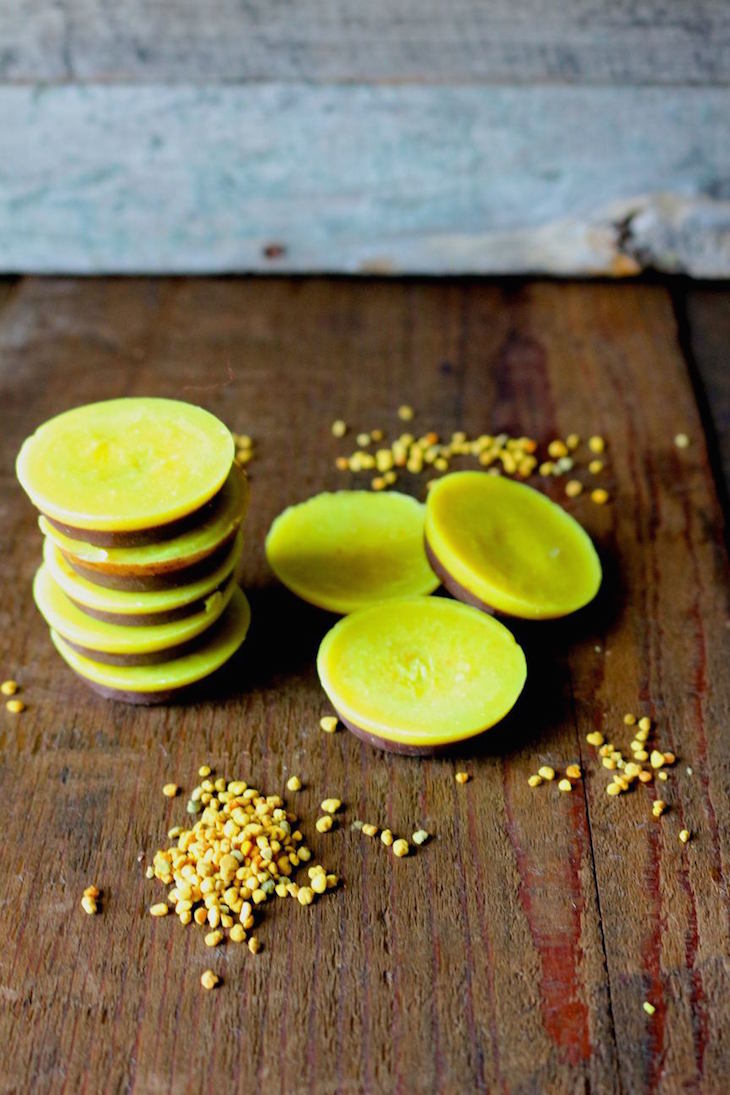 Raw cacao is full of amazing benefits and bee pollen, which will add subtle chewiness to these Superfood Sunshine Chocolates. Place them in a nice old tin, and they make the perfect gifts for the health-conscious foodie friends.