If you have a pet, and in this case a dog, you know how much you want the best for him. When it comes to the saying that one way to get to the heart is through the stomach, well, dogs aren't an exception to this! Making your own dog treats is as easy as pie. But, before cooking a delicious treat, look carefully at what you cook with.
It's important to feed your dog the right way without using something it's allergic to. Some dogs like something that other dogs may appear allergic to. So, talking to a vet before cooking for your dog is a good idea. Or, if you already have done this so many times, then skip the vet advice and check out these amazing recipes that will surely put a smile on your dog's face.
1. Carob Dipped Dog Biscuits with Peanut Sprinkles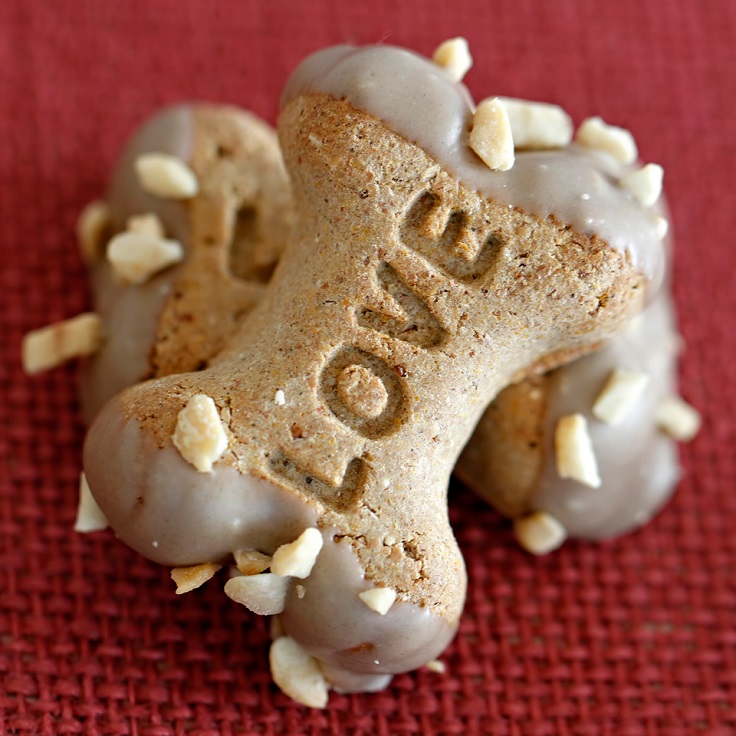 These dogs treat bones look so good as if they've bought! You need four ingredients to prepare them: 1 – 2 tablespoons of peanut butter, 1 – 2 tablespoons of carob drops, dog treat biscuits, and chopped peanuts, which is optional. The treats will be done in less than 30 minutes, considering that the only thing you'll need to do is melt together the carob and the peanut butter. Dip the dog biscuits in the melted mixture and place each of them on a plate with baking parchment or waxing paper. Set them in the fridge to set, and then let your dog enjoy its treat.
2. Pumpkin Treats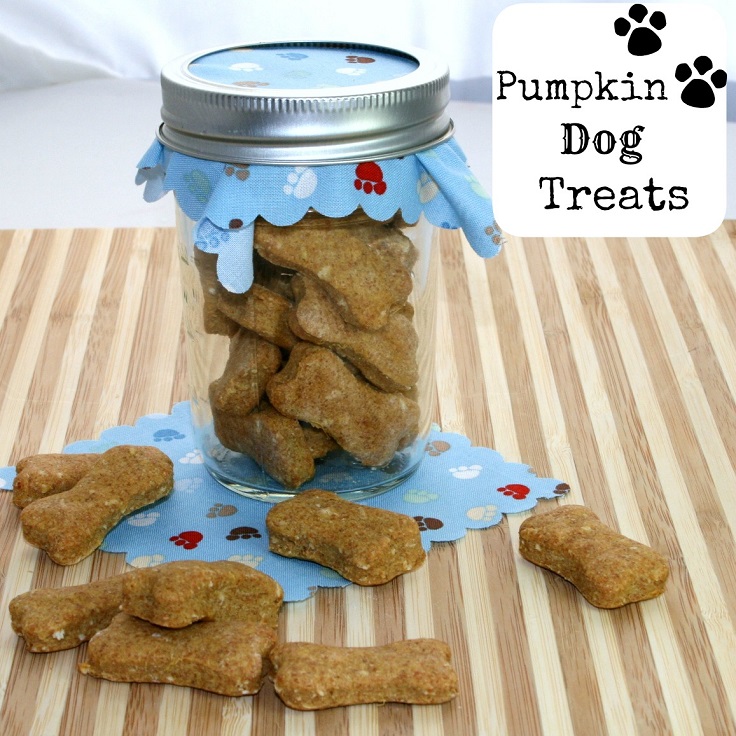 via thatsmyhome.com
Pumpkin is dog-approved food, and if your dog is okay with eating it, it would be a good source of vitamin A and fiber. This recipe is a great way to include pumpkin in your dog's eating routine. They're done in 35 minutes, and from ingredients, you need 3/4 cup pure pumpkin, 1 egg, 1/4 cup peanut butter, 1/2 cup cornmeal, 1 cup whole oatmeal (not quick), 1/2 cup chicken broth, and white flour as needed to roll out. Mix the ingredients, get a cookie dough consistency, wait for few minutes for the ingredients to be better absorbed, and make the shapes with a cookie cutter. Bake for 20 – 25 minutes.
3. No-Bake Treats
No-bake treats are perfect for lazy days, no time days… any days, in fact! We're sure your dog won't be mad at you for not using the oven. Stir together 3/4 peanut butter, 1/4 cinnamon, and 1/4 cup of water. Slowly add 1 1/4 cup of oats and stir until the ingredients are well combined. Spoon out the dough and make small balls, and place them on a cookie sheet. Put in the fridge and leave the treats to set at least one hour before you give your dog some.
4. Dog Biscuits With Cream Cheese Frosting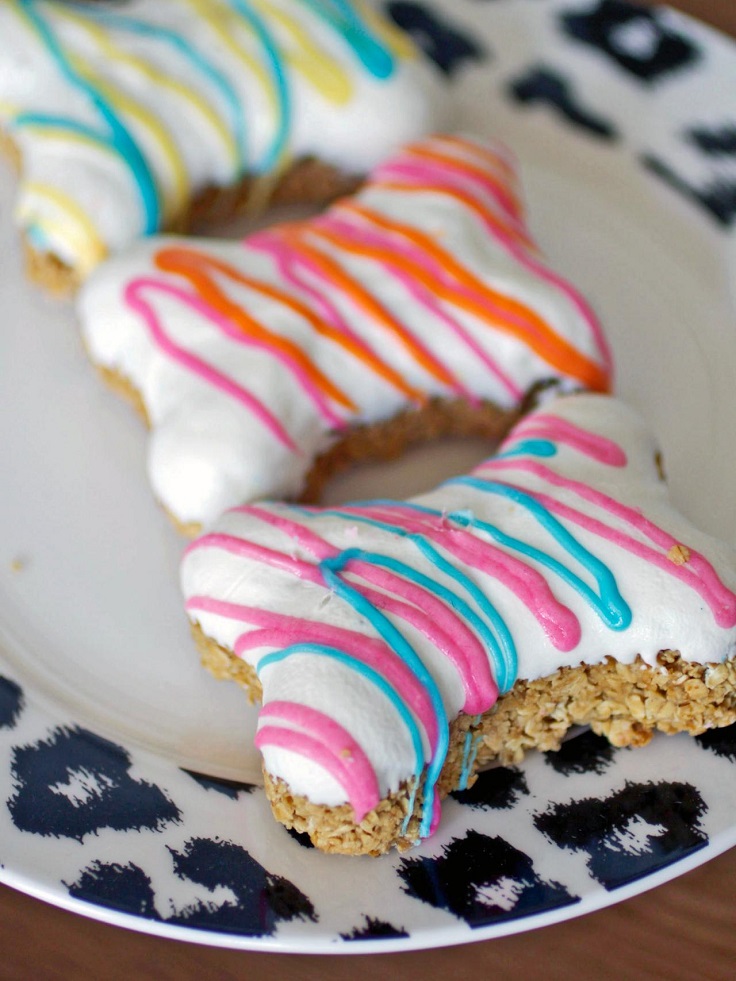 via hgtv.com
These treats look so good that they will surely steal your dog's attention. To prepare the biscuits, you need 1-1/4 cups all-purpose flour, 1-1/4 cups whole-wheat flour, 1-1/4 cups cornmeal, 1-1/4 cups old-fashioned rolled oats, 1/2 cup toasted wheat germ, 1/2 cup packed light brown sugar, 1 tablespoon baking powder, 1-1/2 teaspoons salt, 3/4 cup (1-1/2 sticks) cold unsalted butter, 1 cup plus 1 tablespoon water, 1/2 cup chopped fresh flat-leaf parsley, 1/2 cup chopped fresh mint leaves and 1 large egg. You need 12 ounces of nonfat cream cheese, 2 teaspoons of honey, 1 teaspoon of vanilla, and 3 teaspoons of cinnamon for the frosting. The recipe uses more ingredients, so make sure that your dog isn't allergic to some of them.
5. Frosty Watermelon Dog Treat
via petguide.com
The Frosty Watermelon treat is perfect for summer days. Even our dog needs something refreshing as much as we do. So, here's a recipe to get that kind of dog treat! Remove the seeds of two cups of watermelon and make a puree. Add 1 cup of coconut water or milk and 1 tablespoon of honey, but this is optional. Blend well and put the mixture into ice cube trays (how cool it looks if they have the shape of bones as pictured!), cover with plastic wrap to prevent the mixture from spilling, and freeze it overnight.
6. Banana Oatmeal Hypoallergenic Dog Treat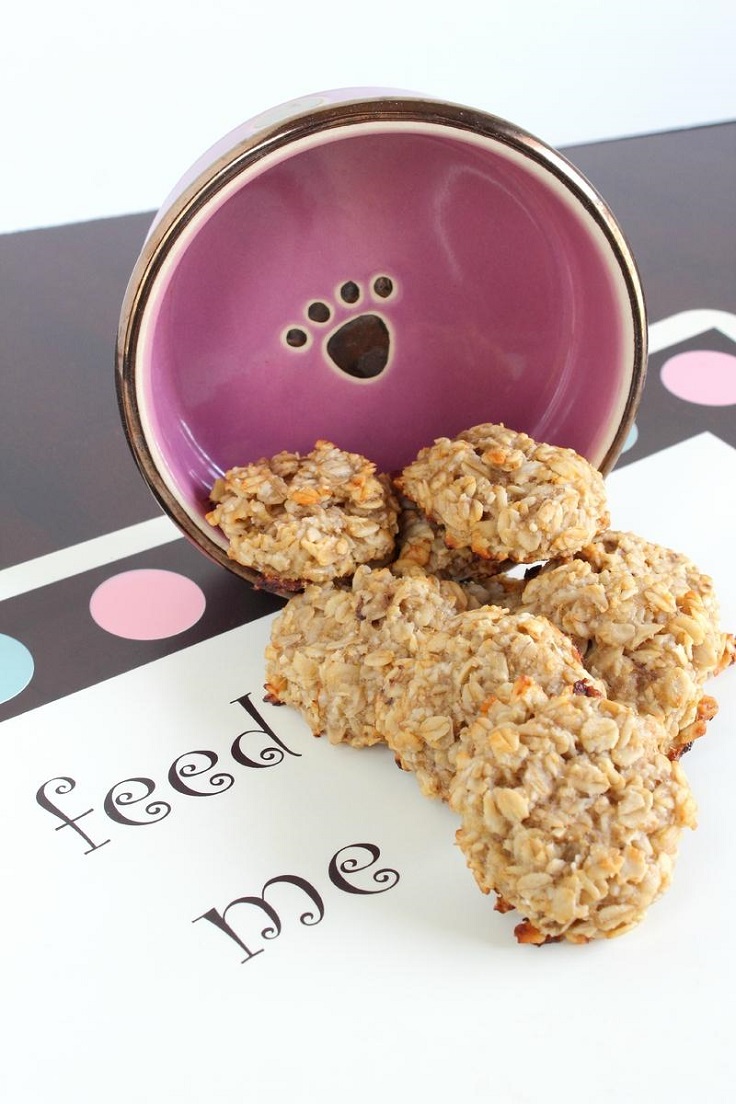 via dogvills.com
Only three ingredients are needed for this dog treat: 1 ripe banana, 2 tablespoons coconut oil, and 1 cup oatmeal. Mix all three ingredients until well combined and set them aside for 10 minutes. Afterward, form slightly flattens balls on a lightly greased cookie sheet and bake them for about 15 minutes until they get brown on the bottom. Make sure to give the treats to your dog after they're cooled down.
7. Apple and Carrot Dog Treats
via therodimels.com
Having leftover apples? No worry, you can use them to make a delicious treat for your beloved dog. Make sure you have 1/2 cup of chopped apples, 1/2 cup of carrots, 1/2 cup of applesauce, 1 t. baking powder, 1 cup rye flour, and parchment paper for baking. Mix all ingredients until they're well combined and counterpart with more flour to prevent the dough from sticking. Shape the cookies with a cookie cutter and bake them for 30 – 35 minutes.
8. Paw-Print Dog Treats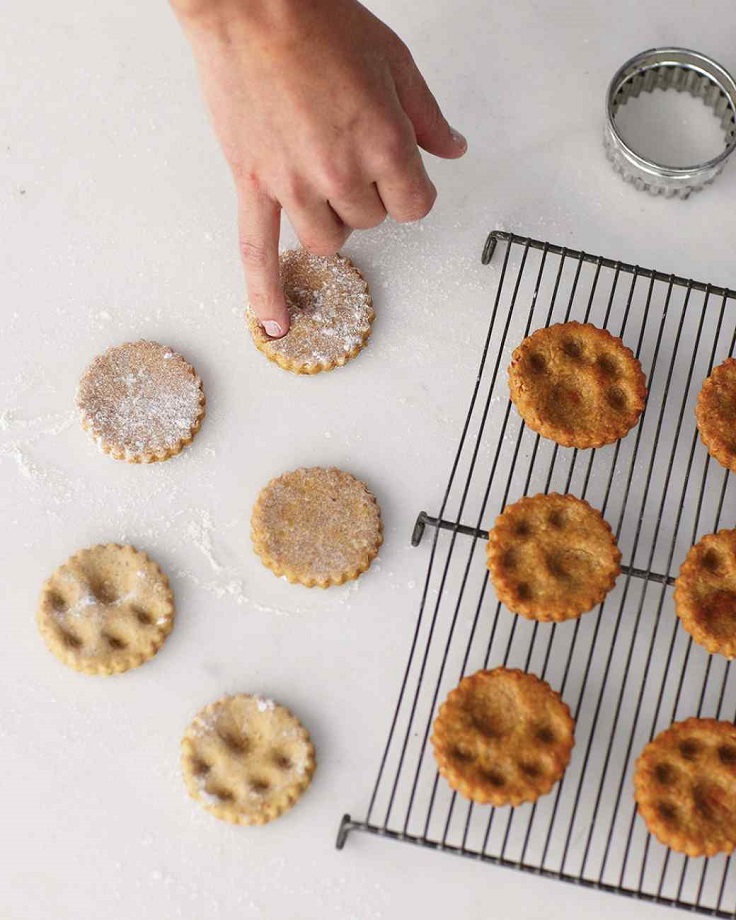 For these dog treats, you need 2 cups all-purpose flour, 1/2 cup wheat germ, 1/2 cup brewer's yeast, 2 teaspoons salt, 3 tablespoons canola oil, and 1 1/2 cup homemade or store-bought low-sodium chicken stock. Before you start cooking the treats, check if it's alright for your dog to eat the ingredients, especially the brewer's yeast. The good thing about the paw-print dog treats is that you can keep them for one month at room temperature.
9. Grain-Free Coconut Flour Soft Chews
via blog.radiantlifecatalog.com
This recipe is a true way to spoil your dog and provide him with nutrients simultaneously. There is nothing processed in the recipe; in fact, everything is organic. You need 1/2 cup of mashed sweet potato, 2 eggs, 3 tablespoons unsweetened applesauce, 1/4 cup melted coconut oil, 1 teaspoon raw honey (and this is optional), 6 tablespoons of coconut flour, and a pinch of unrefined salt. These treats are not only healthy for your dog, but they can also be a great reward after a training session or when you just want to show your dog some love!
10. Peanut Butter Dog Treats
via abouthomemadedogtreats.com
Because peanut butter is a good protein source, it makes it dog-approved. For this recipe, you need 1 cup of oat flour, 1 cup rolled oats, 1/2 peanut butter, 1 teaspoon baking powder, and 1 cup of water. Start by mixing oat flour, rolled oats, baking powder, and then add the peanut butter and the water. When a dough is formed, roll it on a floured surface and cut it into the desired shape. Place the treats on an ungreased cookie sheet and bake for 15 – 20 minutes.