The world-famous jar of happiness, or Nutella, is a product by the Italian company Ferrero. Many years ago, its founder Pietro Ferrero invented a chocolate loaf and called it "Giandujot." People went crazy for this product, especially for the chocolate paste inside the loaf, so Pietro decided to produce a whole jar of the "Giandujot" paste, making it the precursor of the Nutella we know today.
Years after the successful SuperCrema by Pietro, his son came up with little recipe changes and created the super popular Nutella! Thanks to being so delicious, Nutella today sells a lot, and by lot, we mean that you could cover the Great Wall of China eight times with the number of jars of Nutella sold in a year! You can use it to prepare so many delicious desserts, and for that, we picked ten of them, so scroll along to find out more!
1. Strawberry Nutella French Toast Roll-Ups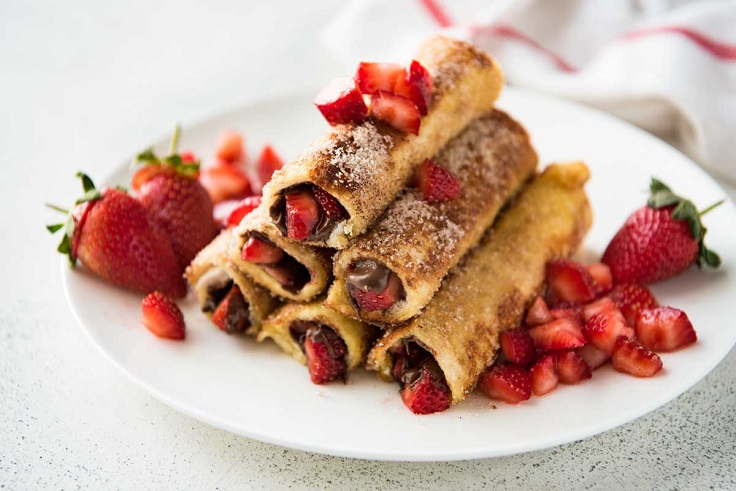 This looks like the perfect breakfast. We are sure that getting out of bed will be so easy when you know that there is breakfast like this waiting for you at the table! Another good thing about these French toast rolls up is that they're ready in 15 minutes, which makes them the perfect breakfast choice when you're in a hurry. You just need few ingredients for the rolls up – 6 slices of fresh white sandwich bread with the crusts removed, ½ punnet strawberries, 4½ tbsp Nutella, ¼ cup caster sugar, and 1 tbsp butter. You will also need to prepare an egg mixture with 1 large egg, 2 tbsp milk, and a salt pinch.
2. Nutella Pie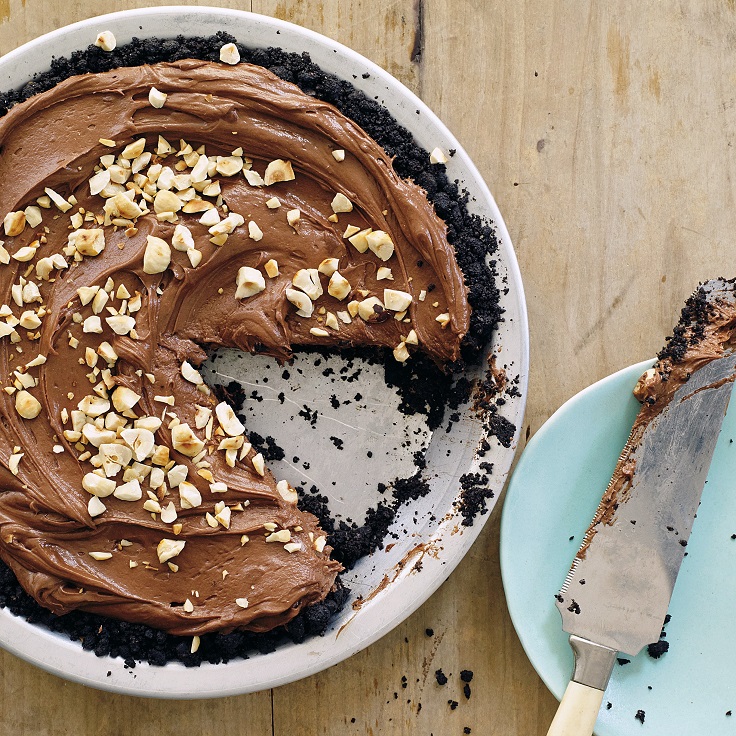 via epicurious.com
Try eating just one of these pie – we think it's impossible! This pie means too much deliciousness in one dessert. First, choose your favorite chocolate cookie crust recipe to prepare this pie, which will be enough for a 9-inch (23-cm) pie. You will also prepare the filling with 2 cups (270 g) Nutella, 1 1/2 cups (338 g) mascarpone cheese, and 1/4 teaspoon salt. You can use 1/2 cup (55 g) chopped toasted hazelnuts or any other nut of your choice for the topping. The result will be fantastic, and how can it not be with a combination of chocolate cookie crust, Nutella, and hazelnuts?
3. Nutella Chocolate Cheesecake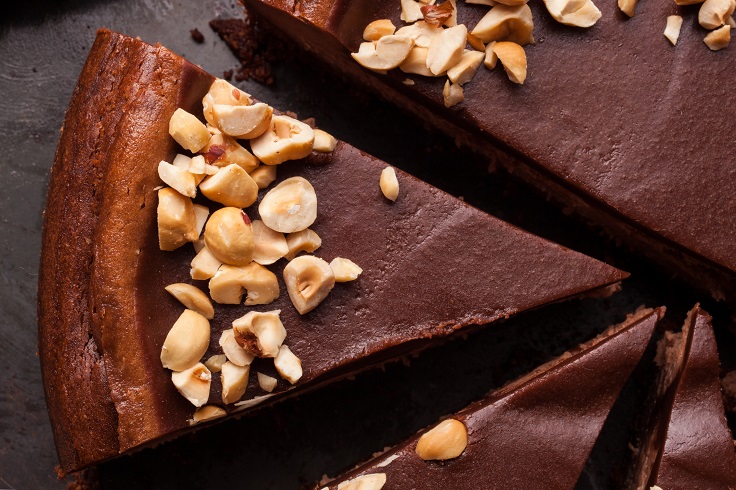 via chowhound.com
The Nutella cheesecake is the perfect combination of buttery, chocolate, and nut-y dessert experience, making it the ideal choice for a birthday or any other celebration. You will need to prepare a chocolate crust, filling, and topping. For the chocolate, crust picks your favorite recipe or head to the website to find out more; for the filling, you need 3/4 cup granulated sugar, 2 tablespoons all-purpose flour, 1/4 teaspoon kosher salt, 3 (8-ounce) packages of cream cheese, 3/4 cup Nutella, 1/4 cup heavy cream, 2 teaspoons pure vanilla extract and 3 large eggs plus 1 egg yolk and last, for the topping you need 3/4 cup Nutella, 1/4 cup heavy cream and 1/2 cup hazelnuts.
4. Chocolate Macarons with Nutella Mousse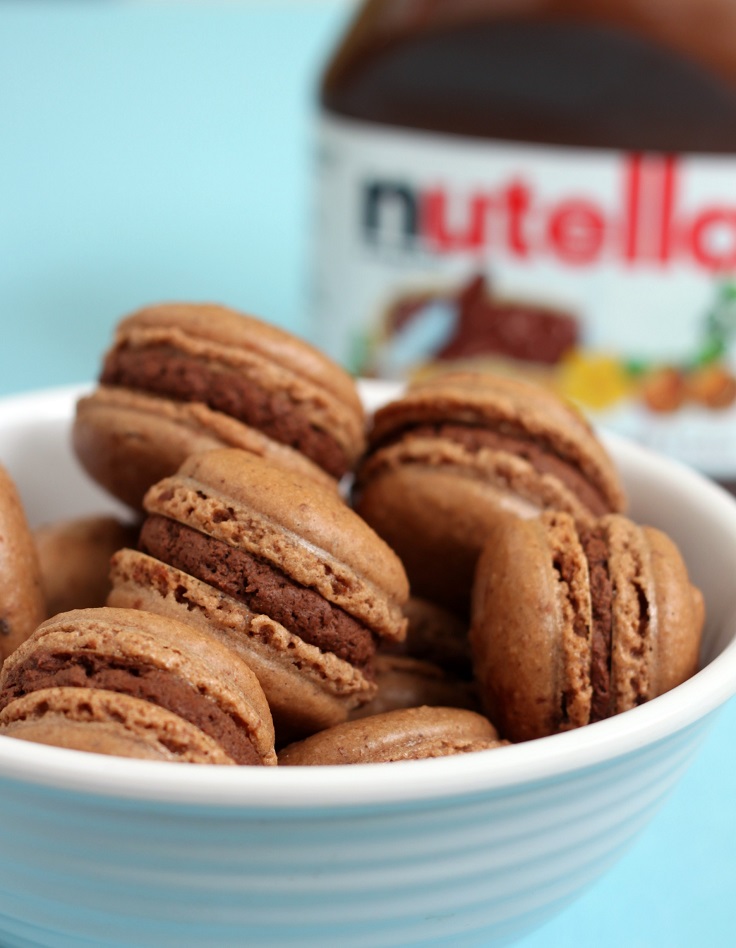 You don't have to go to France to try super delicious macarons when you can even make them at home! These Nutella macarons definitely deserve all the effort you'll put in the kitchen, and if you decide to prepare them for a special occasion, make sure to prepare dozen more because sweet stuff like macarons are gone in a minute (they contain a magical ingredient known as Nutella!). To prepare the macarons, you need 110 grams almond meal or make your own with blanched slivered almonds, 200 grams minus 2 Tbs powdered sugar, 2 Tbsp cocoa powder, 100 grams of egg whites (aged in the fridge for 3-5 days), and 50 gm granulated sugar, while for the mousse you need ½ cup of heavy cream, 2 oz bittersweet chocolate and 3 Tbsp Nutella.
5. Nutella Lava Cookies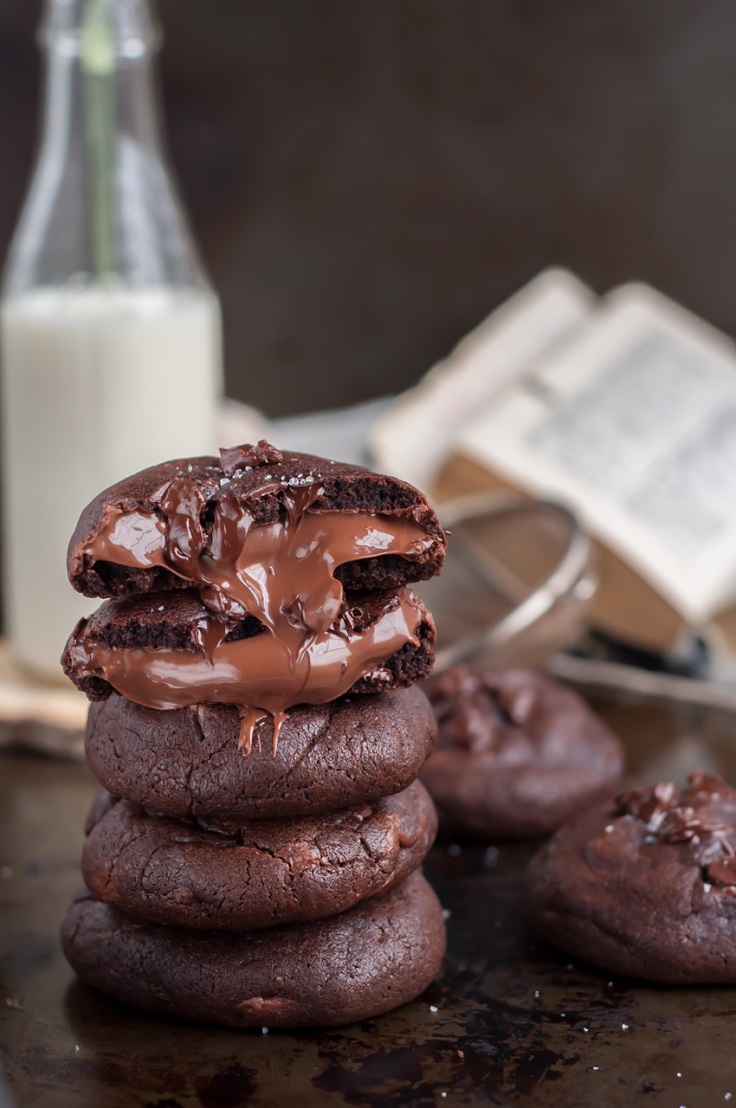 via gastrosenses.com
The only thing better than chocolate cookies is chocolate cookies filled with Nutella! This is the ultimate chocolate experience that you can ever ask for. This recipe takes more than 2 hours to be ready, but in the end, you'll have 24 Nutella lava cookies. You need the following ingredients for these cookies: 2 cups all-purpose flour, 3 tsp cornstarch, 1 tsp baking soda, 1 tsp sea salt plus more for sprinkling, ½ cup granulated sugar, ¼ cup brown sugar, 2 eggs at room temperature, 1 cup butter at room temperature, 2 tsp vanilla, ¾ cup unsweetened cocoa powder, 24 tablespoons Nutella and 1 cup semisweet chocolate chips (make sure to have more for topping).
6. Banana Nutella Dessert Bruschetta
via justataste.com
Here's a super easy recipe that's going to make a perfect breakfast. If you have kids and have hard times convincing them to eat, try out with a Nutella breakfast; we think they won't say "no"! The recipe takes about 10 minutes. You need the following ingredients to prepare 12 bruschettas – 1 large loaf of sourdough bread, 3 Tablespoons melted unsalted butter, 1/2 cup Nutella, 2 large bananas, and 1/3 cup salted chopped peanuts. Toast the bread rolls from both sides to make them taste crusty and once they're cooled, add a spoonful of Nutella on each roll, top it with banana slices and chopped peanuts. It's that easy!
7. Nutella Brownie Fruit Pizza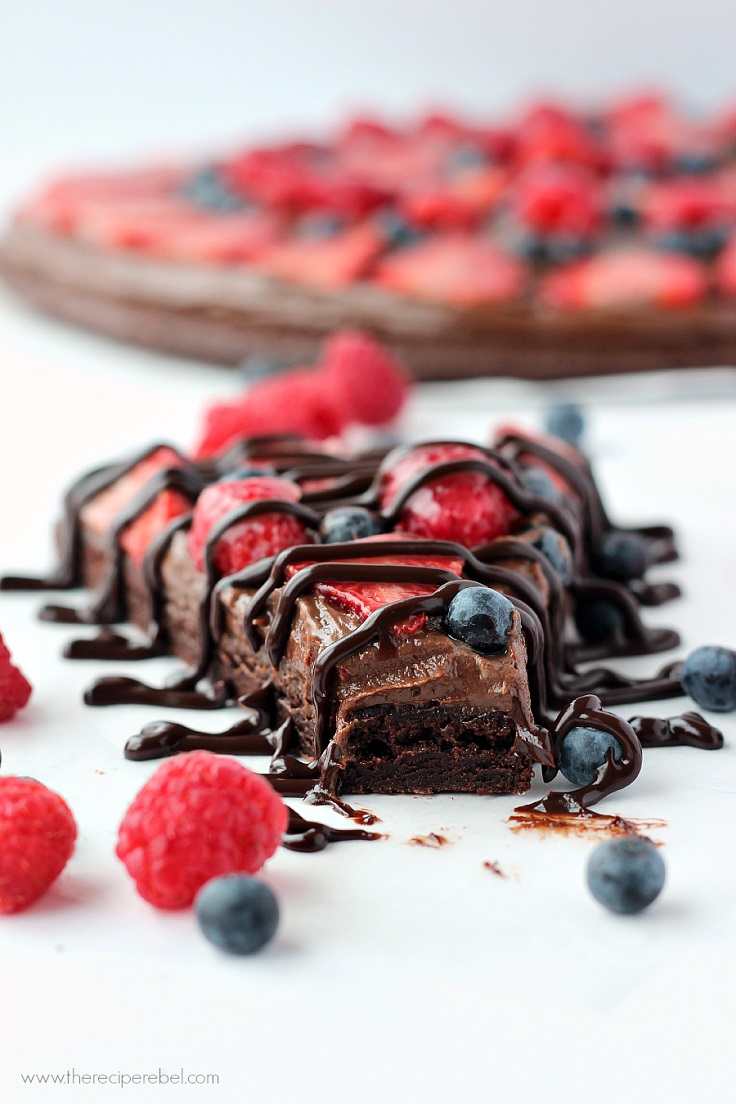 Nutella+brownies+pizza? That sounds too sweet to be true, right? But, with the right ingredients, you can make your Nutella pizza, and it will taste just as good as the one from the picture! You need to prepare first a brownie crust, Nutella sauce, and glaze. For the crust, you need 1 cup melted butter, 2 ½ cups granulated sugar, 1 tbsp vanilla, 4 eggs, 1 ½ cups all-purpose flour, 1 cup unsweetened cocoa powder, and ½ tsp salt. For the sauce, you need 1 8oz pkg chocolate cream cheese and 1 cup Nutella, and for the glaze, you need ½ cup water, 1 tsp corn starch, 1 tbsp granulated sugar, and 1 tbsp strawberry jam. Last, for topping, use berries or other fruit of your choice.
8. Skillet S'mores with Nutella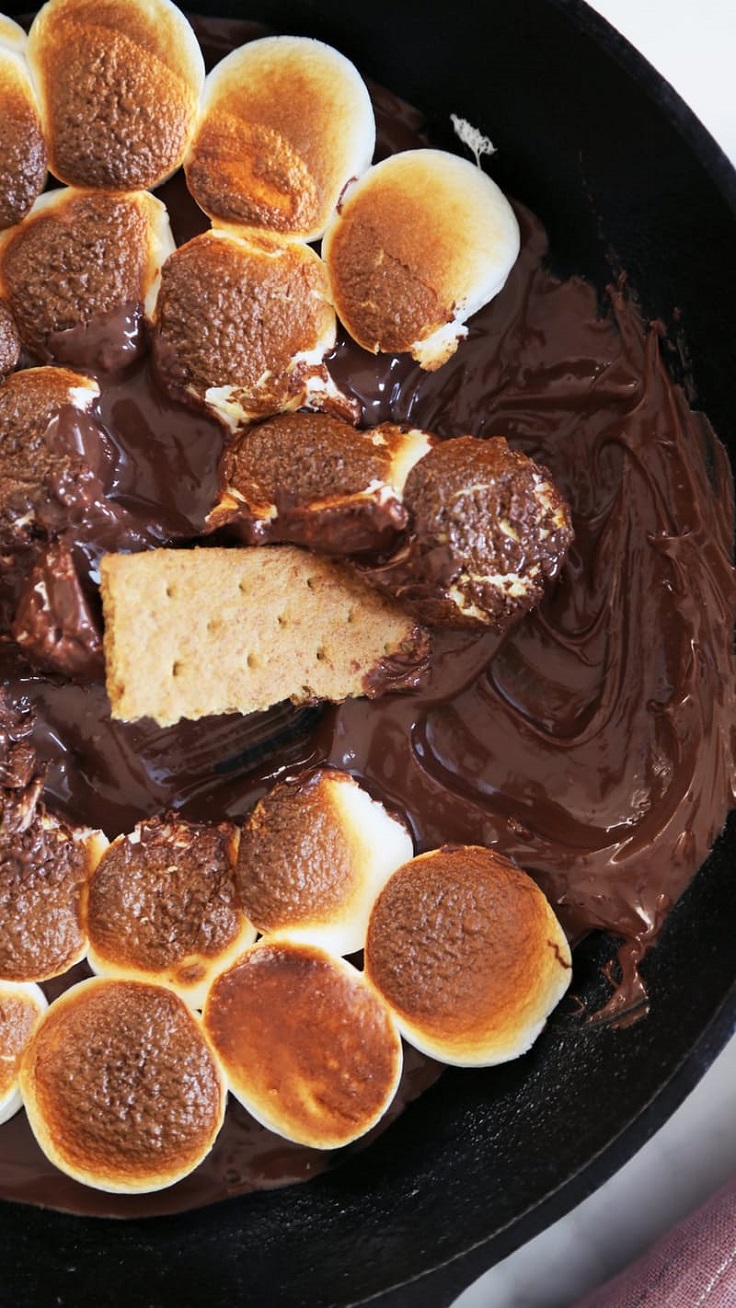 via thekitchn.com
This is one of the easiest, quickest recipes on this list, but if this isn't enough to convince you to try it, we have just one word: s'mores. The good old classic dessert comes in many recipes, but there are always those three super delicious ingredients – marshmallows, chocolate, and graham crackers. In this recipe, you need Nutella, of course. Spread it in a skillet, make a one, even layer, add a layer of marshmallows and place the skillet under a heated broiler until the marshmallows get golden. Serve it immediately and use crackers for dipping.
9. Nutella Cream Cheese Blondies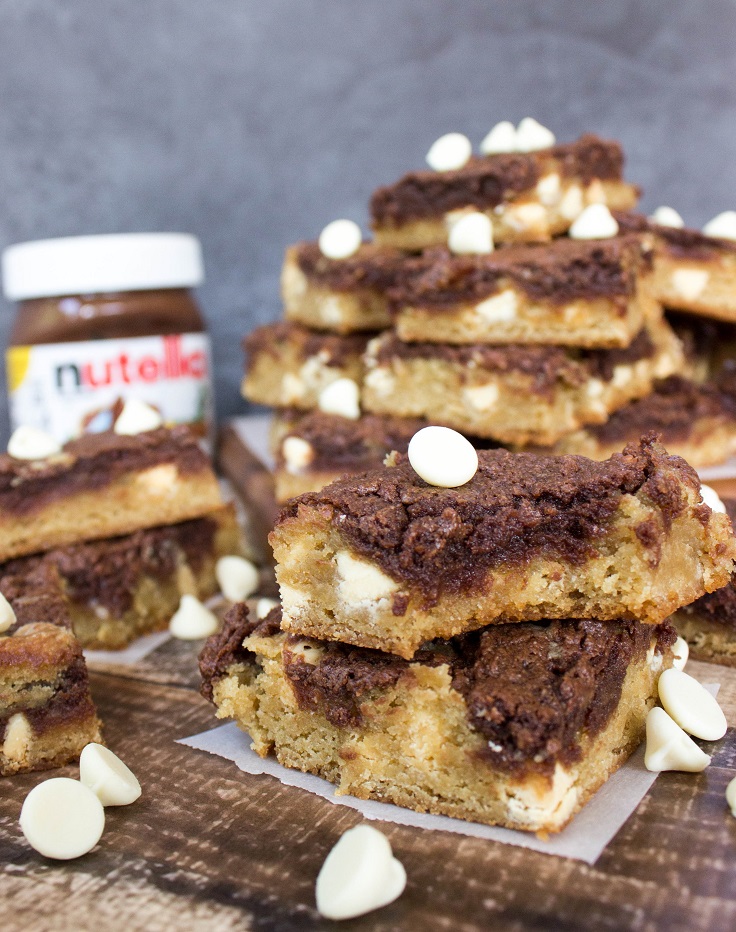 via sugarspunrun.com
Here's a new way to try the classic blondie bars. It takes less than an hour to have them all ready, and trust us; you're going to love it. For this recipe, you need the following ingredients: 2 cups all-purpose flour, 1 tsp baking powder, ½ tsp salt, 10 tbsp unsalted butter, 1½ cups (packed) brown sugar, 2 large eggs, 2 tsp vanilla extract, 1 cup white chocolate chips (plus more for sprinkling on top), 6 oz. cream cheese, softened ¾ cup Nutella, 1 Tbsp granulated sugar, and 1 egg yolk. These blondies are the perfect combination of moist, chewy, and soft Nutella desserts!
10. Deep Dish Chocolate Chip Cookie Stuffed with Nutella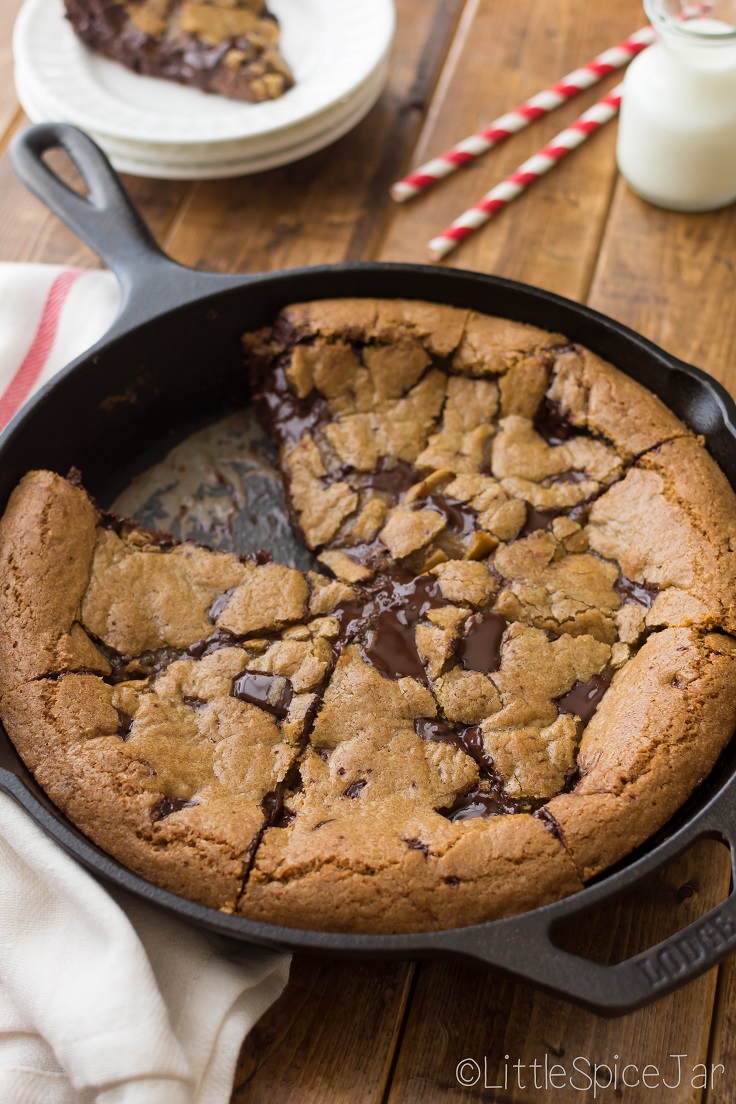 Imagine this giant skillet, chocolate chip cookie filled with Nutella and topped with a scoop of your favorite ice cream? Sounds heavenly delicious, doesn't it? To make your own giant cookie in a skillet, you need these ingredients: 2¾ cups all-purpose flour, 1 teaspoon baking soda, ½ teaspoon fine sea salt, 12 tablespoons (3/4 cup) salted butter (cold), 1¼ cup light brown sugar, ¼ cup granulated sugar, 2 large eggs, 2 teaspoons vanilla extract, 1 cup bittersweet chocolate chips or chunks and ½ cup (6oz) Nutella spread. This guilty pleasure will certainly make you craving for another piece of the cookie!