Puff pastry is one of the most delicious choices that you can make for breakfast! But, we all know that it's going to be just as much as delicious for any time of the day. The puff pastry comes in many shapes and with plenty of different tastes. From chocolate and banana to savory combinations, the pastry is the guilty pleasure meal everyone would like to have.
There are many recipes to be tried, and as you have already noticed, you can find puff pastry in every bakery or even frozen at the stores. If you like cooking, then mastering at least one recipe with puff pastry is a total must. It will be handy, especially when you're running out of ingredients, options, or even money. The puff pastry can be a budget-friendly dessert and don't miss out on tasting it.
1. Pear and Honey Phyllo Tarts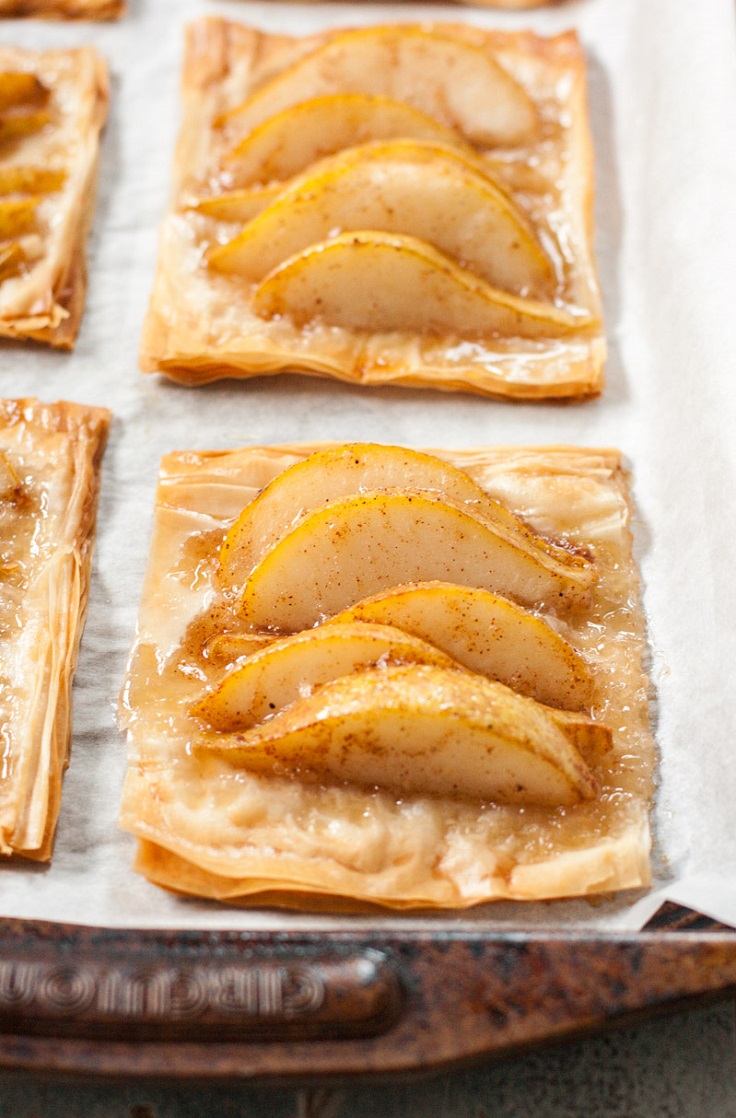 via mycaliforniaroots.com
These phyllo tarts are all done in less than 30 minutes and make 12 yields. This recipe is the perfect combination of cinnamon and honey, combined with the crispiness of the phyllo tarts and the pears' juiciness. To prepare your own, you need the following ingredients: 1/2 package (8 oz) phyllo dough, 1/2 cup butter, 4 large ripe pears, 1/4 cup honey, 1/2 tsp cinnamon, and 1/4 tsp nutmeg. This is the perfect amount of sweetness – it's not something that will make you full afterward, but it will still satisfy your sweet cravings.
2. Strawberry Tart with Lemon Whipped Cream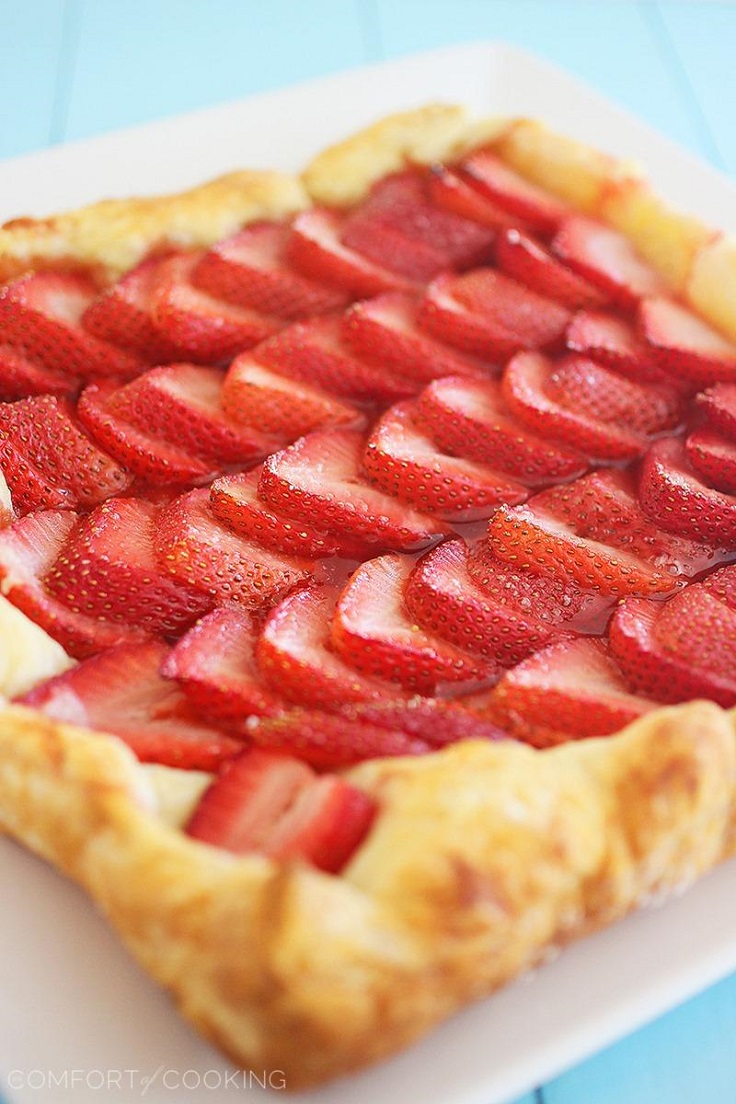 Strawberries and puff pastries go very well together, especially if you add lemon whipped cream on top! Sounds delicious, right? Well, here's what you need to prepare these at home: 1 (12×12-inch) sheet puff pastry, 16 oz. fresh strawberries and 1 tablespoon sugar or sugar substitute. If you want to include the lemon whipped cream (and you better do that!), you need the following ingredients: 1 cup chilled heavy cream, 2 tablespoons powdered sugar, zest, and juice from 1/2 lemon. The pastries should be ready in less than 30 minutes.
3. Cream Puff Doughnuts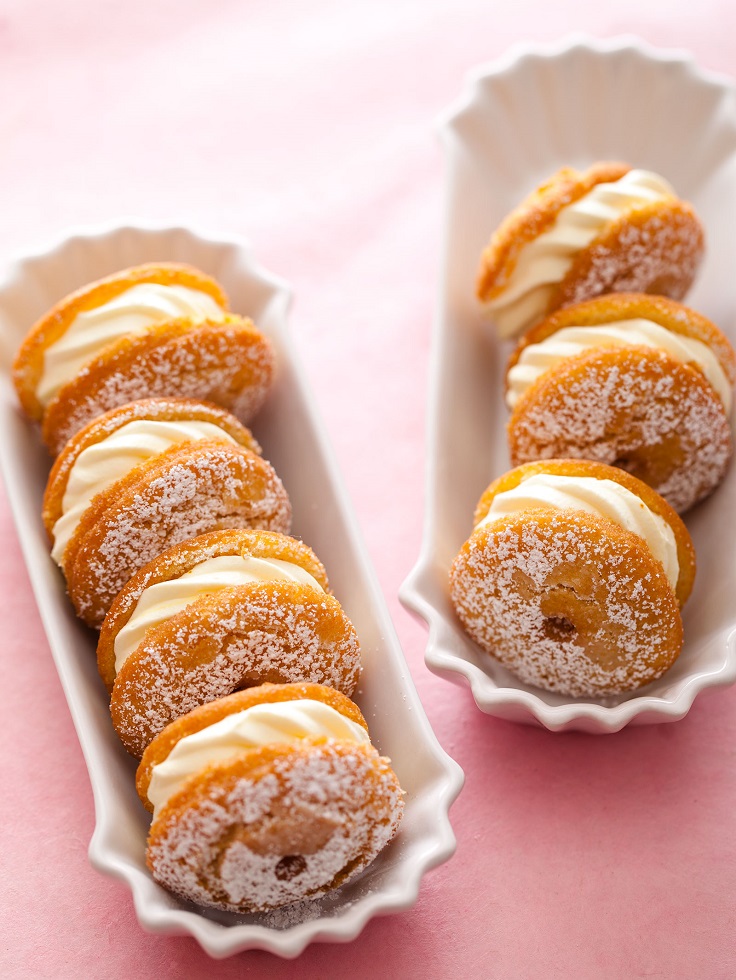 Doughnuts can be transformed into the most delicious puff pastry you can have for breakfast or a snack! To prepare these, first, you need to prepare the no – yeast cake doughnuts. When you have them all ready, you can start preparing the basic vanilla pastry cream. The recipe makes two cups. You need the following ingredients: 1 cup whole milk, ½ cup heavy cream, 4 large egg yolks, ½ cup granulated sugar, 3½ tablespoons cornstarch, 2 teaspoons vanilla extract, and 1 tablespoon unsalted butter.
4. Strawberry Cardamom Mascarpone Tartlets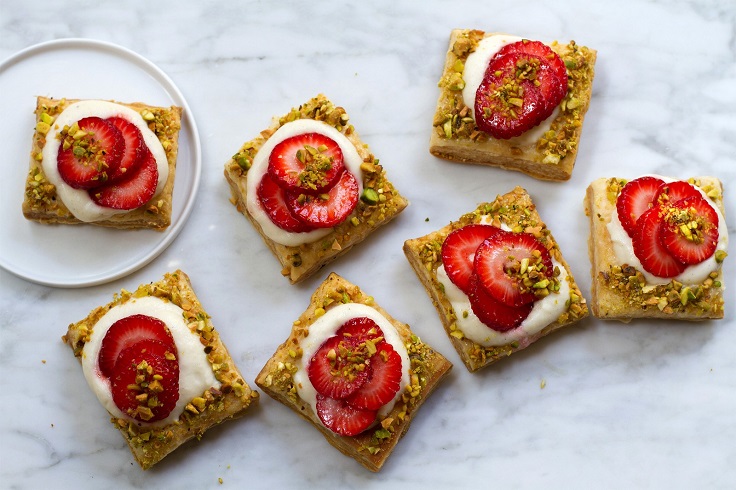 via saltandwind.com
Mascarpone cheese, strawberries, and puff pastry – this is a combination that you wouldn't want to miss out on. If you add pistachios on top, they're really going to contribute to an amazing mixture of different textures and tastes. To prepare these pastry tarts, you need 1 pound all-butter puff pastry dough, 1 egg yolk, 1/4 cup finely chopped roasted, salted shelled pistachios, 1/4 cup plus 2 tablespoons unrefined cane sugar, 12 ounces strawberries, juice and zest from 1 orange, dash orange flower water, a few tablespoons apricot or orange marmalade or fig jam, 8 ounces Mascarpone cheese, 1/2 cup chilled heavy cream and 1/4 teaspoon ground cardamom.
5. Raspberry Lemon Cream Tart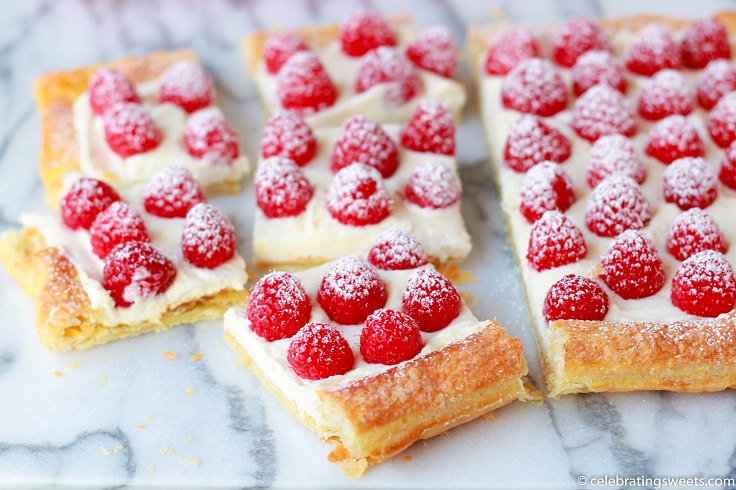 When it comes to pastry and fruit, they go very well together. You can experiment with many fruits and make sure the raspberries are one of them. This recipe is similar to the one with strawberries and lemon cream, except that in this one we have other berries. To prepare the pastry, you need flour for the work surface, 1 sheet of frozen puff pastry, 1 large egg, and 2 teaspoons of granulated sugar. For the cream, you need ½ cup heavy cream, 4 ounces cream cheese, ⅔ cup powdered sugar, zest of one small lemon, 3 tablespoons lemon curd, and 2 half-pints of raspberries.
6. Blackberry and Almond Custard Cups
Ready in 30 minutes, these mini pastries will know how to put a smile on everyone's face. Not only do they taste amazing, but they also look so adorable! They're really easy to prepare, but before that, make sure that you have all the ingredients needed: 1 box of puff pastry cups, 1 cup milk, 1 and 1/4 tablespoons cornstarch, 1⁄4 cup sugar, 1 egg, 2 tablespoons fresh blackberries, roughly mashed with a fork, and strained, 1/4 teaspoon almond extract and 24 fresh blackberries. You know that blackberries are on the healthiest of all, so including them even in your desserts is a good thing.
7. Cream Horns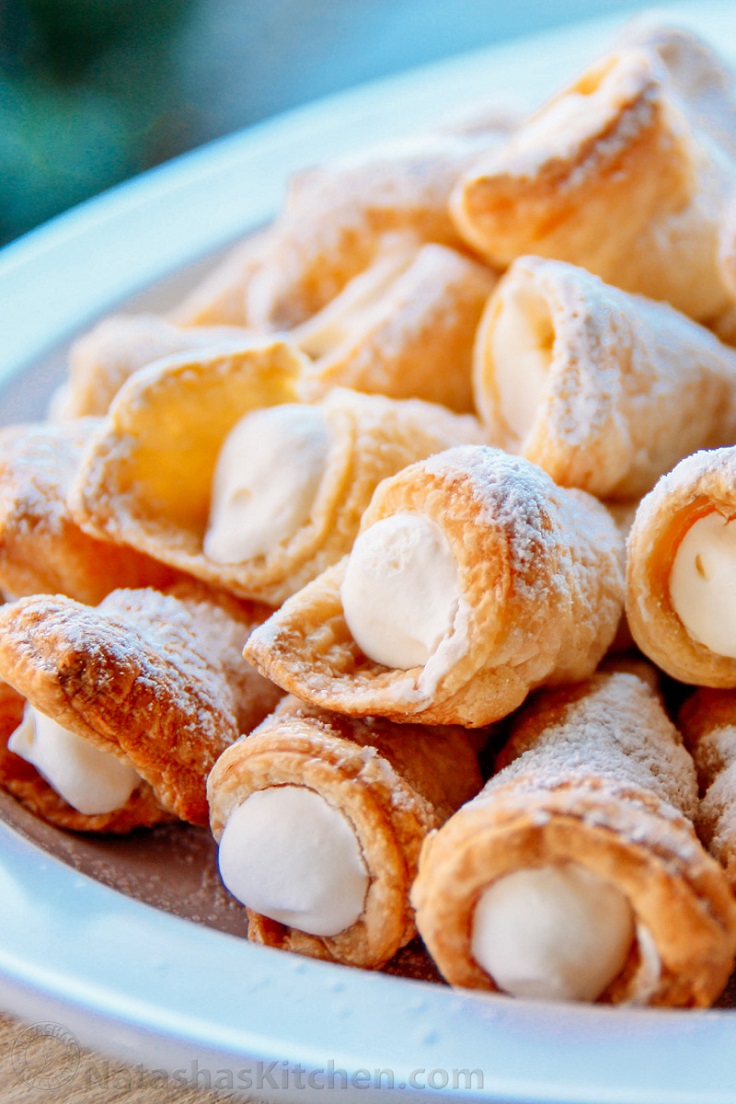 These cream horns are coming straight from the Ukrainian kitchen, where they're called "trubochki." They are such a delicious mixture of puff pastry and cream. We definitely recommend you to try them, and for that, you need 1 package (2 sheets) puff pastry, powdered sugar, 8 oz tub of cool whip, oz cream cheese softened at room temperature, 3 tbsp sugar, and 2 tbsp lemon juice. They're ready in less than an hour, and what you'll get with this recipe are 60 cream horns!
8. Apple Cheesecake Napoleons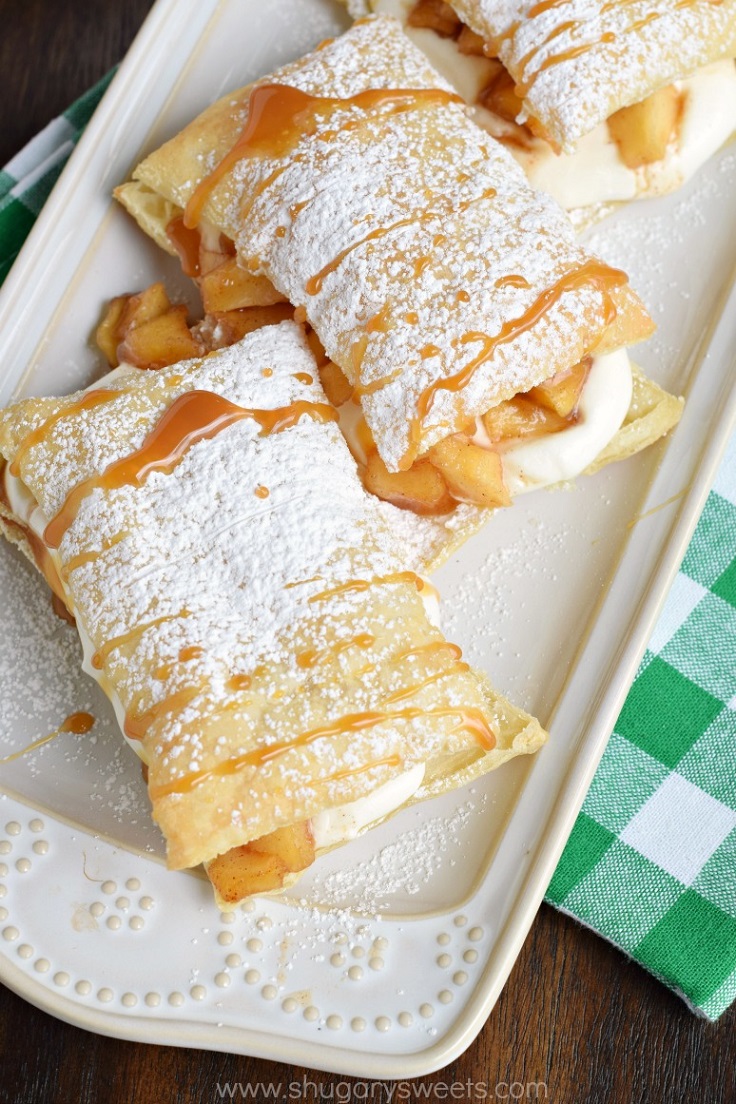 These taste delicious just as much as they look like that – and that's a lot! We definitely recommend you try these pastry napoleons because they are such a nice recipe for breakfast, snacks, or whenever you want to eat them! You need 1/2 box (1 sheet) puff pastry, 1 package (8 oz) cream cheese, softened, 1/2 cup granulated sugar, 2 tbsp heavy cream, 4 cup sliced apples, 1/2 cup light brown sugar, 1 tsp cinnamon, 2 tsp lemon juice and powdered sugar for garnish. Another way to upgrade the garnish is to add caramel ice cream on top.
9. Peaches 'n Cream Puff Pastries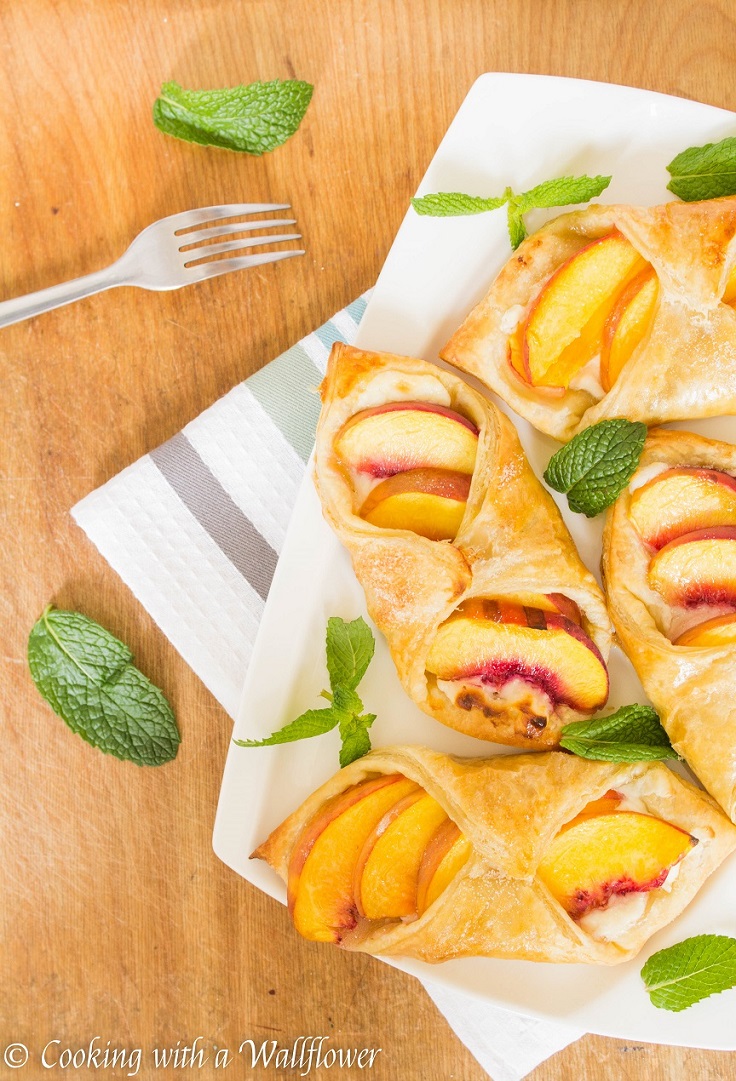 via cookingwithawallflower.com
Peaches and cream are a famous combination, and you can try it out with puff pastry because it tastes great even in this case. The best part is that they are ready in such a short time – 20 minutes and it serves 4 puff pastries. Here are the ingredients that you need to prepare your own puff pastry with peaches and cream: 1 puff pastry sheet, thawed but chilled, ½ cup softened cream cheese, 1 ½ -2 tablespoons granulated sugar, 1 large yellow peach, sliced thinly, 1 beaten egg, more granulated sugar for topping and mint for garnish.
10. Chocolate Puff Bites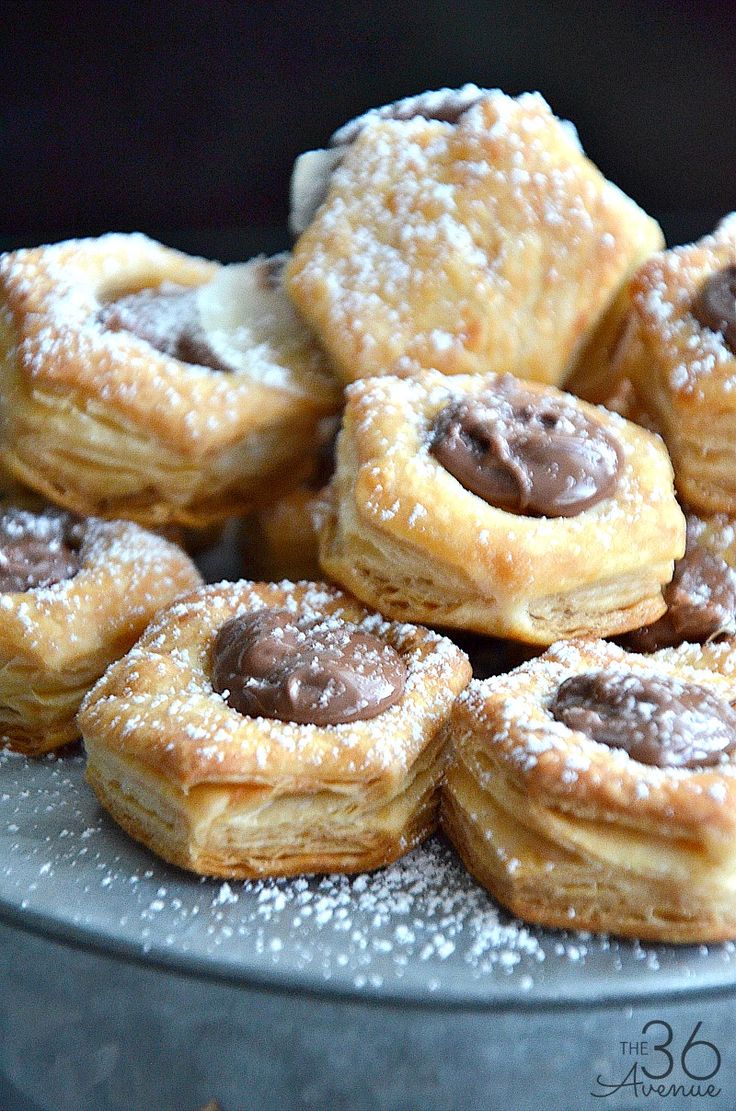 And last, we needed to finish this list with some chocolate! Without it, there's no way to talk about desserts (no offense, fruit!). For this recipe, you just need three ingredients: 1 box (24 bite-size) puff pastry cups, 1/2 c. Nutella and 2 tbl. powdered sugar. It's really simple to prepare these cups. First, bake them and when they're ready, place the cups on a wire rack and press the center of each. Fill every cup with a spoon of Nutella and sprinkle powdered sugar on top.