When you live in a single room, it is a great idea to find ways to divide the space in your studio apartment. By dividing your studio apartment into multiple rooms, you can transform a small space into a functional and comfortable home. You can carve out certain areas that function differently.
The point is to find flexible solutions that don't take up too much valuable space. There are several ways to establish visual barriers between spaces, such as room dividers.
These dividers can save so much space that you couldn't imagine. Making a partition with cabinets is cheap, and the floor does not break, so it is a place-saving method," says Gregory Allen, the expert from ASAP Finance.
If you don't want to deal with such work, you can directly hire specialists or designers, so that they do it efficiently. Don't have enough money for these improvements? Try online furniture financing with no credit check – a perfect loan for more financial stability. You can get money for your room dividers within one business day and avoid stress about budgeting.
1. Half wall with Storage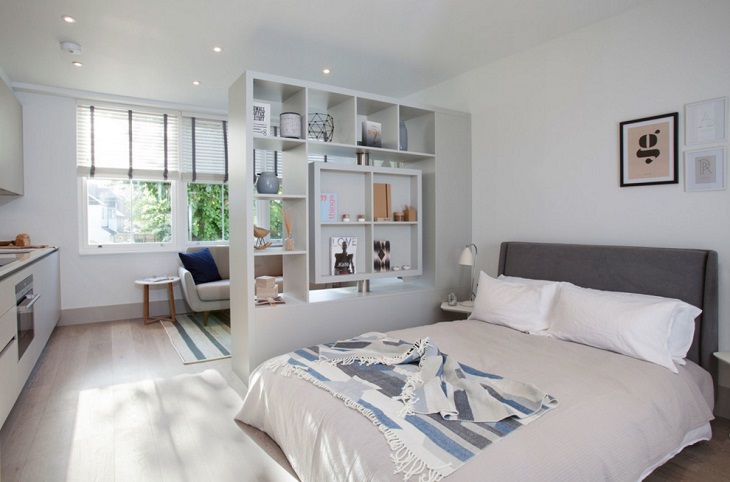 via www.decoist.com
A carefully selected room divider has many advantages. For example, this one on the picture! This half-wall divides the bedroom from the dining area, and it also leaves the space open. Plus, there is plenty of storage provided by this half-wall.
2. Plain Half-wall
Here is another half-wall idea. This is a great option if you would like to leave your space bright and open. You can divide your square footage into zones for specific uses with the half-wall, such as the living room and bedroom here.
3. Split Level Studio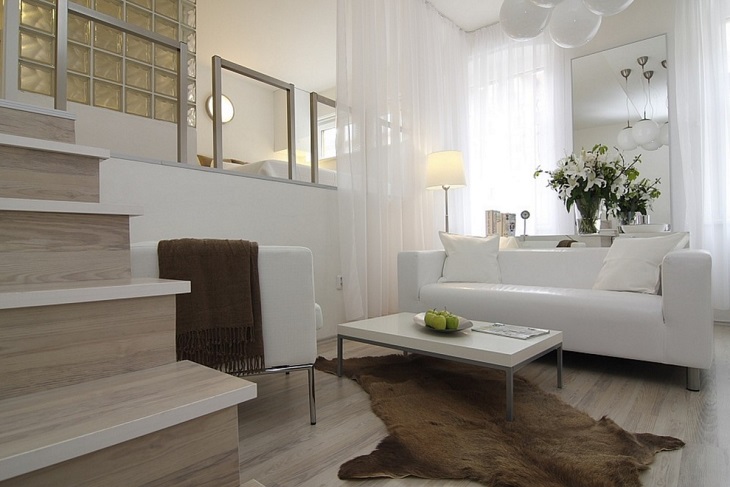 via www.decoist.com
If you are lucky enough to have a high ceiling apartment, it can be easily transformed into a split-level studio. A great advantage to this solution is that the space under the stairs can be transformed into spacious storage.
4. Unique room divider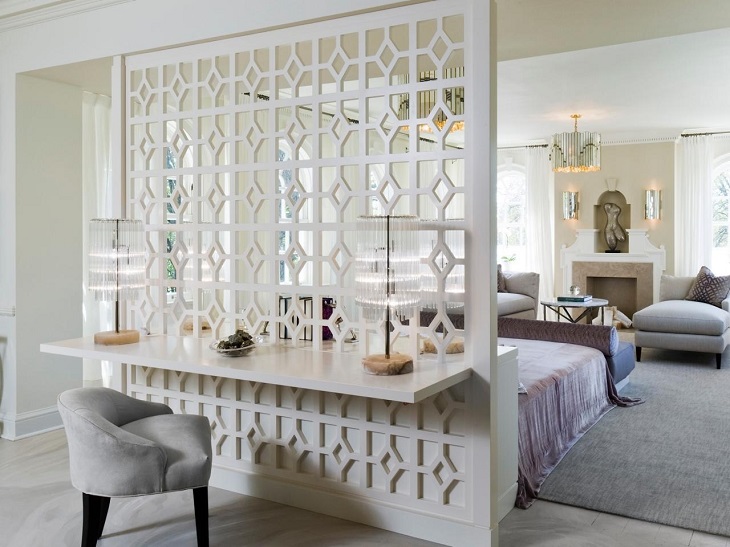 via wegoracing.com
There are so many room divider ideas and designs out there! It is not easy to find the right style, but with a beautiful room divider such as this one in the photo, you can not go wrong. One side of it functions as a headboard, and the other one can be used as a work desk.
5. Wall Paint
An easy and inexpensive way to carve out a bedroom in your studio apartment is to define the space with wall paint. The contrasting wall colors shown above divide the studio apartment into two distinct rooms.
6. Sliding Doors
This is a creative way of utilizing sliding doors in a small apartment. The simple sliding glass door creates a modern and chic atmosphere in this apartment. Besides, the door separates the bedroom from the living area leaving it spacious and uncluttered.
7. Panel Curtain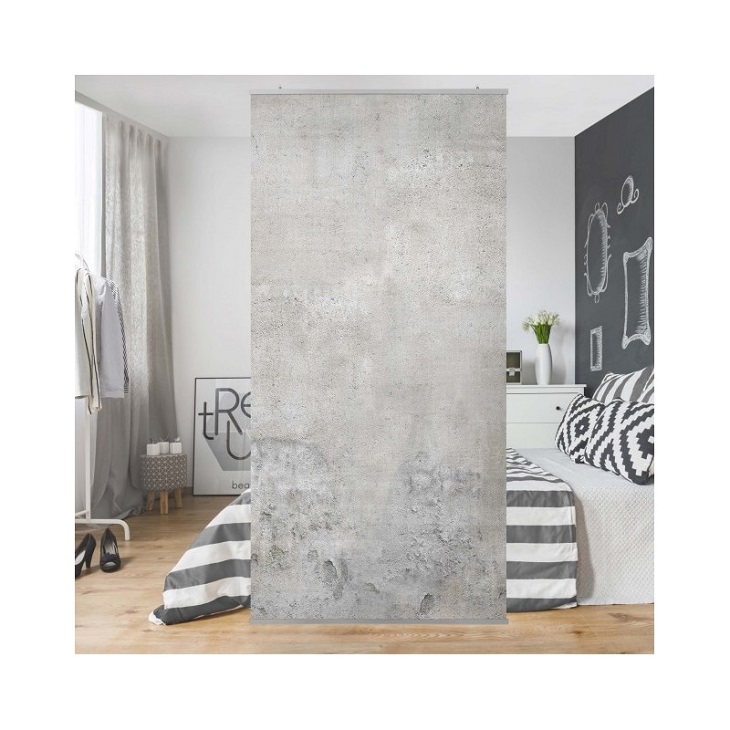 via www.wallmuralposter.co.uk
Panel curtains are excellent room dividers! This Shabby concrete look panel curtain, room divider offers a brilliant way to restructure your home, creating more room. It is available without a hanger or with a transparent hanger, or a magnetic aluminum hanger.
8. IKEA Expedit shelf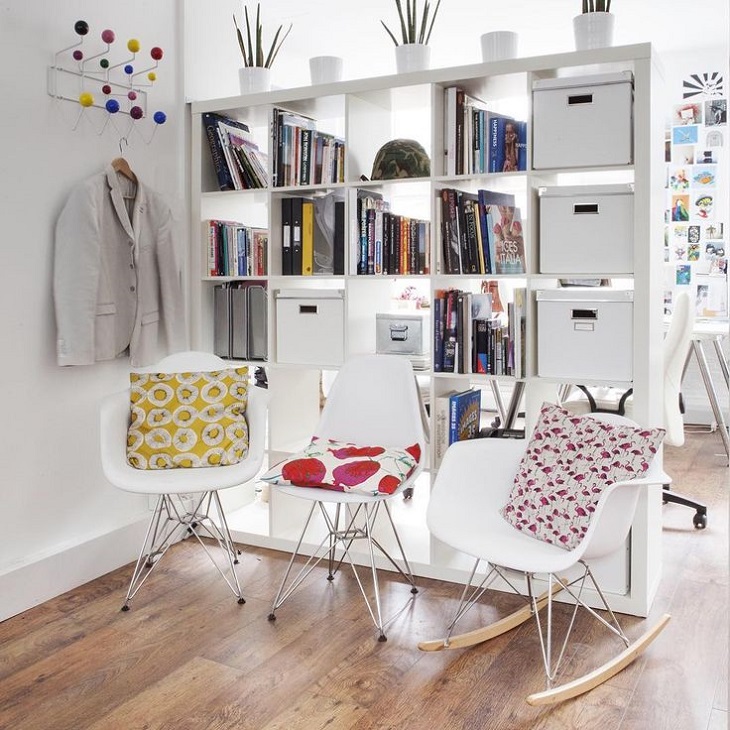 via Pinterest
Does your apartment feel more like a bedroom than a multi-functional space? With the help of a single piece of furniture, you can create the separation you need to have a home office or living room. The IKEA Expedit shelving unit gives you more storage as well.
9. Wooden Panels
via pensandlens.me
With this unique floor-to-ceiling wooden panel, you can create a charming atmosphere in your home. The rustic wall and chandelier are in perfect harmony with the modern table and chairs. Check-out the super cozy sleeping nook behind the wall!
10. Felt Space Divider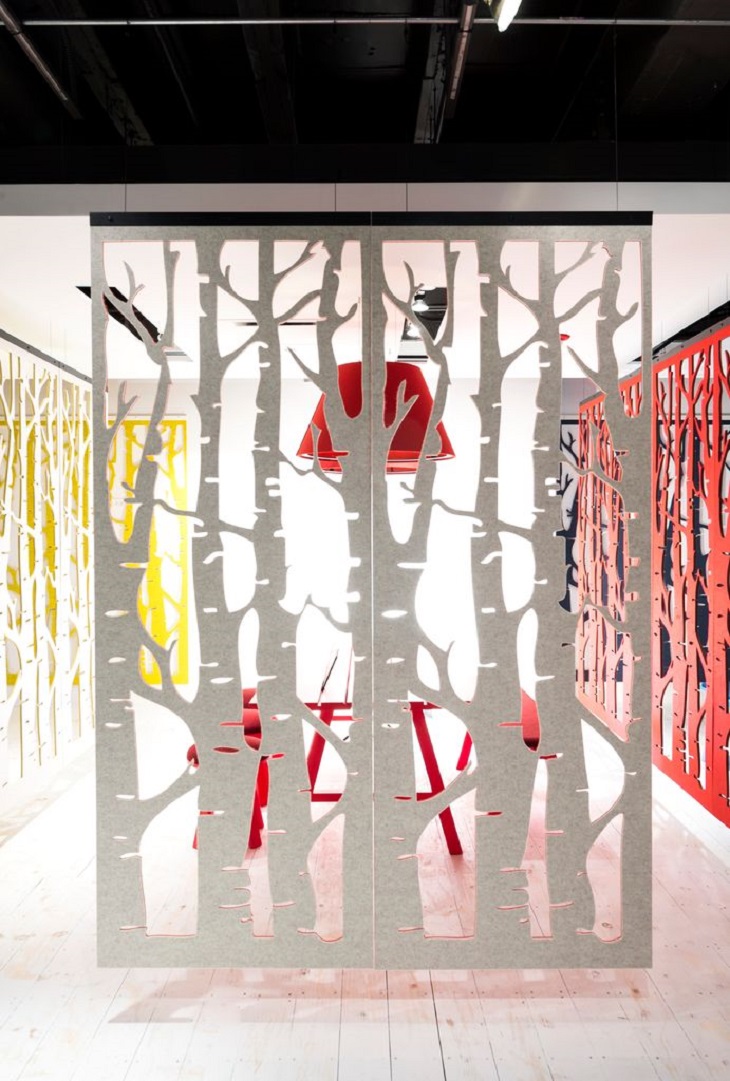 via buzzi.space
This space divider made of felt is not unique, but it also can change the lighting, and therefore the mood of two different sections of your apartment. It won't give you storage; however, it leaves the room spacious and breezy.