DIY Advent calendars are usually the favorite Christmas surprise of kids. They love to open one tiny window every day and count down the days until the big celebration. The true purpose of it, is to prepare us for the celebration of the advent of the Christ–child, since the mid-1800s when Advent calendars emerged. Today we can buy them in the stores filled with chocolate, collectible toys or even with pricey makeup but it is always more fun to create your own.
We have selected ten DIY Advent Calendars that will heighten the sense of expectation day by day.
1. Tiny Galvanized Buckets
via designdininganddiapers.com
This is an Advent calendar that you can use every year from now on. The little galvanized buckets look very cute with the pine twigs and they are also the perfect size to place candy, toys, notes, or any other things your kids might like to countdown the days until Christmas.
2. Giant Advent Calendar – One of the coolest DIY Advent Calendars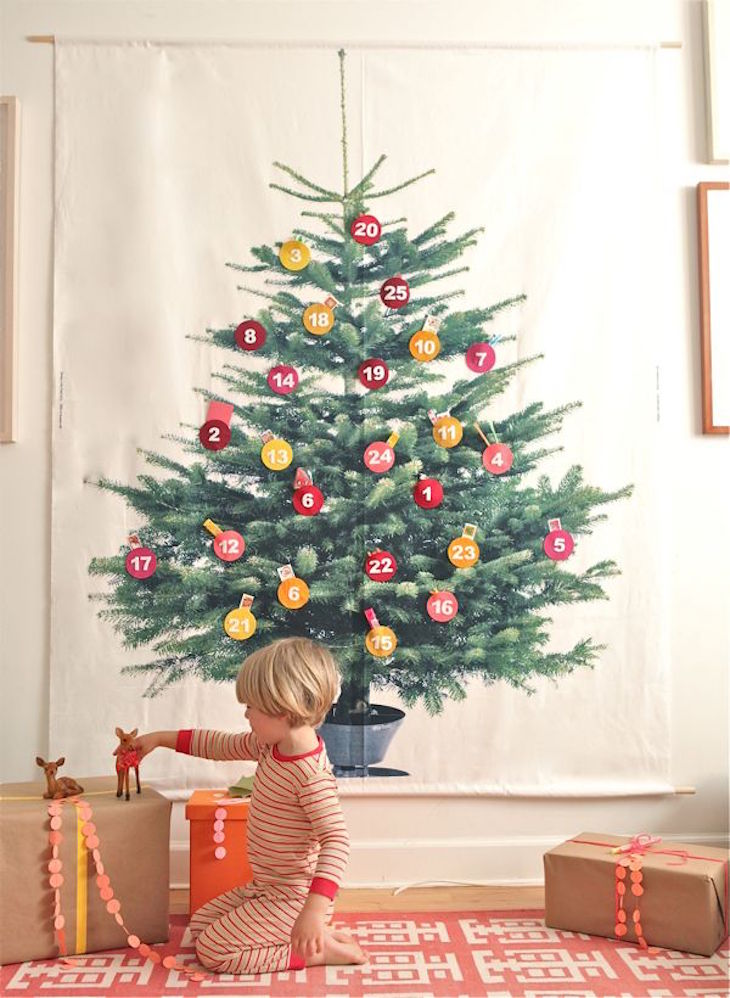 via ohhappyday.com
You can get this large printed Christmas tree fabric from IKEA and turn it into a giant advent calendar. It looks like you will have a lot of work with it but in fact it is fairly quick and simple. You can find pre-cut felt numbers that you'll just have to sew on the fabric, creating little pockets for the presents.
3. Mini Forest Advent Calendar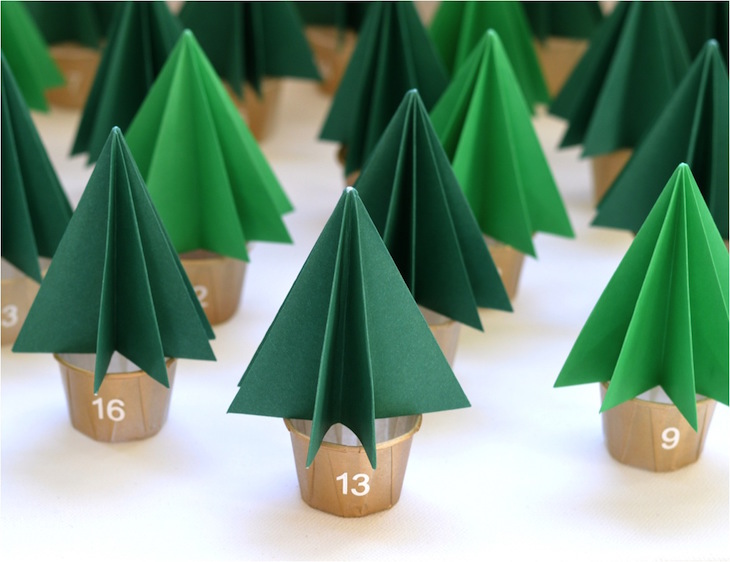 via www.ebabee.co.uk
If you like Origami you will love this project. The tiny Christmas trees will look like a mini forest at the end. Choose any color you like, make it colorful or stick with the natural green. You will need Origami paper, mini paper cups (souffle or sauce cups), gold spray paint and mini number stickers (or you could hand write the numbers on).
4. Upcycled Advent Calendar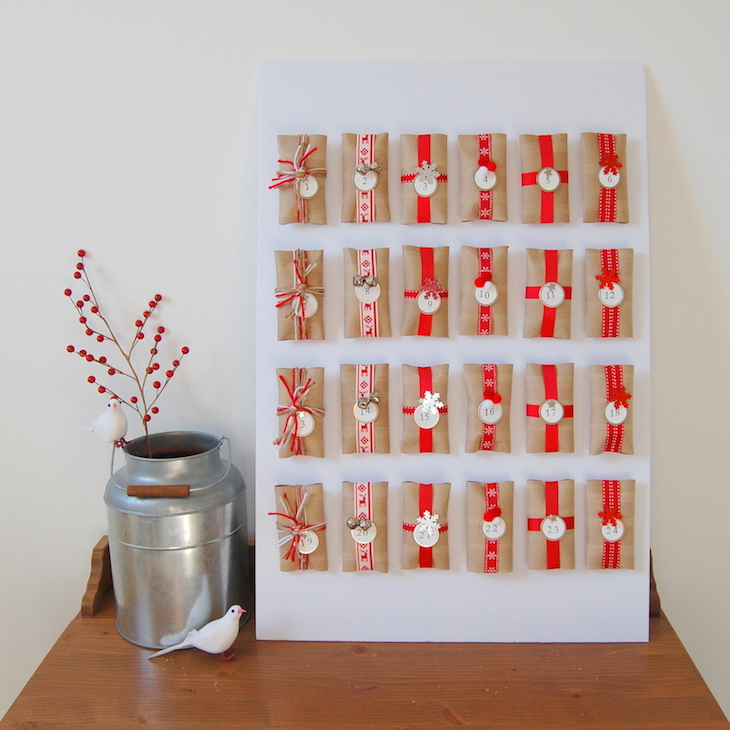 Who could tell that this advent calendar was made of leftover toilet paper rolls? You will need 24 of them, plus a stapler, Christmas ribbon and some wrapping paper. Be creative and make your own design from leftover materials!
5. Hanging Branch and Matchboxes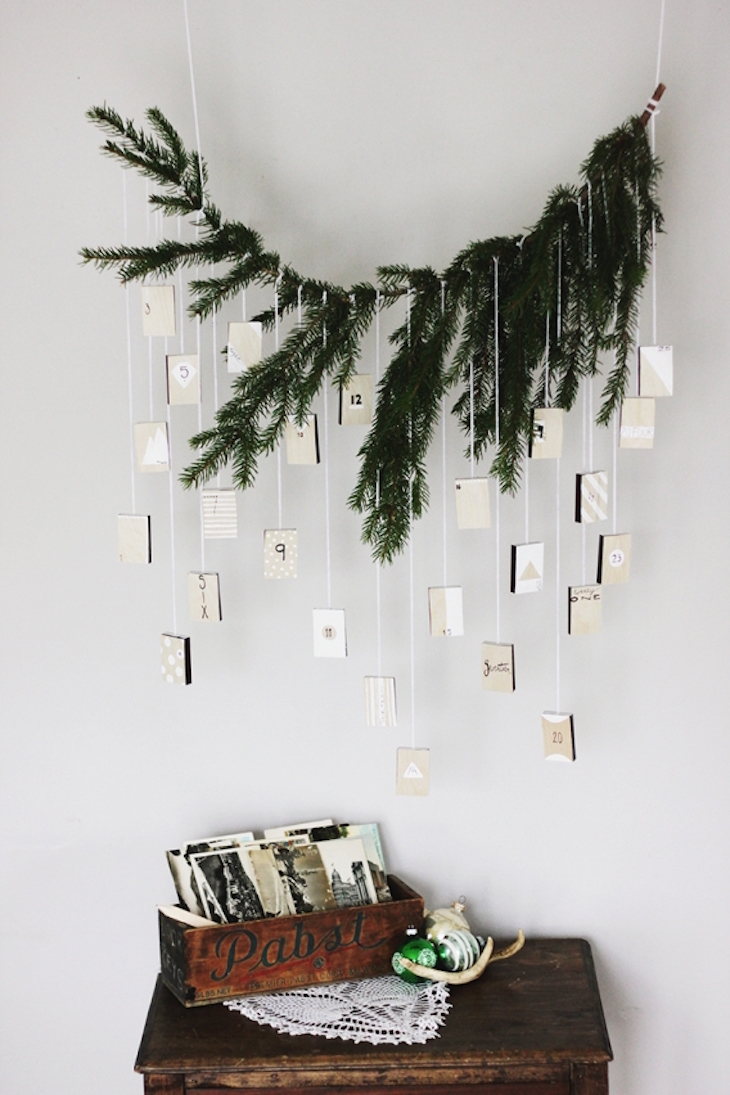 To create this beautiful and unique Advent calendar you will have to cut 25 pieces of birch plywood into the size of the matchboxes. Paint and add in the numbers 1-25 with a permanent marker and glue the piece of wood to the front of the matchbox. With a string tie each of your matchboxes to the branch and the calendar is ready!
6. Brown Bag Advent Calendar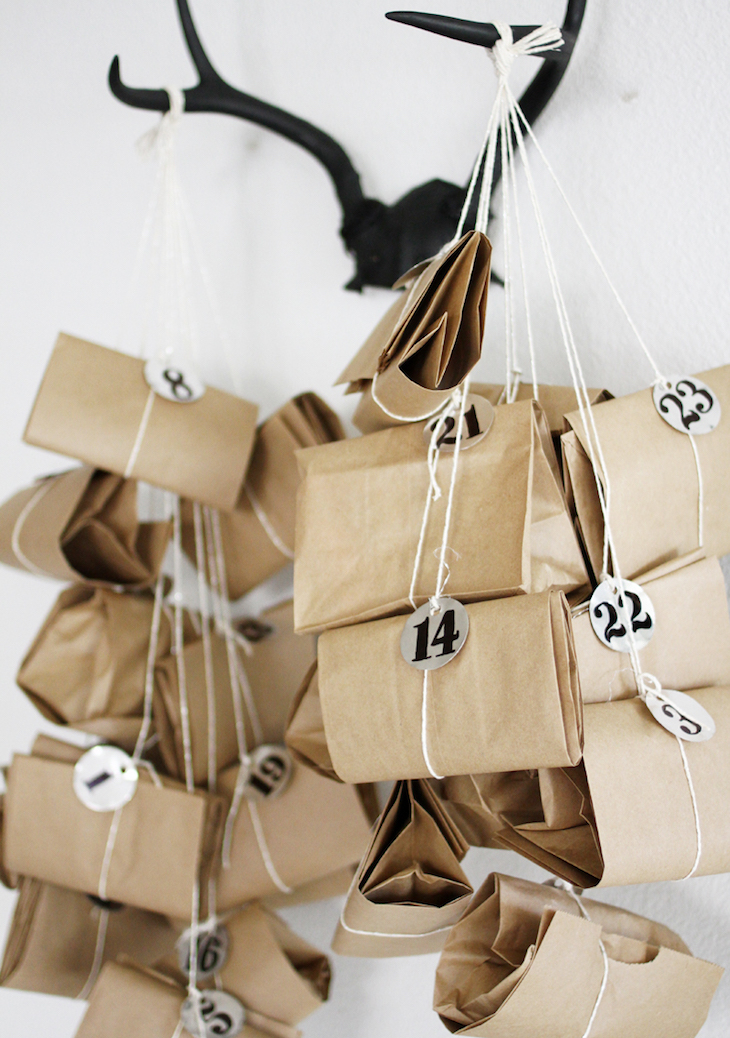 With simple brown bags and strings you can make a cool looking Advent calendar. The bags are great for different sizes of chocolates or anything you want to hide inside, even for bigger items. From a sheet of metal you can make the tags and with a permanent marker write the numbers. Simply tie each bag with some twine and hang them somewhere in the house.
7. Paint Dipped Jars Advent Calendar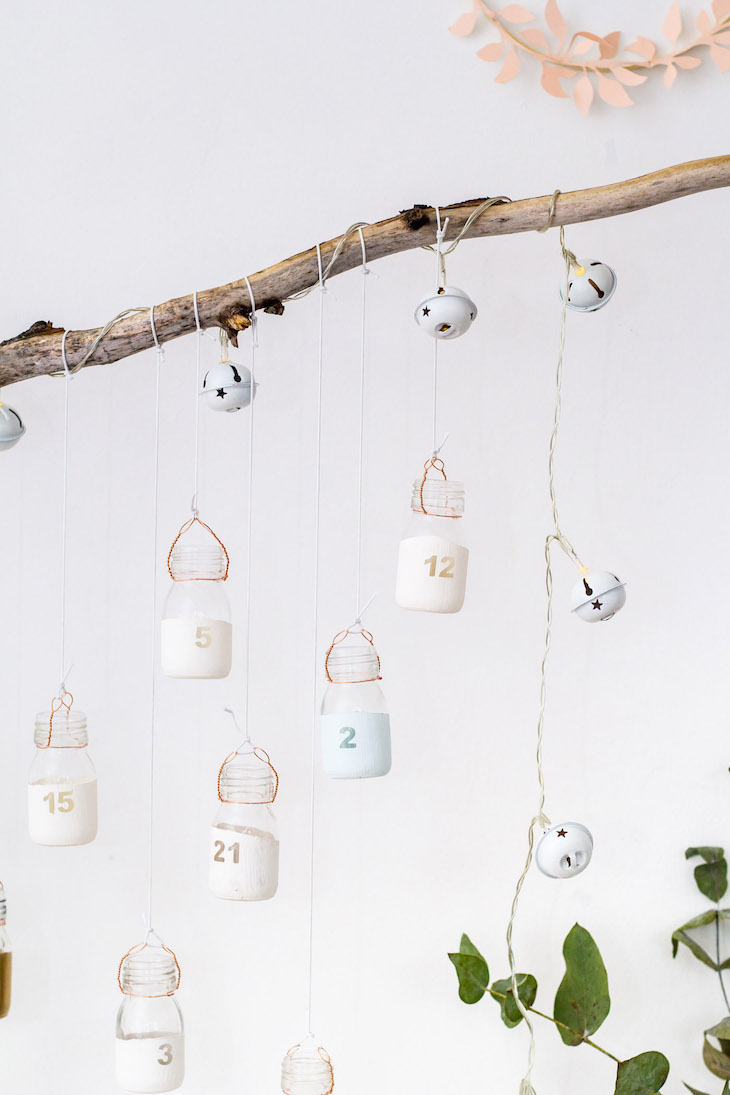 via fallfordiy.com
From sweet treats to small gifts or message you can hide anything in these mini glass jars. Stick the number stickers onto the side of the glass bottles, tape up the neck and then paint or spray the rest of the bottle in thin layers. Create a loop of wire by twisting the ends together and hang them from a branch.
8. Modern Advent Calendar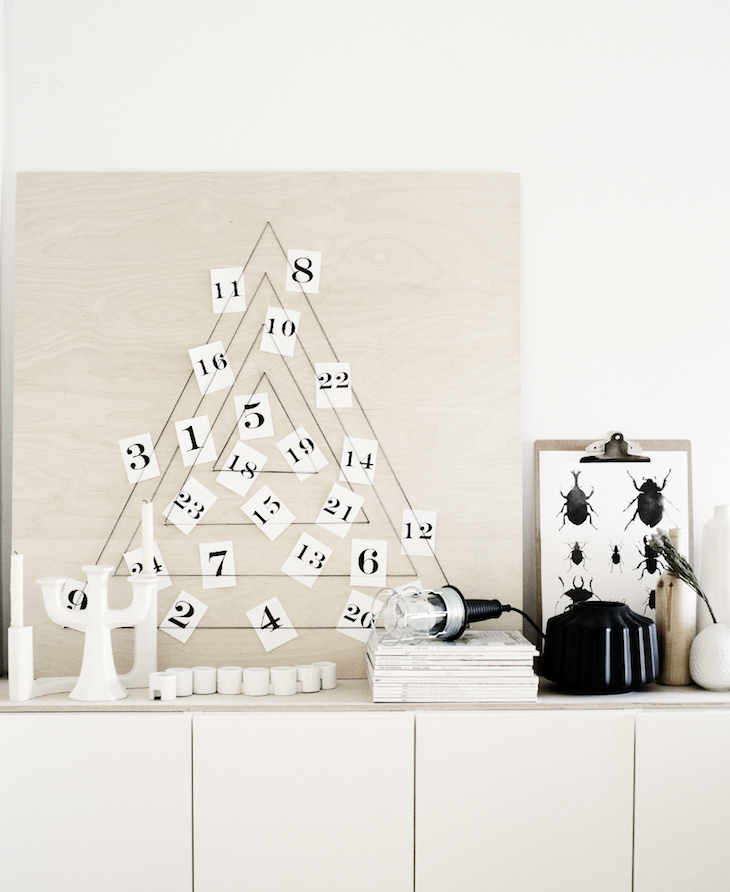 via weekdaycarnival.blogspot.fi
This is another simple and creative idea for DIY Advent calendars that will look great in modern homes. You will need a plywood board, some nails, paper and rubber string. If you want, you can pimp this calendar by using different shapes and colours.
9. Tin Cans Advent Calendar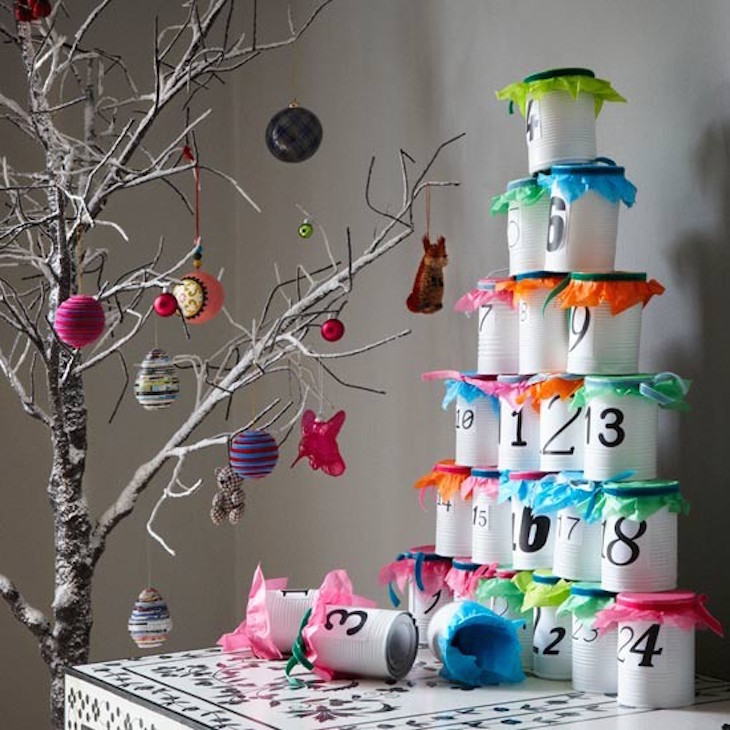 Tin can is a great material that you will definitely have around the house. With a very little effort and almost no cost, you can create this cute homemade Advent calendar. Start by spray painting the empty cans, and number them from 1-25, decorate with ribbons and place the gifts inside.
10. Gift Box Calendar
via www.whateverdeedeewants.com
Simple, affordable paper crafts are exactly what we need during the holiday season. This Advent calendar is made from paper grocery bags, number stamps and white paint. It's recycled so it's great for the environment and it's also free, perfect budget solution.