Spring is the time to plant Dahlias so we can enjoy their beauty during the summer. They are a perfect addition to any garden and can be used for making amazing centerpieces when cut. Inspired by their gorgeousness, we decided to find tutorials on making some Dahlias right now and bringing a piece of summer into our homes.
Surely we are talking about artificial dahlias, but they are so good looking and can be used for so many things like wall art, accessories, home decor, table decor, etc. Take a look and get inspired!
Metallic Paper Dahlias

via liagriffith.com
Use metallic text weight paper to make these beautiful dahlias that are great for gift toppers, napkin rings, centerpieces, or whatever else you could think of – just use your imagination and creativity! The tutorial is easy to follow, and there is a downloadable pattern, so all you need to do is gather the things you need and start making these awesome flowers. There is also a tutorial for making paper eucalyptus as well.
DIY Giant Paper Dahlias
via blog.hgtv.com
Take some inexpensive paper and turn it into something amazing like these giant paper dahlias that make the perfect wall decoration. Use one instead of a wreath on your door, or group them for show-stopping wall art. There is a video tutorial included, so you will follow the process step-by-step and create beautiful dahlia flowers.
Rainbow Paper Dahlia Flowers

Here is a great craft you can make with your kids. These rainbow-colored dahlias are easy to make and will look fantastic on the walls in your kids' room. We love the vibrant colors used for this project – they are so perfect for spring.
DIY Felt Dahlia Flower Brooch

This step-by-step infographic will show you how to make an amazing dahlia flower brooch that is a perfect accessory for spring, a gift for mother's day, or any other occasion. Felt is so easy to work with, and you will make this brooch in no time. We love the little pocket on the back that can hold a precious photo!
DIY Satin Ribbon Dahlia Flowers
These satin dahlias look so fabulous. They can be used as brooches, hairpins, or ornaments on bags, shoes, belts… The tutorial is detailed with many step-by-step photos. Although in Russian, you will have no problem following it with all the photos and the help of google translate, of course.
How to Make a Dahlia Paper Wreath for Under $10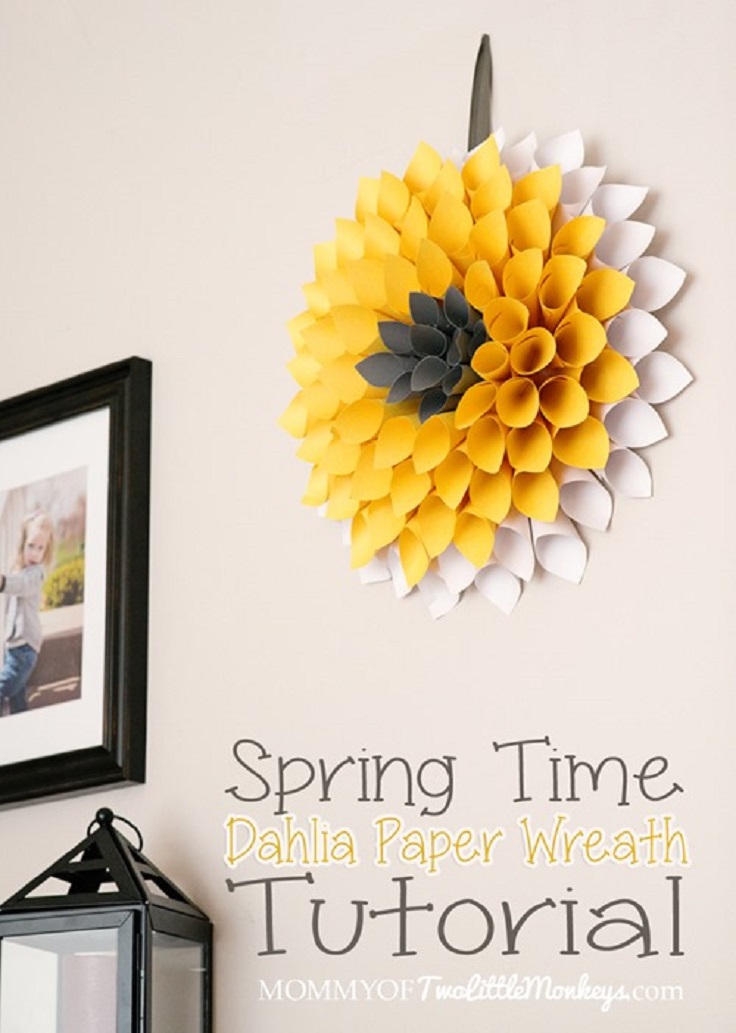 via mommity.com
We love the yellow, gray, and white combination for this creative flower wreath that can be made for under $10. It is totally spring-inspired and will add a much-needed pop of color to your home. You will need construction paper, a hot glue gun, a piece of cardboard, scissors, and a compass. The project is really easy, and the result is a cute dahlia wall art.
Plum Paper Dahlia with an Irregular Petal Pattern

via liagriffith.com
This paper dahlia flowers look so realistic due to their pattern, and we just love the plum color, though you can opt for a brighter variation. True, there are too many petals to make to get a perfect dahlia flower like this, but it is totally worth it as the final product is gorgeous. There is a silhouette pattern included.
Dahlia Tissue Paper Pom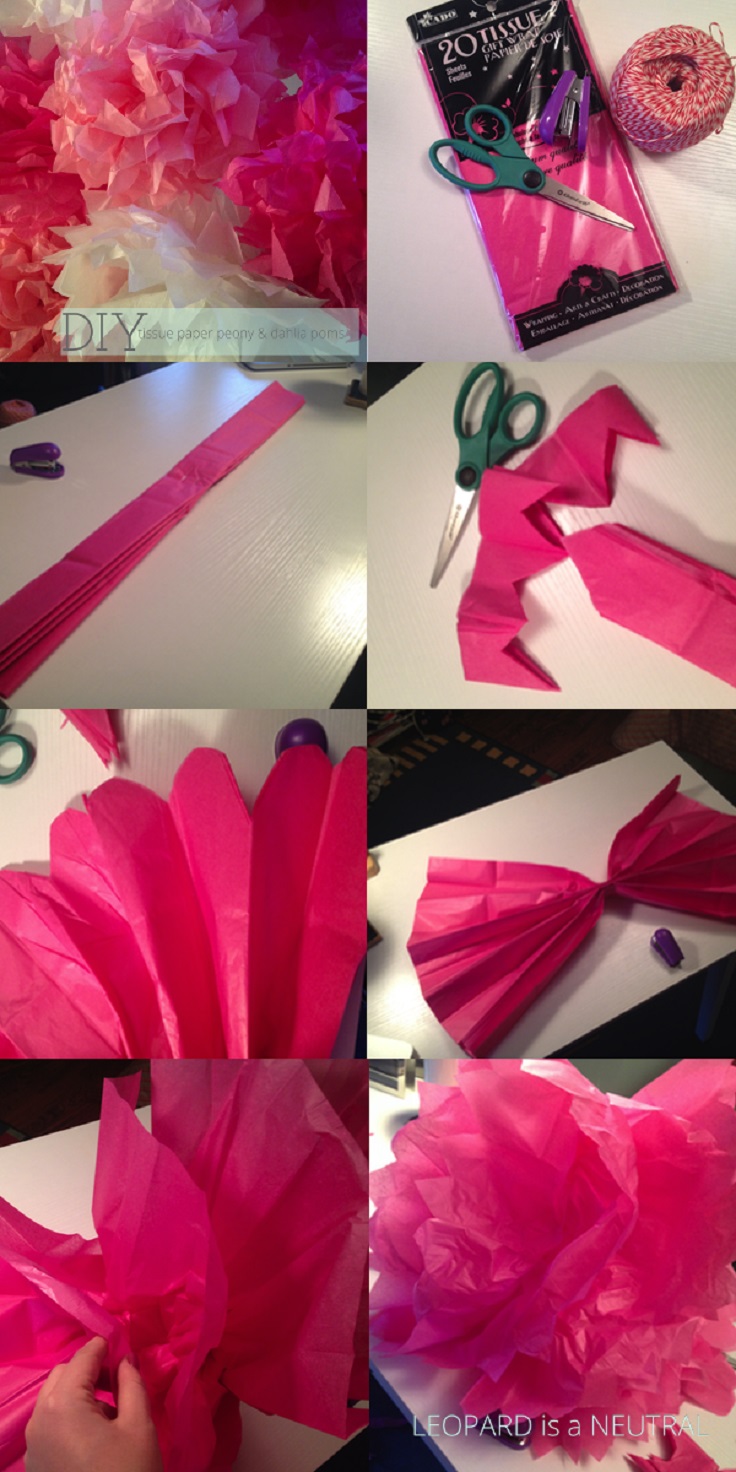 To make this dahlia pom, you will need 10 sheets of tissue paper, floral wire, string, and scissors. It will take you no more than a few minutes per flower, so it is an easy and inexpensive craft. You can make dozen for under $10! Use them as a hanging decoration over a table, a baby's crib, or in a corner in your home to add a pop of color simply.
Paper Dahlias with Blow Pops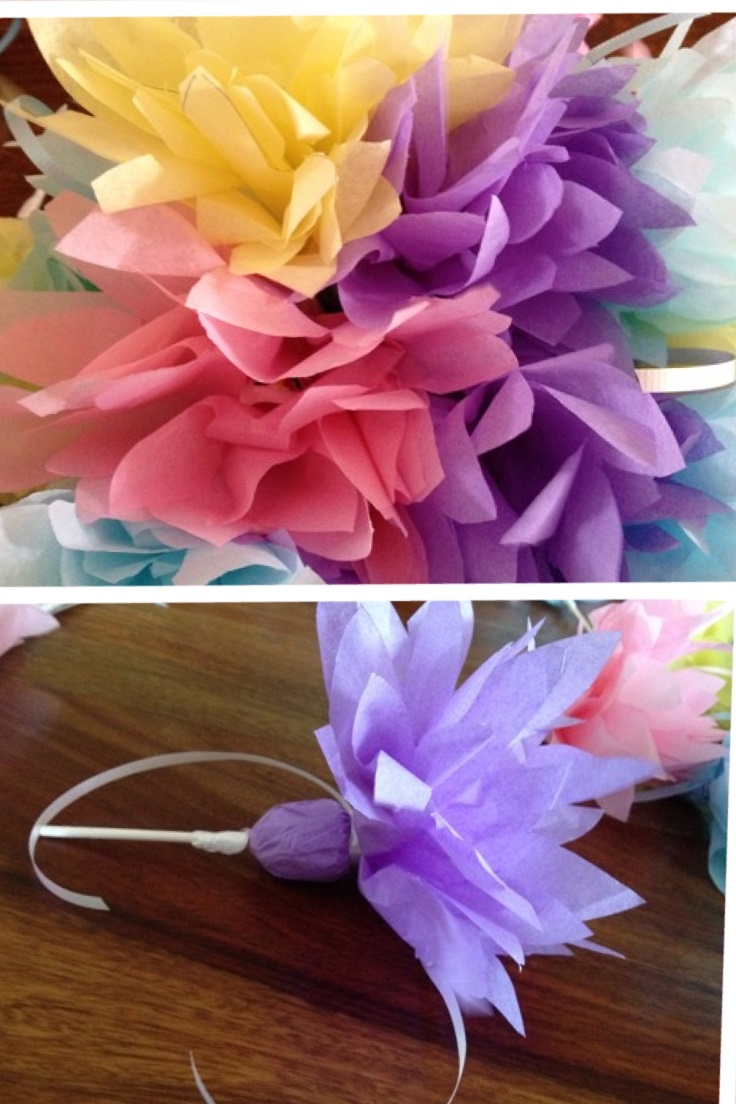 via josashobbylobby.wordpress.com
Need an idea for baby shower favors? These paper dahlias with blow pops are just perfect. They are made with Martha Stewart's paper pattern you can find here, but blow pops are used instead of fancy bulbs. This makes the whole project budget-friendly while still being fabulous!
Dahlia Fabric Flower Tutorial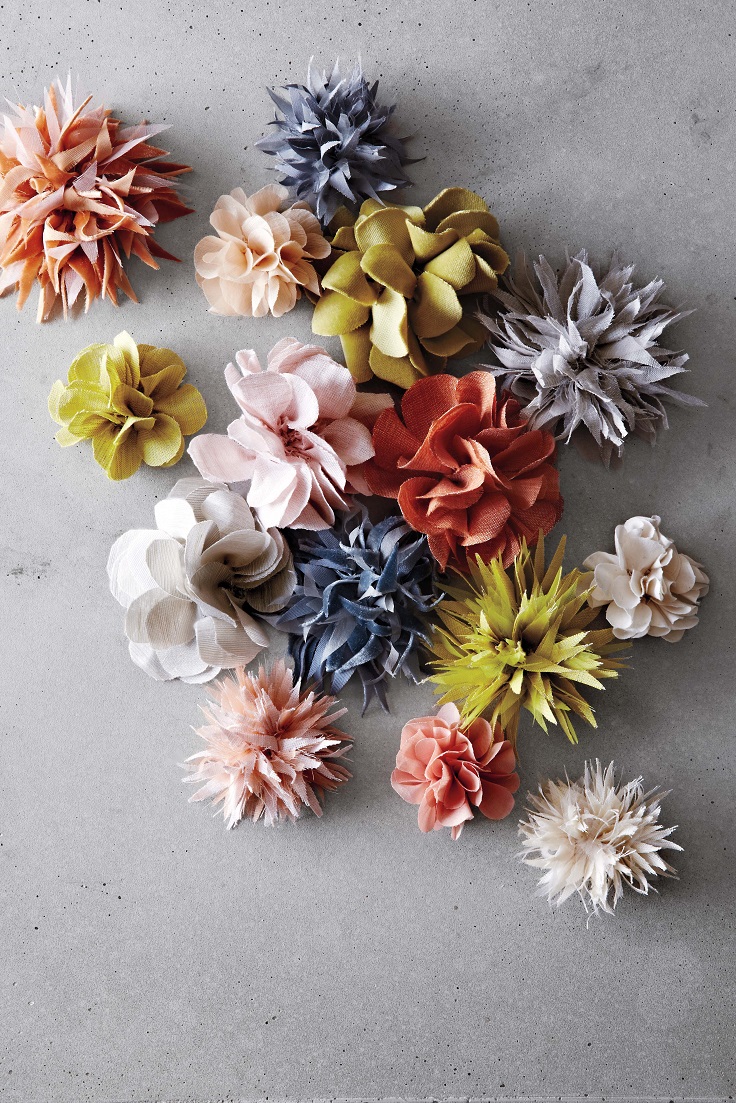 via flaxandtwine.com
These fabric dahlias are such beauties! To make them, you only need a needle, thread, and some fabric scraps. Attach them to a bag, make a hairpin or a brooch, and you have a perfect present for your friend, mother, grandmother, or simply a nice accessory to wear this spring/summer. You can also make peonies.