Those relaxing days by the pool or fun-filled afternoons at the beach keep covered and stylish with swimsuit cover-ups. Go from the beach to the street in sexy beach dresses & bathing suit cover-ups.
Who says you have to spend a fortune to look fashionable? You can create your own swimsuit cover-up this summer and save your money for the swimsuit.
DIY Beach Cover-Ups are fun sewing projects for fashionistas who love to wear and flaunt handmade projects. Warmer days are here, and we are sure you need one of these DIY beach cover-ups to complete your bikini outfit. The DIY beach cover-up projects we have here ranged from modest to somehow risque. And we bet you can find a tutorial here that matches your style.
1. DIY Tie-Dye Swimsuit Cover-up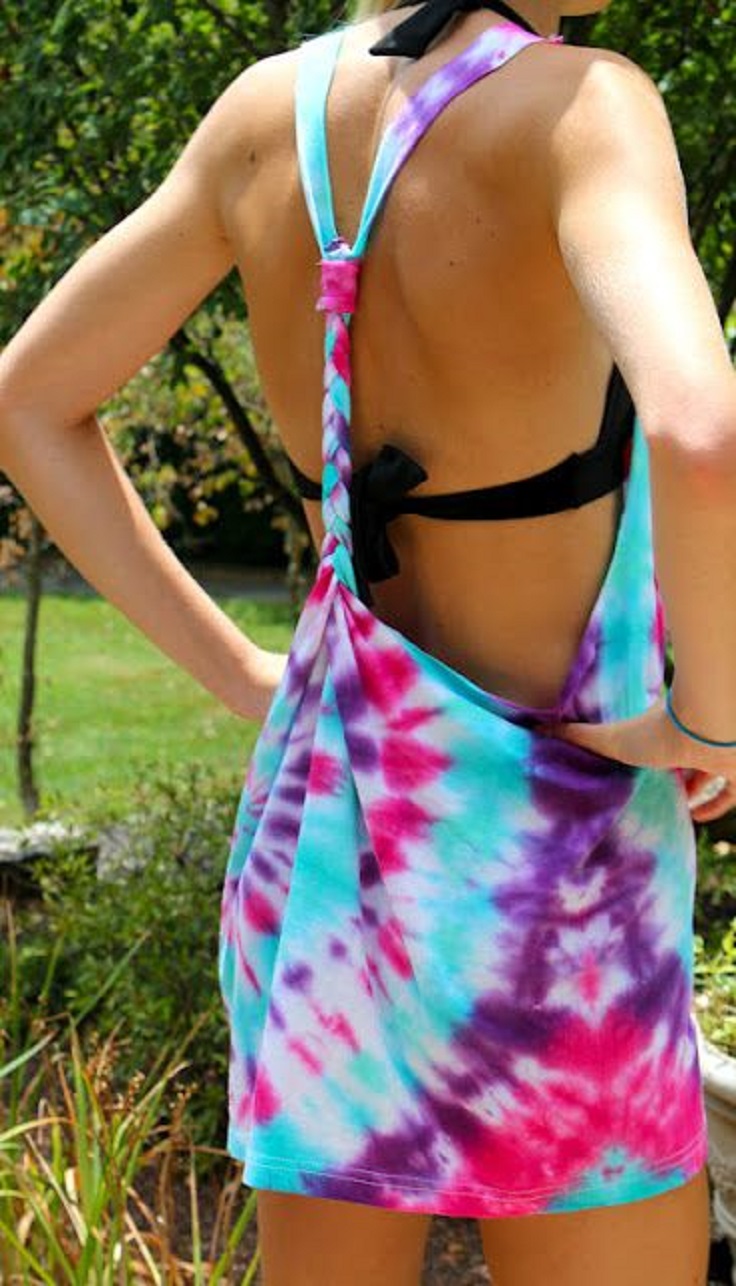 via adventuresofamiddlesister.blogspot.com
Who doesn't love a good tie-dye?! This would be a great DIY to do with a friend so that you can split the tie-dye kit. All you need is just a white t-shirt (one size larger than you usually wear), tie-dye kit, needle, and thread.
2. Little Beach Dress
via lilygirlfriends.blogspot.com
Hit the beach in style with an inspired beach dress you can make from a sarong or scarf.  This look is great for the resort, your local beach spot, or boardwalk bar/restaurant.  We used a scarf measuring 70×42 inches, but any size will work.  Just keep in mind:  The smaller the scarf, the shorter the dress.
3. DIY Macramé Top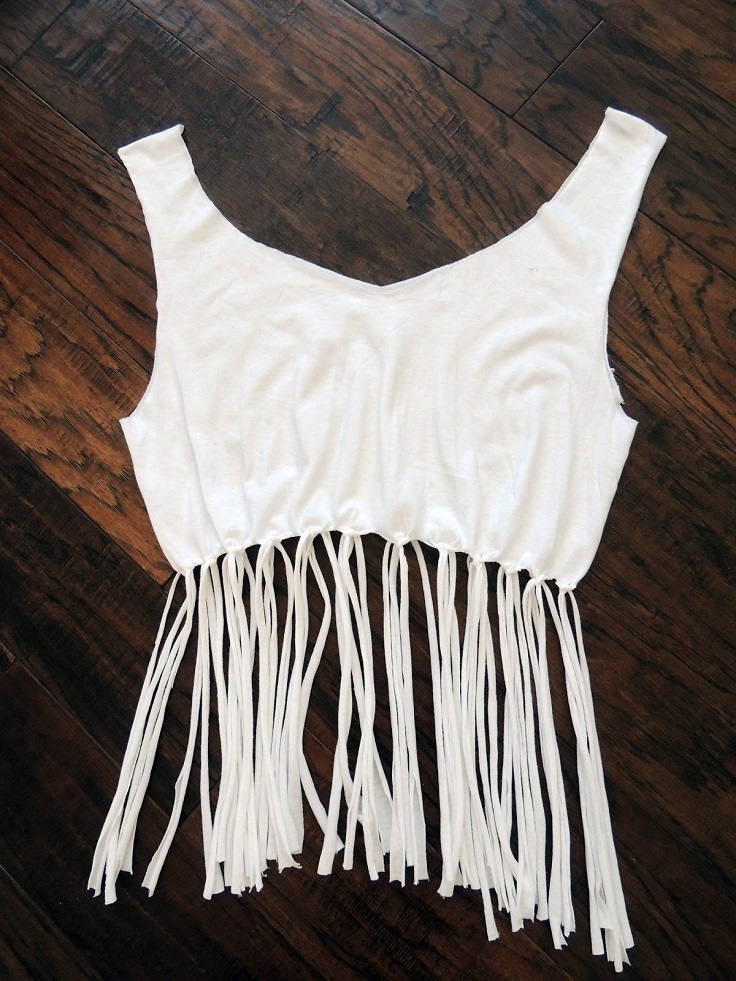 via nataliecherie.blogspot.com
Macramé is an old art form in which textiles are made by knotting. We personally think it's an easy way to add a bohemian vibe to outfits. You will need only a cotton t-shirt and scissors, and you will have a new one beach cover-up.
4. Sarong Dress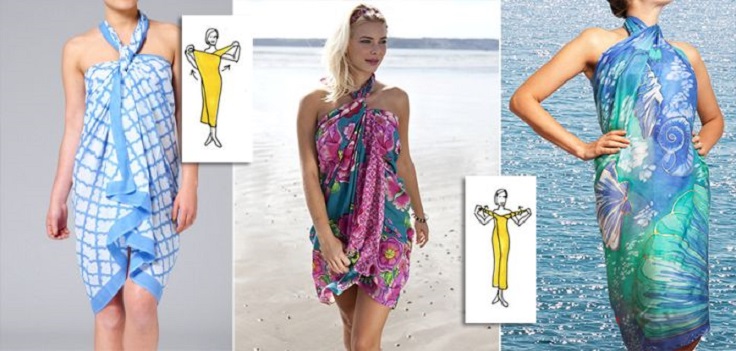 via populardiycrafts.blogspot.com
This classic way to tie a pareo turns it into an elegant beach dress. It is easy to try, and this option is a popular, bright, stylish, and practical beach accessory that always attracts a lot of attention at the beach. You can wear sarongs on the beach and more refined by tying maxi pareo on one shoulder.
5. Scarf Beach Cover Up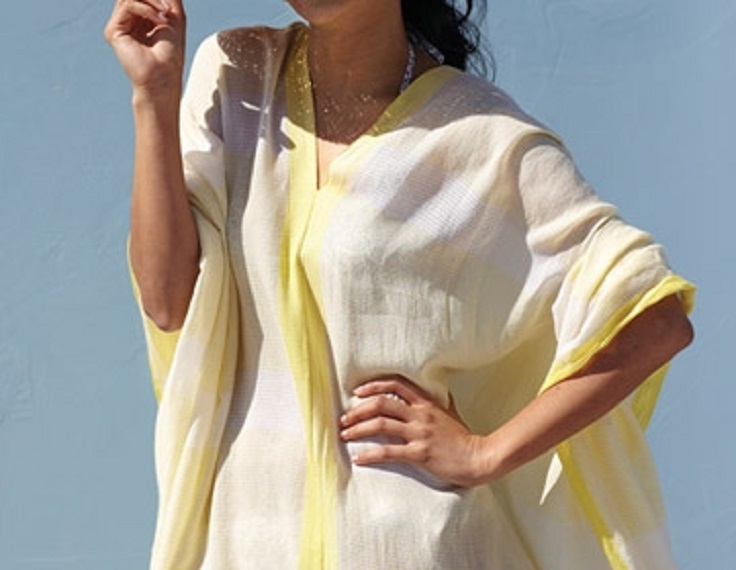 via lifestyle.allwomenstalk.com
We love this idea because it opens up a lot of crafty possibilities and styles. Because the materials you need are only two cotton scarves, you can go crazy when printing and colors. We bet you can also make several so that each cover-up matches a pair of bikini.
6. Beach Kaftan
The days are warmer, and we gonna spend a lot of time in the bathers. This means wardrobe changes to mostly kaftans and slips dresses. The materials used for making this lovely beach kaftan are table cloth and doilies. Yes, table cloth and 2 rectangular doilies, at least 20 inches each in length, pinking shears, and sewing machine.
7. Colorblock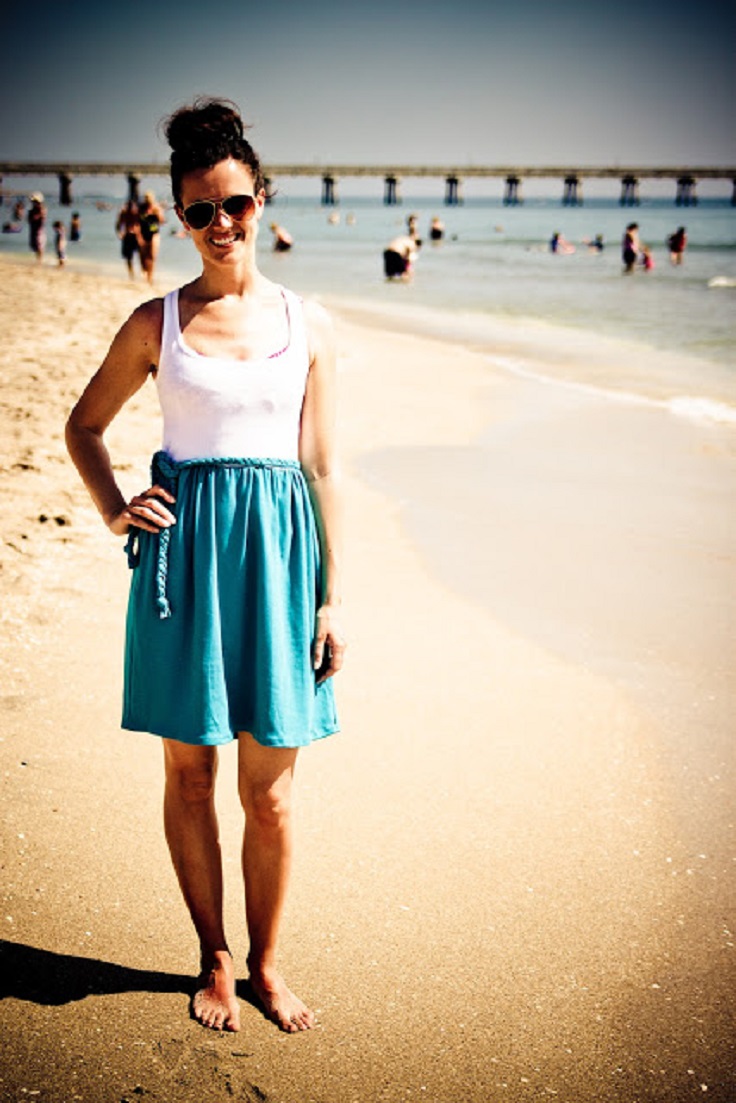 via thewinthropchronicles.blogspot.com
Find an old tank top and cut it the length you want. We wanted a bit of an empire waist. We would recommend trying it on and then marking where to cut it because sometimes the tank tops stretch more when wearing them.
8. Shirred Cover-Up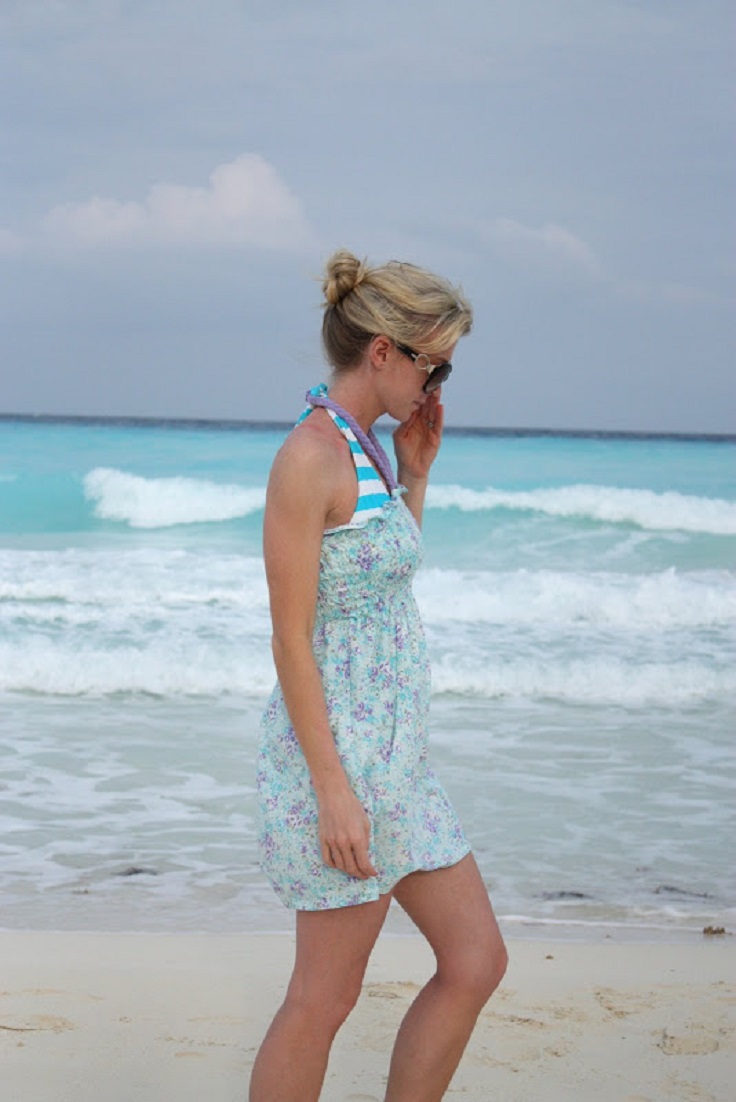 First, start with 2 pieces of fabric that measured 26″ wide and 29 1/2″ long (you can adjust these sizes to be as long or as short as you want). You want the fabric's total width to be about 1 1/2 times the measurement of your bust. This will allow for a nice stretch at the top.
9. T-Shirt Tunic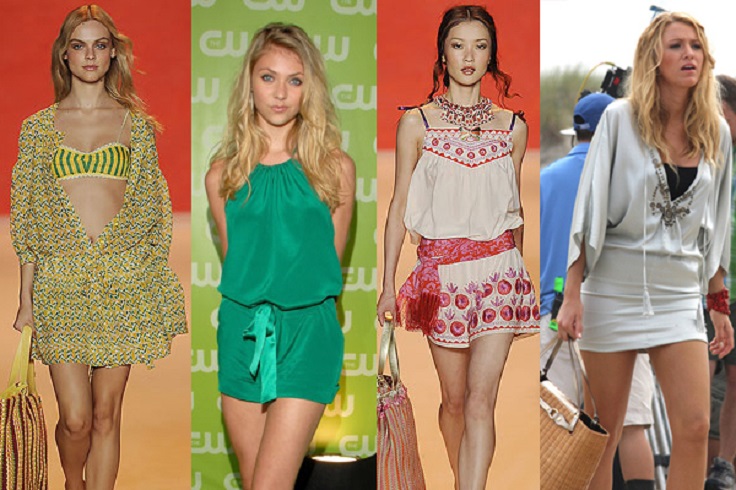 via makezine.com
Choose a shirt with a screen-printed pattern that you like because this will become part of the tunic design. The older and more worn the shirt is, the better, as the fabric will be softer and drape more nicely. Choose a shirt that is one or two sizes larger than you normally wear.
10. Kaftan Pattern
A kaftan is simply a cover-up, perfect for the beach or pool. We made this simple pattern that explains everything. You can use scarves, fabric, even a large blouse as we did. To lengthen or widen, change the measurements.