Refresh your closet this spring by embellishing some of your old clothes. Sometimes, we get bored with the things we possess, so for that matter, it's good to bring spring change to your closet. Embellish your old skirts, shirts, sweaters by simply adding a few gems, some polka dots, or cute doilies.
There is not much work; you only need a sewing kit. A little detail such as a new gem neckline can change the entire look. These DIY projects are quick, easy and everybody can handle them.
There are a million ways to embellish and spice up some clothing pieces, but we have chosen the top 10 ones, and here's how to do it. Don't wait up; scroll down for some more info; make sure to comment below.
1. Gem Embellished Neckline

via gleamitup.com
Transform your simple sweatshirt into a spectacular and fancy piece of clothing. Make three necklines using three different patterns of gems. You can glue the gems or sew them (get some sew-on gems) on your sweatshirt. This will give your plain sweatshirt an entirely new look.
2. Embellished Jeans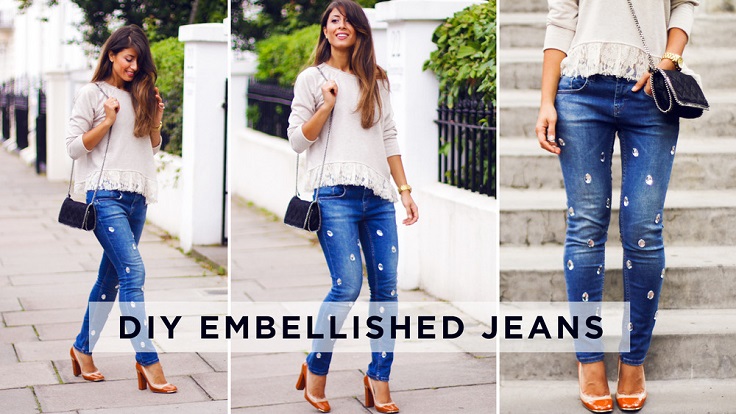 via mimiikonn.com
Make your old jeans trending by sewing on some big diamond-shaped gems. This will give your look a designer note, but it will cost much less than buying a pair. You can add smaller gems and turn the everyday jeans into going out jeans.
3. Polka Dot Tights
If you have a pair of unused tights, then embellish them with exciting polka dots. You will need some white paint and a paintbrush. The end of the brush makes small dots on the tights, it takes patience, but the results are mesmerizing.
4. Love Patch
via minimomlifecapacity.wordpress.com
If your favorite sweater has a hole, then fill it up with a cute lace-heart patch. Simply cut a heart-shaped patch out of lace and sew it on the sew mark where the hole once was. This will give your knitwear some more time on this earth.
5. Lace Insert Tee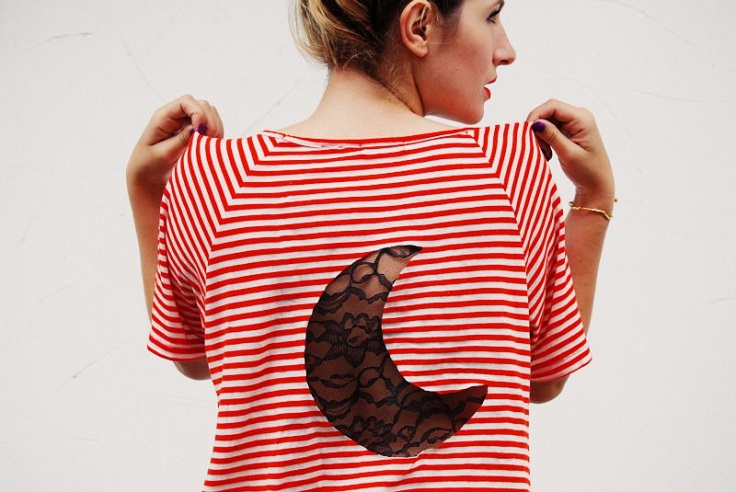 via mrkate.com
This super cool lace cut out is perfect for chilling your back during the hot summer days. Simply cut out a moon-shaped part of the back of your shirt and, using stitch witchery and an iron, attach the lace on the inside of the cutout.
6. Floral Denim Vest
Make a chic denim vest out of your old denim jacket. If you thought your old jacket is unfashionable, think again. With a little retouch, you can make the coolest vest ever. Simply cut out the jacket sleeves, let them be messy and uneven, pick some floral design material and make a pattern for the back of the vest. Once you have the design settled, simply sew it on the vest. That simple!
7. Doily Collar

Make a cute doily collar for your child or yourself. Simply pick a doily, not too big and not too small, cut it in two equal parts. Sew the doily on the neckline, and that's it. This is a very cheap way to embellish your children's clothes.
8. Embellished Skirt
Give your skirt a little love by embellishing it with some beautiful gems. Pick some nice gems, group the gems in little flower-like groups, and sew them on/glue them on your skirt. Once you have the skirt you are in no need of other jewelry!
9. Lace Embellished Cut-Off Shorts
via clonesnclowns.wordpress.com
Make shorts out of your old jeans and embellish them with some V-shaped lace neckpieces. Pick random jeans and cut them in the length that suits you. Fold them sideways and place the V-shaped lace upside down, both edges of the lace touching the edges of your shorts. Cut off the denim, and sew on the lace. Voila!
10. Leather Flower Top
Make a cute flower embellishment for your shirt that will be perfect for springtime. Pick a black (or any other color) leather material and cut off 2 sized flower pieces (smaller and bigger). Using pearls, sew the flowers on the shirt; you can add two or more flowers on the same spot and then top them with one pearl.