If you are a food-lover, then you know that it's really hard not to get caught up in finding recipes for your favorite desserts or saving everything you see on cooking channels. That's why you need a book where you'll be collecting all your recipes.
While there are a lot of different cookbooks you can buy, we think that there is one, that will be filled with more love and comfort than any of the others – and that is the cookbook that you'll make by yourself! In it, you can organize and store all your family's favorite recipes.
To help you in making your own recipe book, we've gathered the top 10 DIY creative projects for cookbooks. Why don't you try making one of them?! They are fun, cute, useful, and affordable!
Bullet Journal Cookbook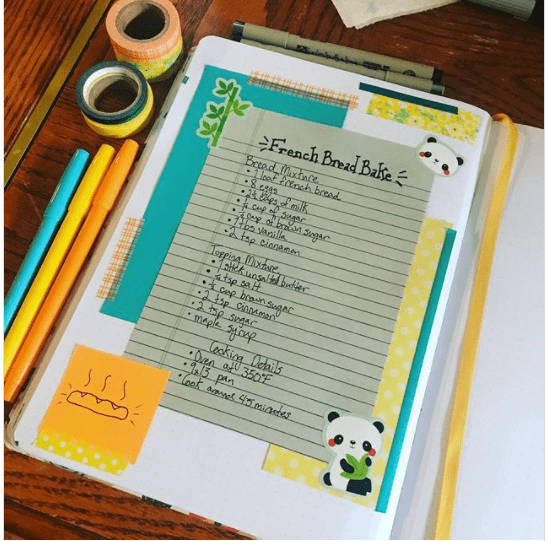 DIY Tutorial via sweetplanit.com
Sometimes it could happen at 2 am to wake up from a recipe idea! Cooking enthusiasts will know that. Therefore, taking your journal everywhere is a must as at times, inspiration comes from what you see and smell at any given time in any given area. If we do not write down recipe ideas, sure we will forget so best to have it close to proximity at all times. Also, you will have created a never-ending journal of some of your best ideas, by hand, with diagrams or ways you wish to present the dish. It's not always about the cooking, it is also about the delivery and in which vessel you will present it.
Family Cookbook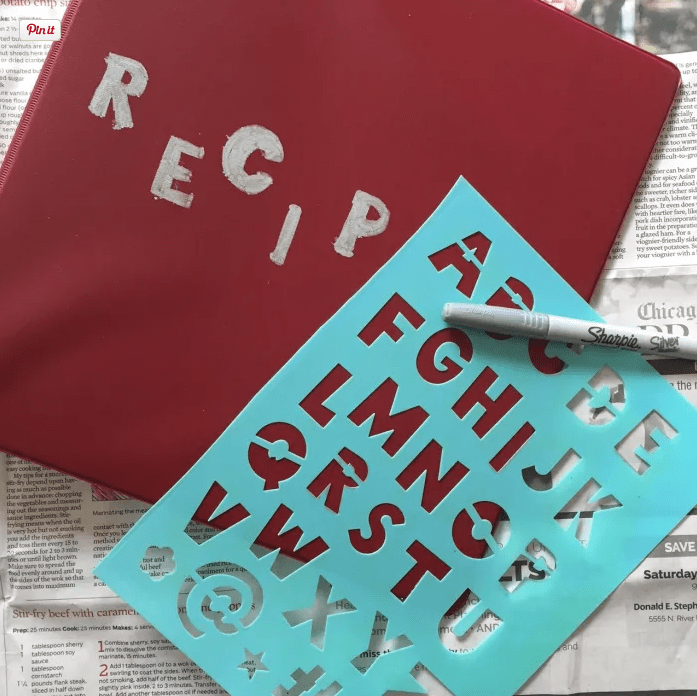 DIY Tutorial via delishably.com
You might have that one "chef" in the house that always seems to be behind the scenes, making day and day out delicious home-cooked meals for the family and friends. And very often, these kitchen gurus never really share the recipe, as they would follow their instinct; without following a recipe. Just by opening cupboards and the fridge! It is therefore a really good call for someone in the house to keep notes of what's happening! Like a mini kitchen secretary! This book goes everywhere with you so if there is something delicious happening in any kitchen, friends, or family, then take it with you, make notes, and create the most fascinating cookbook of all time.
Anthropologie Inspired Recipe Book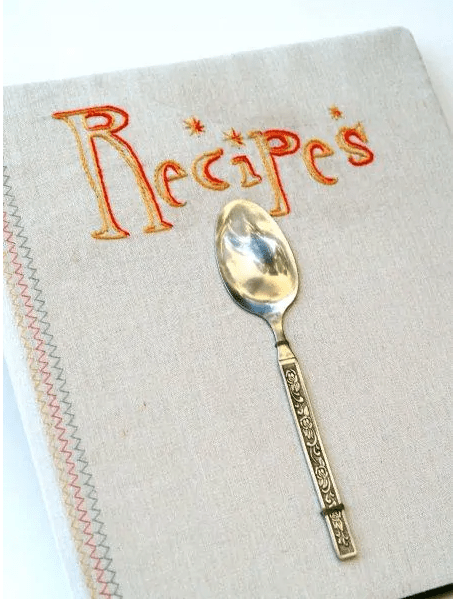 DIY Tutorial via oneshetwoshe.com
Anthropologie is a US clothing retailer with approximately 200 stores across the country and Canada which offer a wide array of clothing, jewelry, home furniture, decoration, beauty, and gifts. All, of course, at a price! And we reckon we have found something equally inspiring and interesting keeping the mind busy, with a cookbook to remember; keeping us happily busy in the kitchen feeding those hungry mouths!
DIY Kid's Mini Cookbook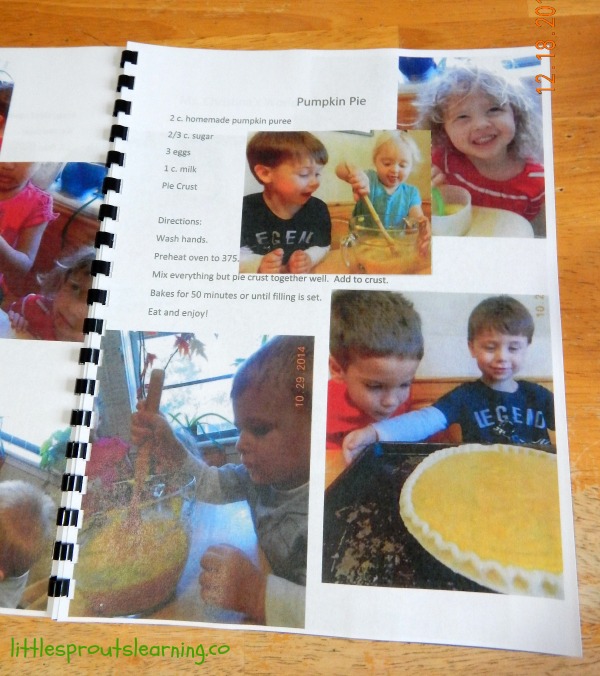 DIY Tutorial via littlesproutslearning.co
Fast food is everywhere. Who does not like a burger or a kebab? Once in a while it is acceptable, but unfortunately nowadays through a lack of culinary skills in some of the families, or simply aren't bothered enough, fast food comes into some lives far too often. And, overdoses of salt and sugars are present in huge numbers, not to forget ingredients that some people can't even pronounce let alone know what they are. It is therefore imperative that adults who should know better teach the younger ones about food, and the importance of eating correctly. Teach them about sustainability and fresh products. Get them a cookbook. Make them cook. It's the most beautiful gift you could ever do for them. And, they'll even cook for you! Next, teach them how to wash!
Amazing DIY Cookbook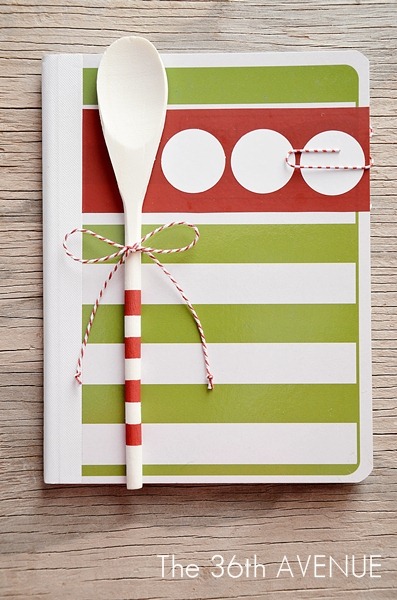 DIY Tutorial via the36thavenue.com
This cookbook could inspire you for the Christmas period. Always able to update it by creating new recipes for the following season year after year. Always going forward and following the trends! Although, nothing wrong with a little old school cooking for the festivities and sometimes, nothing better! Just that we always learn new ways to better our kitchen skills! So best kept updated. This cookbook looks great also and could be perfect even as a gift. Happy cooking!
Homemade Cookbook
DIY Tutorial via followushere.wordpress.com
A kitchen looks like a kitchen especially when you have cookbooks on show. Think of it as a library! It's always more impressive the more books you have. Unless you are an encyclopedia of cooking recipes and everything is in your mind like a lot of amateur cooks. But at times, we have very special recipes and need to ensure their survival! And therefore, writing everything down is magical to keep everything alive and remember everything we have eaten when we have a moment of nostalgia. They are great things to pass on also. This book will look very handsome indeed in any kitchen and will keep you motivated to do your best.
A Beautiful Mess Cookbook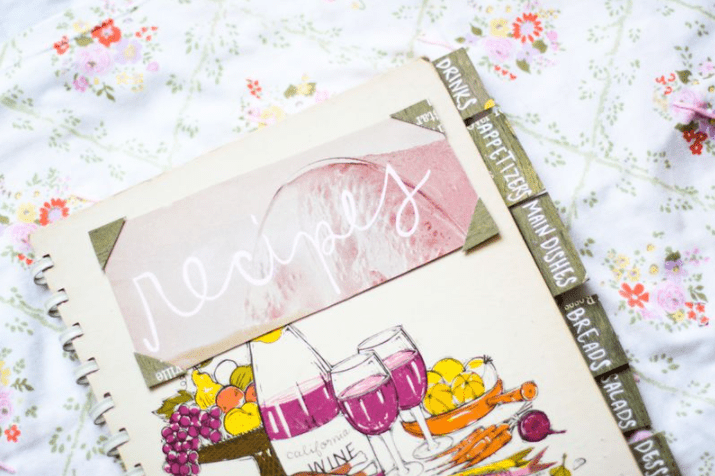 DIY Tutorial via abeautifulmess.com
Making your own cookbook is similar to cooking. It makes everything just so much better! What about the beautiful messiness, meaning, the creativity? Creativity is not polished. It comes after. But initially, it can be all over the palace but with the right idea in mind! Therefore, a cookbook has to resemble something with passion. We believe this cookbook to be very authentic to the way a homemade cookbook should look like. Pen marks, keywords, things crossed out – basically, with personality. And little better than this super idea.
Cute Family Cookbook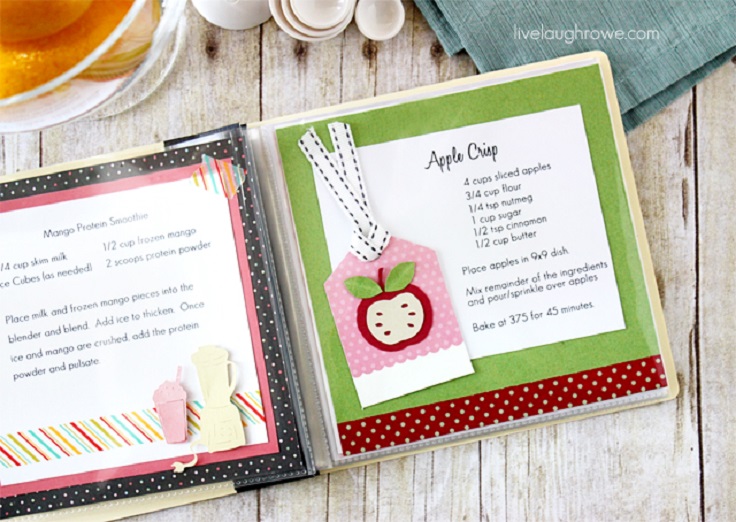 DIY Tutorial via livelaughrowe.com
This is such a lovely idea for a lookbook that we have started it ourselves with the children! Learning how to cook is an art. Cook with the children. They love that. It is so fun and it is an activity that not only brings the family together but also entertains the kids at the same time instead of watching TV or being bored. A super way to spend time together. And precious time to especially in our "new" hectic way of life with work as number one. The kids are number one. This cookbook holds most answers, we believe, in the world.
Family Favorites Recipe Book
DIY Tutorial via kimmccrary.blogspot.com
Album photos have been overtaken by our iCloud space on our phones and computers. So, we believe it is imperative to go back to basics and to what our parents and grandparents used to do. Write recipes down and get cooking! This was the way of life. They never picked up the phone for food to come to them. Remember a great meal from your parents or grandparents? Nothing more beautiful than memories. And this cookbook organizes this just right.
DIY Classy Cookbook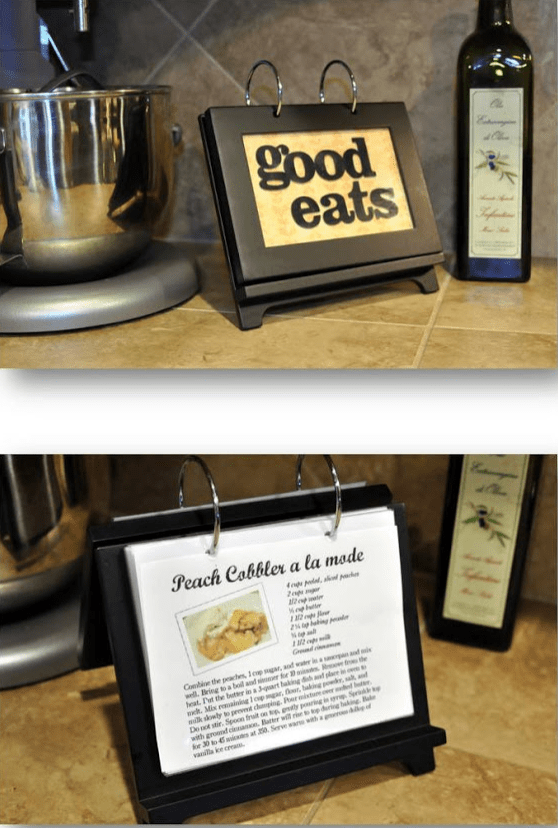 DIY Tutorial via findingmyaloha.blogspot.com
Simple recipes are often the best things in the world. Sometimes, things literally take 15 to 20 minutes and can be totally delicious. So why not have to hand small and simple recipes to cook for the everyday situation? You can download recipes from the net, cut them out, and stick them to your mini cookbook. It is not always as easy as one two three to get creative behind the stove, but you can still manage to get great recipes over Google. Try them out first, and if they work, twist them slightly making them your own.