Family photos are so precious. They are a reminder of good times spent with our loved ones, of many special occasions, of our children growing up, and of our life in general. No wonder we take special care of them and spend time and creativity to display them properly.
There are so many ways to display family photos, from classic frames to creating collages, printing them on canvas, arranging them on floating shelves, etc. Family photos can easily become an integral part of your home decor.
By creating an interesting photo display, you can add a pop of color, a touch of vintage, or beautiful wall art to your living room, bedroom, or hallway. We have selected 10 unique ways to display family photos to inspire you and boost your creativity.
If you already have an awesome family photo display, share it in the comments section below, and we will feature it in another upcoming article on the same subject.
Black and White Asymmetrical Frames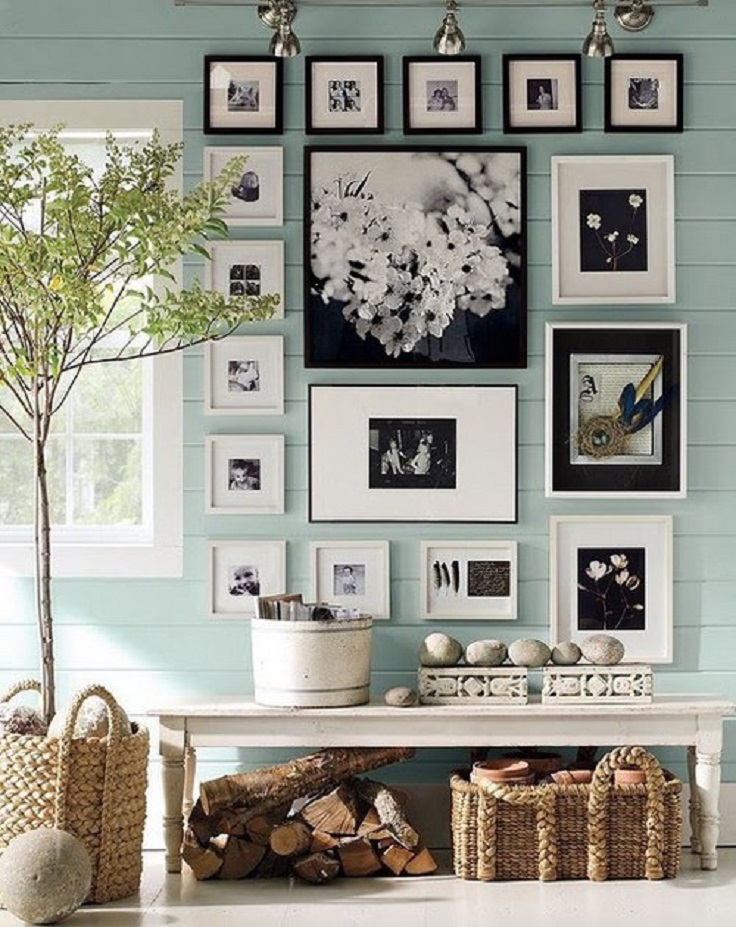 The idea behind this beautiful and simple photo display is to group different sizes of black and white frames. The photo prints are also black and white, which unifies the whole display. Hang the frames on a colored wall, and make sure you provide the right lighting.
Half&Half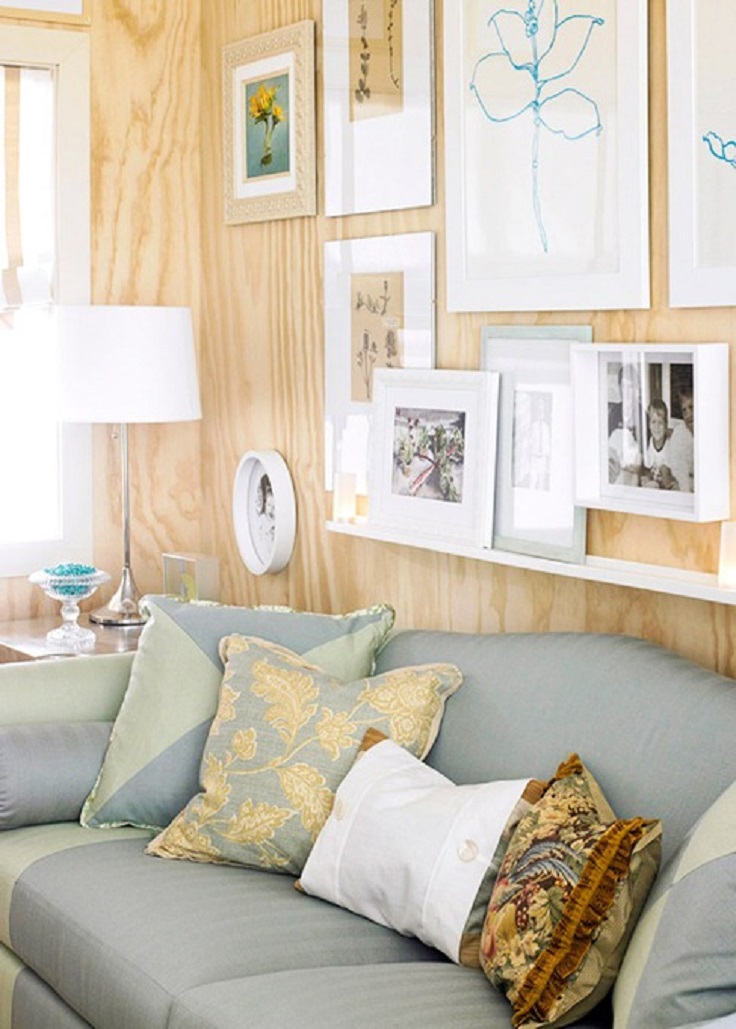 via bhg.com
Simply hang some pictures on the wall and arrange a couple of more above floating ledges for a nice and interesting family photo display. Mix family photos with art, mix black and whites with colors – it is all up to you and your interior. The thing is not to make them look overdone but to go for a casual, even a little messy look.
A Family Tree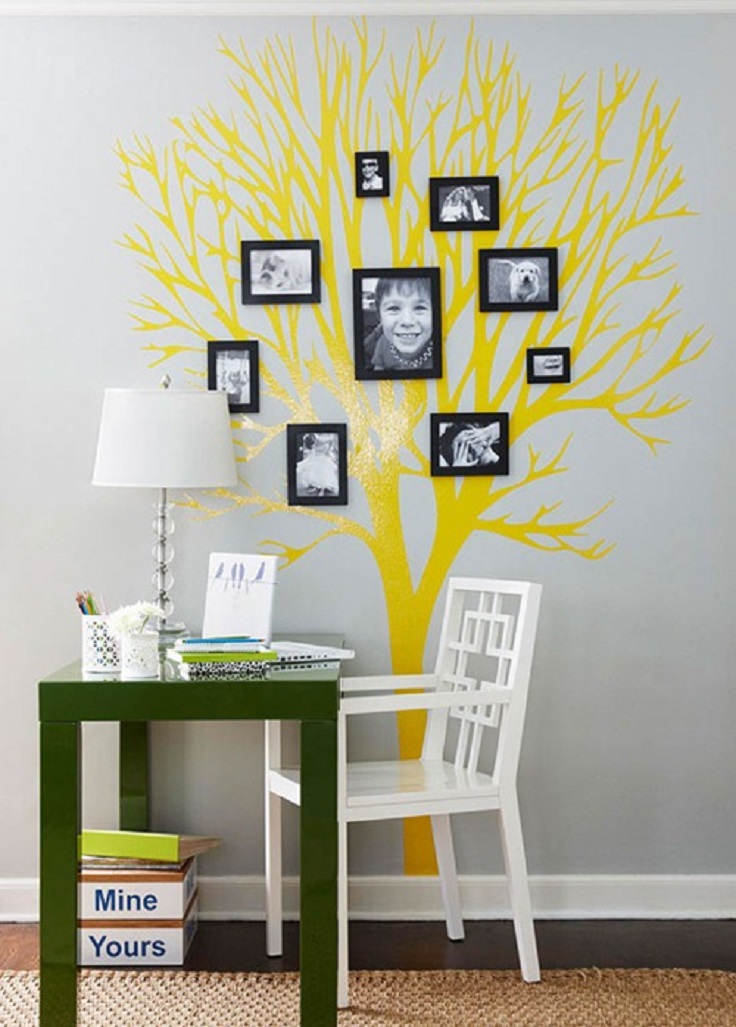 via bhg.com
This is such a cool idea! All you need to do is draw a tree (or use a sticker) on the wall and display different family members' photos on different branches. The final result is a true family tree that looks so awesome and unique. Not to mention how decorative it is!
Vintage Touch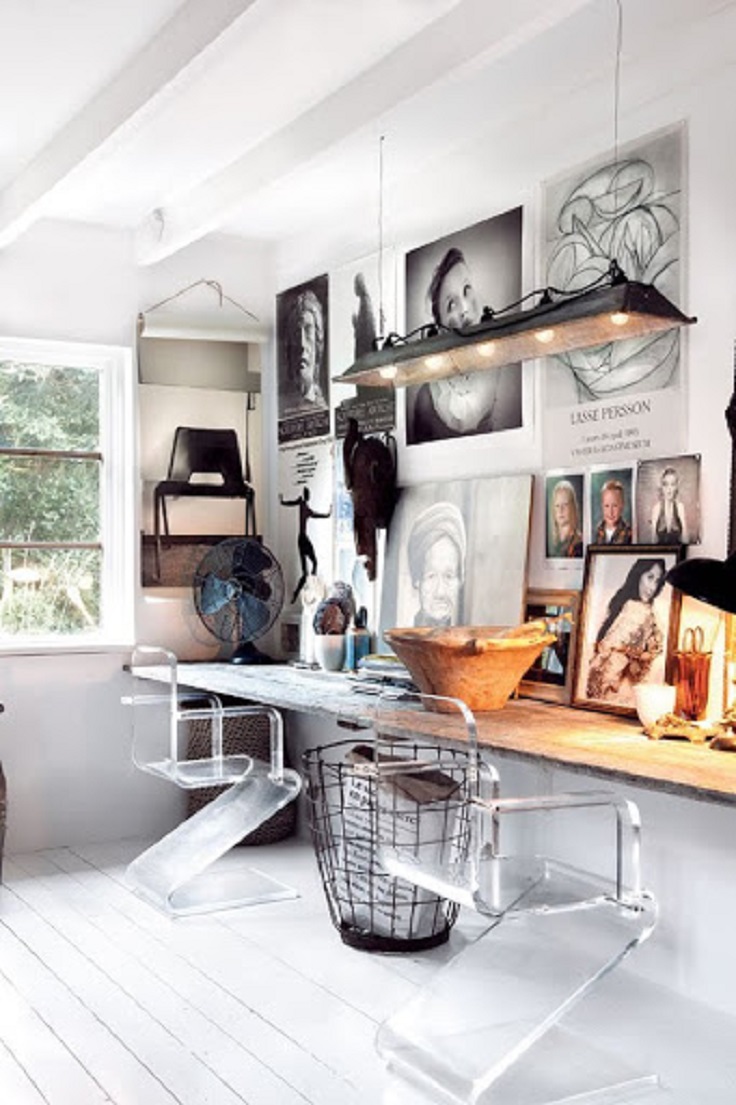 If your interior is vintage, then take inspiration from this beautiful photo display we are sharing. A mixture of family photos and artful posters hang on the wall, while other photos in vintage frames are arranged above the cool working table that looks like a shelf.
Wallpaper

via poppytalk.com
For those of you who want a striking effect, want something unique and unusual, we recommend making a wallpaper out of your favorite family photo and cover the whole wall with it. You can go for a vintage black and white photo or a more recent one with bold colors – it all depends on your interior design.
Colorful Mats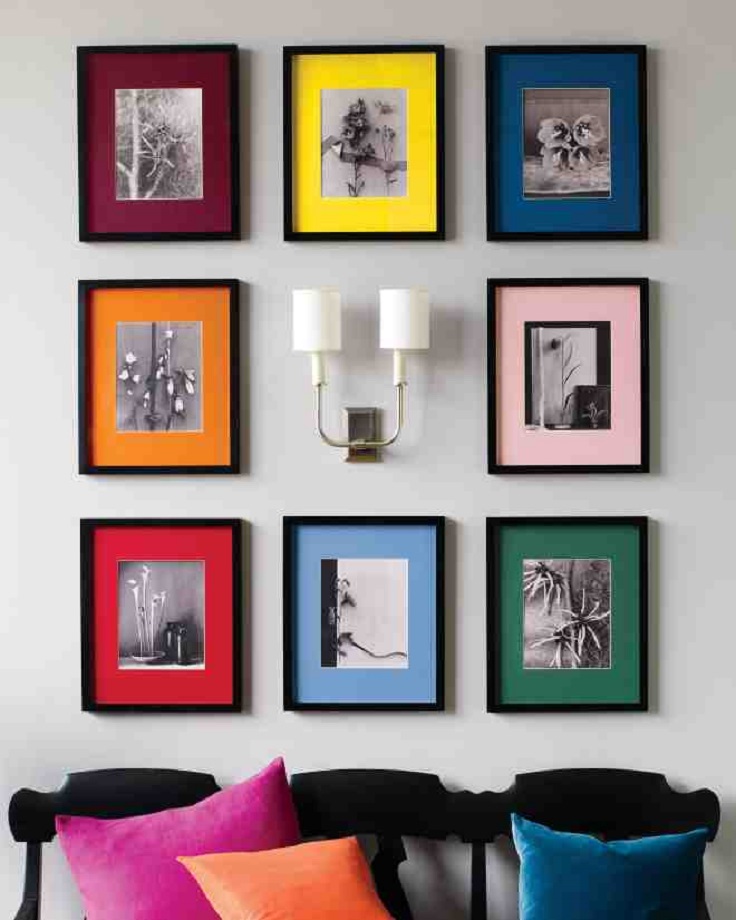 Add a pop of color to your room with a beautiful family photo display, made by using inexpensive, colorful mats. Try old family photographs or convert color ones to black-and-white. We love how this display on the photo above is designed around a sconce, so use your creativity and your own space to make your display unique.
A Family Portrait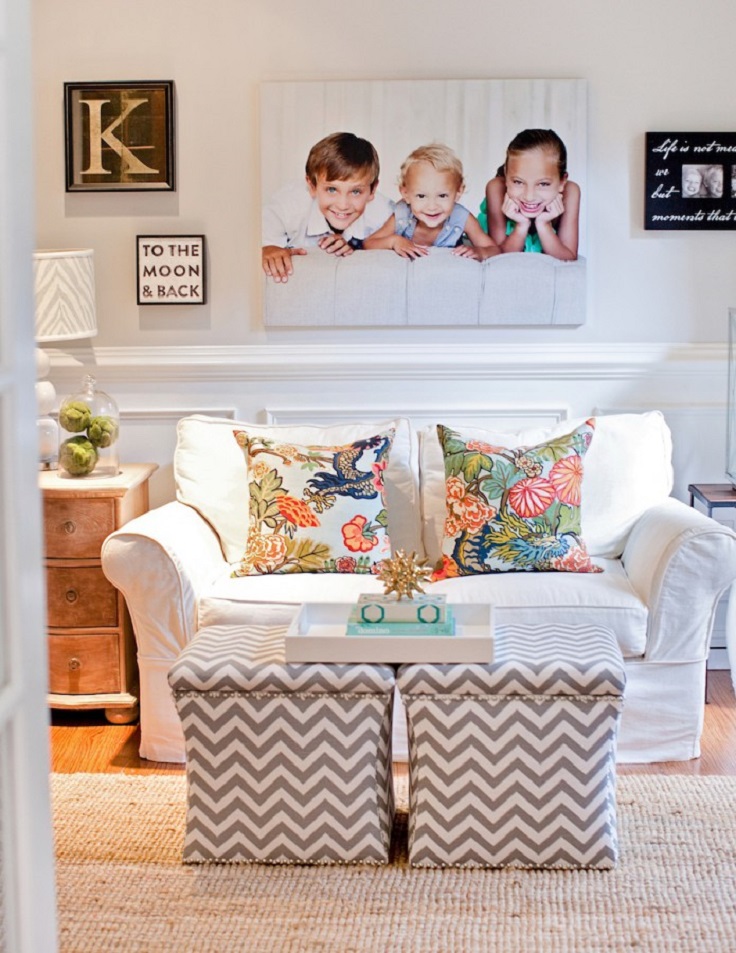 This one needs a little planning, so it works out so great as on the photo above. You need to take a family portrait (or a portrait of your kids) that will go well with the colors in your living room. So simply pick outfits that match the color of the interior and take the cutest photo ever. Then have it print out on a canvas and made into cheerful wall art. Voila!
Shutter Family Photo Display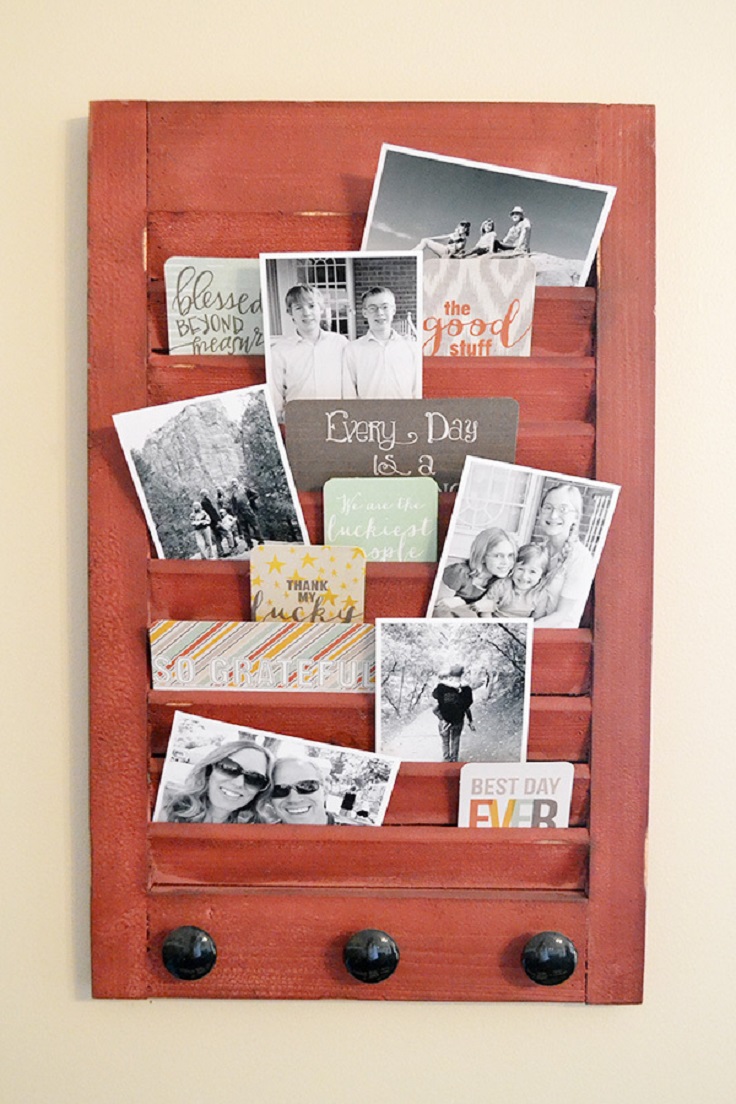 via wermemorykeepers.wordpress.com
Shutters are usually used to organize papers, notes, and mail, but why not be creative and use a shutter to display your family photos? Just look at the display on the photo above, and you will see what we are talking about! We love that Shine journaling cards are used among the photos – it personalizes the display and emphasizes family importance.
Create a Triptych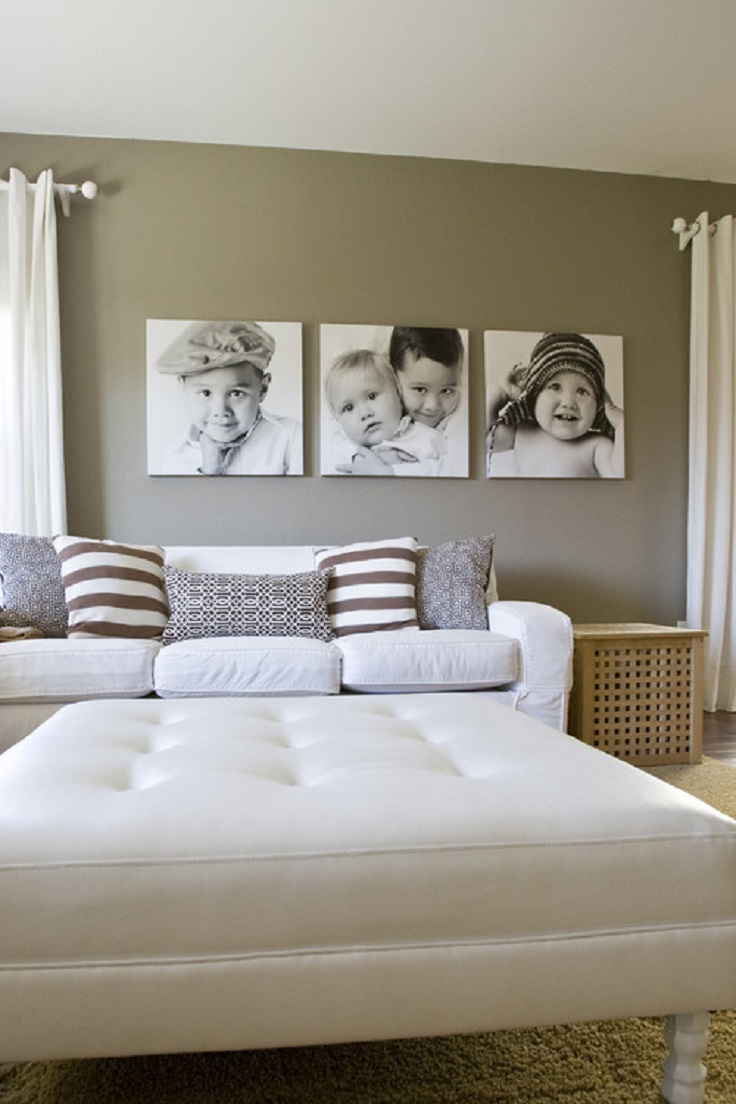 via designpardeux.com
Display 3 photos of your kids in a row on a wall in your bedroom or living room. Print the photos on a canvas for a beautiful artful result. Make them black and white or in color, depending on your interior. Creating a triptych will make your room look more contemporary.
Ladder Photo Display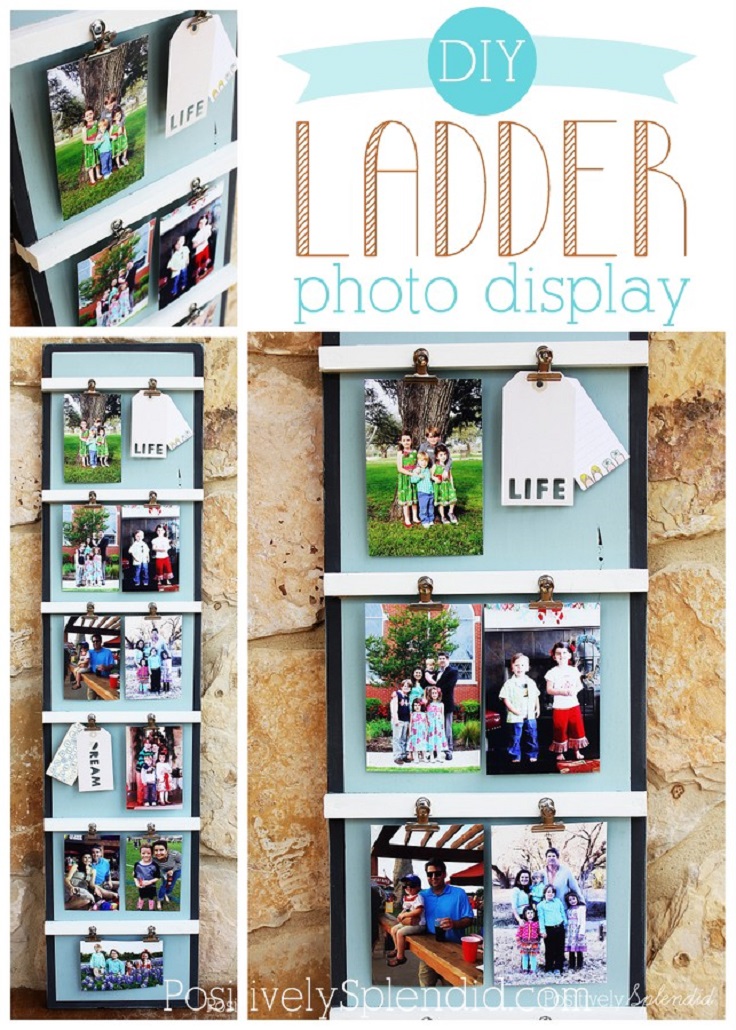 Here are another fun and creative way to display your favorite family photos. You can find a detailed tutorial on building this beautiful ladder display along with all the supplies you need on the link just under the photo. Feel free to change the color and the theme of the display.