For a perfectly organized office, the first place that you must organize is your desk…everything else is not that much important!
There are so many things that need a better arrangement and coordination, from pen and pencils to some simple files and important documents. That's why you need a desk organizer which will really help you to organize the space that is intended for working. And if you cannot find what you want in the shops or office supplies, get crafty and do it yourself.
You can use any kind of material you have at home, since these organizers don't need special material, nor are difficult to make. Use old boxes, rolling paper, cans or even photo frames. You have everything at home. Decorate them in the colors and patterns you love and enjoy the new decor on your desk, no matter if it's in your office, or at your home studio.
To make things easier for you, we've made a collection of Top 10 Best DIY Desk Organizers which will help you to free up some surface area on your desk without sacrificing any workspace sexiness. Scroll down, make some of these projects that'll inspire you to be more efficient and productive at work!
DIY Frame Organizer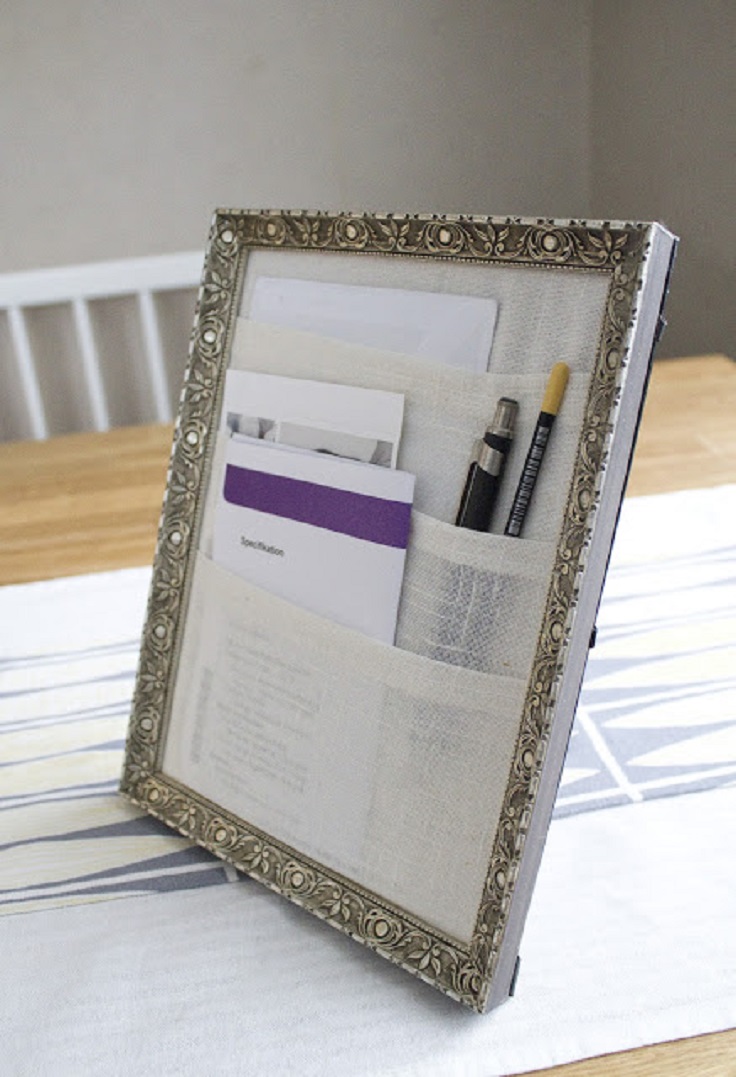 If you have an old frame that you got from your loving nanny, don't waste it, reuse it. With some cloth and glue, you can turn it into a wonderful and useful table organizer. Simply cut small pieces of cloth and arrange them together to form different-sized pockets. Glue them on the frame and allow yourself to clean up the mess from your desk.
DIY Clip-On Desk Organizers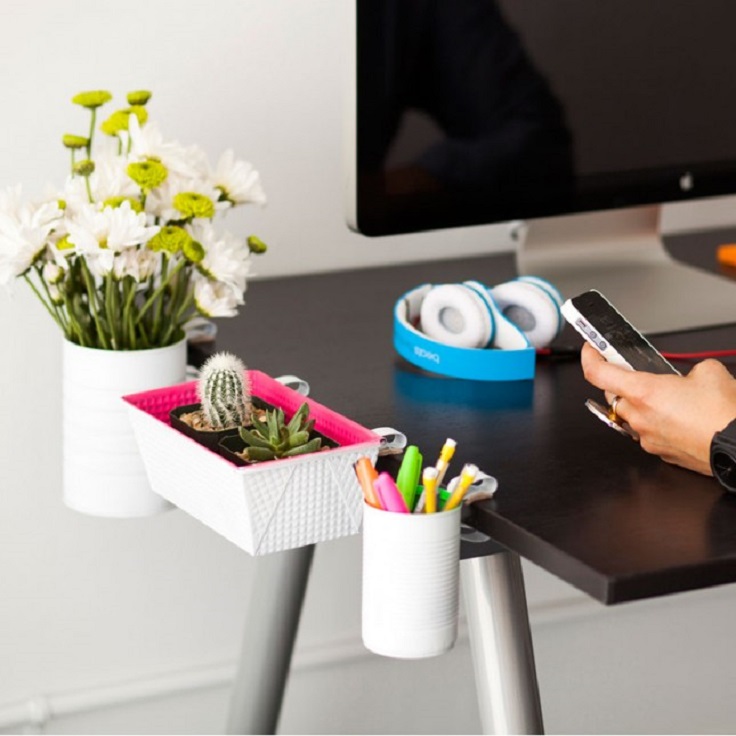 What does your desk look like? Did you make some smart caddies in order to keep yourself organized? This DIY organizer project will help you free up some surface space on your desk, from pens, pencils, and paper clips, to phones or earphones, or anything else that matches organizer size. It can hold anything you put in it.
DIY Desk Set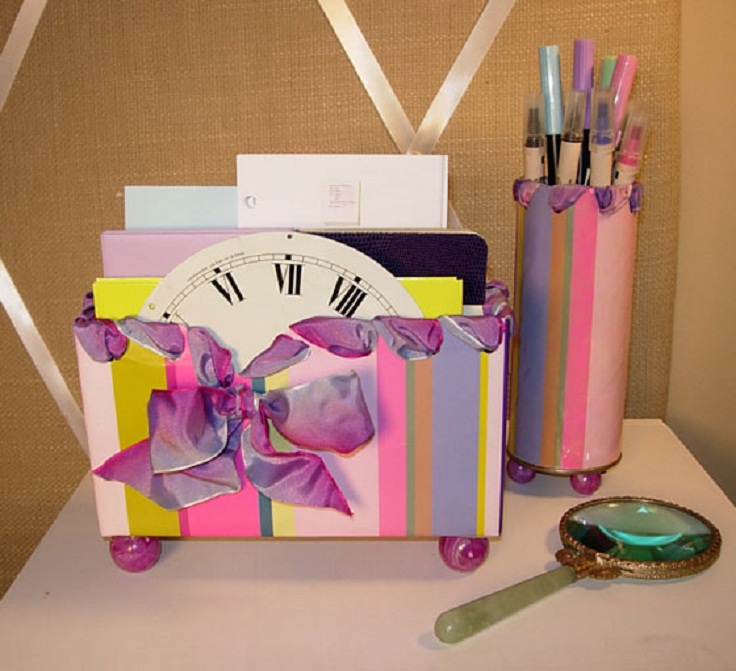 This desk collection organizer re-purposes recycles and reuses odds and ends in their dull initial states that we have sitting around our homes taking up space. You would need at least 3 or more if you can still have these video sleeves lying around your building, depending on how many parts you want your organizer to have. Make them in the design and color you want and enjoy it to the maximum.
Rustic Desk Organizer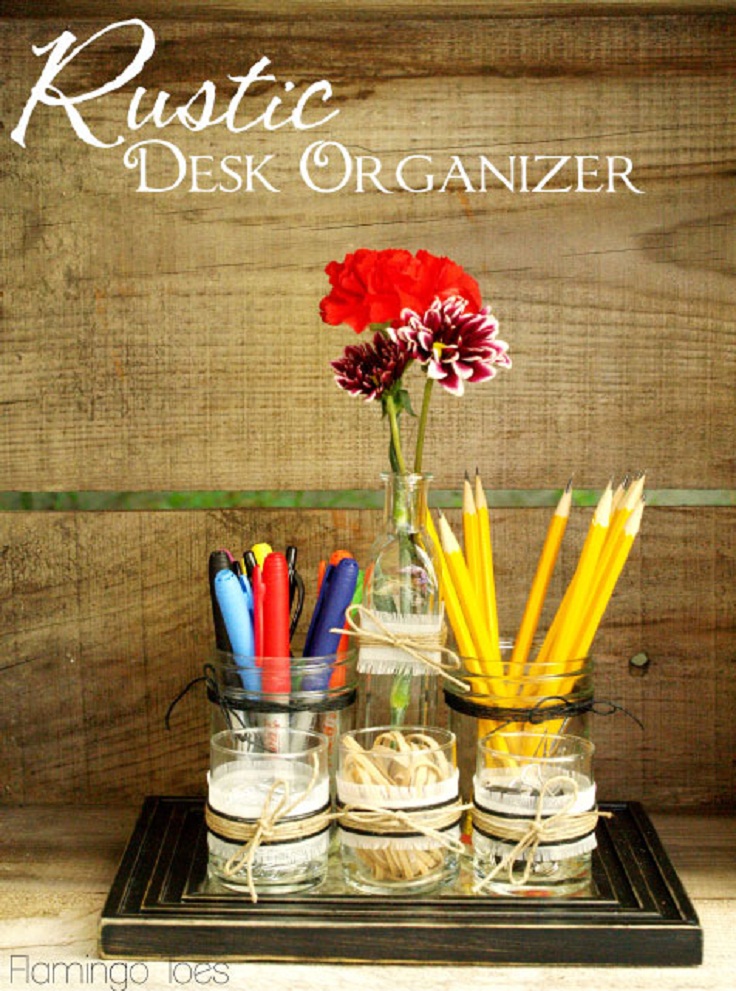 Isn't it adorable? We love that there's a place for loads of supplies, and all those flowers still have space for them in the little nice vase. This is so simple to put together for your teacher or even for your home desk. It combines an old frame, some small jars, and a glass bottle to act as a vase. It's easy to customize for a man-teacher, as well.
DIY Pencil Holder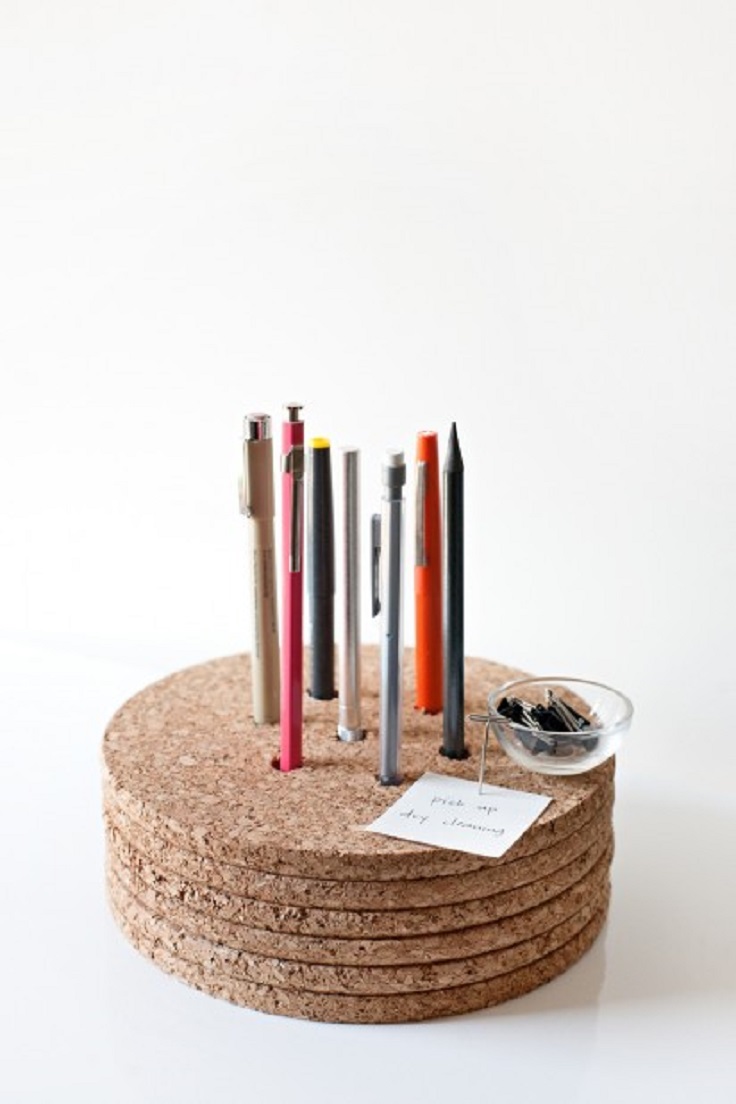 Glue together several cork coasters and drill some holes in them to make it a pencil holder. It will clean up the mess in your drawer, and you will not have to throw away those cool coasters. If you organize it differently, and maybe make some bigger holes, it will become even more practical and useful for your office or your home studio.
Stationary Desktop Organizer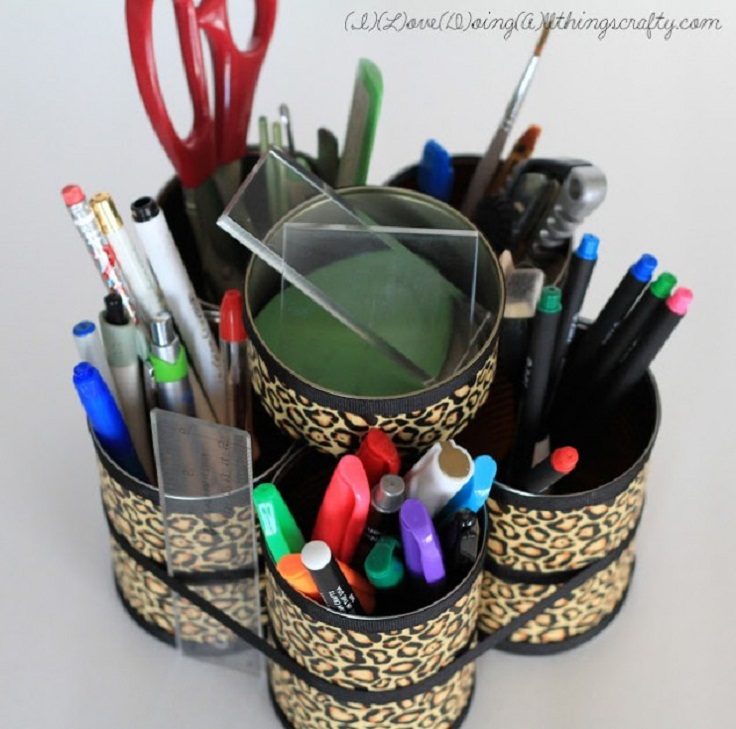 This is such a simple project that it doesn't need much explanation. Place two strips of duct tape on each can leaving a gap in the middle and aligning the tape to the top and the bottom of the can. Complete the cans with a ribbon hot-glued on the top and bottom. Secure all of them together with another ribbon to form a flower.
DIY Gold Chevron Desk Tray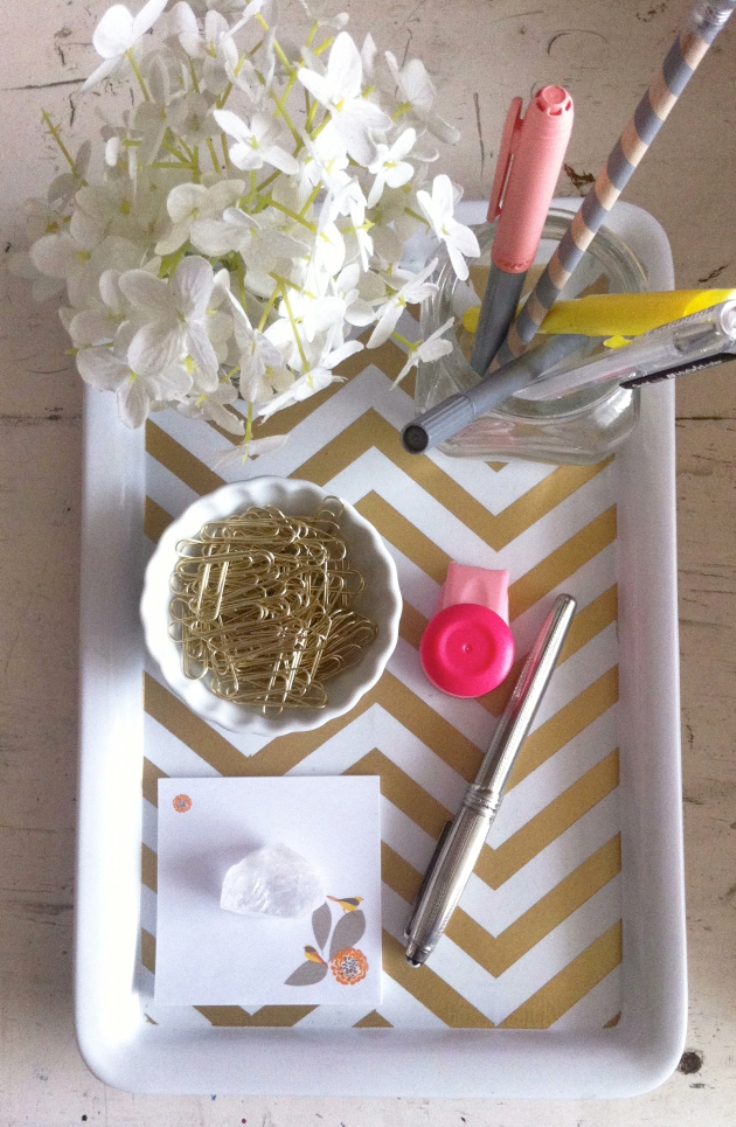 This is a tray that is really pretty and practical. At the same time, the chevron pattern in golden colors could look really elegant and enjoyable. Until you start shading them, ensure you get fair stripes. Pick the perfect golden tone and spray it with it. Leave it to dry and remove the stripes to get the final pattern.
Hanging Notepad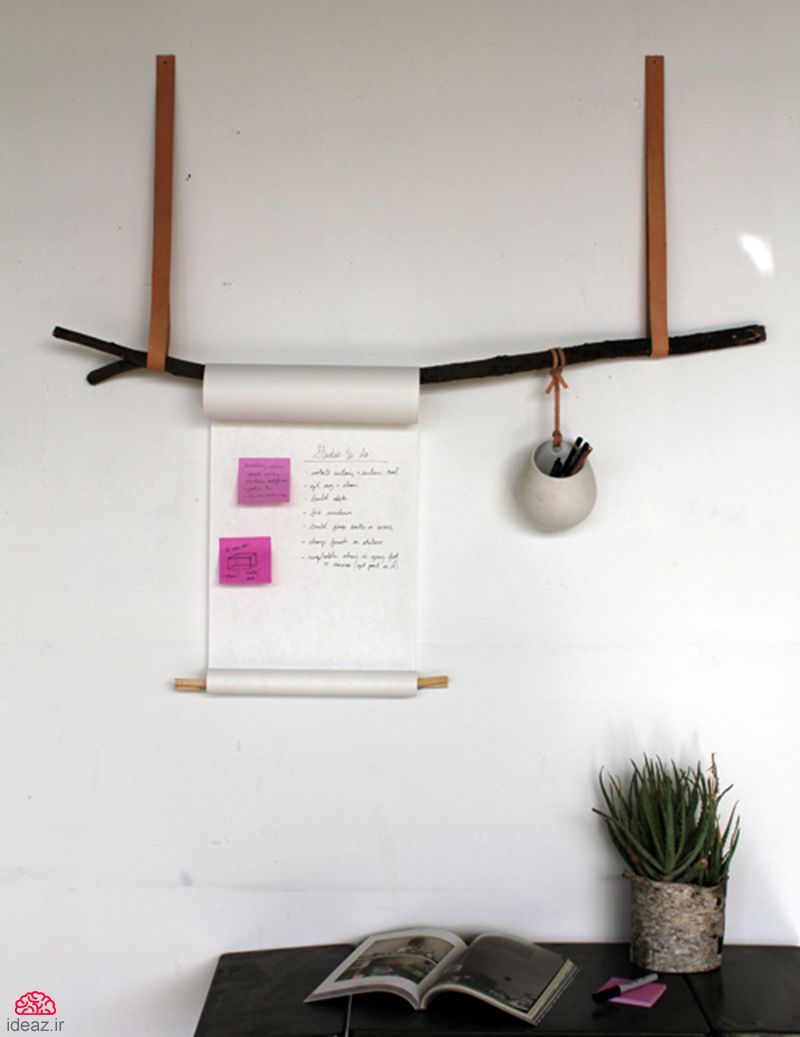 Besides your office, sometimes you need to organize your thoughts. This hanging notepad is a cool idea to have everything you need in one place and still save you some space that you desperately need. Make it out of a wooden branch, leather strips, and rolled paper. Hang it just above your desk and let it roll. It will give you the best spot to leave your messages and organize your thoughts. In case you might forget any pens, add a little jar to hang right next to the rolling paper.
Cereal Box Stationery Organizer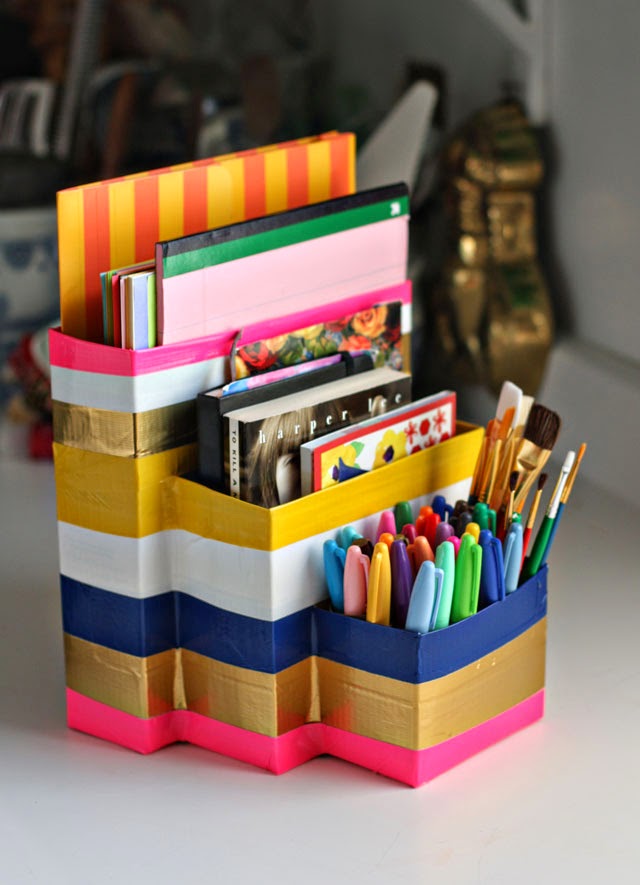 At the beginning of the school year, there comes a mess at the desk. During this time of the year stores can be crowded, so if you are already fed up with the shopping, or you have everything you need, but the desk organizer and pencil holder, make one yourself. Use left-over boxes from cereals, pasta, or granola, glue them together in the desired shape, and decorate them in the colors and patterns of your choice. There, you can now fit everything inside.
DIY Tea Box Desk Organizer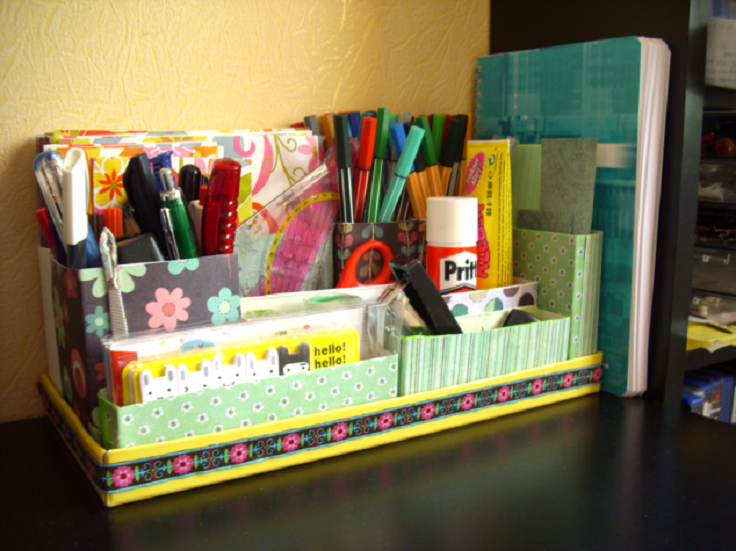 Making this desk organizer is a pretty fast and fun project, and you can find anything you need at home. You can use empty tea boxes painted with the paint of your choosing, or coated in paper if you prefer paper more! With the paper, you need to be really economical because you could run out of it, or use a lot more and glue on the whole box and not just from the outside.
If you liked what you see, get crafting immediately. And don't forget to share it with us in the comments below.