When in doubt, make gift baskets. They look adorable, and if you pick the right items, they can be very practical. Giving them to a close one means filling this basket with all things they really like, which leaves you with plenty of choices even when you don't know somebody's taste that well.
Giving chocolate or wine as a gift isn't the most creative thing, but it is certainly a very delicious choice that no one can resist. Adding few more sweets or some items will make this little basket the perfect gift. All you have to do is go to your closest store, pick a few things, place them in the basket, and with a ribbon or two, you just made the easiest DIY gift.
1. Baby Gift Basket
Heading to a baby shower, and you're clueless when it comes to gifts? Don't worry; a gift basket is everything you need. It's better to bring more items placed in one small basket because it looks like many gifts ready to be used! The choice here is endless. If you know the future mom and her taste, pick something she would like to have for her baby. If not, you can always go after the ordinary but useful stuff, such as baby books, toys, onesies, or lotions. It would also be nice if you use printed, baby-themed tags. They will really make your basket look adorable!
2. Gift Basket for the Manly Traveler
Sometimes buying a gift for a man can be difficult. You want to buy something nice and useful, but without it being the already seen gifts such as a wallet, shirt or perfume. Instead of that, you can buy more items, put them in a basket and have the manly man gift! If you know this man well, then definitely buy the things that have some meaning for him or something that he really likes or needs. Then, you can buy other stuff for him that you like. Adding a tag will definitely make the gift basket more charming. You can save this idea for Christmas and decorate it in the spirit of this holiday, or you can make or print other tags.
3. Movie Night in a Tin
via thediymommy.com
If you feel like you want something more creative for a movie night, then making a basket full of snacks and other goodies can satisfy your creativity. It's really simple, yet it's going to be very interesting. If you want a basket such as this one on the picture, you need caramel corn, mini chocolate bars, a Google Play gift card, large tin baskets to put this stuff in, scrapbook paper, and twine string for decoration. If you also want the same labels and tags, visit the link below the picture to download them for free.
4. Culinary Gift Basket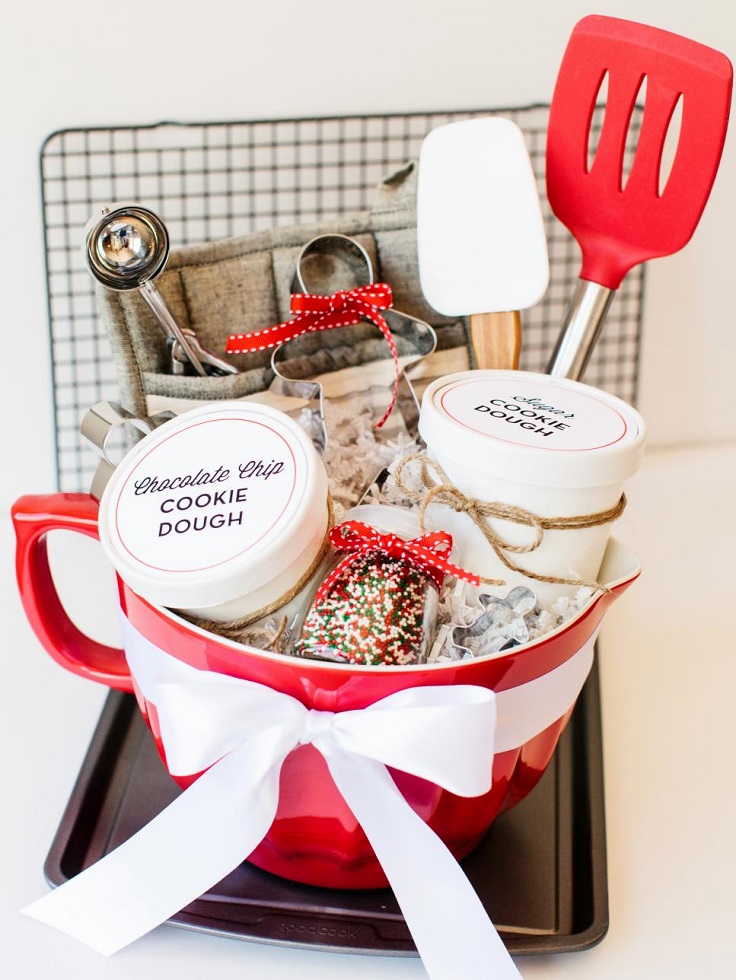 via diynetwork.com
People who cook know how life is easier with new equipment and that cooking is better when experimenting with it. If a dear person of yours is all of the above, then this gift basket is the perfect gift that you can give them. It contains things they need and things that everybody loves – food. As you can see in the picture, there is a jar of cookie dough, but you can prepare or buy something else. When it comes to the equipment, you can buy a spatula, oven mitts, and cookie sheets. Adding another food goodie such as sprinkles will make this basket look more adorable, especially if you tie a ribbon around it.
5. Holiday Hostess Gift Basket
This is such a warm gift that you can give to someone special. It has different goodies that some of them you can even prepare yourself. For example, if you like cooking, you can bake something, such as cupcakes or loaf cakes. Combine them with other items, such as vanilla coffee beans that will give the basket the perfect scent, towels, cloth napkins, and candles. You will also need packaging supplies, like parchment paper, twine, kraft bags, and tags. If you feel like adding something more to the basket, try making your own vanilla extract. The basket will definitely have the most amazing scent if it didn't so far!
6. Wine & Chocolate Gift Basket
via julieblanner.com
As we previously mentioned, wine and chocolate are some of the gifts that you probably receive all the time, but there is absolutely nothing wrong, no matter how cliche they are. They taste nice, and in that case, it's all that matters. That's why adding these two in gift baskets is a great combination that leaves space for other delicious treats. You can prepare molten lava cake, and you will find the recipe by clicking the link below the picture. Also, creating a herb wreath will make the basket look more creative and nice, so for that, you need thyme, rosemary, or oregano.
7. Housewarming Gift Basket
Tasty homemade food always has the power to make us fall in love with our home. It's one of the things that make us believe that there's no place like home! This gift is the perfect idea when it comes to greeting new neighbors and wishing them the best. For this basket, make sure to have all things tasty – bread, cheese, pasta, sauces, herbs; when it comes to food, the choice is endless. You can also add some cooking equipment, like oven mitts or wooden spoons. They will be useful, yet they're going to make the gift basket even better. Buying a chalkboard where you can write down a cute welcoming message will make this gift basket even more housewarming.
8. Spa Pamper Gift Basket
One of the best ways to surprise someone who appreciates taking care of themselves by using creams, lotions, masks, and similar beauty products, then giving them a basket full of these items is definitely going to make their day. You can buy all these from the store, or you can try making them yourself. But, if you go for the second option, it will make the basket more meaningful because of the effort you put into it. When it comes to what products to add, you can buy soaps with an amazing scent, a body lotion that will make the skin soft, a face scrub that will bring back the fresh look.
9. Holiday Gift Basket
via blog.kj.com
Here's another idea for a holiday gift basket. It has everything that we have mentioned so far, and that is the most delicious food, because that is something that can satisfy everyone's tastes, and it looks nice. We can advise you always to put a kitchen towel or linen fabric at the bottom of the basket because it makes it look nicer and adds more charm. Add tasty stuff like fruit, cheese, and wine, and make sure the wine is worth the money! Decorate the basket with leaves, fake or fresh flowers, ribbons, whatever you like.
10. Gift Basket for a Baker
via porch.com
We all have that one special person that really likes to spend time in the kitchen and cook so much stuff. One thing that this person is absolutely going to love is a basket full of all things kitchen. Prepare the perfect baking basket for your beloved one by filling the basket with a cake pan, holiday molds, candy melts, spoon set, cookie scoop, and similar. Adding one or more recipes for some delicious meals is also a good idea. The last thing to do is to decorate the basket a little bit. No matter if you tie a ribbon around it or tie smaller ribbons on a few of the items, the effect will be wonderful.