If you are looking for something practical to put your jewelry in, preserve it from damaging, losing, and just keep it in one place, the jewelry box is perfect for it. It has been used as long as there is jewelry in this world. But, if you don't like the idea of buying some expensive jewelry boxes, we have some great alternatives for you in this post!
The first thing is that it will be unique and only you and no one else will have just the same as your one, and you will save money, let your brain relax and at the same time work your imagination.
The DIY projects are perfect for those just like making new things, experimenting, and saving some coins. We hope that you will like our suggestions because we sure do! I wish you all the best with the project!
Book Jewelry Box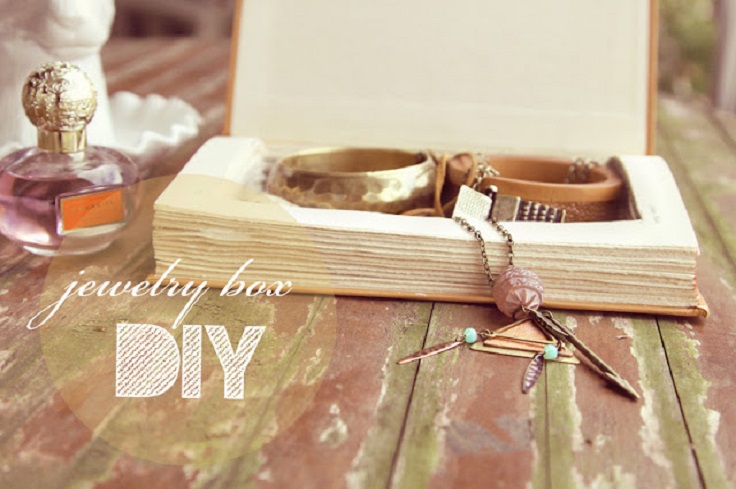 If some books are sitting on your bookshelf for years, only catching dust, here is a great way to use them! Make your book jewelry box that looks great and, at the same time, is very useful. Find out how by clicking on the link below the picture.
Tiffany & Co inspired Jewelry Box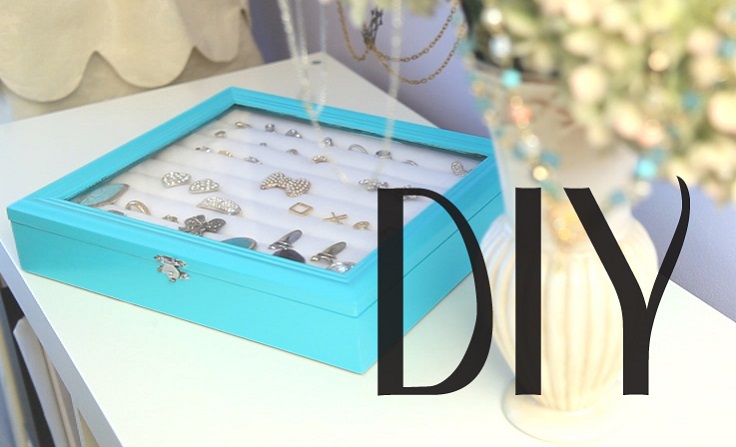 via lifeannstyle.com
If you want your jewelry packed in one place but still to be visible for the others too, check out this Tiffany & Co inspired box. The color of this one is so amazing, but you can choose whatever color you like. This stylish jewelry box will keep your precious accessories organized and on display, adding a touch of elegance to your dressing area. If you're looking to expand your collection with a unique piece, you can purchase a dragon bracelet here to add a touch of mythical charm and sophistication to your jewelry assortment. Enjoy the convenience and beauty of this jewelry box while showcasing your distinctive taste in accessories.
Turn a Chocolate Box into a Jewelry Box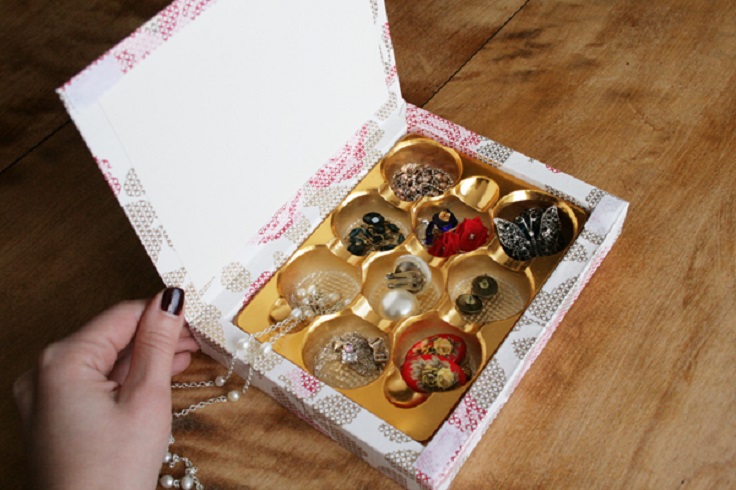 Great tip, next time you eat chocolates, don't throw away the box when you're done. Instead, turn in an amazing jewelry box, in which you can store whatever type of accessory you want.
Ring Box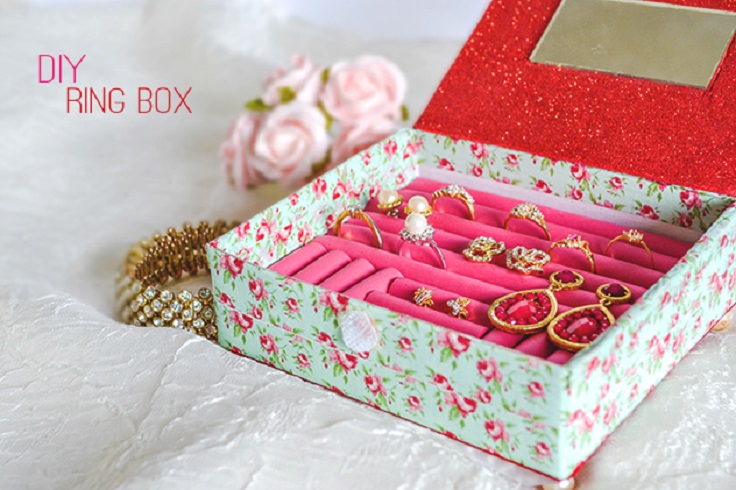 via abubblylife.com
Such a girly, professional-looking jewelry case that every girl should own! Learn how to make it on your own in the tutorial, and store your precious jewels and all kinds of accessories in it. You just can't resist this one.
Record Player Jewelry Box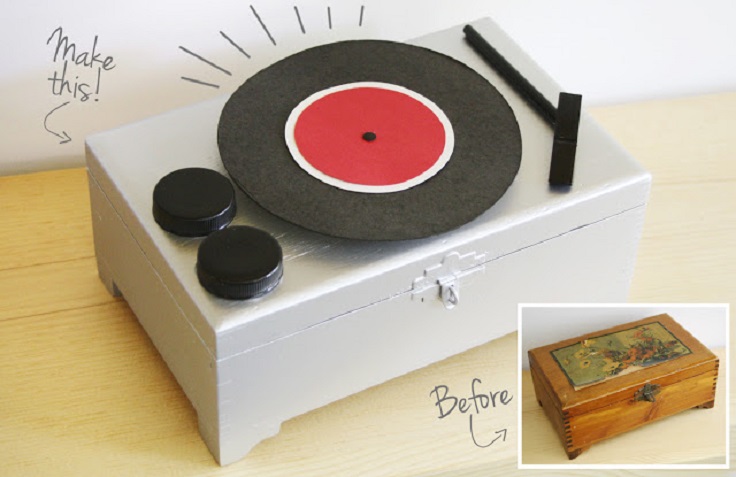 If you in into the vintage look, with the record players and all that things from our nearest past, you will surely love this box. It is two in one, amazing decoration for your room and a useful box that keeps safe and secure your rings, necklaces, earrings, and bracelets.
Egg Carton Jewelry Box
via architectureartdesigns.com
This is genius! Something that doesn't look that glamorous can be turned into a thing that keeps your whole glamour. Great for the ones that like simple things.
DIY Jewelry Box Under $10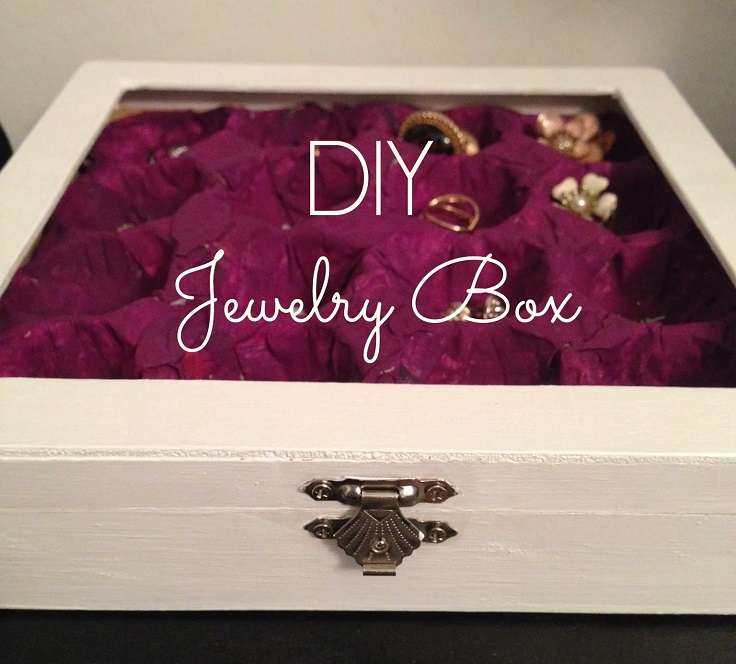 If you like this one, don't hesitate to find out more about the process of making it by clicking on the link. It is very easy, budget-friendly, and most important – looks fabulous!
Secret Jewelry Box
via fabartdiy.com
This cute little secret box can be very easy to make, and the final result is amazing. Make it in this gorgeous, vintage way that just no one can't resist. You can keep it for yourself or make it as a gift.
Colorful Geometric Jewelry Box
via craftstylish.com
If you are into the geometrical shapes, take out the color markers and turn your simple box into something similar to the one above. It will take less than an hour to make, and you will be amazed by the results.
Mod Podge Jewelry Box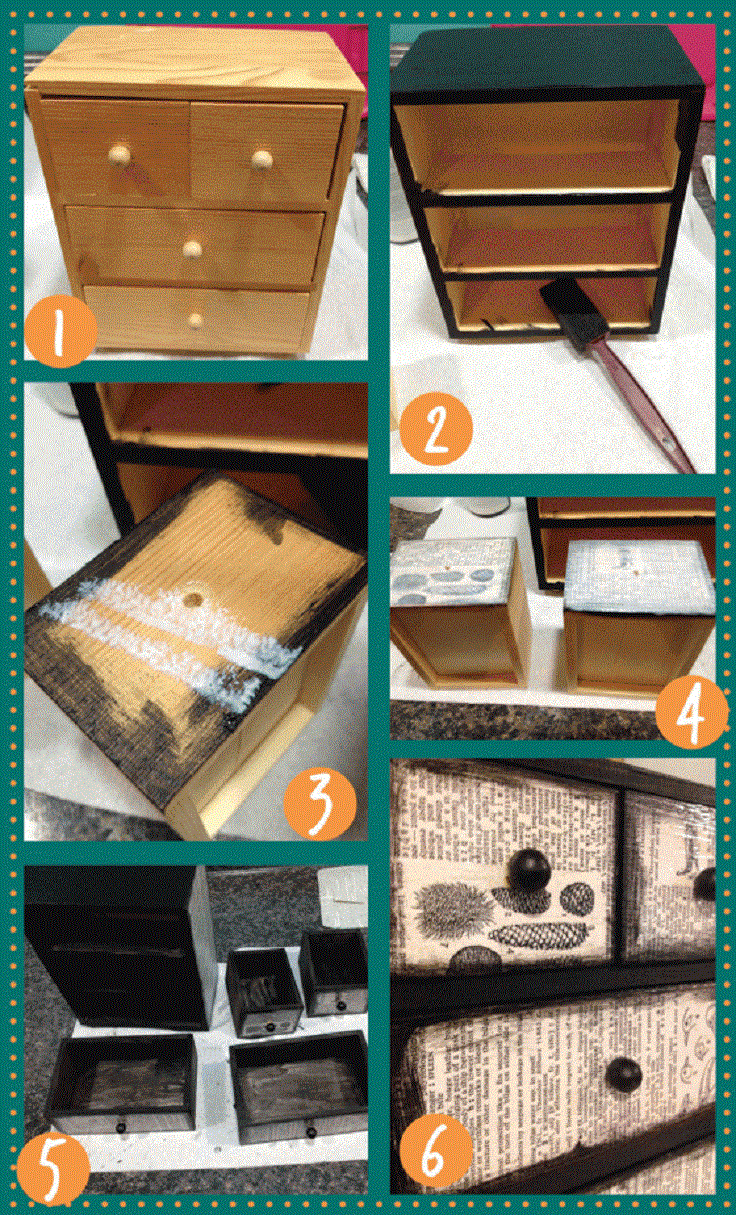 If you have a simple drawer that doesn't really fit in with your space, turn it into one big jewelry box, paint it and add some attachments that will light it up. Store everything in different drawers.