Decorating your home is a way of expressing yourself. Everyone wants their home to be nicely decorated and a fine place to stay in. Of course, nowhere is like home and because of that you should feel most relaxed there. Well, take some time to look at this post and get some wonderful ideas to decorate your living room and your home overall.
Mix and match colors, try different things, indulge on your creativity and make your space sparkle with inspiring, artful decorations. You should definitely take a look at these beautiful living room decorations and choose any of them, they will perfectly fit in your home. Each one of them is very easy to make and looks awesome. So, try to do something new, something different for the appearance of your home and let the creativity explode!
DIY Candle Holders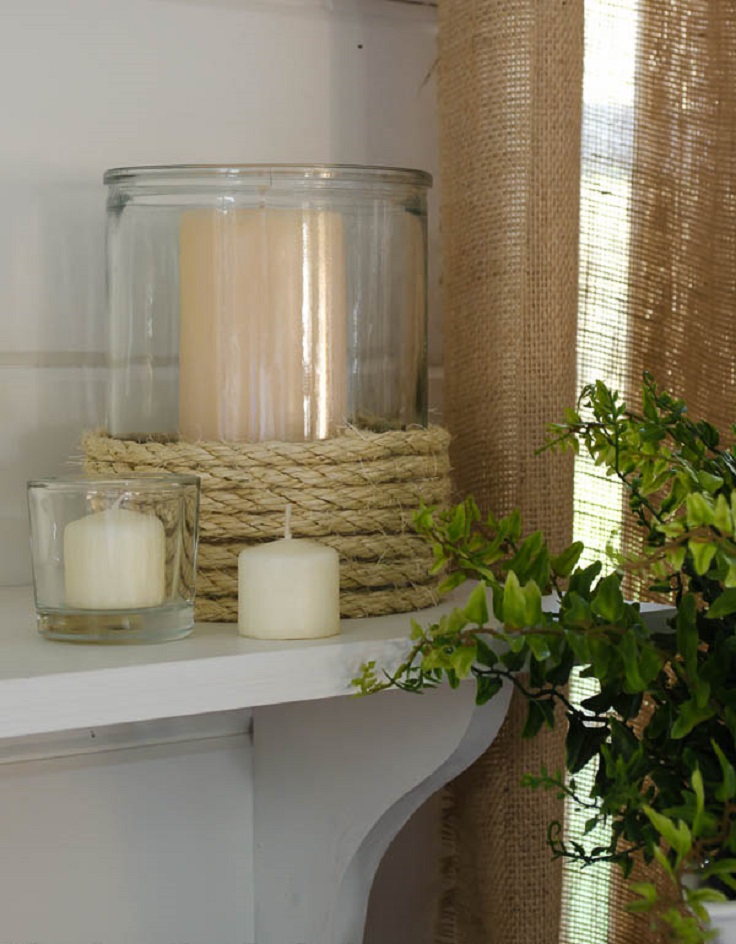 via fourgenerationsoneroof.com
Candle lover? This is an amazing way to use candles as a decoration in your home. These easy candle holders look really cool and would fit wonderfully in your home. The candles give a relaxing, harmonious atmosphere, so this kind of decoration would be perfect!
Sharpie Wallpaper
The sharpie wallpaper will give your living room some geometric simplicity and a beautiful appearance. It's really easy to do and you will absolutely love it. Every room should have a nice wallpaper to give it a different, more interesting look. So, try this project and beautify your home with art!
DIY Rope Vases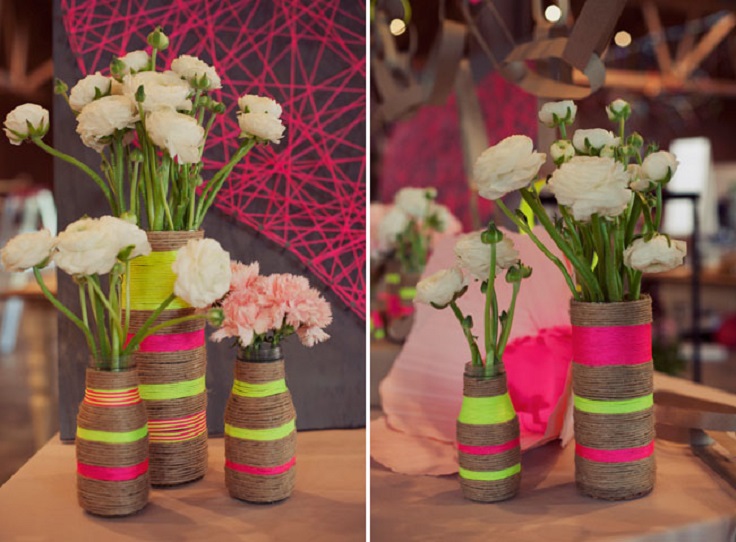 This is an interesting, easy project and will look amazing in your living room. Add some color and playfulness by choosing lively colors to decorate vases. Also, you can choose neutral color, depends on your taste. Very creative and amazing!
Painted Striped Curtains
It's a bit strange.. painting your curtains, but the result is absolutely wonderful! This way you'll make your curtains look interesting and cooler, plus you'll add some lively spirit in your home. So, get crafty and try out this project!
DIY Bottle Lamp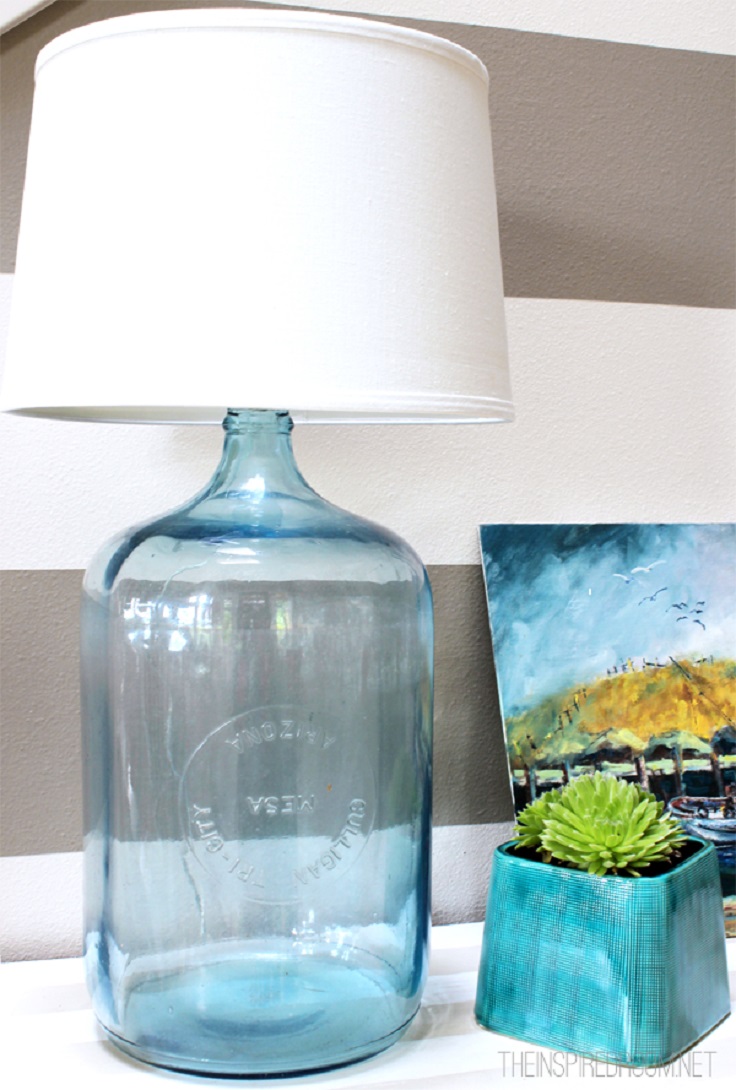 Bottle lamps look awesome, and you can make one yourself too. It's super easy and simple, you'll get it done in no time. Make a cool, unique decoration for your living room by doing this project. It's simply amazing!
Simple DIY Floating Shelves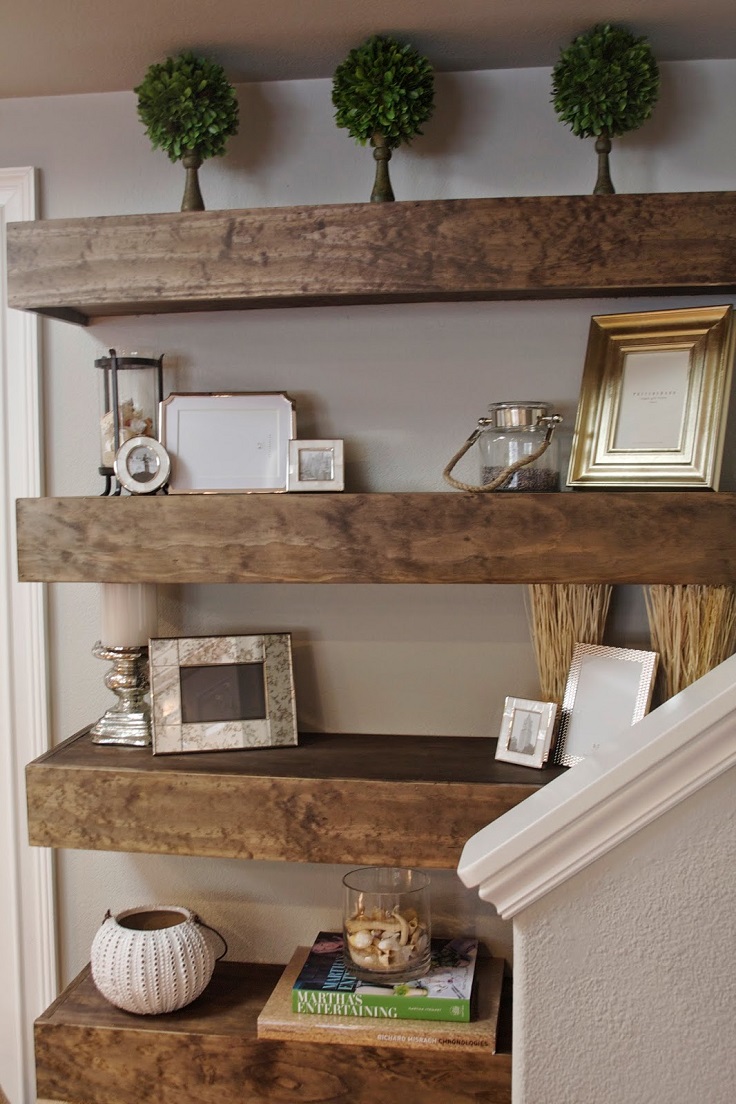 If you have too many things and don't know where to store them, this is the right project for you. These cool, easy floating shelves won't take up a lot of space and you can put everything on them. In that case, anyone should try this rather practical project and decorate the living room at the same time. Definitely a must-try!
DIY Console Table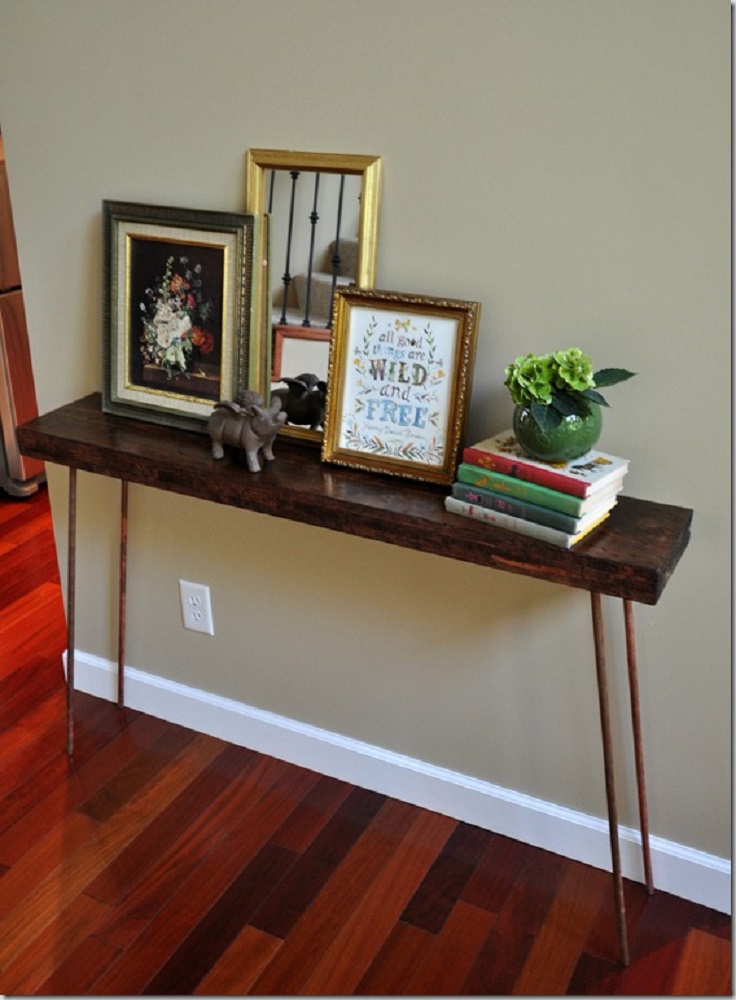 Another lovely idea for a living room decoration. Just a small console table in the corner of the room, where you can put some decorations which you also did yourself (like the vases or the lamp). This will look very pretty anywhere, not just in the living room!
A Platter Turned Into a Mirror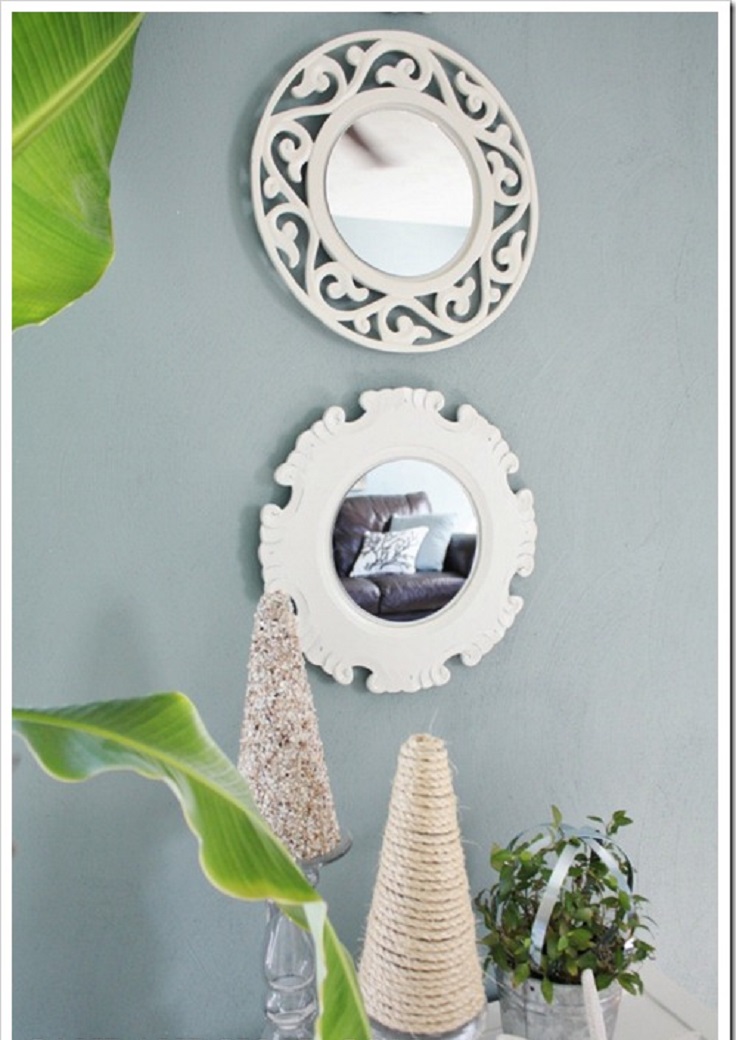 via sandandsisal.com
A truly creative and wonderful decoration for your home. If you have any interesting, unique platter you should definitely try this project. This is a really great way to decorate your living room and pretty unique too!
Stenciled Photo Frames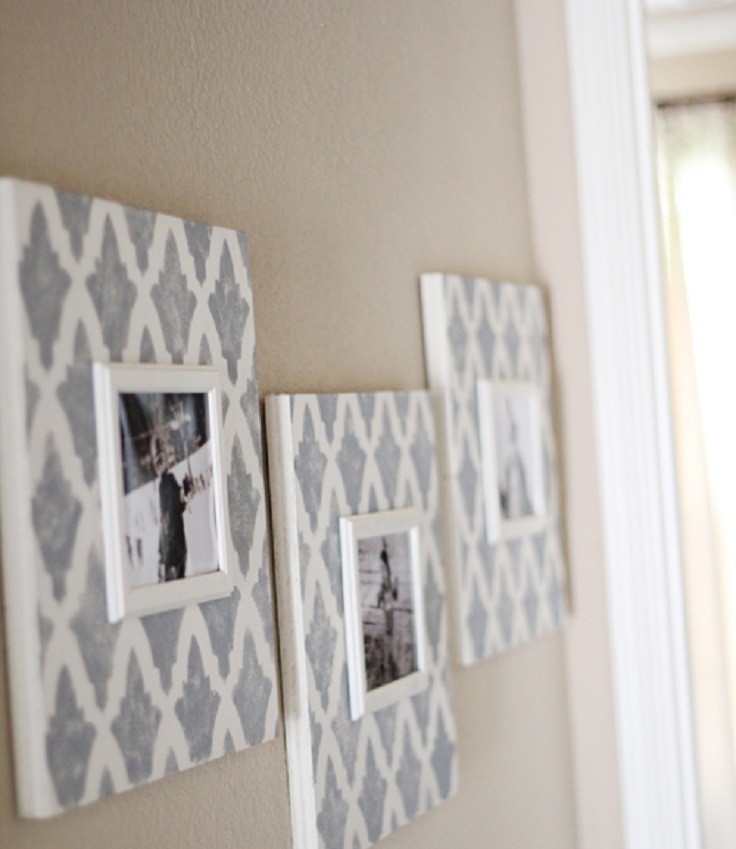 Not only that you'll get a beautiful decoration for your living room, but this is a great wall art too! It's super creative and really easy to do. Frame your favorite photos in these lovely frames and hang them on a blank wall (it doesn't have to be a blank wall) in your living room. They look very, very pretty!
Chevron Floor Poufs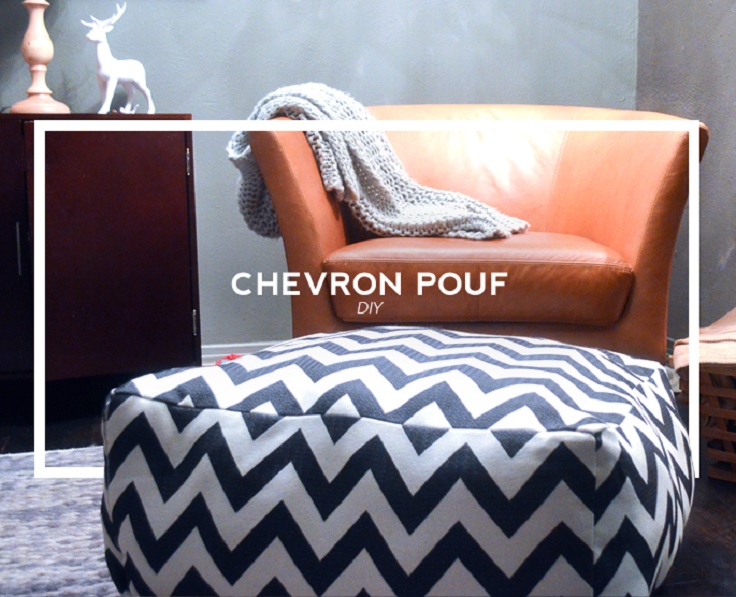 Floor poufs are very cool and are a great way to fill some space in your room. Choose an interesting pattern to match with your living room or any other room you decide to put the pouf in and voila-you have an amazingly decorated and fulfilled room!