We all have wanderlust friends, and some of them even get to travel often, if not all the time. So, if you want to surprise your travel lover friends with a gift made by you, one of the themes that can inspire you is the map.
Today, the map is not only some item that helps us be better oriented and find the desired place, but they are also used as decoration. If you like them as decor too, there are few ways to show that with a gift.
What you need is some time, imagination and maybe some money. But the outcome of it all will be a wonderful, DIY gift that will surely put a smile on your friend's face.
1. Map Magnets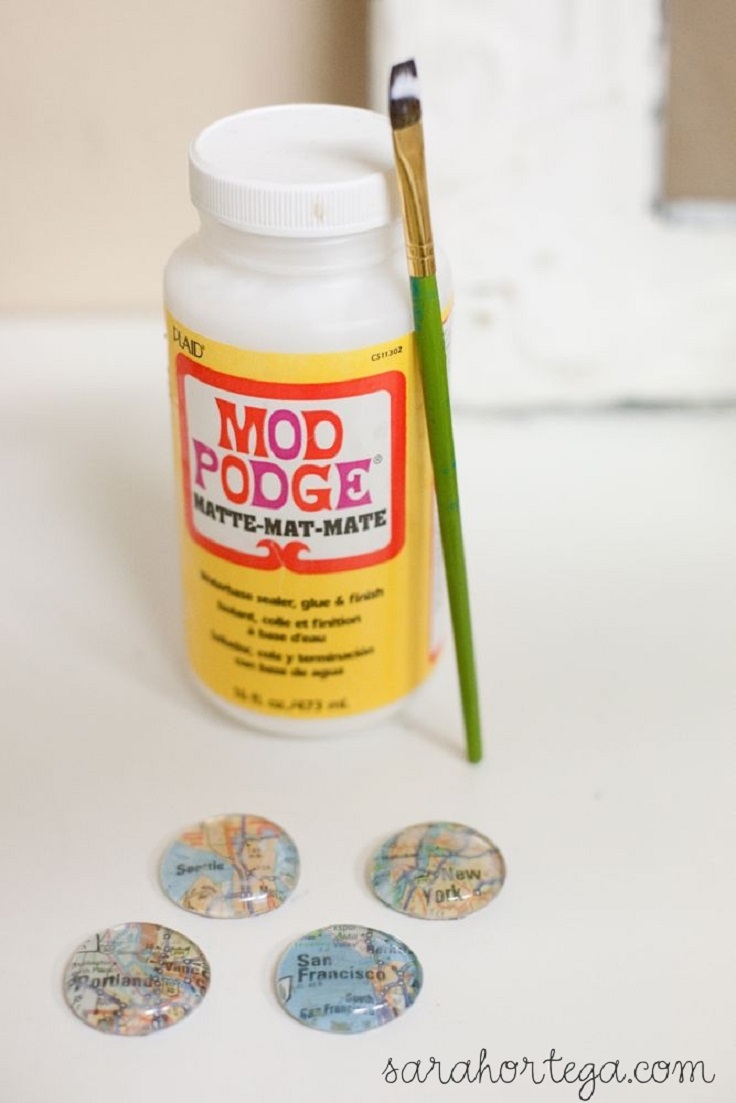 via sarahortega.com
Even the kitchen deserves some attractive DIY decor. If your friend, by any chance, besides traveling, want to cook too, then making map magnets for them will be a wonderful gift. Anytime your friend would open the fridge, they will look at what you did for them. So, find a map of their favorite city or country and make some map magnets.
2. Decorating Map Frames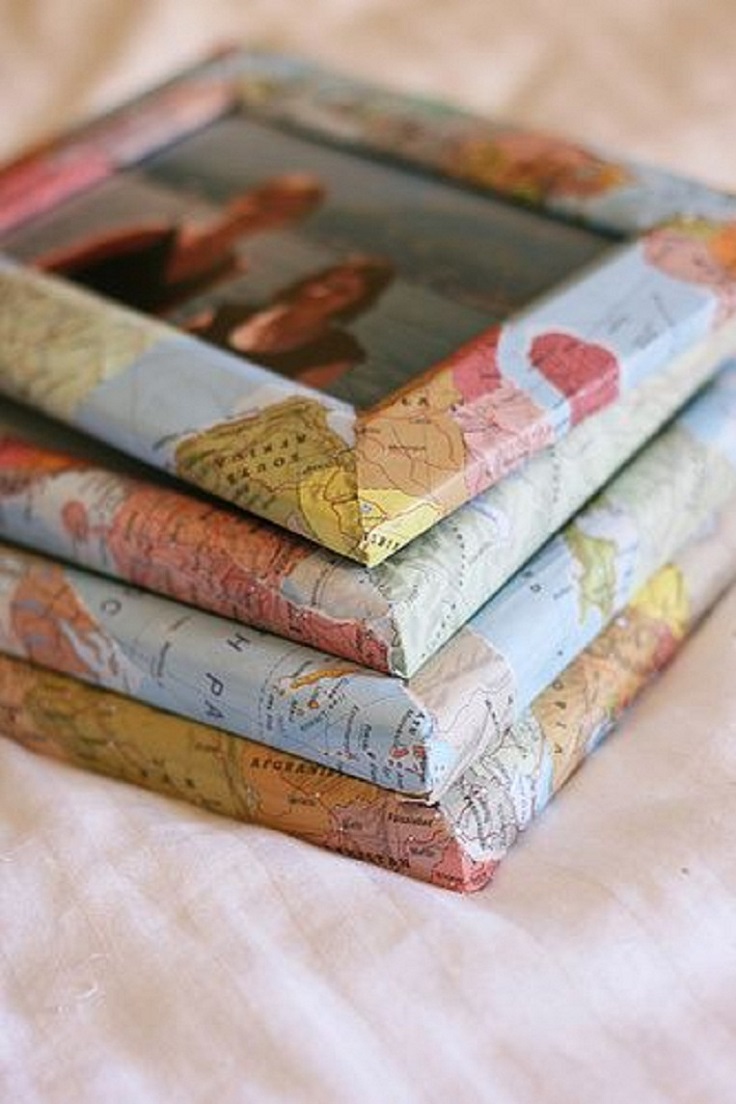 via alyssabyoung.com
One of the most precious gift ideas is to bring that someone special a framed photograph of you both. That is always a reminder of how someone means to us, which makes it so important and lovely. To make the gift more interesting and creative than just bringing a photograph in an ordinary frame, try decorating the frame a little. For example, covering it with a map sounds perfect.
3. Travel Memento Boxes
If you're bringing something more practical, here is an idea to make a gift out of the box. Besides the map, you need a material from which you can make the letters if you prefer to be any. But, it would be nice to write something that means to your friend, like some proverb, quote, or just the name of a place they really like.
4. Glass Map Necklace
If you are more into making jewelry, then use your creativity to make something that would describe your friend. In this case, it's a wonderful idea to bring a map necklace to a friend who loves to travel and uses the old school way for getting around, and that's, of course, the map. This will become their favorite piece of jewelry for sure.
5. Map Covered Boxes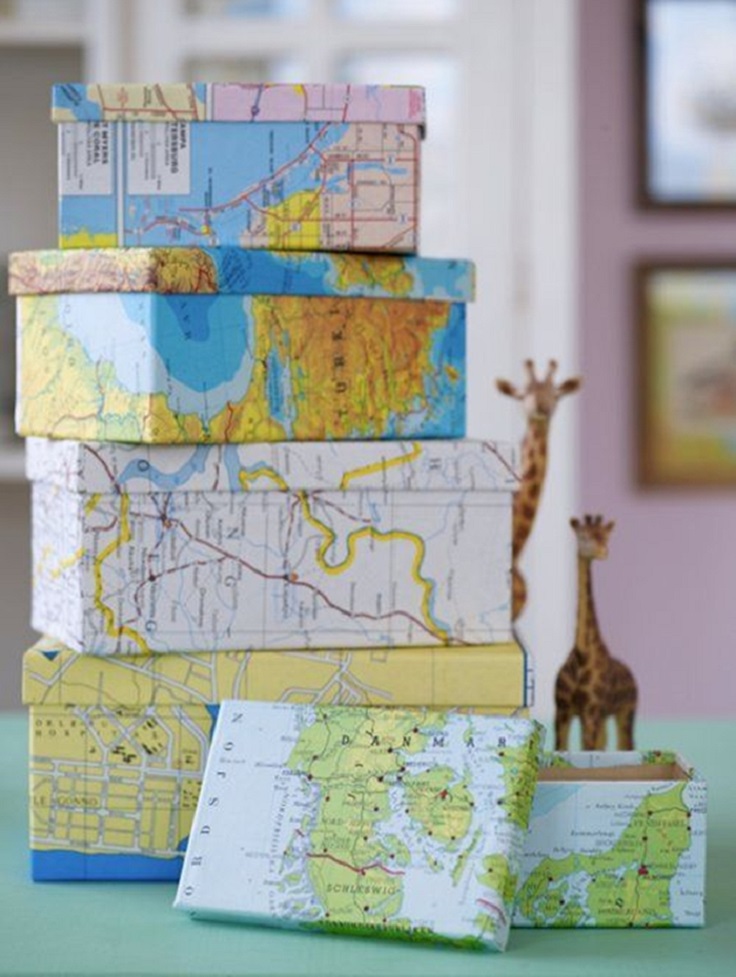 via designsponge.com
If you weren't that much into the memento boxes, here's another gift idea. For this one, you need a shoebox, map, scissors, and glue. To make it look more interesting and diverse, you can try decorating every box with different continents, road shapes, city streets, and so on. This gift would be practical because it can help them be better organized with all that traveling.
6. Hand Drawn Travel Map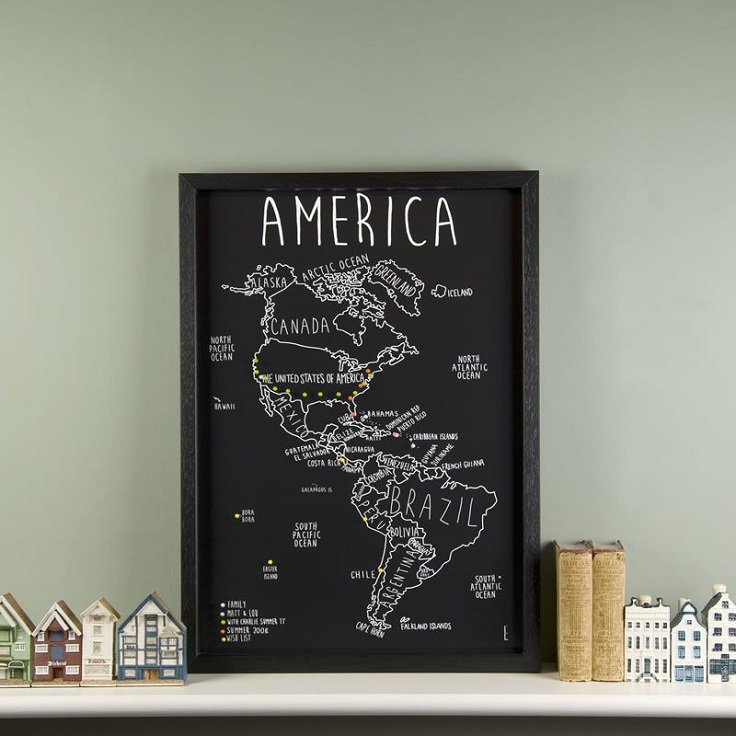 If you aren't into scissors and glue, but you know how to draw and paint, you can try being more artistic and draw them a map on a board. You can draw anything your friend likes – from their favorite lake to their unforgettable city street. This gift looks simple, but yet it's very decorative and would perfectly fit on any room's wall.
7. Map with Pins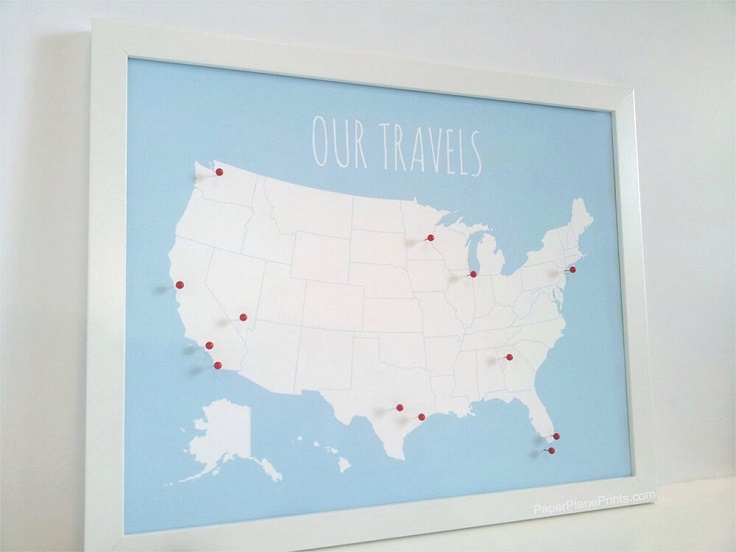 via etsy.com
You can buy an already made map with pins, but you can try making your own version too. What you'll need is a board and pins, and the other details are up to you. For example, if you are good at drawing, you can draw a country by yourself. But, if you don't like spending time on that or simply don't know if your artistic skills would be that good, use a printed map. Let this picture be your inspiration.
8. Embroided Map of USA
Of the USA, or any other place that your friend would like to visit. If you're good at sewing, here's your chance to show your skills and creativity into a gift. The pillow will be a fantastic gift, not only because it will look amazing, but it will be very practical too. Your friend can take it with them and use them to rest their head while traveling.
9. Vintage Map Envelopes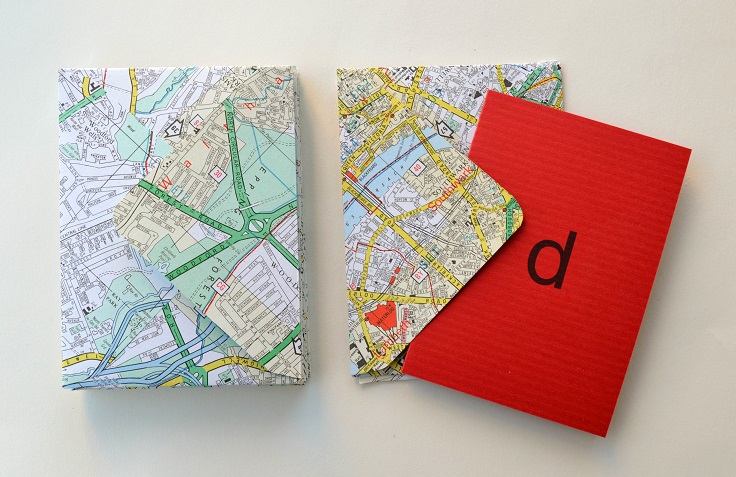 via onelovetwolove.com
If you think that drawing, boards, jewelry, or magnets aren't the perfect gift for your friend, then maybe writing them something beautiful would be nice enough, especially if it's brought in such an amazing envelope. It's vintage, creative; it has a map and something special inside – that's a super thoughtful and economical gift, right? So, look for instructions and do your best to surprise your friend.
10. Personalized Map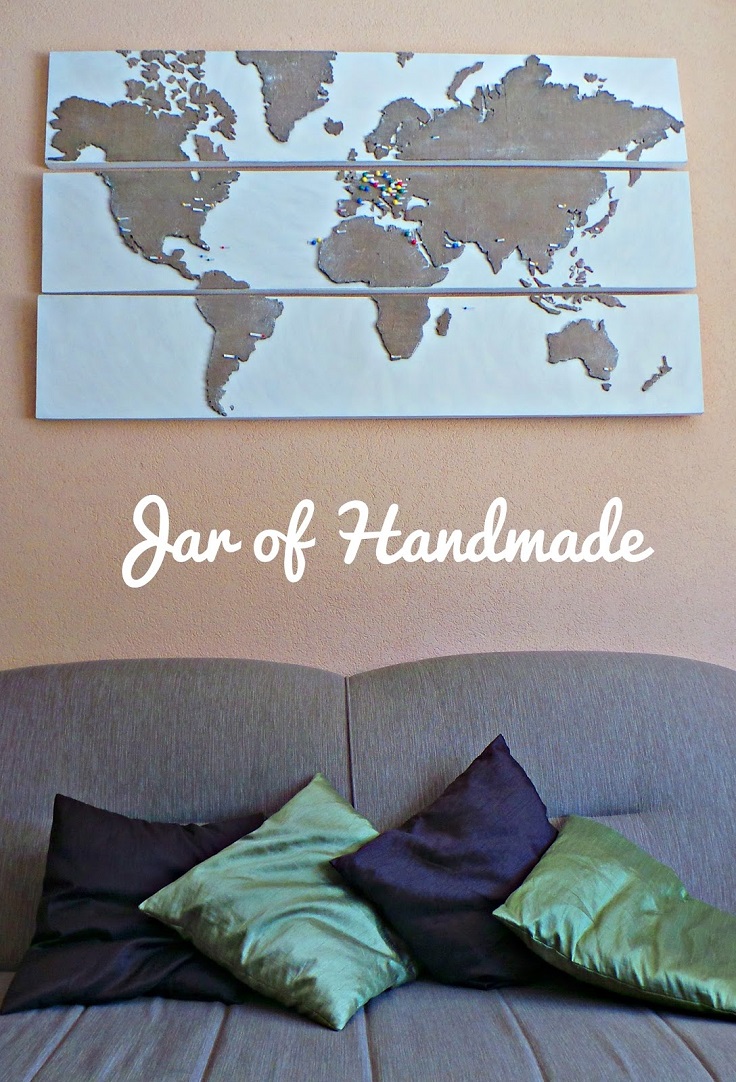 via jarofhandmade.blogspot.com
If you want to combine map, pins, and wall art, this might be the thing you are looking for. It's very interesting, easy to make, and it is the perfect gift for a travel lover who would like to track down his past and future trips. Besides the practical side, it does look artistic, and it's the perfect decoration because it is simple yet so meaningful.