Today, the 26th of May, is a day of remembrance, a day of honoring all those brave countrymen that have fallen in battle so that we may enjoy the freedom that we usually take for granted. This holiday dates back to the Civil War, meant as a day to commemorate the soldiers who died in the war, and in the beginning, it was known as Decoration Day.
Today, we use the day off to spend it together with our family, although, unfortunately, there isn't a family in our great country that hasn't felt the sorrow of losing a family member or a friend in battle.
So while visiting a military cemetery or memorial and placing a flag or some flowers is a proper way to pay our respects, some may find that to be a bit too somber and difficult task. To show their respect and properly mark the day, many people decorate their homes in the patriotic colors of red, white, and blue.
If you too wish to celebrate Memorial Day in a family environment and share your patriotism and support all the soldiers throughout the history of this great nation by decorating your home, we offer you the top 10 Memorial Day ideas and tutorials for some memorable decorations that you can use for all patriotic holidays and events.
Red White And Blue Pom Garland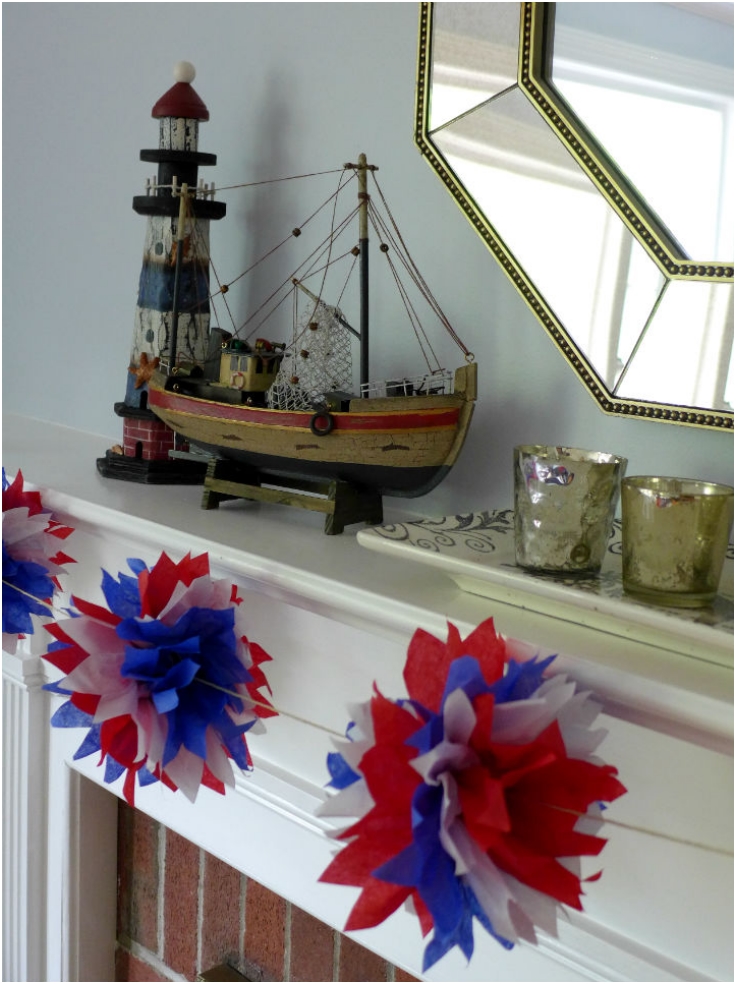 A simple and quick way to decorate your home is by hanging a big poofy garland that will easily fill up any space. Making this pom garland won't take much of your time, and you can even use the poms separately as bits of decor around the house.
Easy Patriotic Table Decor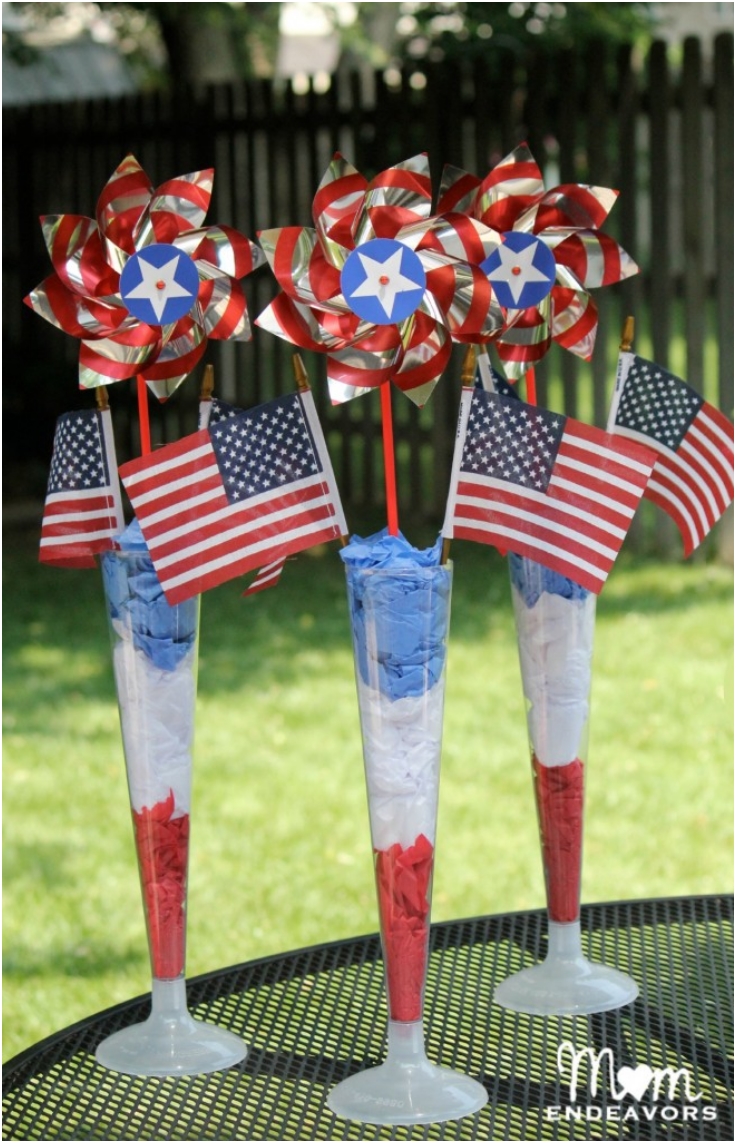 via momendeavors.com
Once you set everything n the dinner table, there usually isn't much room left for decorations. However, you will always have room for a thin glass or vase, and that is all that is needed for this patriotic table decor, along with some colored tissue paper, small flags, and a fun pinwheel.
Patriotic Mason Jar Luminaries
via fortheloveof.net
We light candles and place flags on the graveside when we pay our respects to the deceased. Do the same at your home by making these lovely patriotic mason jar luminaries. that will look amazing lighting up your walkway.
Patriotic Bandana Tablecloth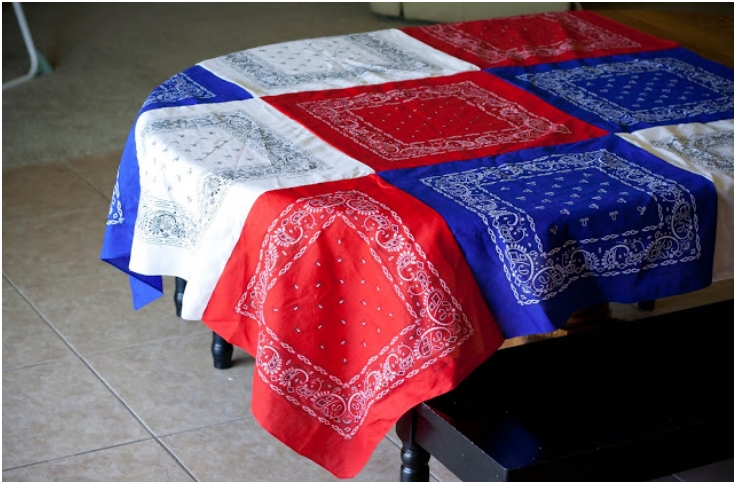 Perhaps you feel that your home has enough decorations without having to put more on the dinner table, but you still wish to give it a patriotic touch. Placing a patriotic tablecloth will do the trick, and if you don't have one, you can easily make it from red, white, and blue bandanas.
DIY Felt Poppies
via allthingsgd.com
The poppy flower has been the symbol of remembrance to the armed forces since 1920, and it is a good way to separate the Memorial Day decor from all the other patriotic holidays. You can add these felt poppies to your clothes or decorations, like with this Memorial Day wreath.
Flag Windchime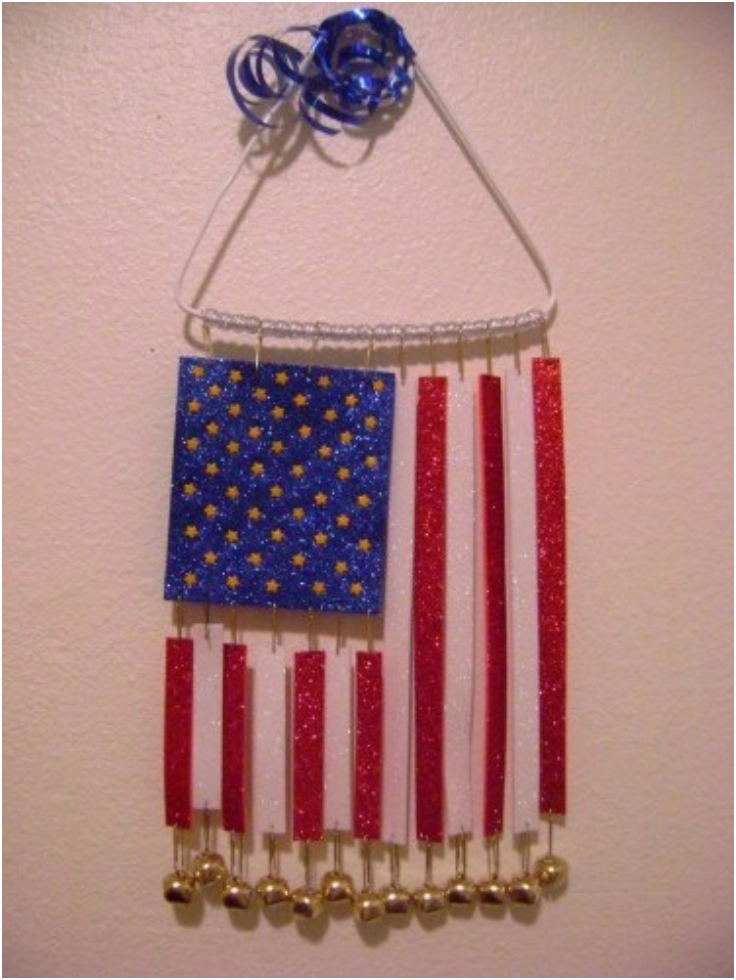 via graciousrain.com
There is something peaceful and unique in watching and listening to a wind chime swaying in the breeze, just like the American flag.  Put those two together, and you get a US flag windchime, and you can easily make one from craft foam. Let your swaying flag be heard far and wide.
Apothecary Jar Patriotic Decor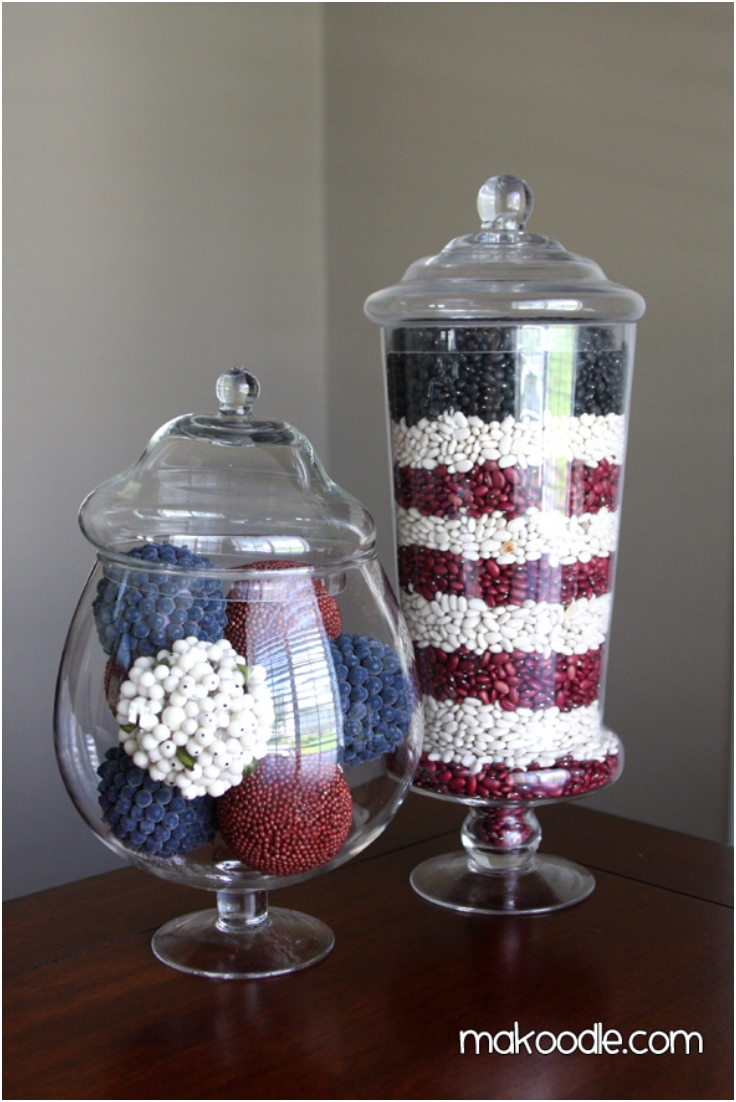 via makoodle.com
Here is a decorative piece that is full of beans, literary. Using regular beans, black beans, and red kidney beans to fill an apothecary jar or any other glass container, you can make some pretty sweet decor pieces. Just be careful not to spill the beans.
American Flag Centerpiece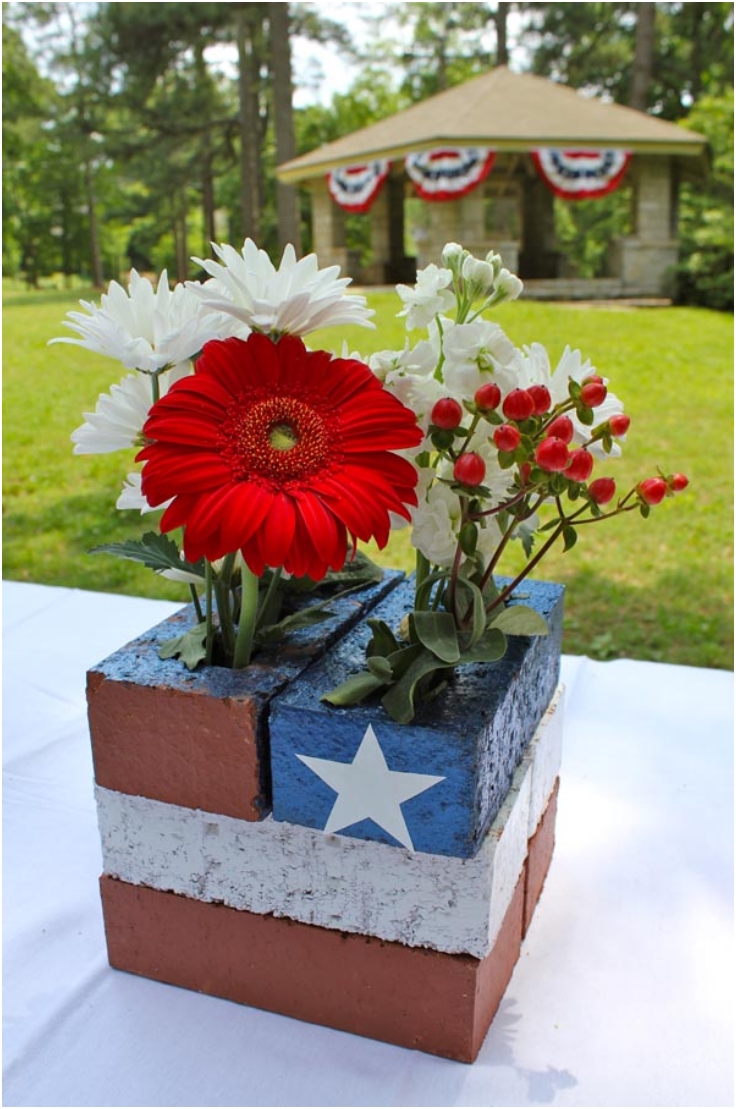 via ext.homedepot.com 
Are you feeling that your BBQ table is missing some patriotic touch, yet you refuse to put a vase on your manly table setting? Then you will love this patriotic colored construction material. These strategically stalked bricks are the perfect flower holder for the outdoors.
Cheap Memorial Day Decor Ideas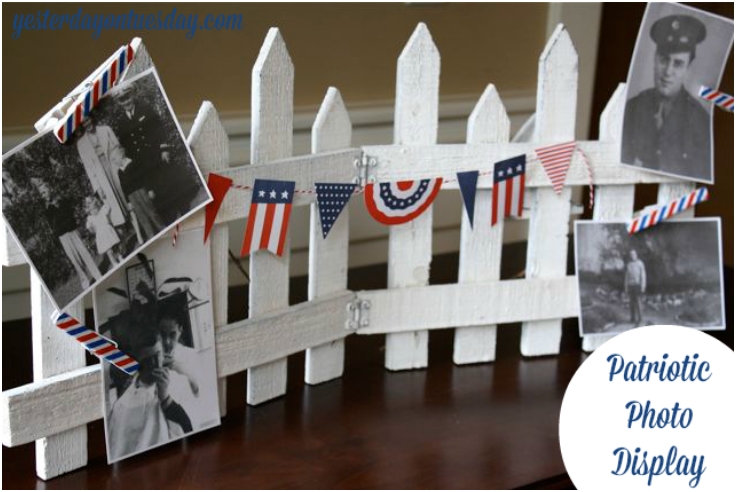 If this is the first time you're hosting Memorial Day dinner, and you wish to go all out and make it extra special, but you have a limited budget, then you will love some of these decor ideas that will bring something extra to your home by spending the minimal amount of effort and money.
Patriotic Door Decor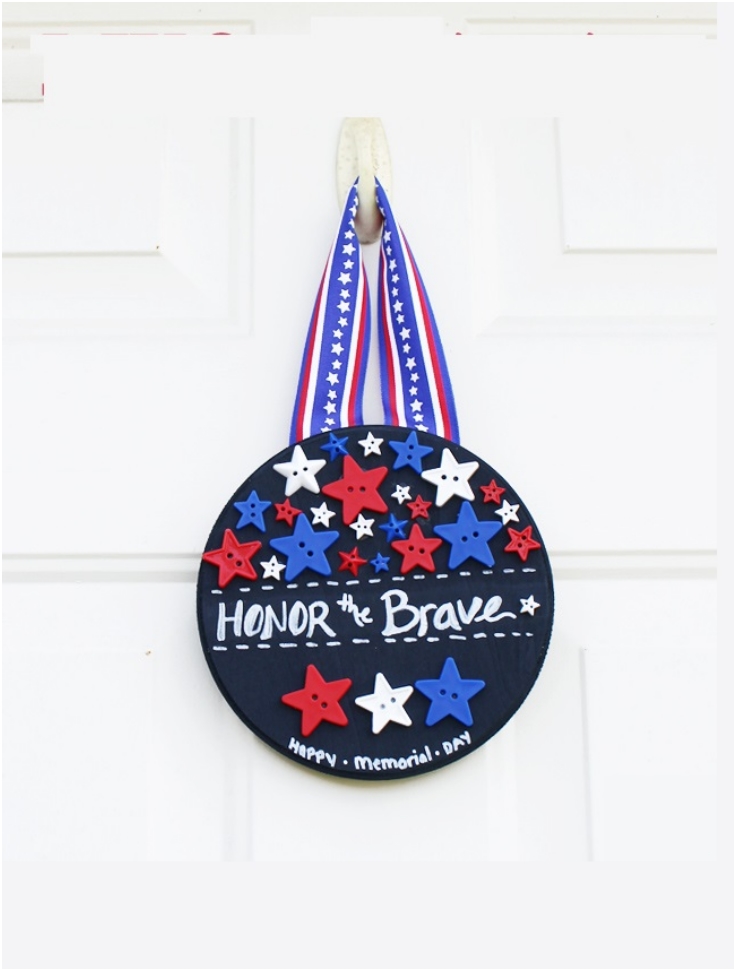 via growingupblackxican.com
Memorial Day may not be a flashy patriotic holiday like the 4th of July. Still, it is an important one, and the next generation must learn o honor and respect it properly. Make this patriotic door decor together with your kids and start teaching them the meaning of this glorious day so that they'll never forget the price for their freedom.