Handmade photo crafts make awesome gifts any time of the year for any occasion: birthday, New Year, Christmas…  we've gathered some great ways to share your family memories with a few simple supplies and a bunch of lovely family photos.
We've rounded up 10 fantastic DIY photo gift ideas – gift ideas made using photos of extraordinary people, places, or things. Photo crafts make terrific gifts or wonderful personal accents for a home. Never use original photos in crafts projects.
Instead, scan and print copies of your home equipment or take your photos to a copy shop for those services. All of these are sure to delight moms, but they'd also make great gifts for dads, grandparents, friends, or just about anyone. Additionally, since photos are cheap to print and these gifts are all DIY options, they're all pretty inexpensive.
These projects are excellent for decorating your home or creating a special gift for family members … photo crafts rule!
Personal Picture Clock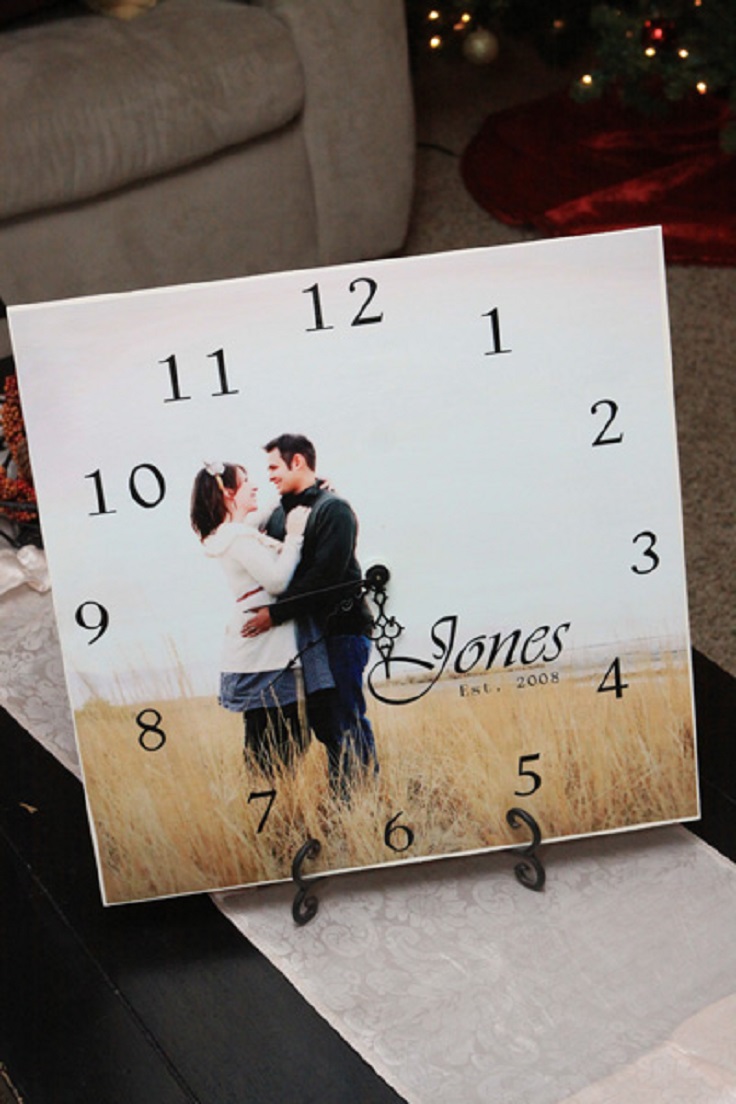 via rosyredbuttons.blogspot.com
Use a template of a clock online. Just google clock template. We put that in a layer on photoshop and marked with the paint tool where each number was; then we put our own in.
Circular "Family Tree"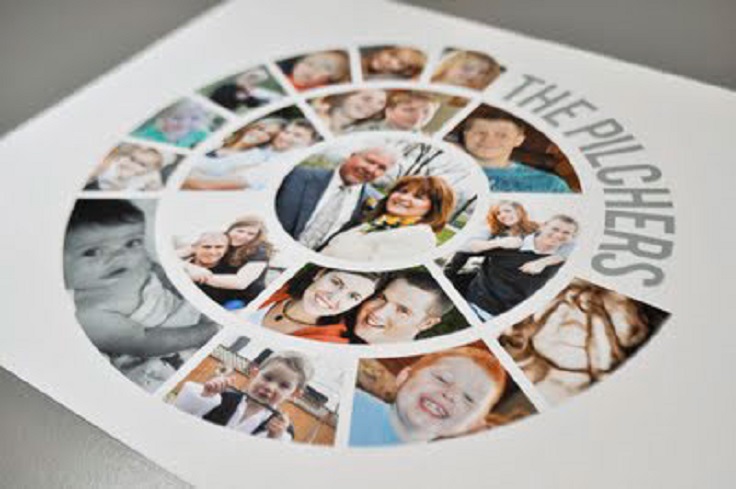 via cactusandolive.blogspot.com
This circular "family tree" print is not only beautiful, but it's also a meaningful keepsake. Use Photoshop to make one of your own, or purchase a custom design.
Wood Box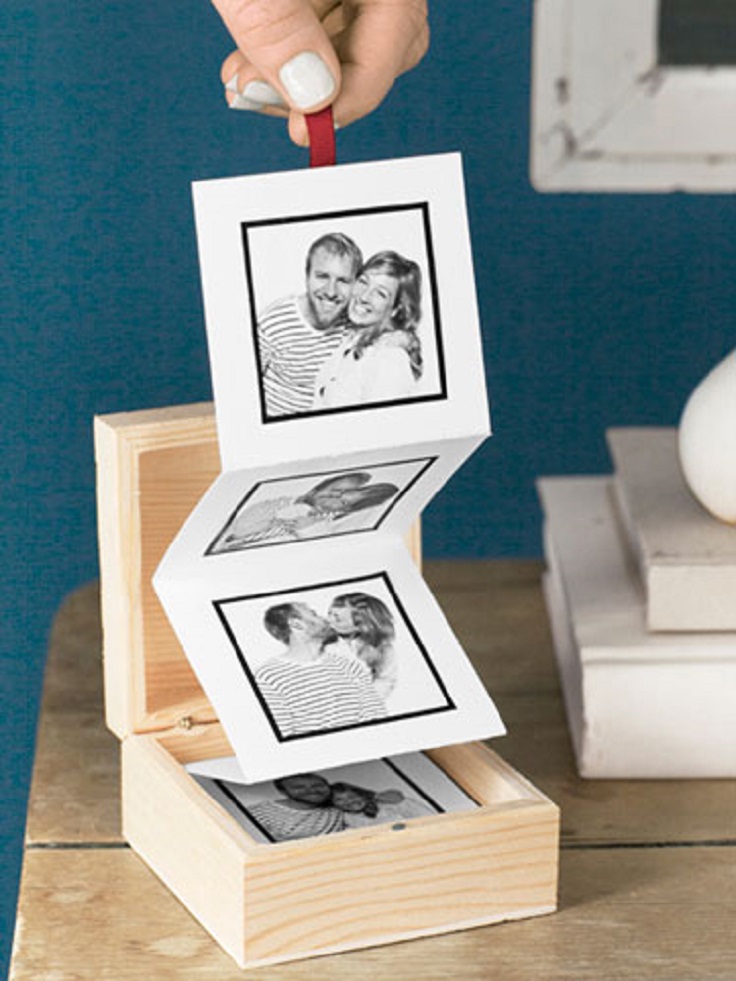 A simple wood box and an accordion-folded card stock make a great home for a pretty pull-out photo album. Combine photos of kids and notes or drawing from the children for an extra special gift.
Embroidery Hoop Photo Display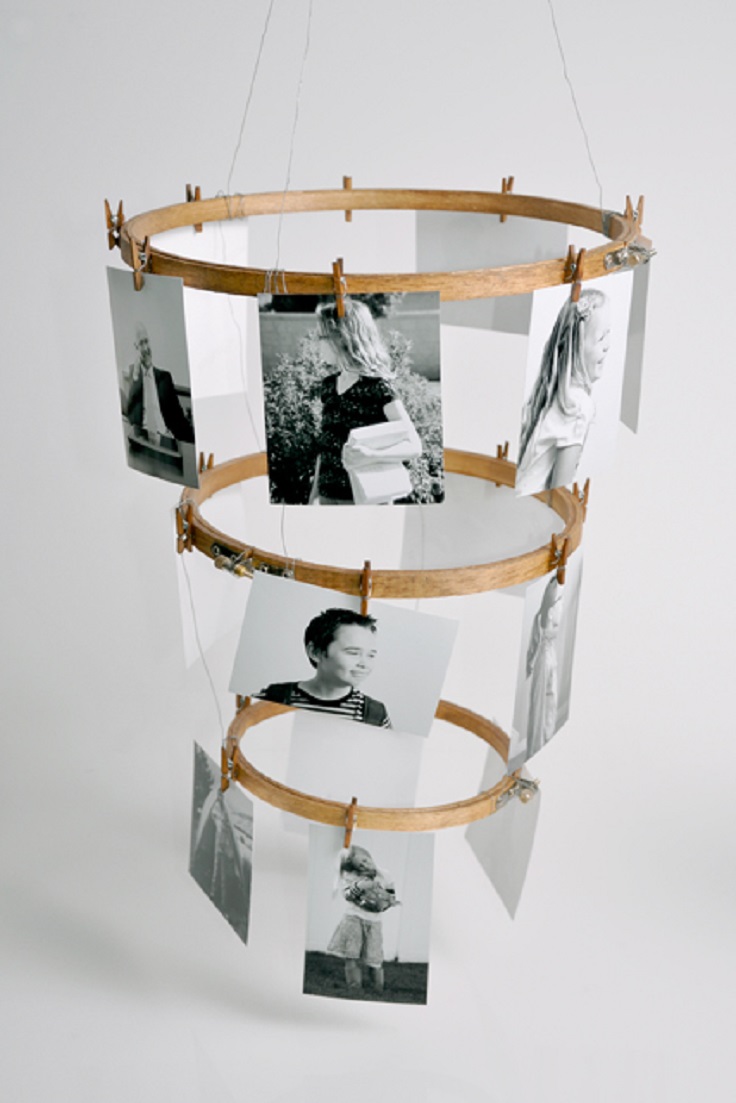 via natalme.com
We think this simple photo display is simply lovely and would make a great gift – the recipient can easily switch out photos to keep it current.
Photo Lampshade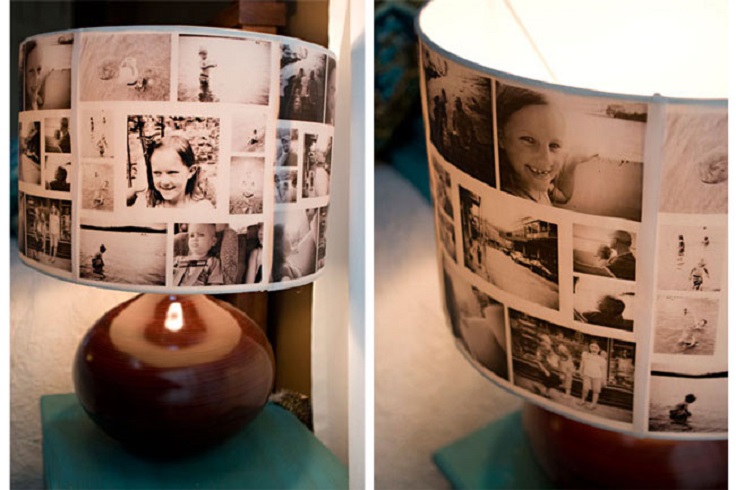 If you are using photos – there are several options. You wouldn't have to do a collage. You could do several large photos. You could make your own collage by cutting out smaller pictures and gluing them individually around the lampshade. You could print them in regular color or black & white or sepia or whatever you come up with!
Photo Letter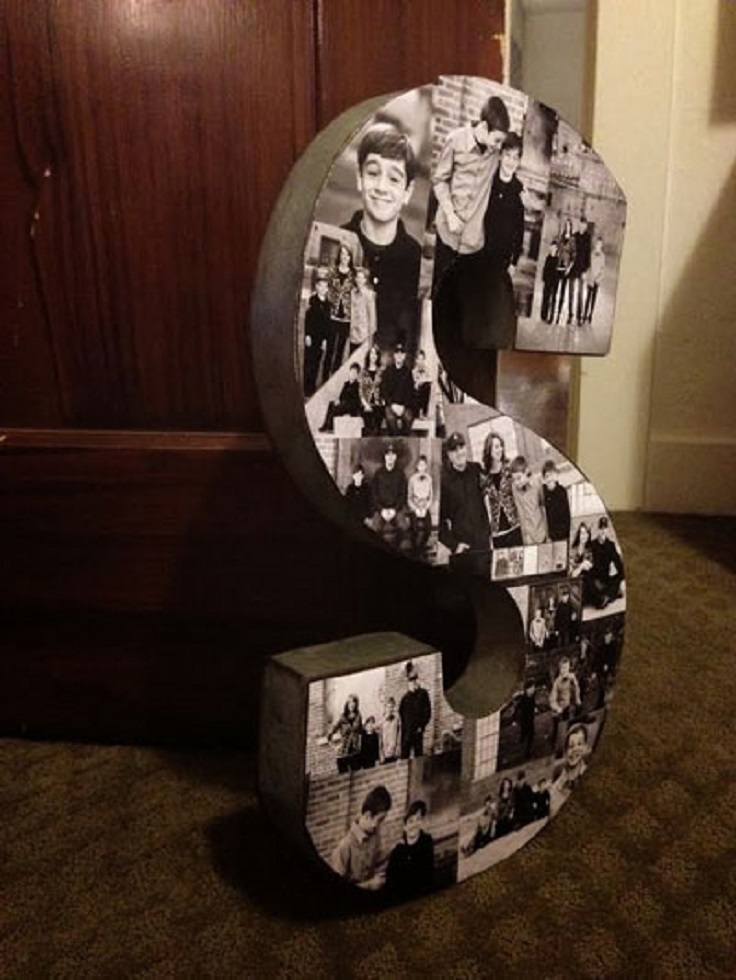 We think this will be good to hang or set up on a side table or be used for any other type of decor. Choose the first letter of the person you are making the gift for, choose the most memorable pictures, and go ahead!
Heart Shape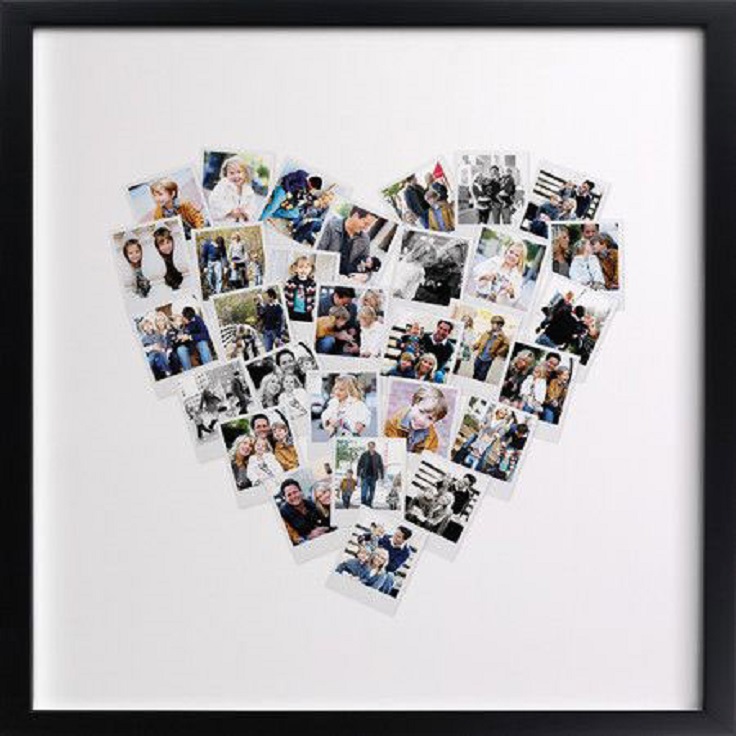 via coolmompicks.com
This example could be so easy to DIY! Print small square photos and arrange them in a heart shape on a large canvas, and you have a beautiful, personalized photo gift.
Photo Bud Vases
If you use a thicker base and drilled deeper holes, you could skip gluing the tubes in place and just let the base hold them. You could then decoupage other tubes with colorful graphics or fabric or what have you and when you wanted to, swap out the tubes to suit your mood.
Photo Calendar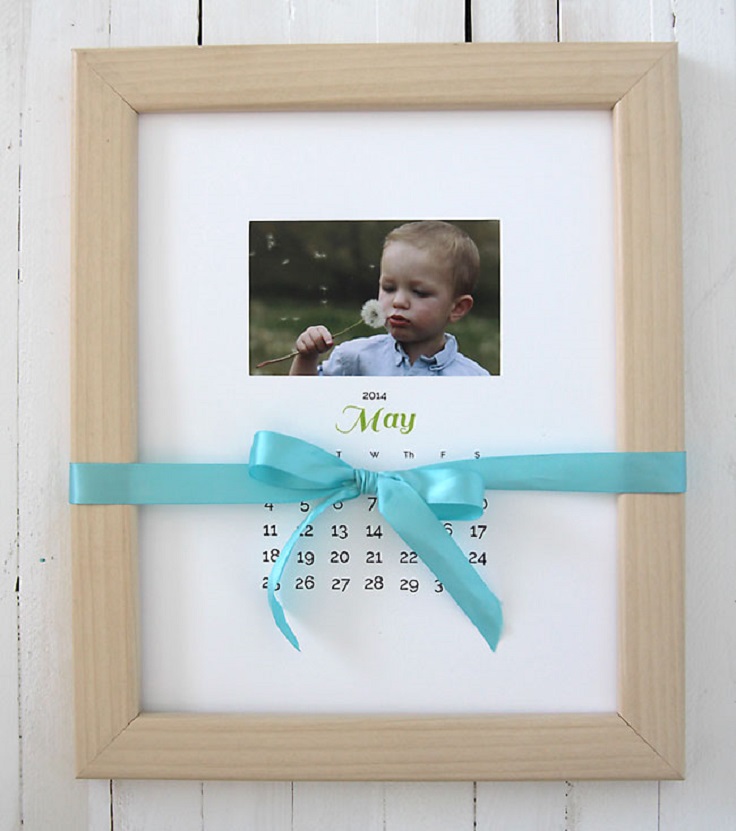 This DIY framed photo calendar is super inexpensive – the whole thing only costs about $5 – and even better, it's crazy easy to put together (free printables!). Since you decide which photos to include, you can tailor the calendar to whomever you're making it for, ensuring it's a gift they'll absolutely love.
Miniature Photo Pendant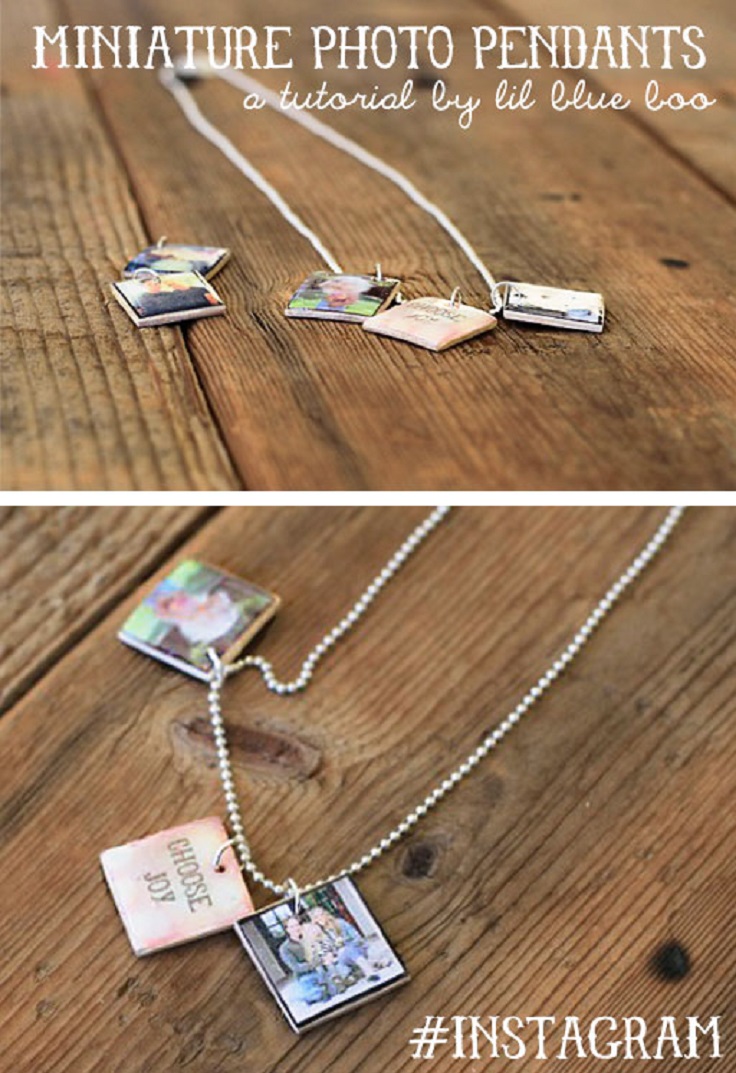 via lilblueboo.com
These are so easy to make. They are made from popsicle sticks! We can't believe how great they look. Great for charm bracelets, pendants, etc.