Pinatas are containers made into a certain shape from paper mache, pottery, or cloth, decorated in multiple colors and filled with sweets or gifts which are then broken as part of a ceremony or celebration.
It is believed that the pinata originates from Mexico, but today we associate it mostly with kid's birthday parties or the Mexican holiday Cinco De Mayo and it can be found in any shape and size imaginable.
The pinata is best-loved by kids, who can't wait to get to the goodies hidden inside it, but that doesn't mean grown-ups can't have fun with it too. For the next birthday party or celebration, make sure you have a blast with a homemade pinata chosen from our list of top 10 DIY pinatas.
Mini Piñatas From Tissue Box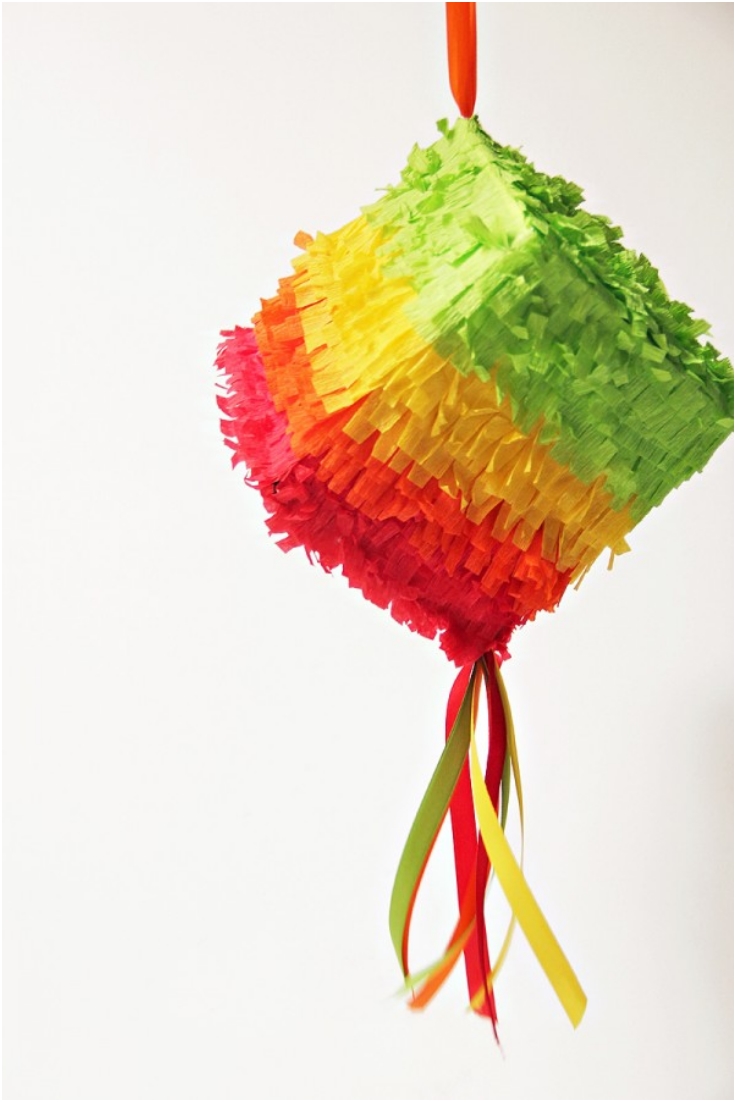 via studiodiy.com
One pinata is a lot of fun, so many pinatas mean a lot more fun, but you might not be able to afford more than one. Then make a lot of small ones by using empty tissue boxes. They make a perfect base for a pinata and all you have to do is fill and decorate them.
Pull-String Firetruck Pinata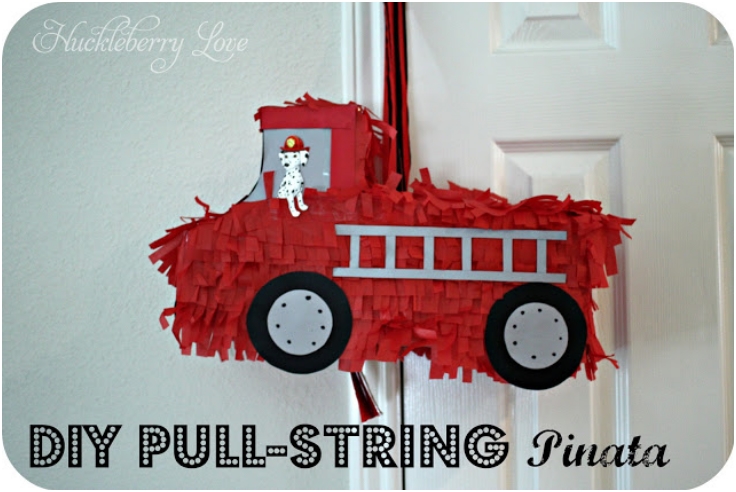 Pinatas are usually smashed to make the treats inside fall out, but when the pinata is for a birthday party for a young child you might not be inclined to let him or her swing around a stick, possibly hurting some of the other children. The solution is a pill-string pinata and this one shaped like a firetruck will be perfect for your little boy.
Ice Cream Pinata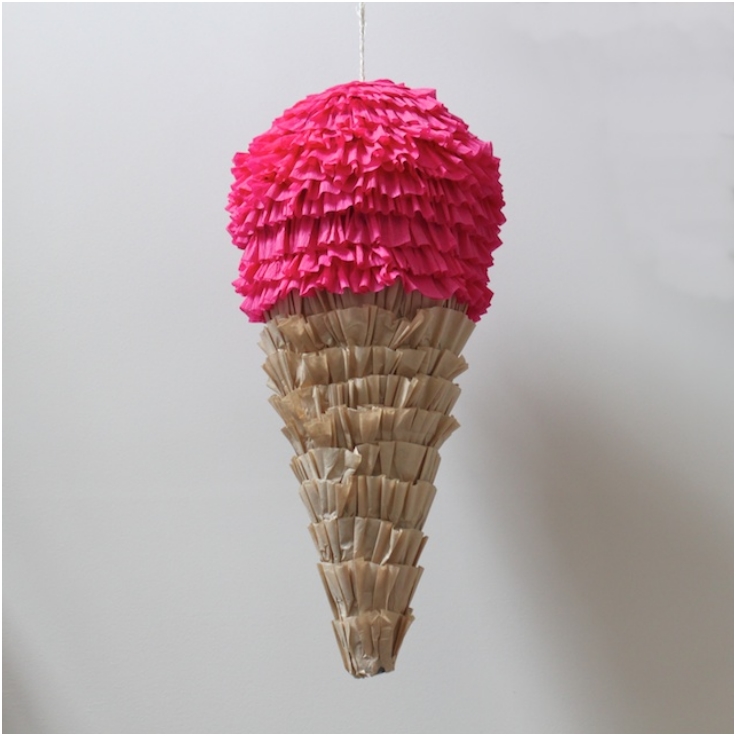 via simplymodernmom.com
There isn't a person in the world who doesn't like ice cream, so when it comes to choosing a theme for a party, it is possible that you'll attend or host at least one ice cream themed party. For that occasion and any other you may think of, here is a lovely DIY for an ice cream pinata.
Butterfly Pinata Tutorial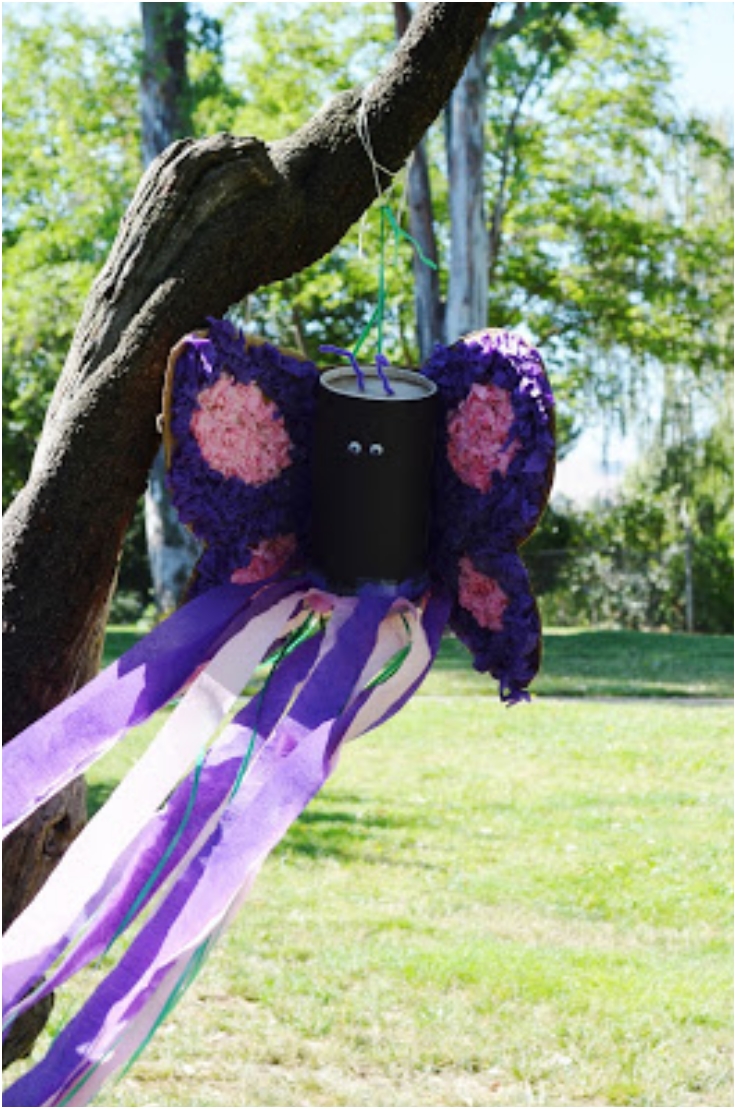 Every little girl loves butterflies, with their soft little colorful wings and their playful flight. So, here is a tutorial that will make your little girl's next birthday party a real treat. This butterfly pinata is so easy and fun to make that you can turn it into a whole family fun project.
Angry Bird Pinata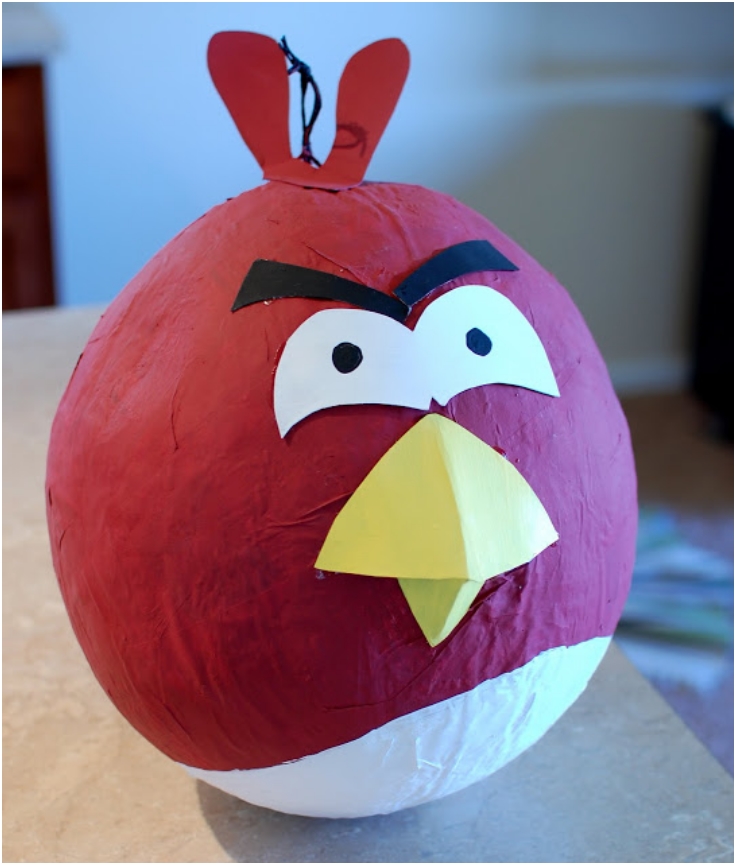 via jenscopycatcrafting.blogspot.com
If your child chooses an Angry Bird theme for the next birthday party, surprise him or her with a cute little Angry Birds pinata. Made from a balloon and paper mache, you can easily make more than one and since you only have to paint it, you can make other shapes as well.
Cactus Piñata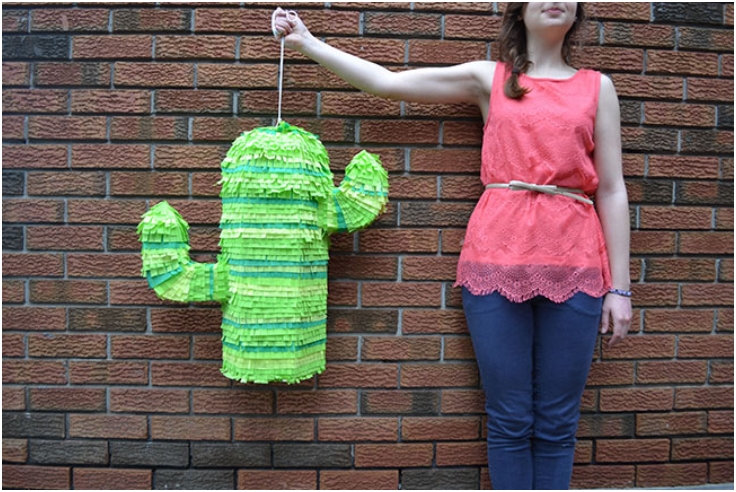 via snowdropandcompany.blogspot.ca
If you're having a Mexican themed party or are celebrating Cinco De Mayo, having a pinata in any shape is Mexican enough, if you like a little more fun, try this cactus-shaped pinata. Also, this is a good shape for other themes, just by decorating it differently, like into a bull.
Faceted Birthday Piñata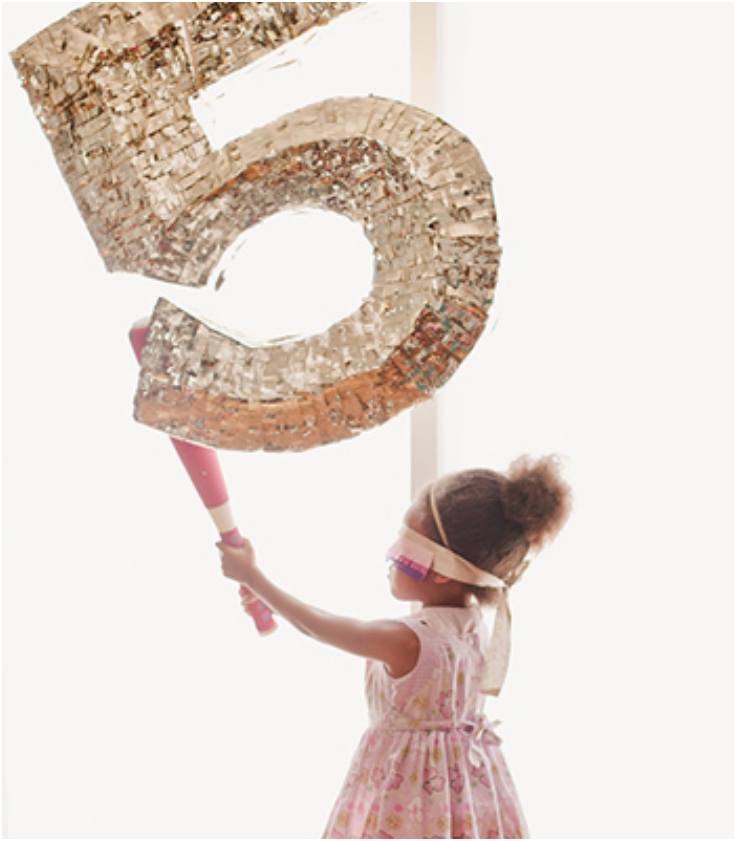 via confettipop.com
Lovely addition to any party, the grand finale of smashing the number of years that the birthday boy or girl is celebrating. You can make this pinata into any number and for children of all ages, marking the milestones of their life from 1 to 101.
Heart Of Gold Rocket Ship Pinata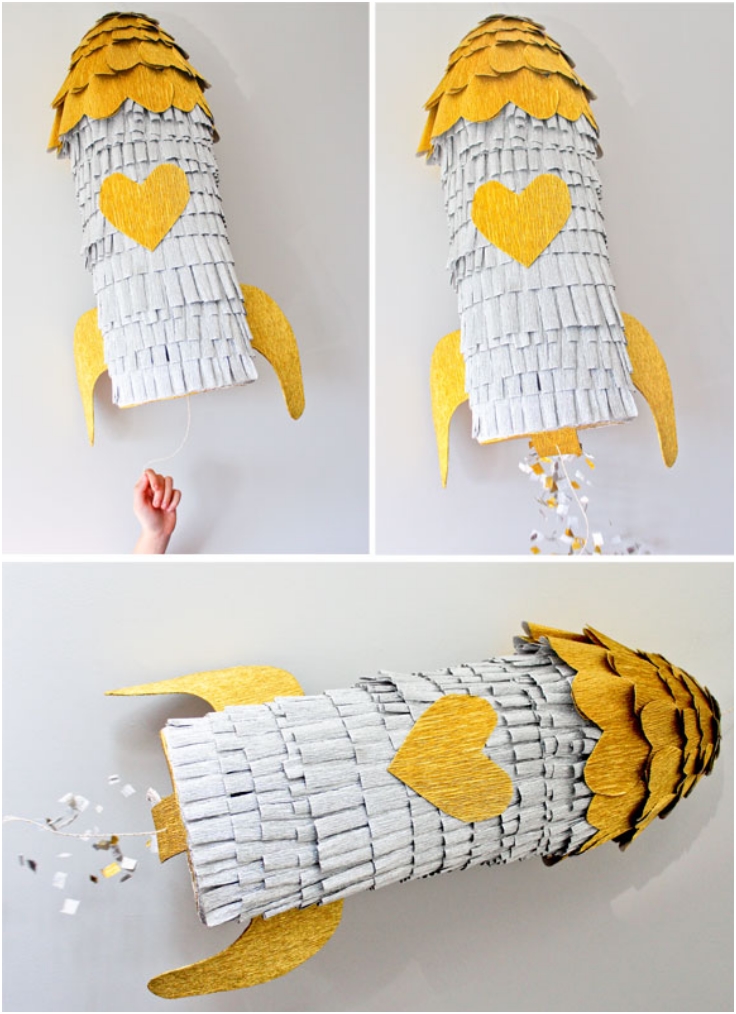 via ohmyhandmade.com
Another unconventional pinata. This is pull-string confetti-filled pinata is a good way to express how much you appreciate and value an important person in your life. Launch this pinata rocket ship and let the trail of glitter cover the person with a heart of gold.
Italic Monogram Pinata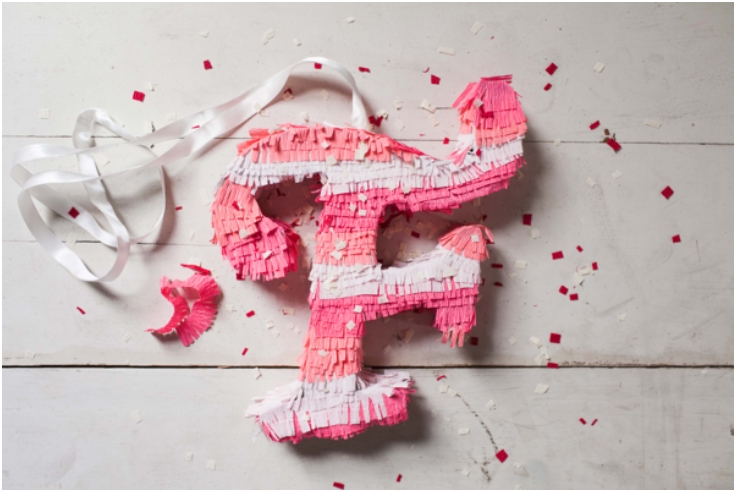 via ohhappyday.com
This lovely monogram pinata is a nice surprise for a party of a dear friend. Instead of filling it with candy, you can fill it with confetti, or nothing at all, simply giving it as a lovely decoration piece. You can also make it into any color you like and it is will be a unique gift.
Flamingo Piñata
via studiodiy.com
Flamingos are elegant, delicate and with their bright pink color, spread cheer everywhere. If you have a friend or family member that has these same qualities, give them this pink pinata for their next birthday party or just make it for any party… It's that much fun.