There is no time when you can go all along in your life without using the shorts as by the use of the shorts one can surely keep herself away from the harsh burning rays of the sun as this is not the words but is also the reality.
To tell you your power, girls are hereto teal you some real verity hot and yes chic ideas of the shorts that will surely spice up all of your seasons as they are sure to kill and unique too.
As the DIY shorts promise you that this will surely do a lot of good to you, so take out your old pair of shorts and start investing some time that can actually do a lot good to your shorts; here we are giving you some spicy, hot and chichi ideas of the DIY shorts or 10 ways to decorate your old shorts into fashionable DIY shorts that will definitely cast a magical spell on your wardrobe as you can wear them to the day party or even on a function or walk out with your friends too, as they are indeed the head-turners, so hold up and check our following ideas of the shorts.
All of the DIY old shorts ideas for summer are easy to do and can also be done in a matter of some time as they are chichi and excellent, so you will not have to hustle about the problem are not well good enough for you. So try these DIY clothing and have fun with the DIY ideas.
Add a Pattern To The Cuffs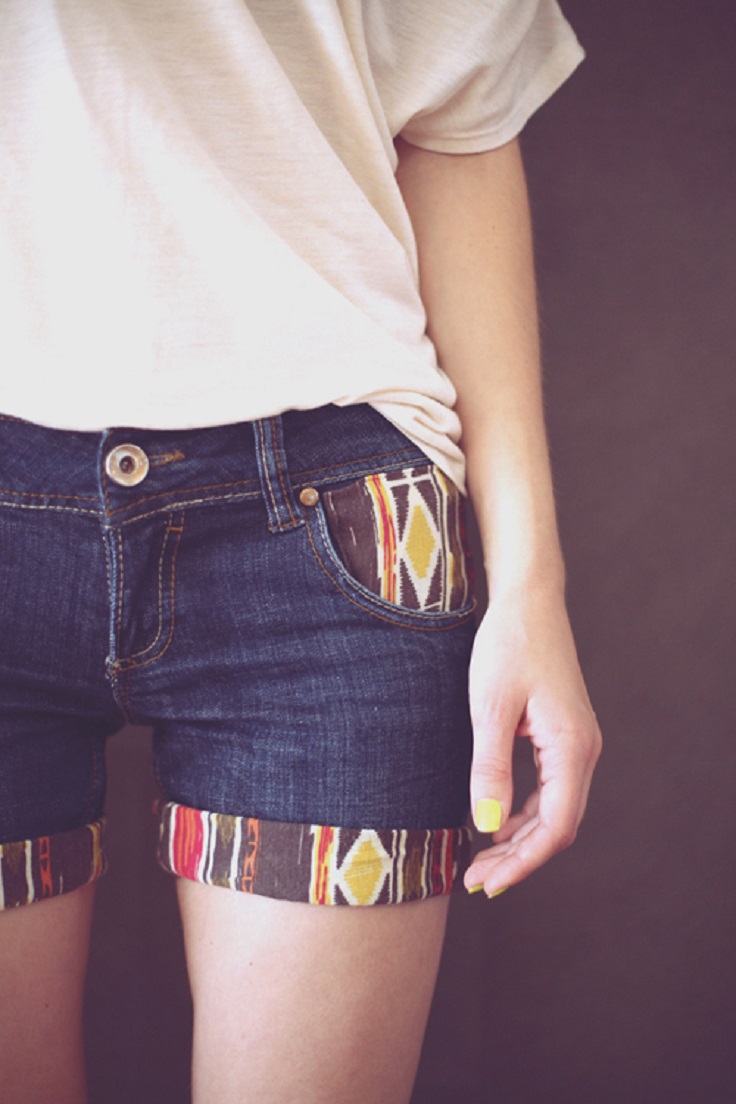 Everything you need for making this kind of shorts is denim shorts, an old t-shirt, thread (matching the t-shirt) and scissors. Then follow the instructions and you are done!
Floral Pocket Shorts
via themoptop.com
This DIY post is on adding floral pockets to your shorts, which really shows how happy we are that it is summer. Things you'll need: shorts, fabric, scissors, measuring tape/ruler, paper & pen, needle, thread.
This is a fun update anyone, even beginner sewers, can do. All you need is a pair of denim shorts, a strip of crochet or lace (get creative! I cut mine off the bottom of this thrifted dress!), and a sewing machine. Sew the lace or crochet to the bottom of the shorts (see tutorial below), and voilà, you now have a new pair of  (super cute) crochet jean shorts!
Aztec Shorts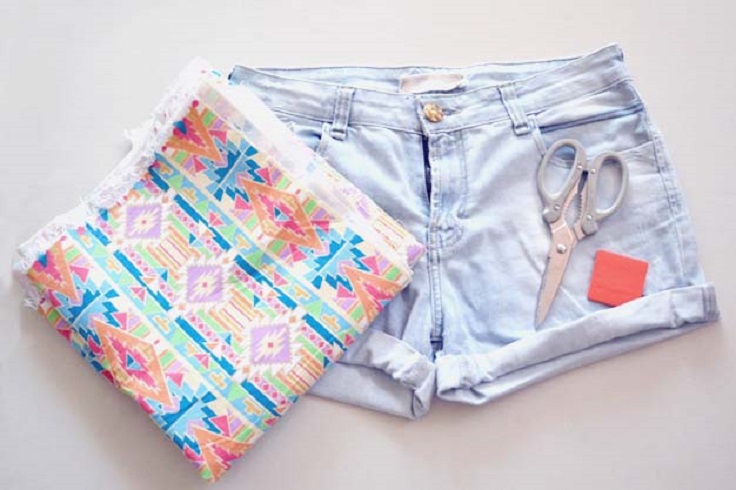 via bargainblabber.blogspot.com
Choose a fabric of your choice, preferably with a thick texture, for better support. Measure out the material onto the parts where you want to place the print. We put it on the right leg, top left pocket, and right back pocket. Make sure to leave an extra inch to sew the hem. Pin the printed fabric to the shorts using dress pins. Sew using a machine or hand stitch. We had to hand stitch some of the areas, particularly the pocket area and the zipper line. Then, it would help if you got something like this. Pair with a simple tee.
Bow Pocket Shorts
You should always fold it over at least twice to complete a full roll, or else the cut edge of the jeans will still be on the show. We are not lucky enough to own fabric scissors, so we had to make do with the sewing kit pair.
Studded Denim Shorts
via getplenty.com
A must-have for the upcoming shorts season is a studded pair of cut offs. A super easy DIY, you can have a brand new pair of shorts within hours! Feel free to go crazy with different designs and patterns; we did another couple with the back pocket all studded out too.
Floral Pleated Shorts with a Bow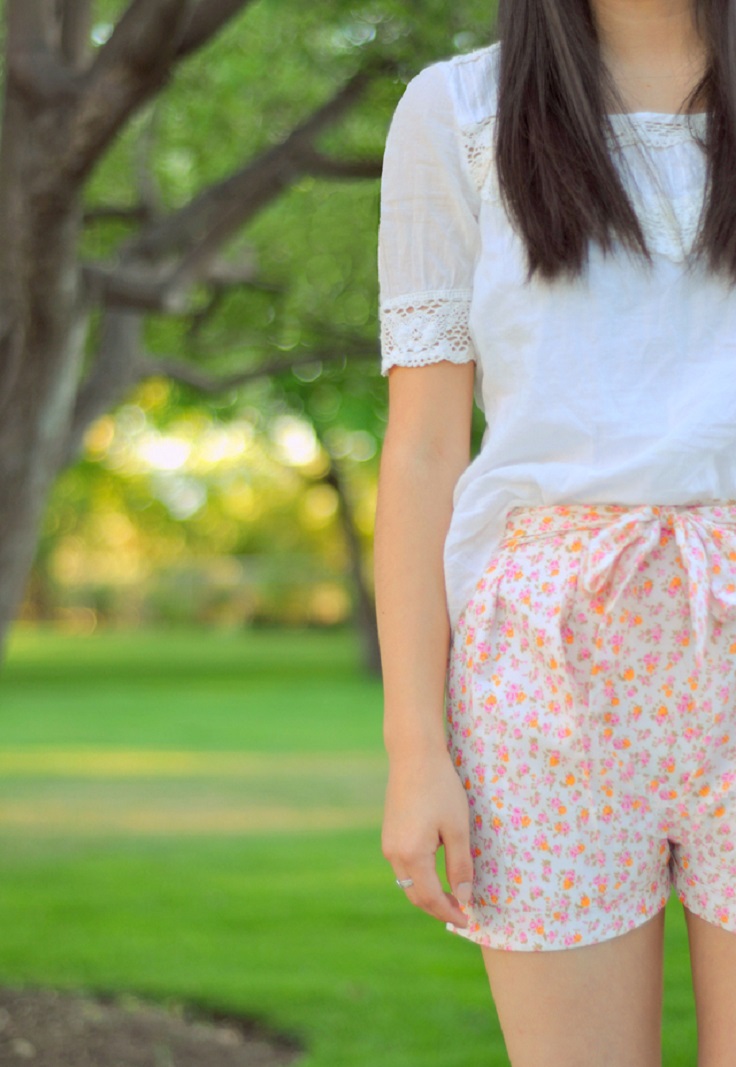 via cottonandcurls.com
Supplies you will need are 1 yard of fabric, 1 yard of lining, sewing machine, thread, pins, scissors, a flexible measuring tape. Follow the instruction and make your own flowery shorts for this summer!
Ombre Shorts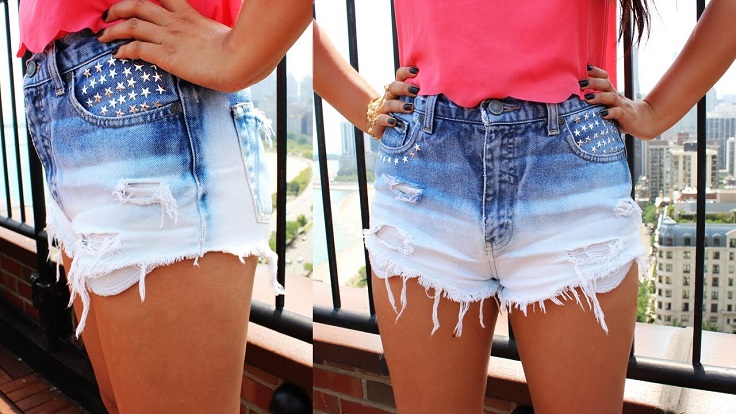 via sugarlaws.com
What cool ombre shorts! Like ombre hair, ombre nails, now we have ombre clothes. For making them, you need 1 bottle of RIT dye (or another comparable brand), white denim shorts, a plastic bucket, water.
DIY Colorful Galaxy Shorts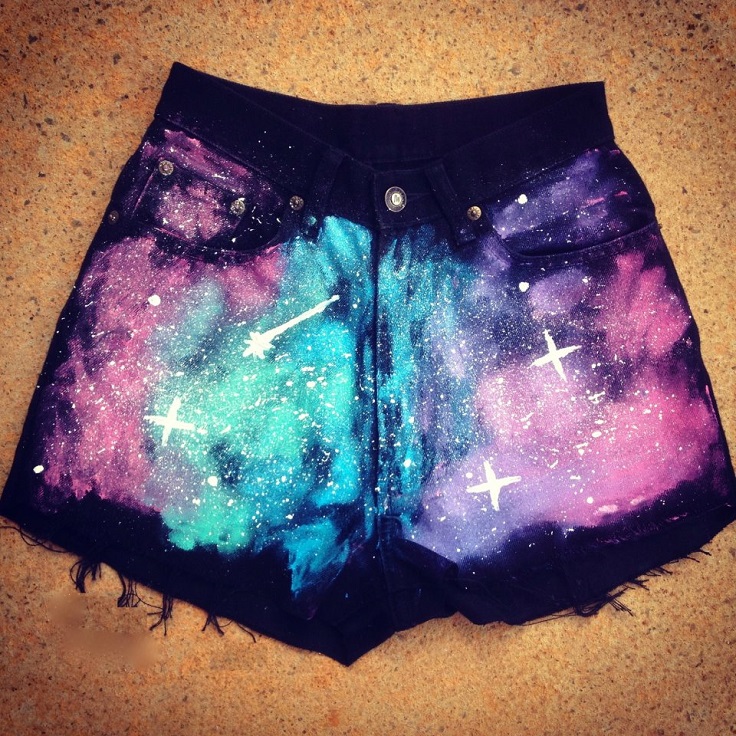 If you are a fan of the galaxy, then this is for you as by the use of these super hot shorts you will show your love of the universe to the worlds; this is easy to make too, as all you need is a fair amount of colors and indeed a pair of the shorts also, so carry this with your hottest slippers all around.
Tribal Print Shorts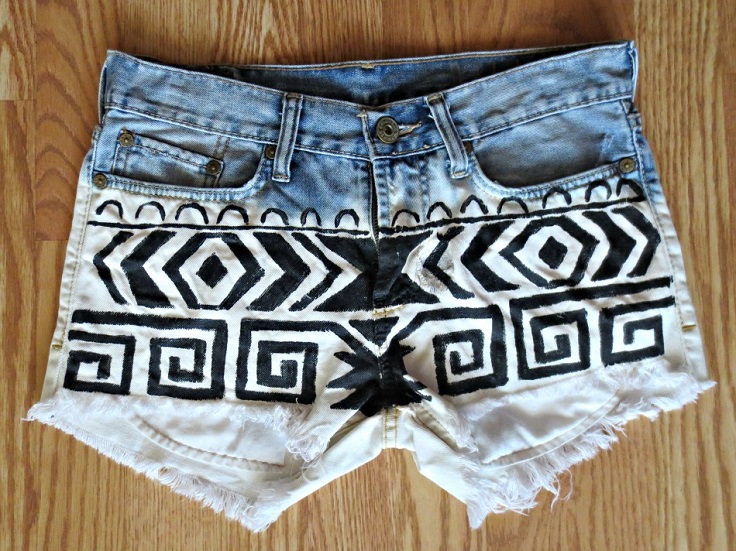 via styleandsway.com
Indeed this is a great and super charm idea of the DIY crafts as this is easy to make, plus you will also have the good look of the tribal touch on you too; the hot point is that you can add some indication of the colors in this tribal shorts of yours also as by this you are sure to win any occasion. What you will need is a pair of shorts, bleach, fabric paint, paintbrush. Of course, you can wear some old jeans that you'll cut into short shorts.