It is spring, so it is time for dresses, those cute and lovely little girl's dresses. In vivid colors, with fun designs and floral decorations… Don't you love your little ladies in their cute dresses with matching bags or headbands?
It is true; we are all crazy about fashion, pretty dresses, and little girls. In the boutiques and shopping malls, you can find hundreds of amazing dresses at different prices. But, we suggest you try to sew dresses for your daughters or nieces because we love projects and DIY.
It could be tricky, time-consuming and you will have to put a bit of an effort, but the smile on the girl's face is worth all the effort. The best part is that you can go together to buy the materials and fabric so that it would be fun, and she will feel special.
So, what we suggest to do is to have a lovely time with your little girls, be a tailor and make them happy. To make it easier for you, we found these cheap and simple patterns for cute dresses. Can you say NO to that? Of course not, so let's make some dresses for the little princesses!!!
The Junebug Dress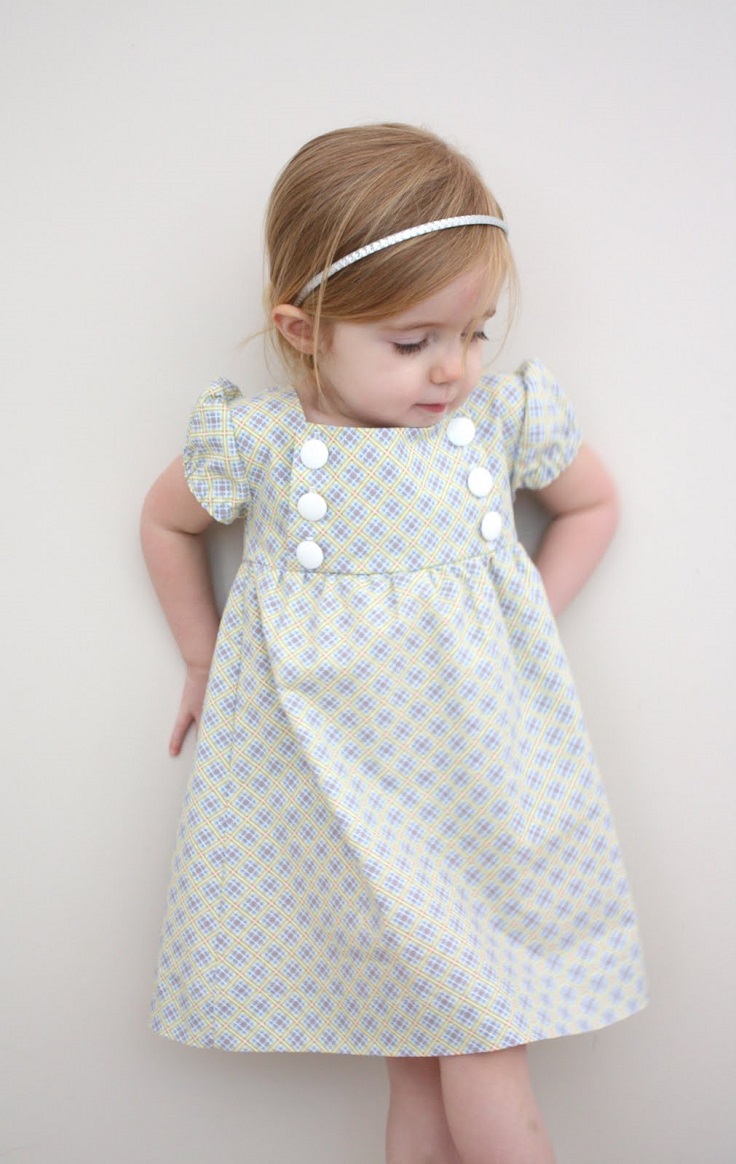 via craftinessisnotoptional.com
Oh, this is such a lovely spring/summer dress for a pretty little girl. We love the addition of the big buttons. Just look at the photo above, and you will fall in love instantly. Why not make this your next sewing project?
Raglan Dress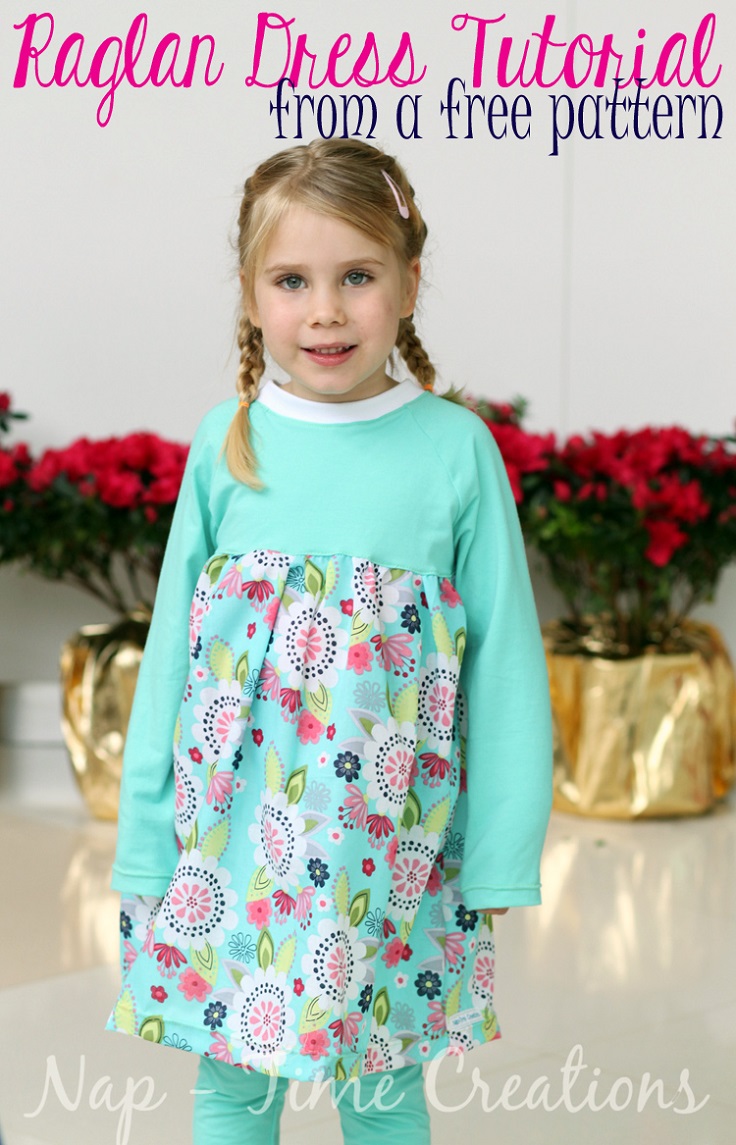 This super cute dress is perfect for spring. Aren't the colors lovely? Use a combination of woven and knit fabric for a lovely outcome. You can make it full length or tunic – it is up to you. We love the tunic form worn over leggings.
Itty Bitty Baby Dress
via made-by-rae.com
This pretty itty bitty baby dress is made with two materials – one for the outside and one for the inside. It is very easy to make as it doesn't have any zippers or buttons. As it is a summer dress, choose some nice colorful fabric with flowers. Your baby girl will look adorable.
Mela Summer dress
via widicreations.blogspot.co.uk
This simple yet beautiful summer dress features a fitted bodice and tie back shoulder straps. You can make it even if you are a beginner as it is super easy. Another great thing is that using a basic sewing machine with basic straight stitch skills is enough.
The Vintage Heirloom Dress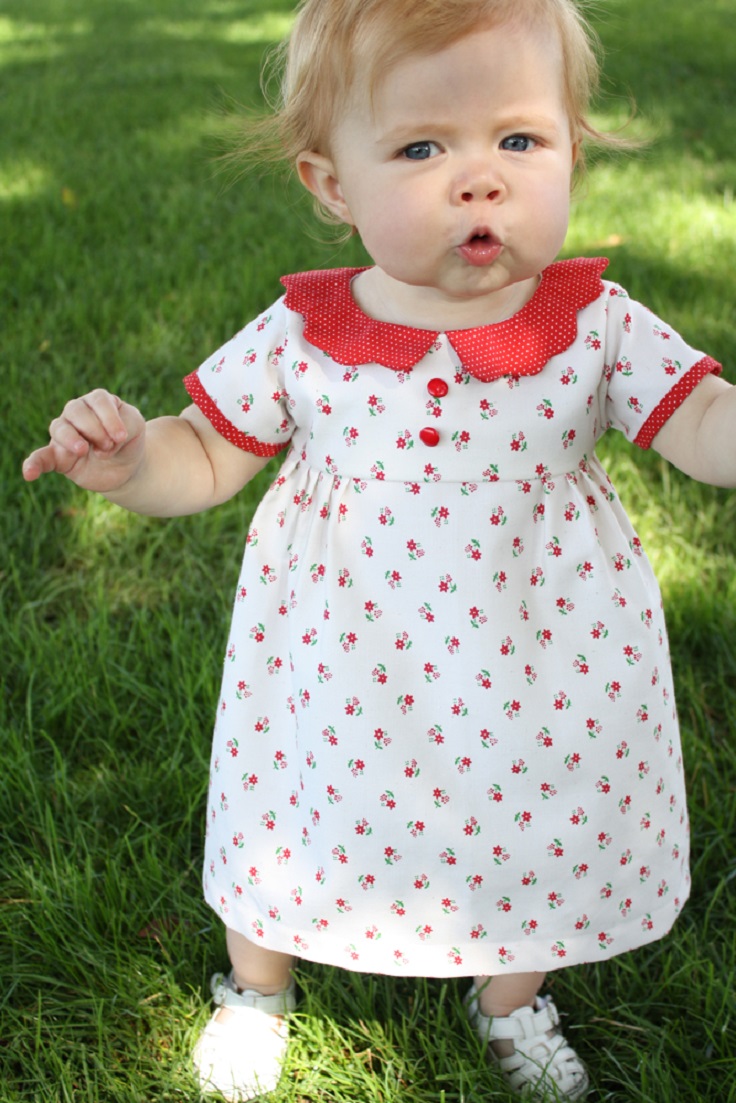 via craftinessisnotoptional.com
If you love that vintage fashion, then use the free pattern to make one for your girl. This dress is so cute – look at those buttons! You probably have some vintage fabric to use but if not, try to find one that at least looks vintage. The tutorial is super simple to follow.
The Playdate Dress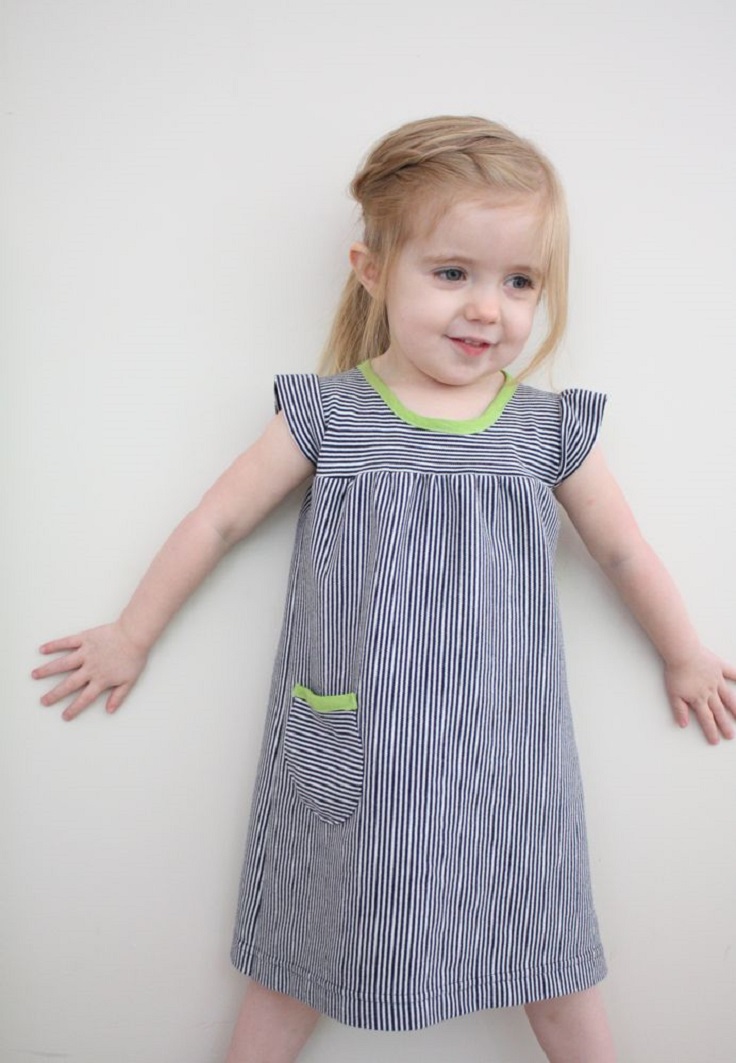 via craftinessisnotoptional.com
Not very glamorous, but practical dress for playing or school. Make this knit dress with flutter sleeves and pocket by following the all free pattern. Just how cute is that little pocket on the dress? We are also fans of the stripes but feel free to choose a fabric with a different pattern.
Ice Cream Social Dress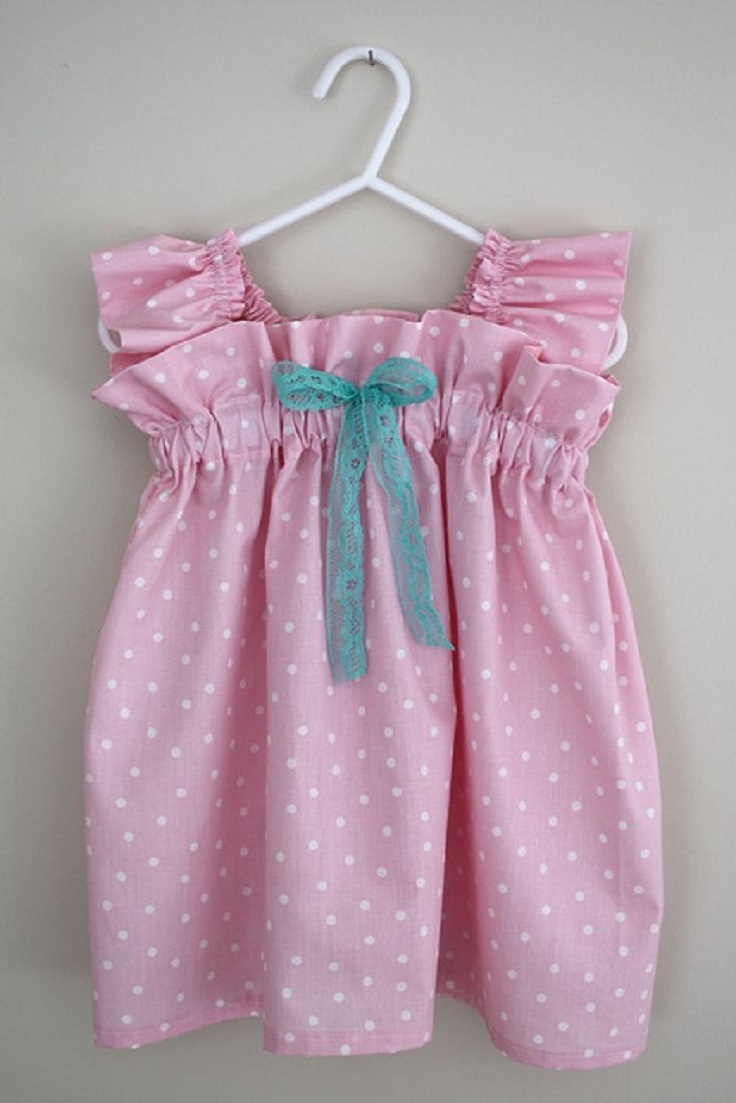 via craftinessisnotoptional.com
It is a fun and cute dress perfect for a walk in the park or trip to the ice cream shop and a summer birthday party. To sew this little dress, get the pattern on the link above, and don't forget to add a pink flower for the hair. Don't hesitate to try it even if you are a beginner – it is so easy!
Matching Dresses for the Girl and her Doll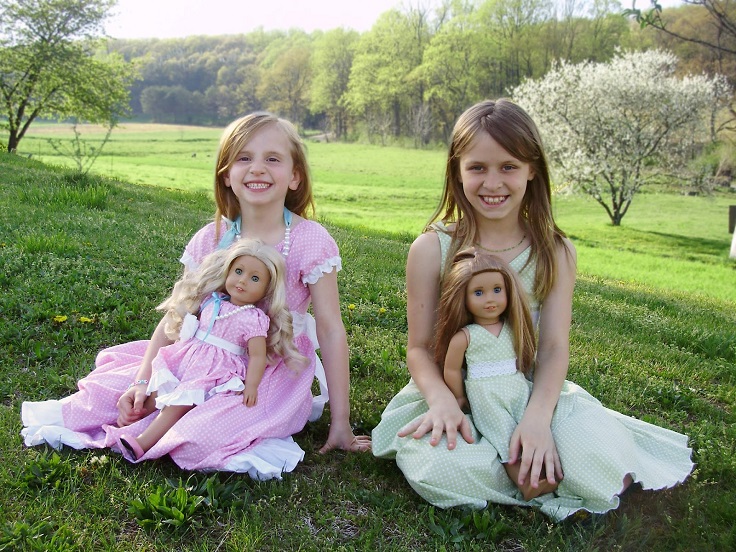 via pacountrycrafts.blogspot.com
If you really want to make your girl happy, make matching dresses for her and her doll. It is such an original and fun idea. And the design is perfect for Easter. We love the dots and the big white flower detail.
Little Peasant Dress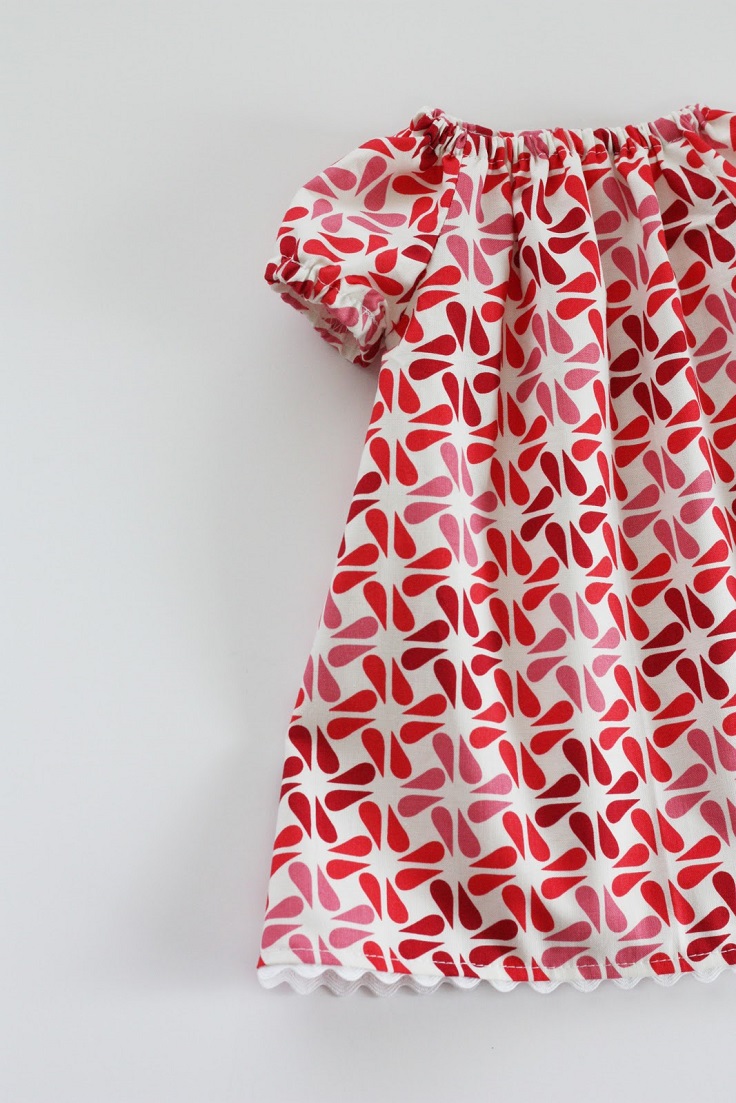 via sewmuchado.com
So small and so cute, make this infant peasant dress for your little princes by following the free pattern. This little dress is so versatile – it can be worn as a dress, as a tunic over leggings, or even as a shirt when it gets small. What we love best about this dress is that it is super simple and super adorable.
Simple Summer Dress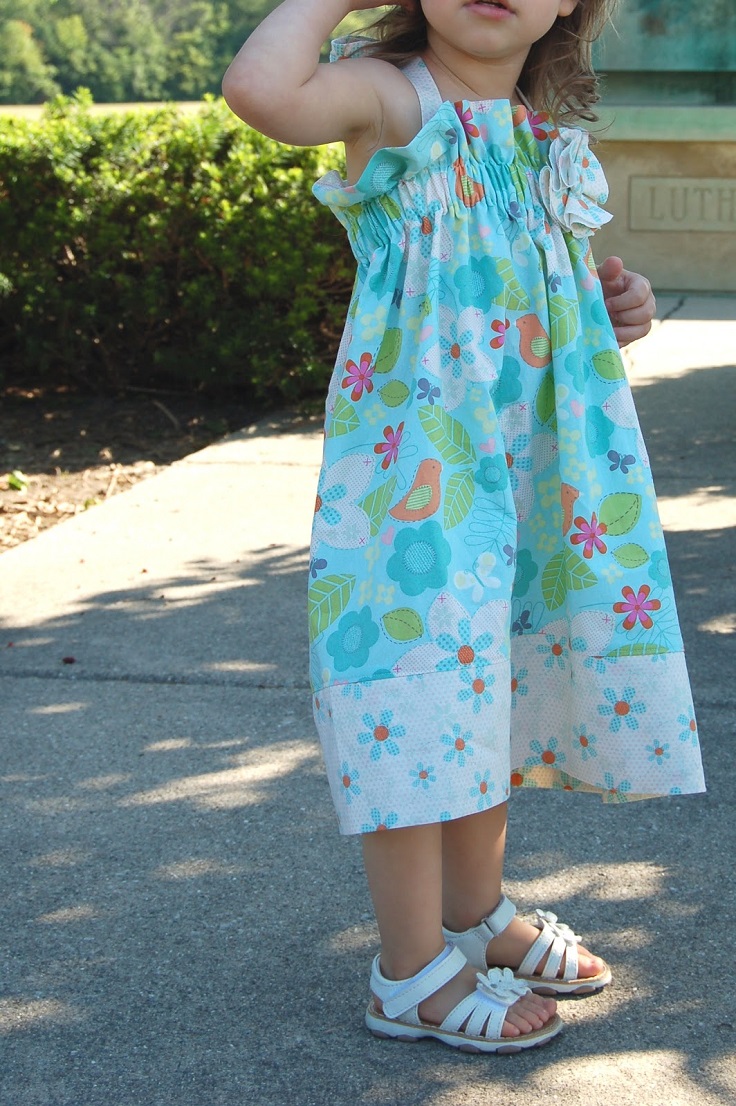 via doublestitching.blogspot.com
This dress is so easy to make at home, and you don't even need a pattern!  Plus, your little one will be happy and comfy because she can still run and jump even we say not to do that in her dress. To sew this adorable dress, you can find a pattern at the link under the photo above.