We need soap dispensers both in our bathroom and kitchen. Unfortunately, most of their plastic packagings are not very attractive, so we have to do something about them. Surely there are many dispensers available in stores, but our very own handmade creations are always the best.
You can create your own design that matches your bathroom or kitchen. DIY dispensers make beautiful, functional additions to the room decor. Here are ten ways to turn your soap dispenser into a pretty decor item.
1. Mason Jar Soap Dispenser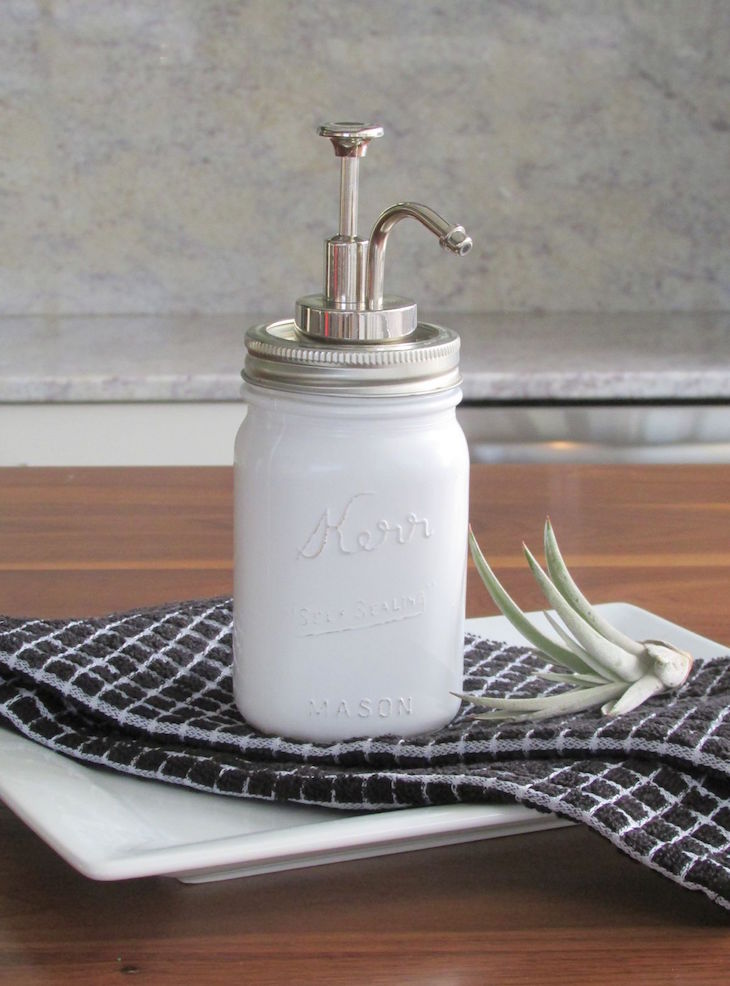 via www.homedit.com
Here is our favorite design, the vintage milk glass soap dispenser. You will only need a few tools to make your own. It will look beautiful on any kitchen countertop but also great for the bathroom. It's best to work with spray paint to paint the outside of the mason jar.
2. Rustic Wall Mounted Soap Dispenser
Here is a great way to decorate small spaces. By dressing up your amenities, you can create a unique design just like this wall-mounted shelf made from salvaged wood. The soap dispenser is made of a simple glass bottle with a cork top.
3. Liquor Bottle Soap Dispenser
There are many bottles or jars that you can use as your soap dispenser. How about an empty gin bottle? Some of those alcoholic beverages come in the prettiest bottles. You can order the soap pumps online or use one from an old dispenser; it's up to you.
4. Decoupage Soap Dispenser
Here is a similar idea to the first one but a different method. You will have to use glass paint to coat the inside of the jars. The tutorial includes printable labels. It will help you to distinguish between dishwashing soap and hand soap, and your countertop will have a clean look immediately.
5. Tea Tin Soap Dispenser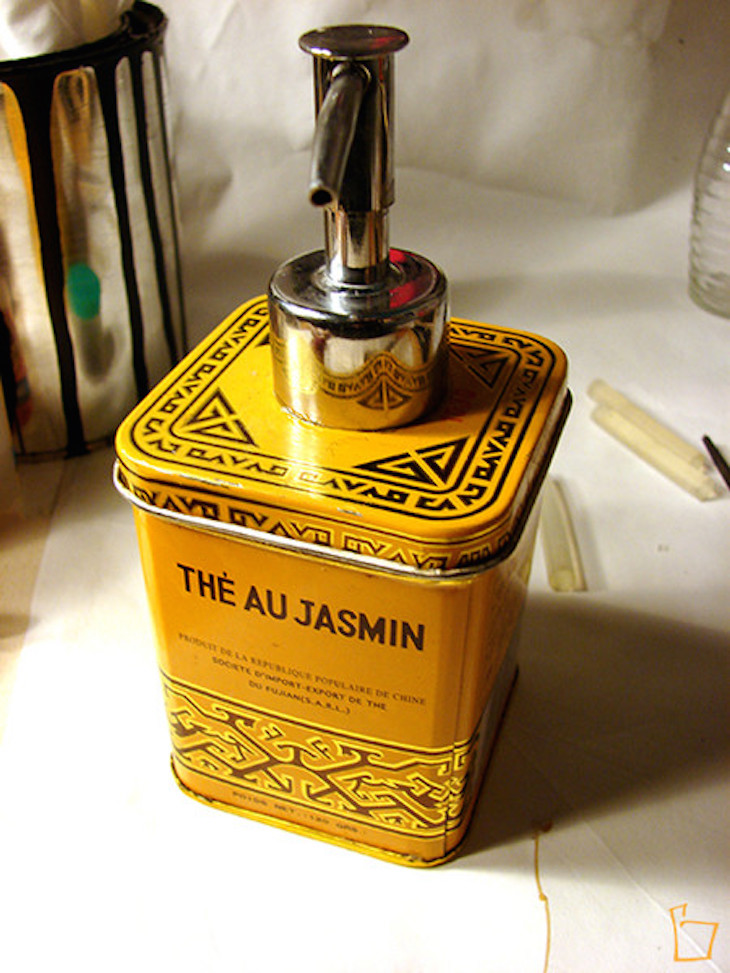 via cromechicago.com
If you like tea, you probably already have some empty tea tins hanging around in the drawers. They are too pretty to dispose of them. Look at this gorgeous tin container that has been turned into a soap dispenser! It will be a unique item to any room in your home.
6. Striped Soap Dispenser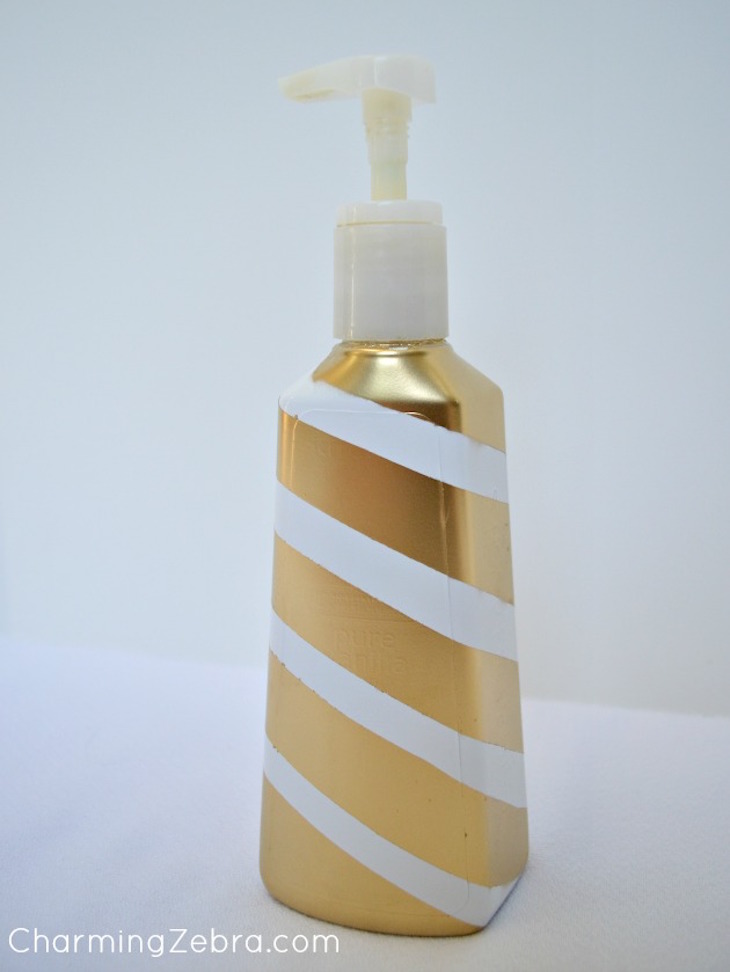 Even the simplest plastic soap dispenser will brighten up your bathroom if you upgrade it a bit. Tape off the hand pump, cover it in gloss white, and let it dry. Wrap a tape around the bottle in a spiral and use gold paint to create the stripes.
7. Wine Bottle Soap Dispenser
via www.mom4real.com
Even an empty wine bottle can be turned into an adorable soap dispenser. You don't have to do anything else. Just remove the label and find a spout that fits into the bottle. Follow this tutorial and create beautiful patterns with Frosted Glass Paint. Upcycles are great fun and look cool in any home!
8. Crochet Soap Dispenser Cover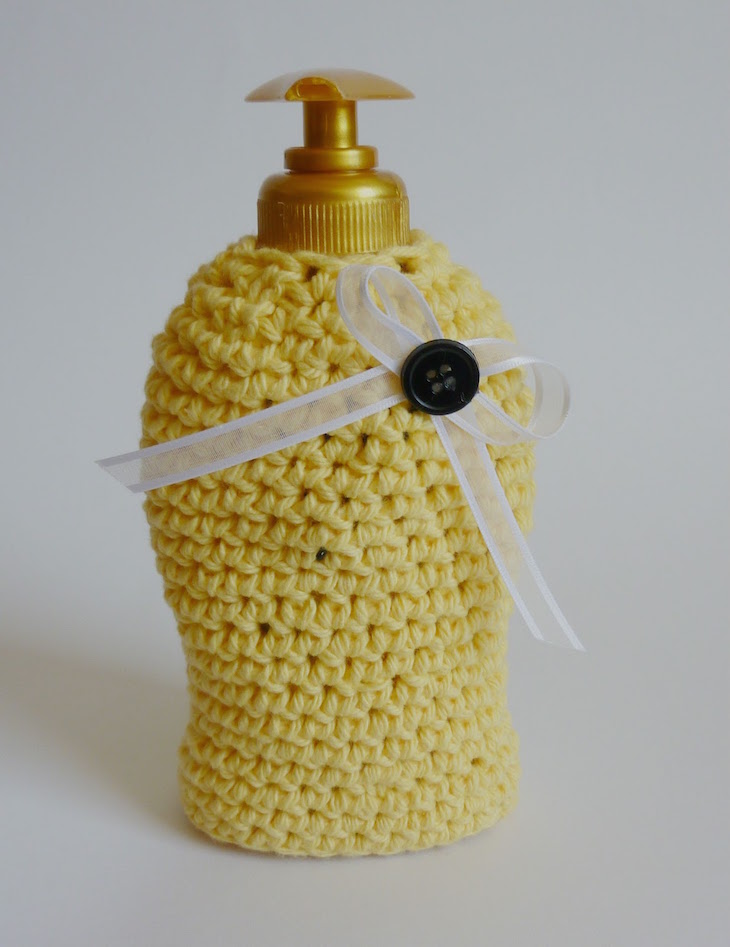 If you crochet, then here is a great idea for you. Dress up your dispenser in a color that matches your kitchen or bathroom. It is also a unique gift for Christmas or any occasion. Click on the link for more crochet patterns.
9. Chalkboard Vinyl Soap Dispenser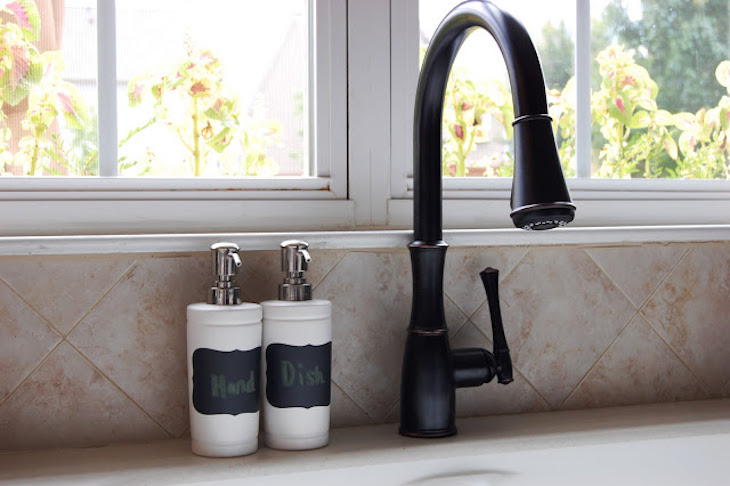 via 1creativemomma.blogspot.com
If you have nice soap dispensers but want to give them a new look, use chalkboard vinyl labels! You can get them from craft stores. Cut out pieces and put them on glass soap dispensers, and write on them with chalk markers for a fun look.
10. Recycled Glass Jar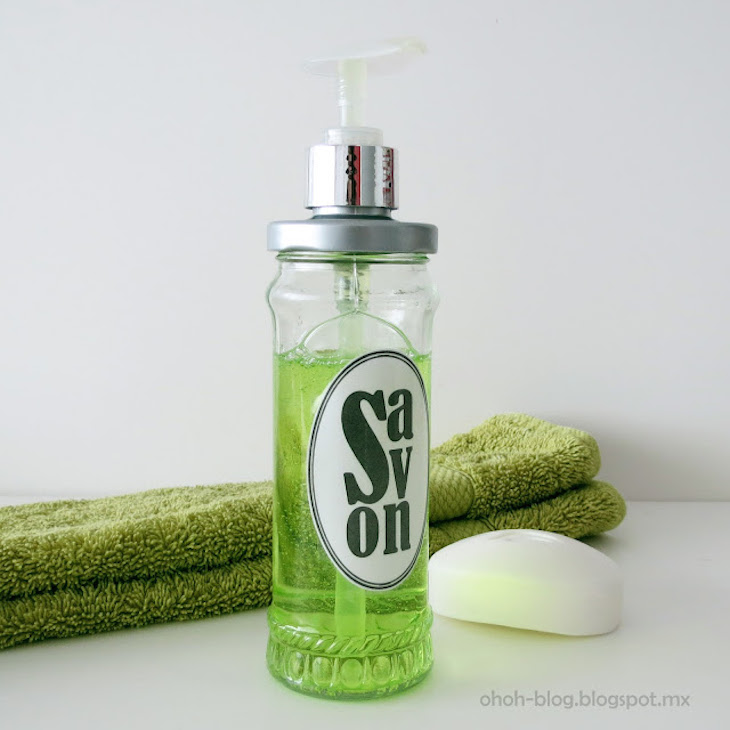 via www.ohohblog.com
If you can use mason jars, gin bottles, or beer bottles, why not try empty jam jars? They are awesome, simple, and beautiful. Glue the neck of the plastic jar soap on the cover, and I paint it silver. Fill with soap and screw the dispenser, and finally put a cute label.