A good bottle of wine has always been an appropriate present for a dinner party or as for the many family holidays and special occasions. With that said, most of us have ended up with quite an impressive collection, with an assortment of different wines.
Wine lovers might even have some rare vintages at home, gathering dust and waiting to be opened for a special occasion. For most of us, all of those wonderful wines are gathering dust in some cupboard or stored away, waiting to be opened for the right occasion. But why hide them when they can be proudly displayed in the home? With that, not only will you get to show off your wine collection, but you'll also have another piece to decorate your home with.
Fine wines deserve a fine wine rack, and you don't have to go around searching for one to suit your needs. If you are handy and are looking for fun projects, making your own wine rack might be just what you need. And wine racks don't have to be enormous pieces that take up an entire wall, they can be as small enough to hold just a few wine bottles, maybe a glass or two and ones you can pt on the kitchen counter or on a wall in the living room.
To get you started here are 10 splendid wine racks that would fit your home perfectly.
Mailing Tube Wine Rack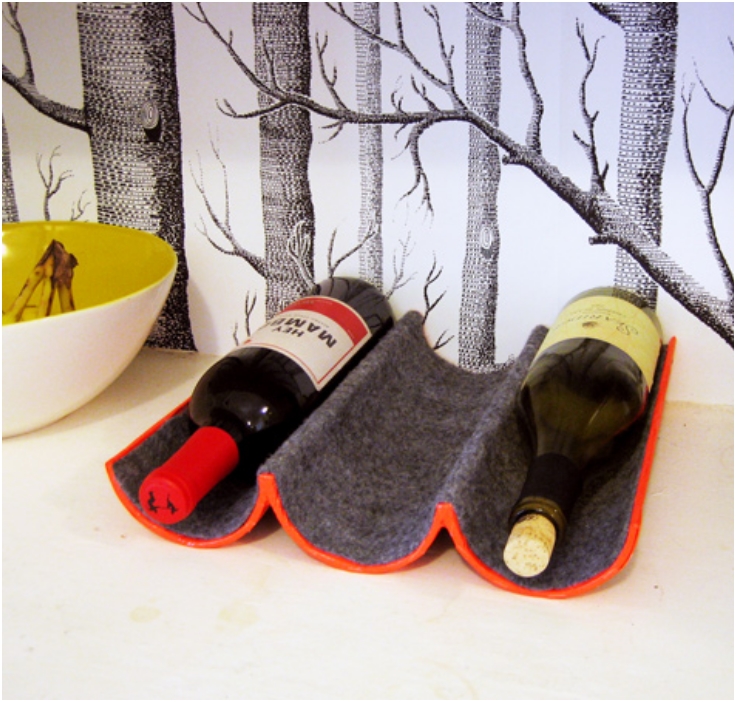 The main reason for having a wine rack is to have a place to keep your wine bottles organized and on display if possible. That means it can be as big or as small as you need. If you have just a few wine bottles and not enough space, this wine rack is small, cute, and very easy to make. Just a mailing tube, some felt and some glue is all you need to make this cute fun rack.
Wood Plank Wine Rack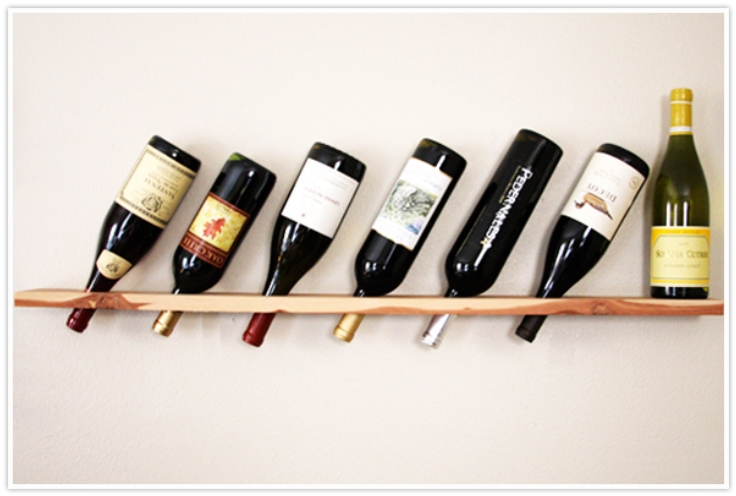 Many wine lovers would confirm that the proper way to store a wine bottle is to be leaned with the bottleneck forwards that the wine can touch the wine cork, so it would not only prevent the cork from drying out and letting air in, ruining the wine. This wine rack helps you do that and it takes up as much place as a floating shelf. Just make sure you can make the holes at the proper angle.
Pipes And Paint Wine Rack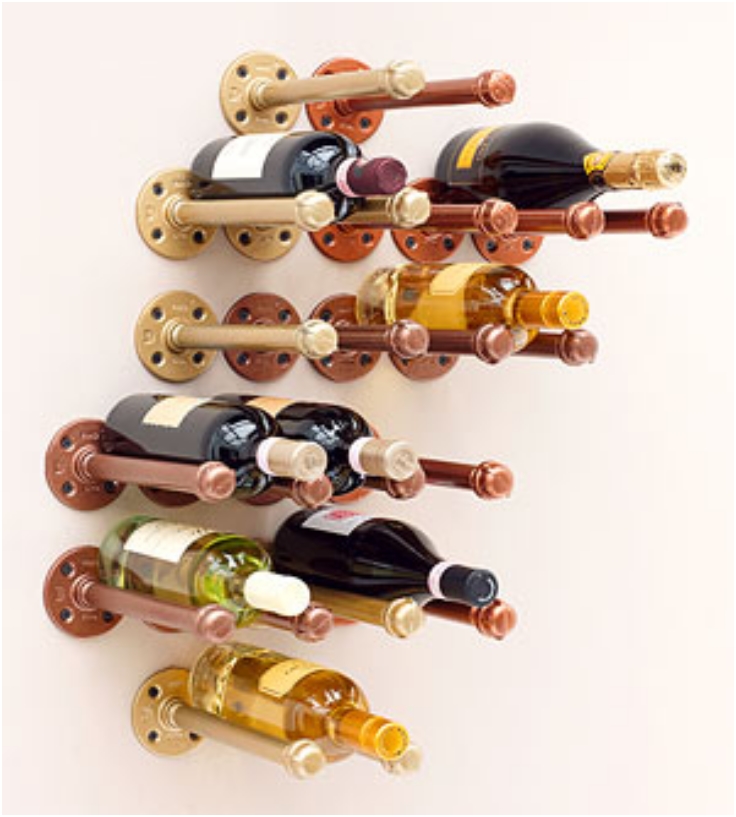 If you're more skilled with drills and hardware than woodwork, you will love this wine rack. A few plumbing pipes and steel screws and you'll have these fine industrial-style holders for your wine bottles. Affordable, easy to make, and look very, very cool.
PVC Wine Bottle Holder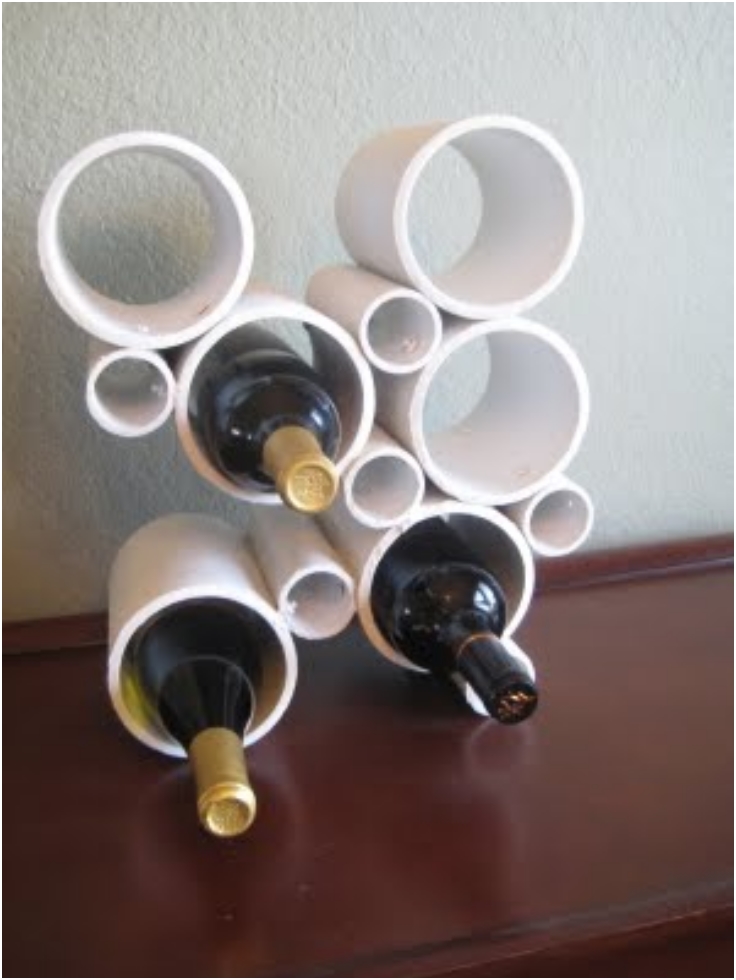 Abstract art is a common feature in modern-style interior decor, but instead of getting yourself some artsy sculpture, you can try some functional art. Glue a few different sized PVC pipes together, with the largest big enough to hold the wine bottles, and you can create your own functional abstract art wine rack.
Primitive Wine Rack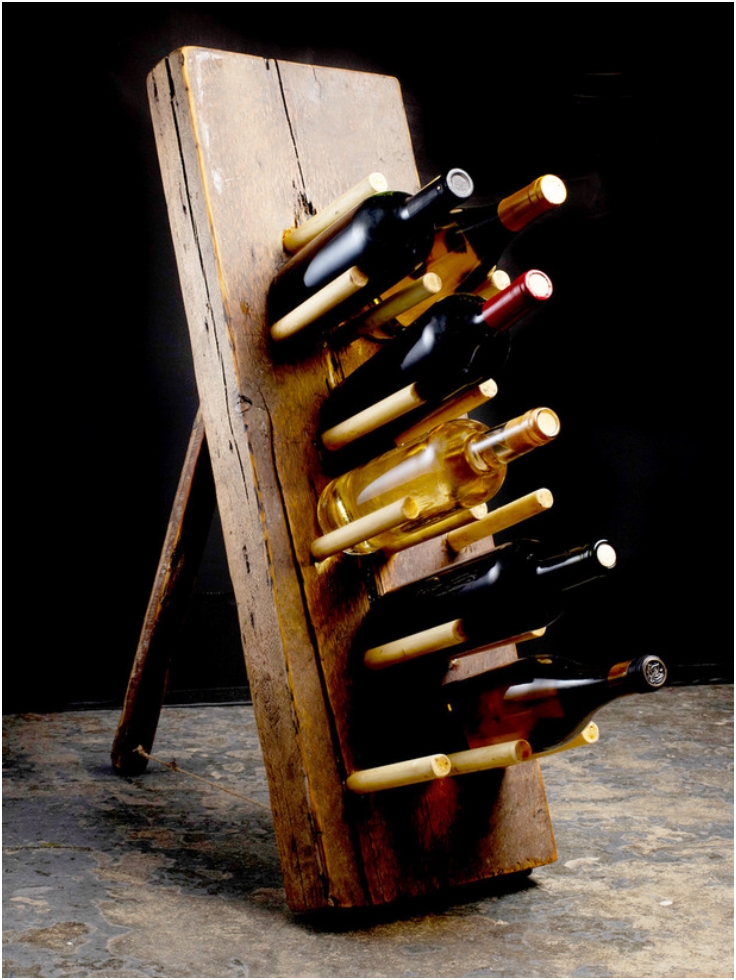 For parties or special events its very nice and convenient to have a few bottles of wine at hand so you won't have to get up and get a new bottle all the time. A small portable wine rack would be perfect for those situations, and it also looks really pretty at the kitchen counter. and you can make one too, with a few wooden pegs and a piece of reclaimed wood, for a more rustic look.
DIY Zig-Zag Pallet Wine Rack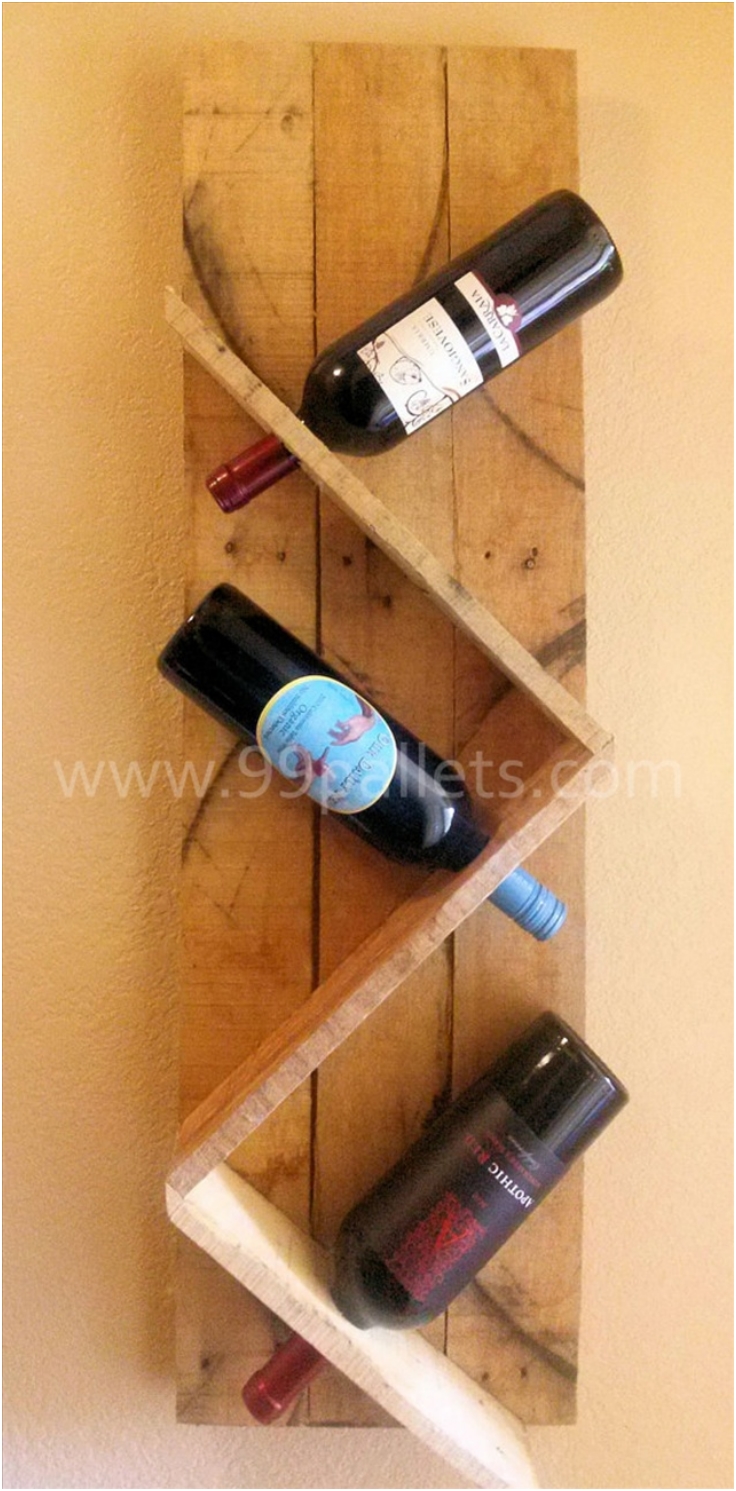 Wine racks are very practical since they are space-efficient, handy, and are excellent for filling up empty walls where you can't actually hang up any pictures. You can also play around with the placement of the bottles and with using affordable materials, like pallets, it's a win-win situation.
Wooden Wine Rack – DIY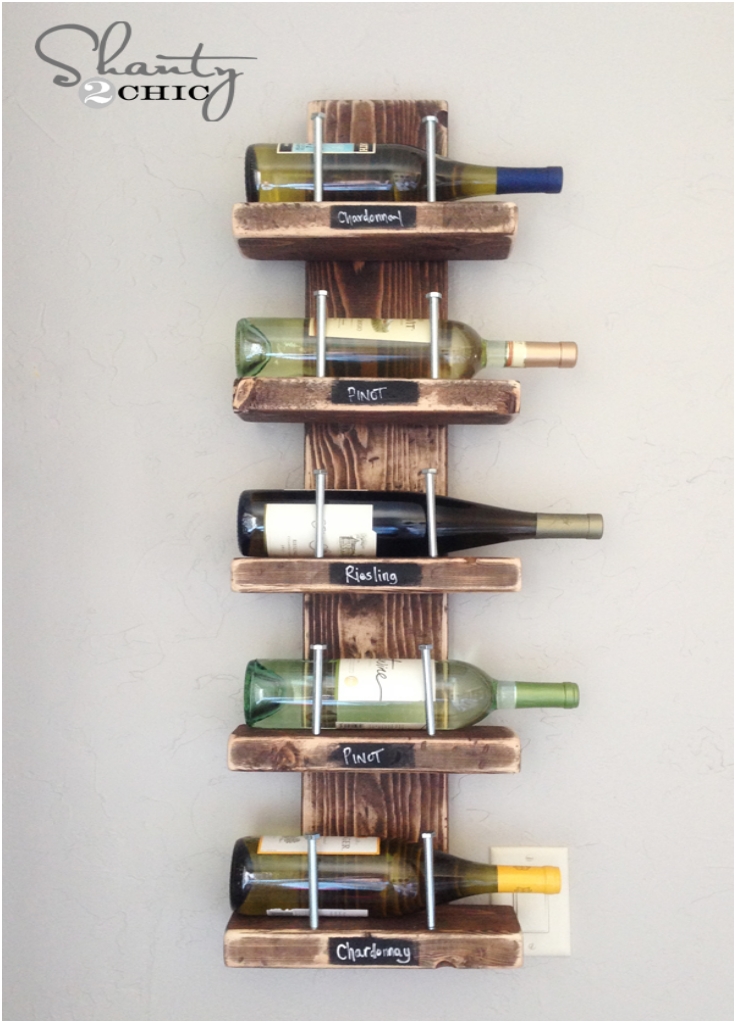 Wine racks are mostly made from wood or metal, but they also can be made from both materials. This project is not that difficult to make if your woodworking skills are at a beginner level. You can make it as long or short as you want or make several pieces and arrange them in a fun pattern along the wall.
Cheap Pallet Wine Rack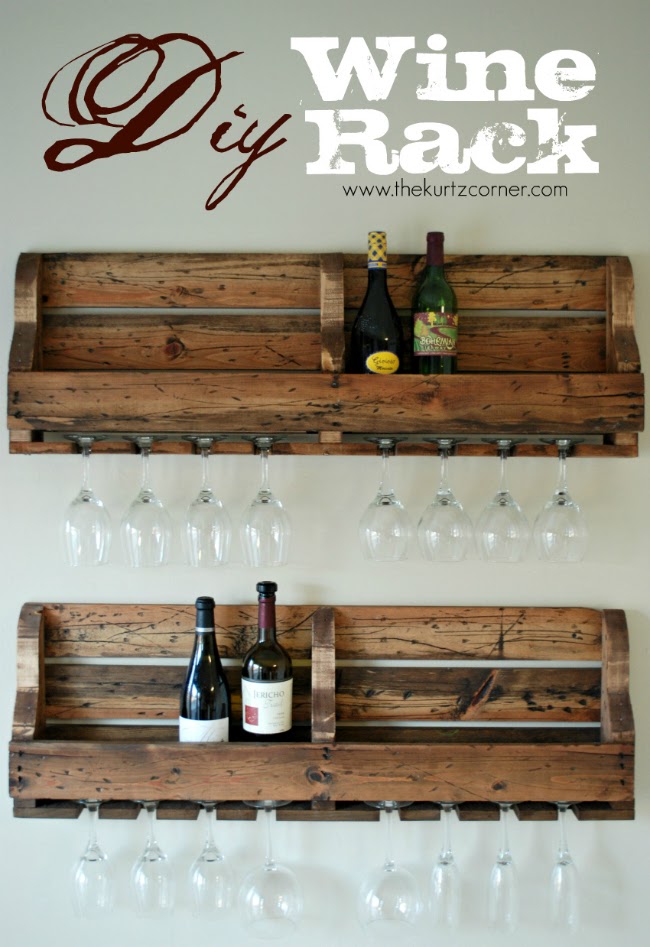 Wine glasses are delicate and beautiful, deserving to be displayed just as much as the wine bottles. And It is also a lot more efficient to have them at hand. This project is great for the kitchen or the dining room, always handy and ready for celebrations, And it adds that homey vintage touch to your home decor.
Ikea Hack Wine Rack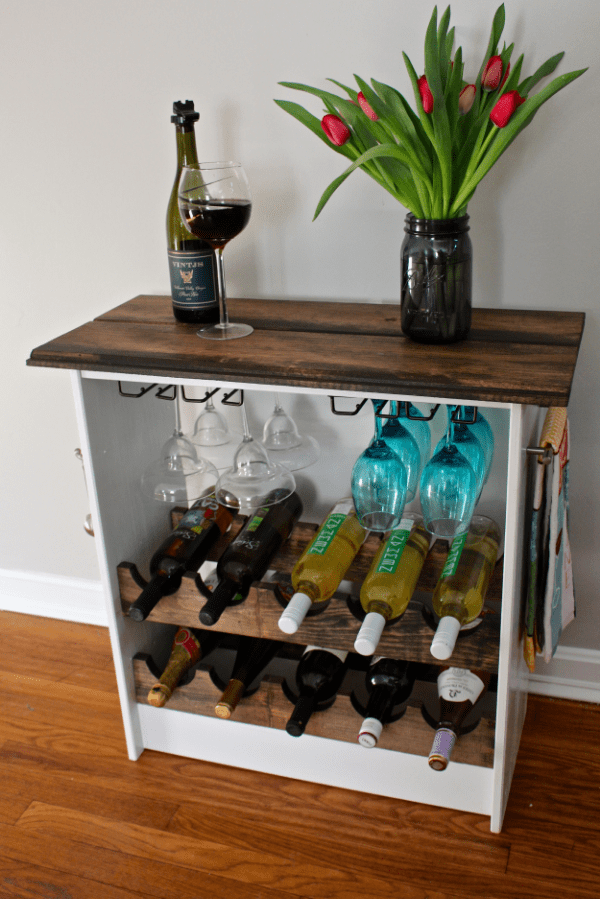 For a larger wine collection or other beverages, you might need a larger storage, yet you don't want to buy a wine cabinet or have the skills to build one from scratch. No problem. Ikea furniture is more affordable than most and you can get a small dresser and with a bit of work, modify it into a sweet wine rack with glass olders.
Fancy Plywood Rack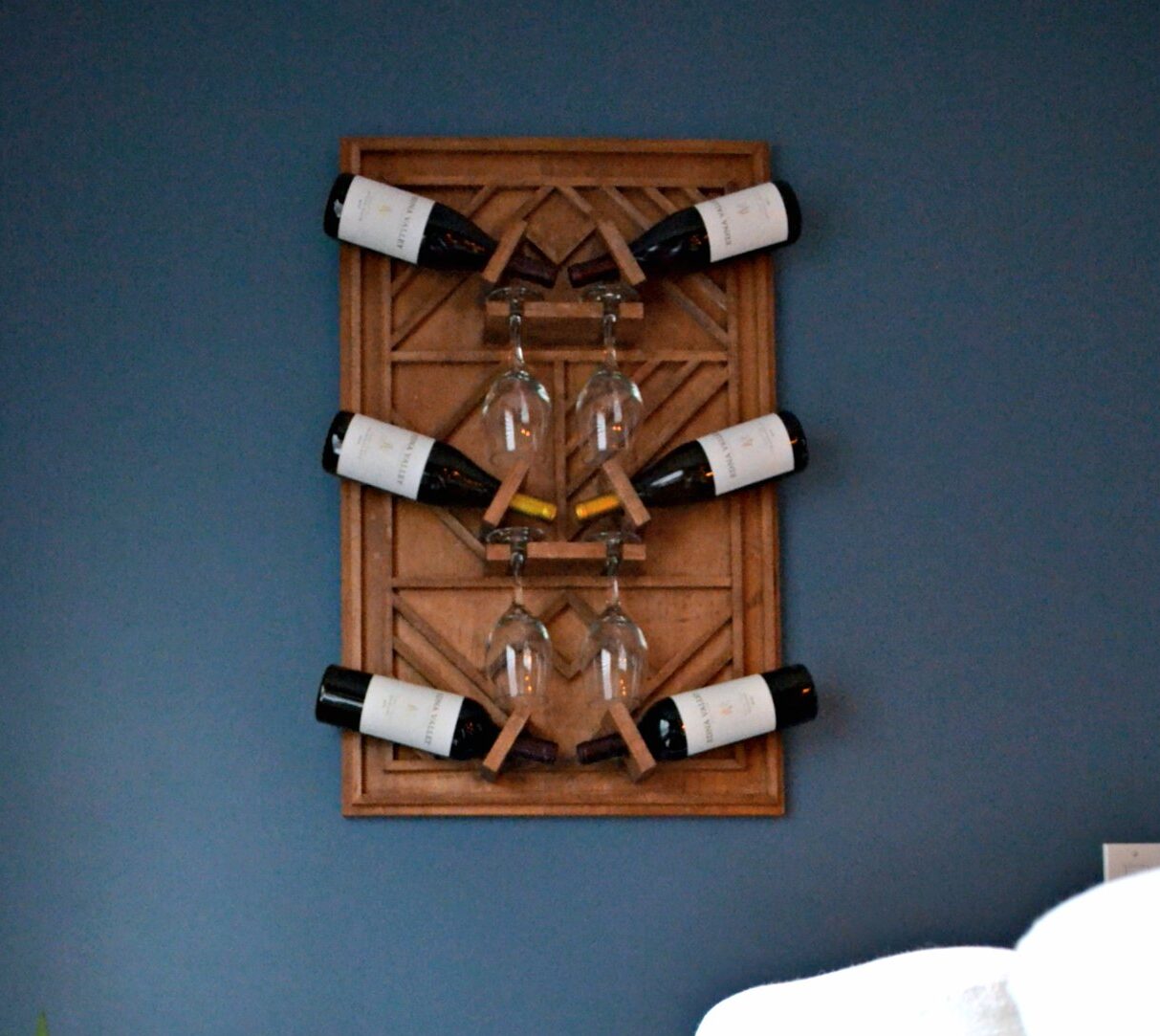 For our last project, we suggest this three-in-one wine rack. It has that perfect tilt of the bottles, it holds glasses and it has a design that even empty looks like beautiful wooden wall art. It might take a little work and skills, but the effort will be well worth it in the end.
That's all the projects we have for you today. We hope you found a solution for your wine bottle storage that will suit your home perfectly. If you have any thoughts, ideas, or designs on wine rack projects share them wih us in the comments.