With the Christmas holidays coming soon, it's time to think about what we will cook this time. Having so much choice can be difficult sometimes because there will be so many recipes that we would try, yet so little time to prepare everything!
This article shows you ten dessert shooters, which are excellent choices because they're not only delicious but also perfect for parties because they don't make a mess. They're really easy to prepare, they don't require more than one hour and they can be really budget-friendly with just three ingredients that you need!
1. Cake Batter Cheesecake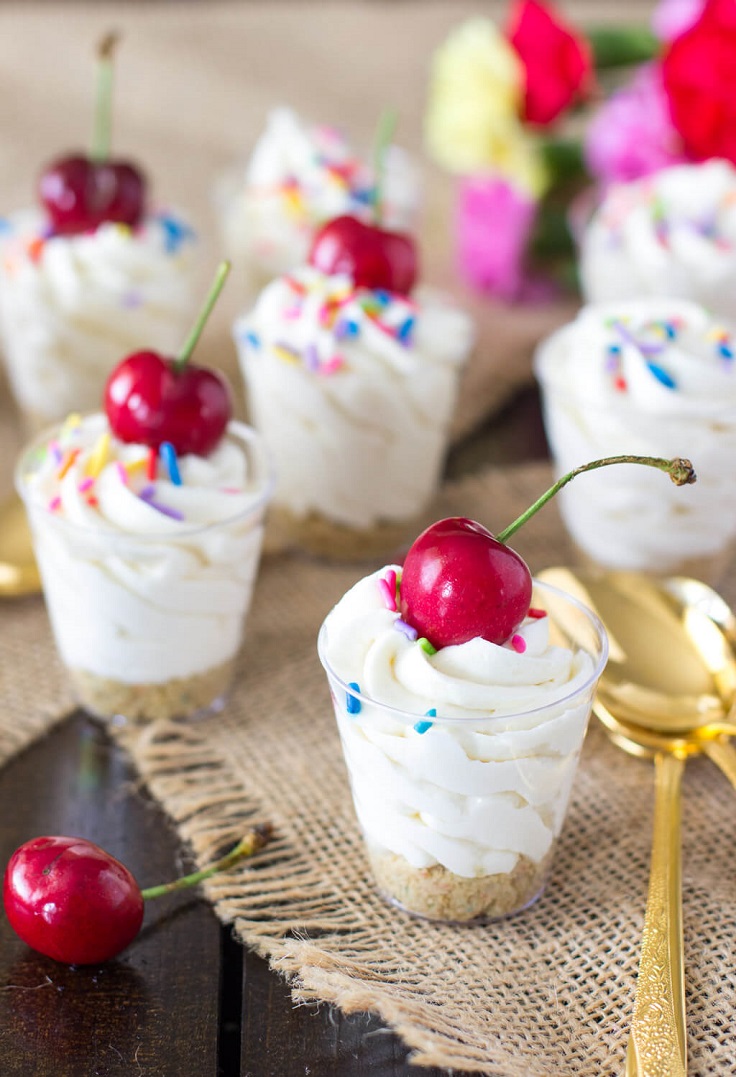 via sugarspunrun.com
With this recipe, you'll get 22 shooters, which is perfect if you're hosting a party or you want more for yourself – we totally would understand because who can resist a small cake batter with a cool whip and cherry on top? To prepare the crust, you need 10 Golden Oreo Cookies and 2 tbsp butter melted. In contrast, for the filling, you need 16 oz cream cheese softened to room temperature, 1 tsp vanilla extract, 1 cup + 2 Tbsp white cake mix, 1/2 cup powdered sugar, 12 oz thawed cool whip, and sprinkles and cherries for the topping.
2. Tiramisu Pudding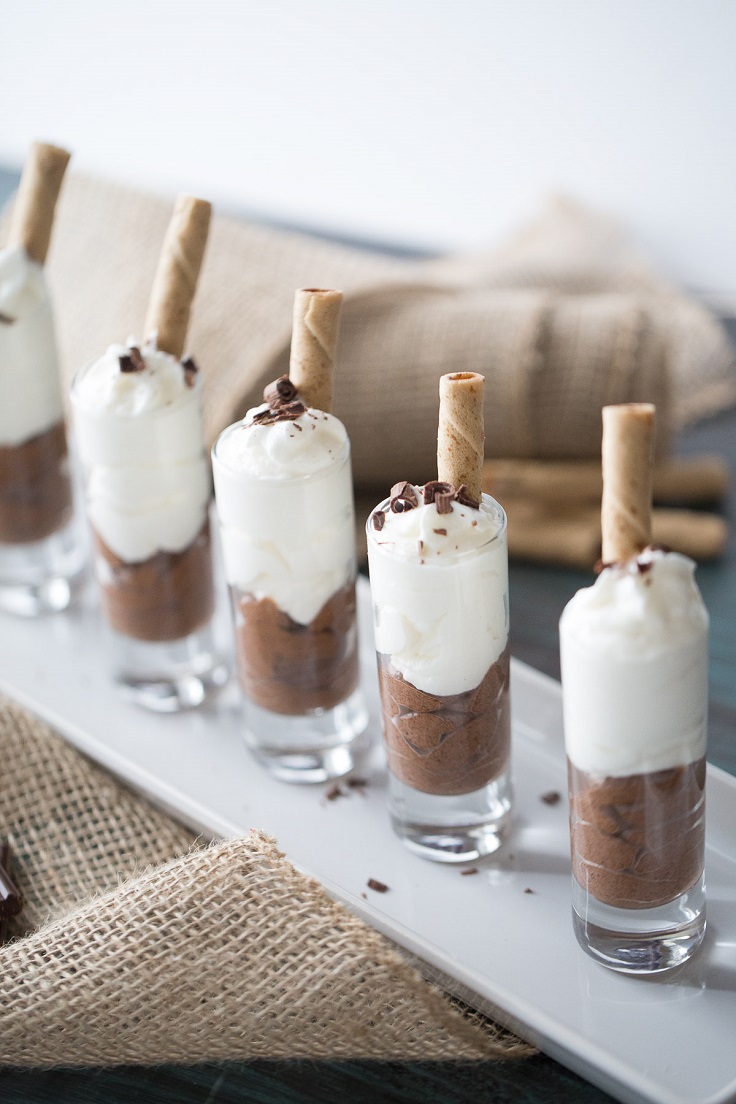 This recipe makes 12 shooters, and it will take you about 1 hr and 15 min to have them already. For someone who is impatient and wants its dessert right away, we know that 1h and 15 min is a lot, but trust us when we say that every minute will be paid off when you try this chocolate shooter. To prepare the chocolate pudding, you need 1 3.5 oz box chocolate pudding, 3/4 cup milk, 1/4 cup coffee, 1/4 cup coffee liqueur, and 1 cup whipped topping. For the white chocolate pudding, you need: 1 3.5 oz box white chocolate pudding, 1 cup milk, 1/4 cup vodka, and 1 cup whipped topping.
3. Yogurt Panna Cotta with Blueberry Sauce
You know how blueberries and Greek yogurt are very healthy, so why not combine these two, add a few more ingredients and come up with amazing dessert shooters? This way, you will have your own guilt-free dessert! You need 3/4 cups skim milk, 1/2 cup heavy cream, 1 envelope unflavored gelatin, 1 teaspoon vanilla extract, 1/4- 1/3 cup honey (or sugar), and 2 cups plain Greek yogurt.
4. Strawberry Cheesecake Pudding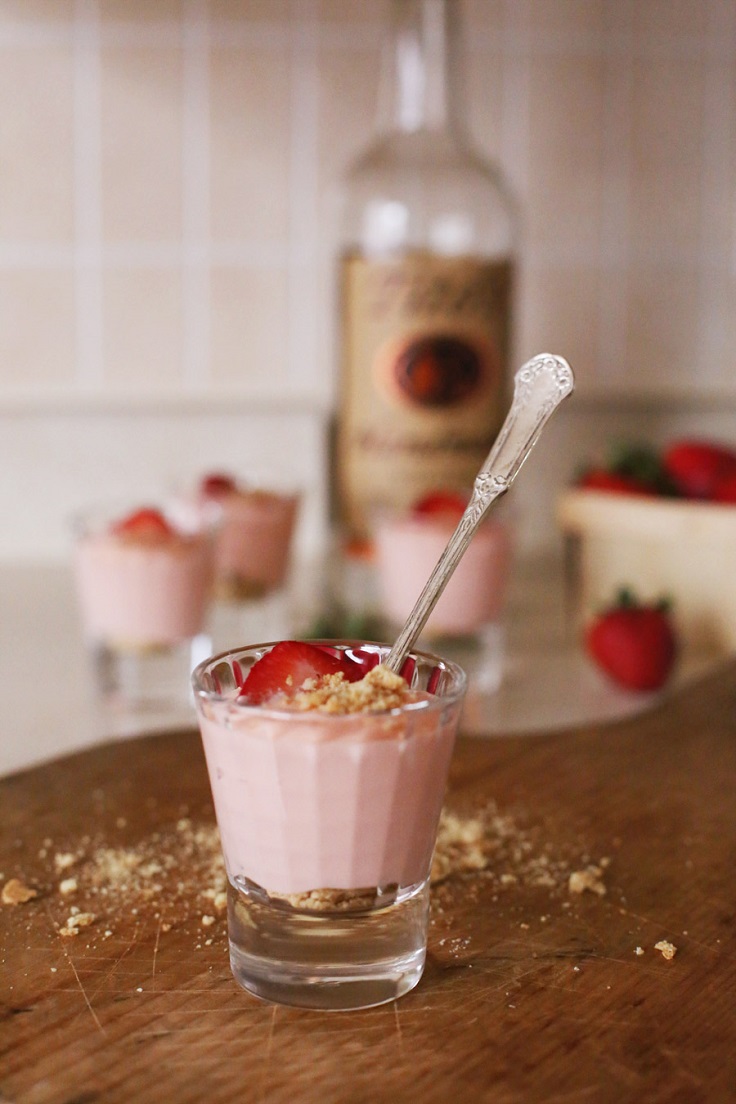 Every strawberry lover should give this dessert shooter a try – it is the perfect combination of strawberry pudding, fresh strawberries, and whipped cream! They are easy to prepare, and it's even easier to eat them all! For this, you need 1 package of instant cheesecake pudding, (1) 8 oz tub of whipped topping, 1 cup of milk, 2/3 cup of vodka, 1/3 cup of strawberry syrup, Graham crackers, and fresh strawberries.
5. White Chocolate Ganache and Mango Jelly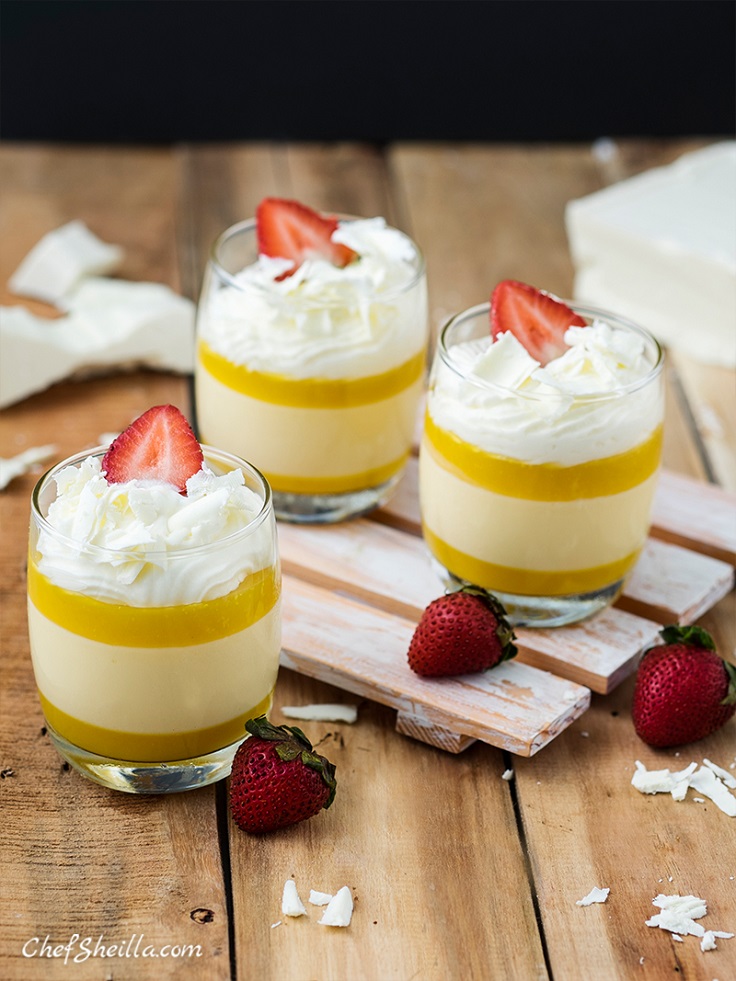 via chefsheilla.com
Mango and white chocolate are two ingredients that make a perfect combination. When it comes to fruit and desserts, we don't see mangoes often, but this shooter proves how good it really is. For the mango jelly, you need 2 pieces ripe mango, 1 cup water, 1/2 cup granulated white sugar, 1 sachet knoxx gelatin, while for the white chocolate ganache, you need 250 grams white chocolate, 300 ml whipping cream, and for the cream chantilly – 300 ml whipping cream and 5 tablespoons granulated white sugar.
6. Coconut Chocolate Mousse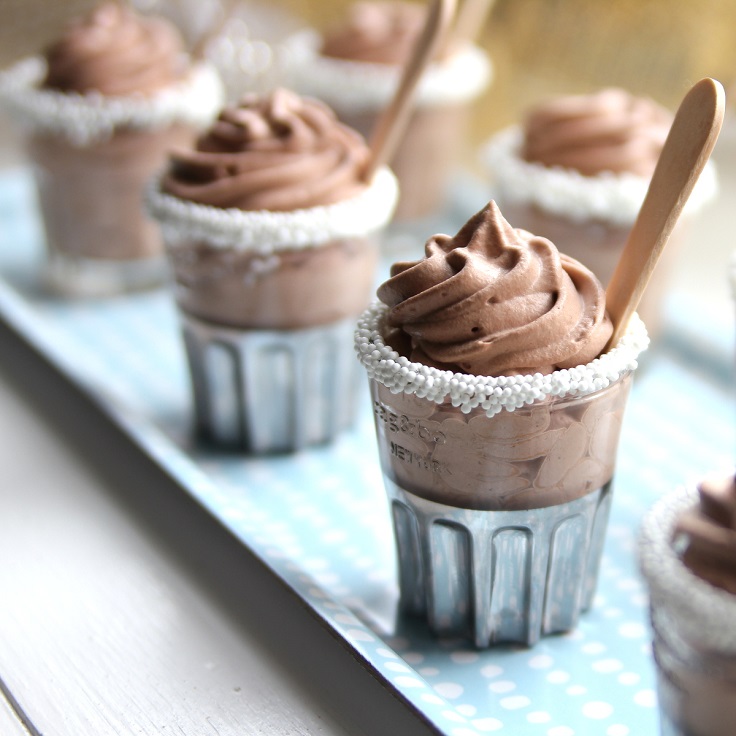 via kojo-designs.com
You don't have too many ingredients, but still are desperately craving a dessert? In this case, just make sure you have 1 can of coconut milk, 5 tablespoons of cocoa powder, and 2 tablespoons of powdered sugar – these are the three ingredients to create the perfect little desserts! They taste like coconut and chocolate and are very easy to prepare – what more can you ask for?
7. S'mores Shooters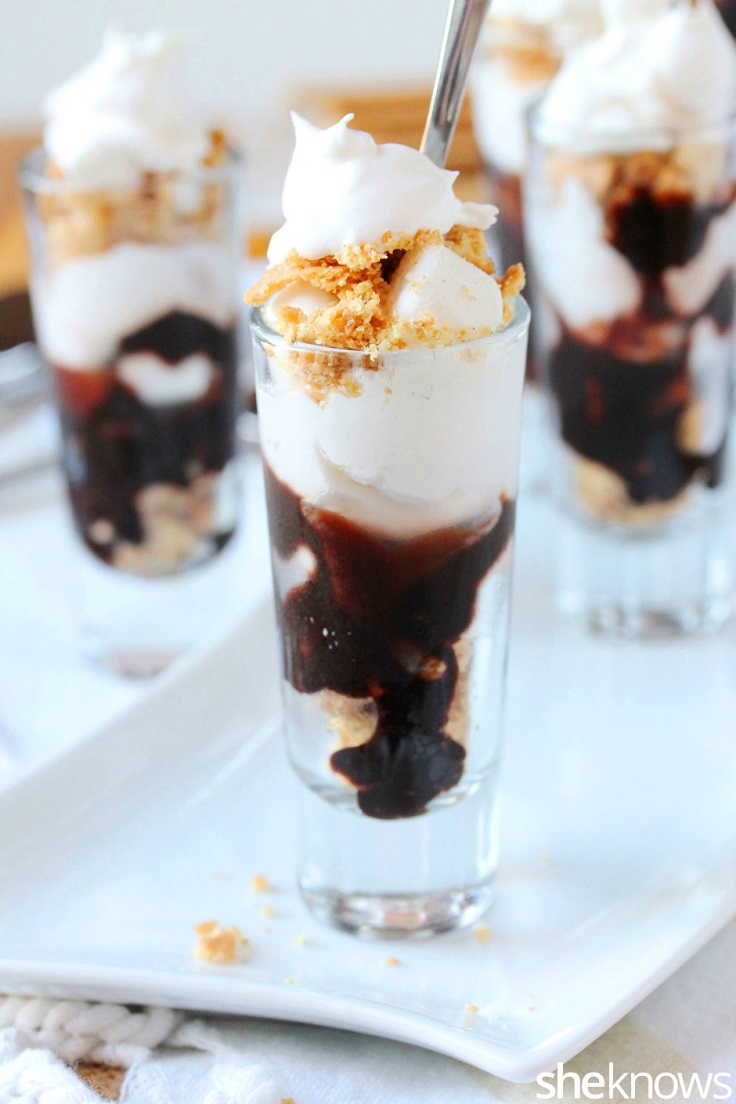 via sheknows.com
Here's another dessert recipe that you can use when you don't have enough money or simply use just these four ingredients. It's the classic S'mores dessert, of which we can never really have enough of. You need 1 cup cool whip topping, 4 graham crackers, 24 mini marshmallows, and 3/4 cup thick chocolate sauce for these shooters. S'mores is a perfect choice, no matter the occasion.
8. Light Key Lime Cheesecake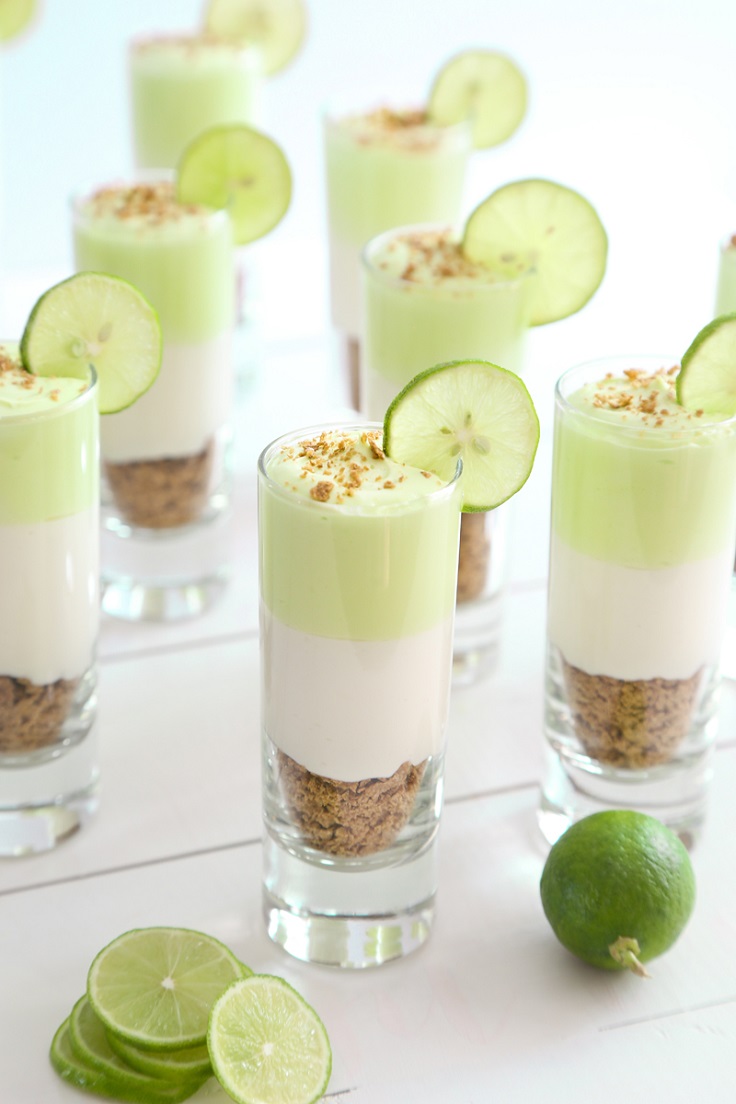 Cheesecake with the taste of Key lime, how about that? We know it's not chocolate, but if you want a dessert that will fulfill your cravings without make you sleepy or tired afterward, then definitely try this one. You need 80g bran flakes, 8 oz. Neufchatel cheese, 1/2 cup (113g) plain Greek nonfat yogurt, 1/2 cup (160g) sweetened condensed milk, 1/4 cup (60 ml) key lime juice (about 8 key limes juiced), green food color (which is optional), and 1 fresh whole Key lime.
9. Tres Leches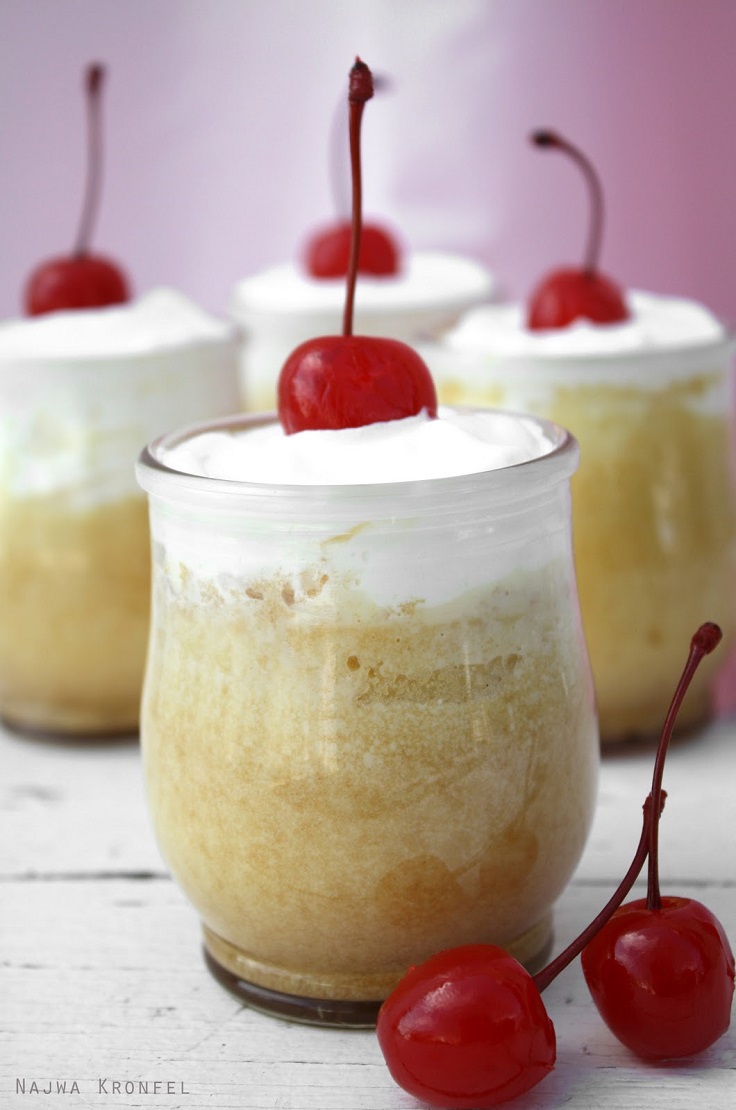 via deliciousshots.blogspot.com
Tres Leches is a famous dessert that originally is made with three different kinds of milk, which you'll need for this recipe. First, for the cake, make sure to have 2 1/4 cup cake flour, 1 1/2 cup sugar, 1 tbsp baking powder, pinch salt, 1/2 cup vegetable shortening, 1 cup milk, 1 tsp vanilla, and 2 large eggs. The Tres leches: 12 oz can of evaporated milk, 14 0z can of sweetened condensed milk, and 12 oz whole milk. When you have shooters ready, don't forget to top with maraschino cherries and whipped cream!
10. Butterscotch Pudding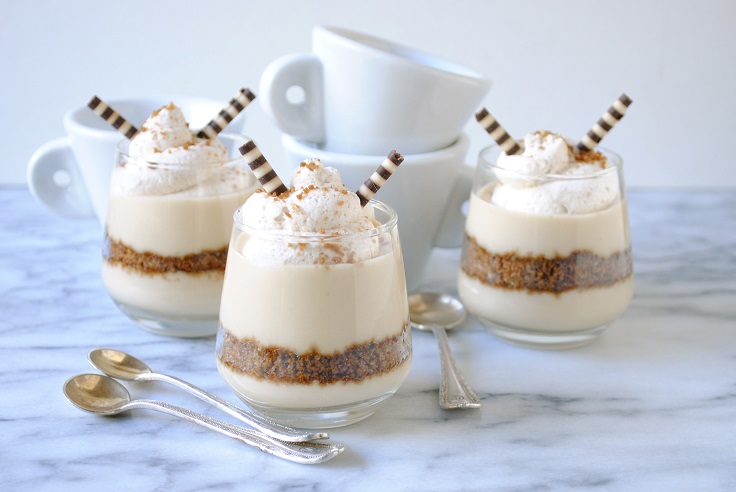 This recipe takes 30 minutes, and we must admit it looks so good! You can use this recipe for family dinners and reunions. You need to prepare butterscotch pudding shooters and assemble them with a gingersnap crumb crust and cinnamon-spiced whipped cream. For the shooters, you need 1/2 cup dark brown sugar, 2 tablespoons, plus 2 teaspoons cornstarch, 1/4 teaspoon fine sea salt, 1 1/2 cup whole milk, 1/2 cup heavy cream, 1 egg yolk, 2 tablespoons, unsalted butter and 1 1/2 teaspoons pure vanilla extract.