For all of you who love hosting parties and love making delicious food for your guests, here are ten super tasty finger food dessert recipes you should give a try. Don't ask why – try at least one of them, and you will realize that heaven is a place on Earth.
Often it is in the form of a sweet chocolate mousse or mini pumpkin pies. Heaven comes in different sweet shapes, so there's enough choice for everyone! Another good thing about finger food desserts is that not only do they taste good, but they also look good.
How can you say no to such adorable mini raspberry cups? Or to amazing Oreo truffles? Just looking at the picture will make you crave those tarts and cups and mini muffins. So, instead of looking at the pictures, get the ingredients and start cooking!
1. Chocolate Mousse Brownie Cups
via bettycrocker.com
Imagine chocolate pudding, brownie mix, and whipping cream in one cup. It won't take you much money to make it because you need a few ingredients to make these super delicious chocolate mousse cups. To make it more fresh and tasty, you can add raspberries on top, or for a booze twist, you can pour coffee-flavored liqueur.
2. Mini Pumpkin Pies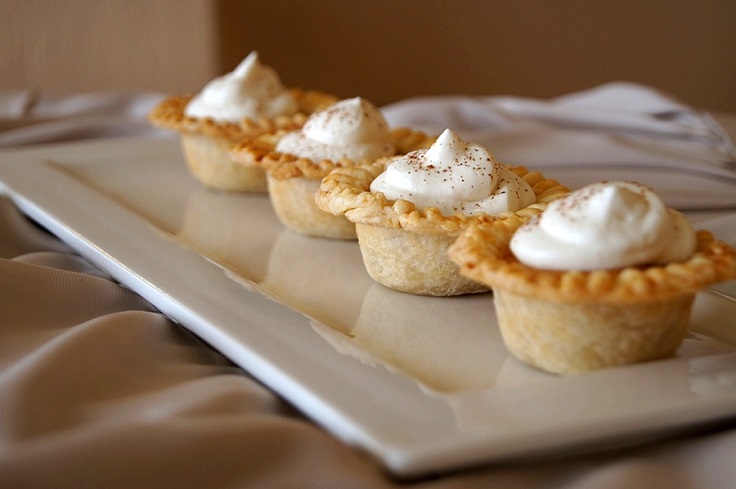 via just-a-sliver.com
Canned pumpkin, vanilla extract, cinnamon, and everything you could ever wish to taste in a pumpkin pie. This recipe will get you to twenty mini pies. Don't they look too adorable to say "no" to them? You will see how easily you'll say "yes" to another mini pie after eating the first one!
3. Raspberry Yogurt Cups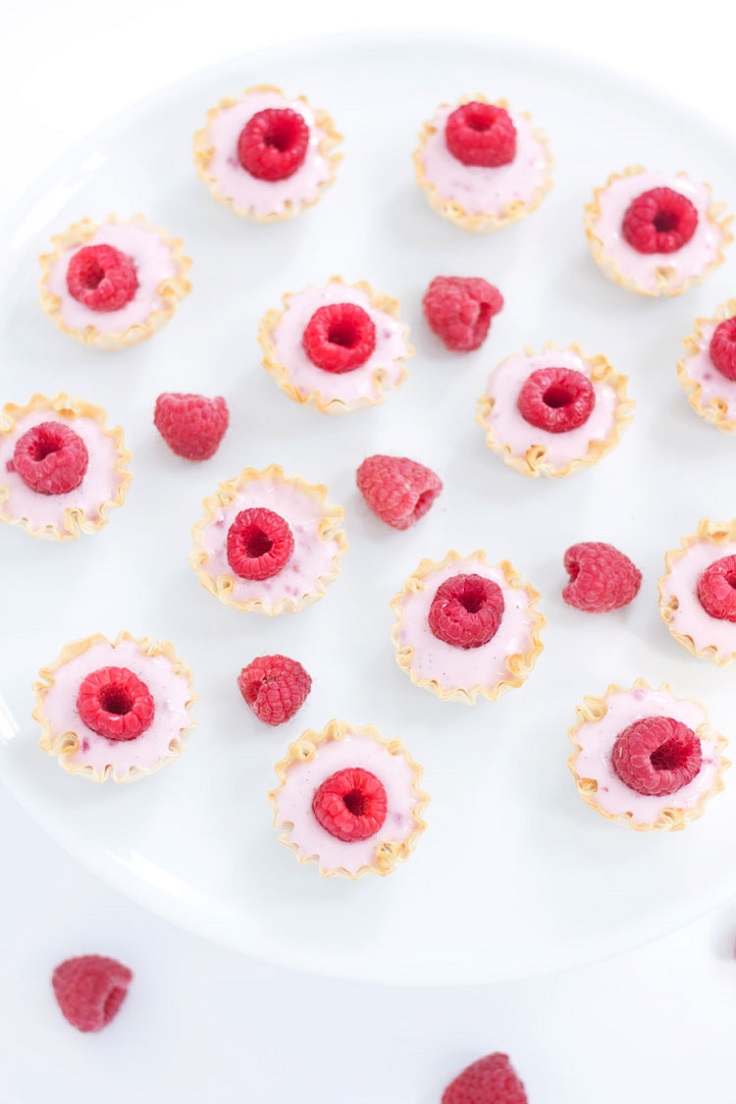 via reciperunner.com
A wonderful dessert that contains Greek yogurt and raspberries on top. It will take you ten minutes to get fifteen of these sweet yogurt cups. They are petite so make sure you make plenty of these because you and your guests will love them and come back for more.
4. Mini White Chocolate Hazelnut Muffins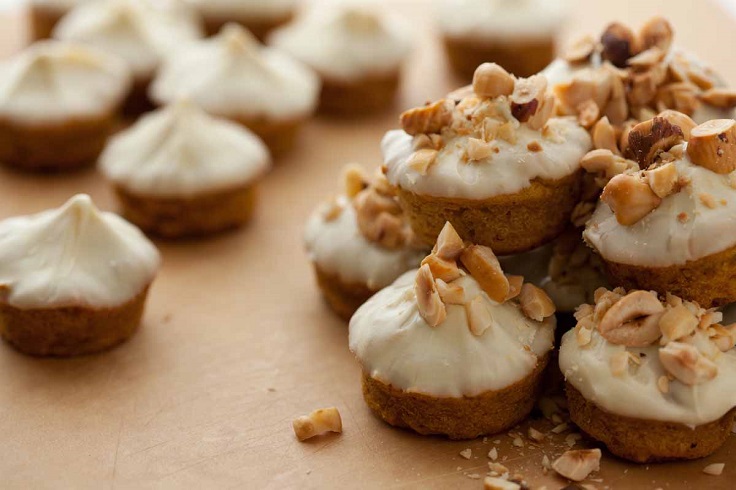 via djfoodie.com
The recipe is really made for mini muffins, nothing bigger than that. Instead of the white chocolate (which, by the way, is sugar-free, so whether or not you are going to sweeten it, that depends on you), you can try adding maple syrup, which also goes great with the hazelnuts.
5. Mini Chocolate Caramel Nut Tarts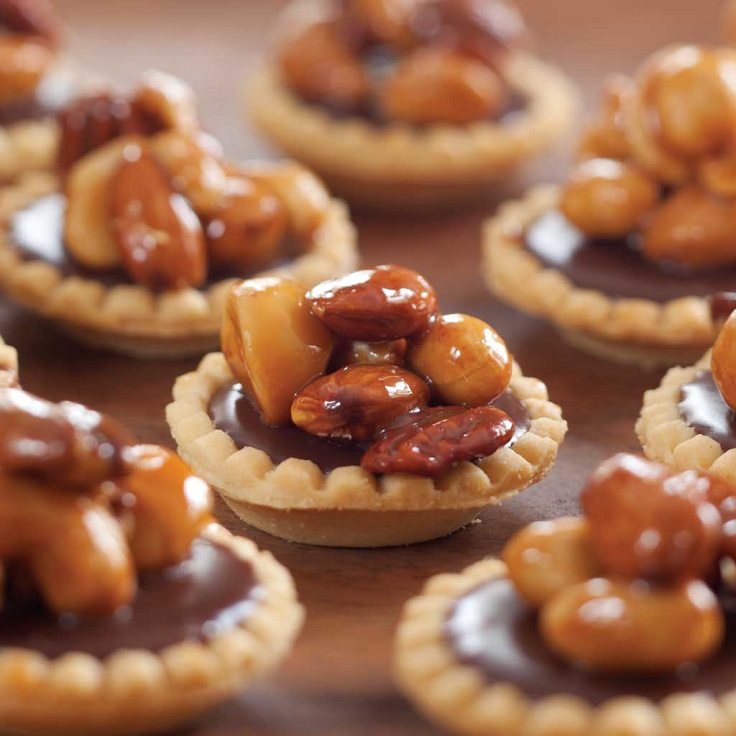 via celebratemag.com
You will get thirty tarts out of this recipe, which is the perfect combination of chocolate, caramel topping, and nuts, such as cashews, peanuts, and almonds – the most delicious ones, right? You can also add others if you want to. This version or yours, the result will be the same, and that's amazing.
6. Vanilla Coconut Panna Cotta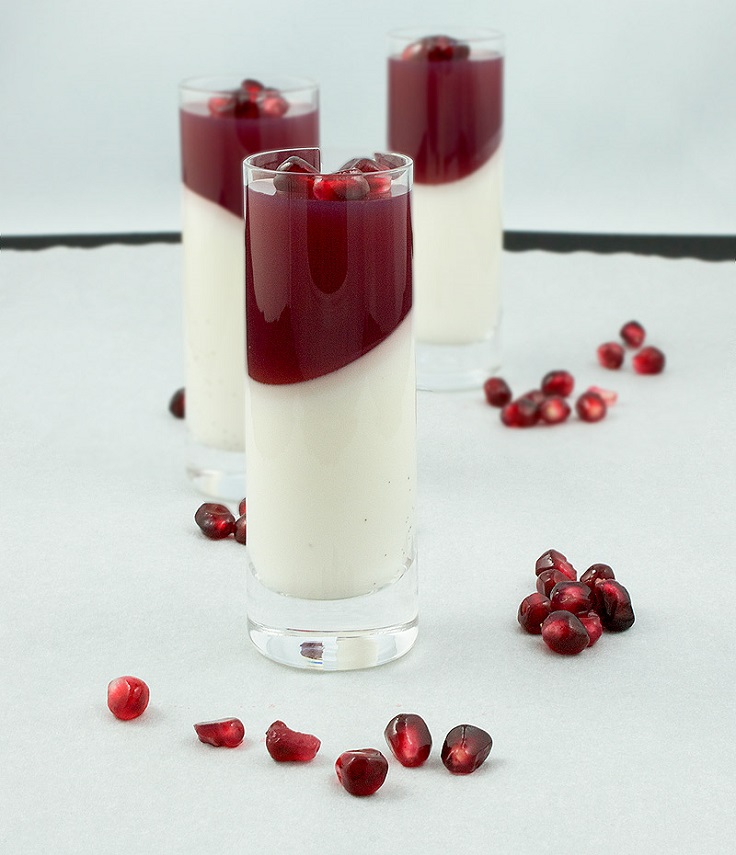 This is such an elegant dessert, so it might be a good idea to serve it, especially at formal gatherings. The recipe contains pomegranate jelly and other great ingredients such as coconut milk, coffee cream, and vanilla. The dessert is for six, but you can easily switch it for 24 by switching the 8-ounces serving glasses to 2-ounce liqueur glasses.
7. Mexican Spiced Dark Chocolate Tarts
Guests came uninvited, and you have nothing to serve them? Don't worry, here's a recipe that will help you get delicious dark chocolate (it can be milk or semisweet, it depends on you) tarts in only ten minutes. They are sweet but also contain spices such as cinnamon, chili, and cayenne. Add whip cream on all, and you're ready to go.
8. Mini Ice Cream Cookie Cups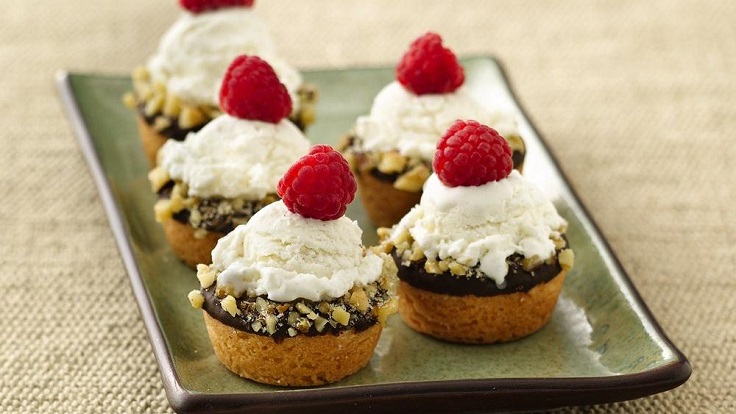 via pillsbury.com
The recipe requires a package of sugar cookies you need to bake, but if you're not into buying already made cookies, or muffins, you can make your own. Then it's really simple – you put chocolate on them and the ice cream on top. Adding nuts such as walnuts will make them much tastier. The same goes for the raspberries.
9. Cheesecake Bites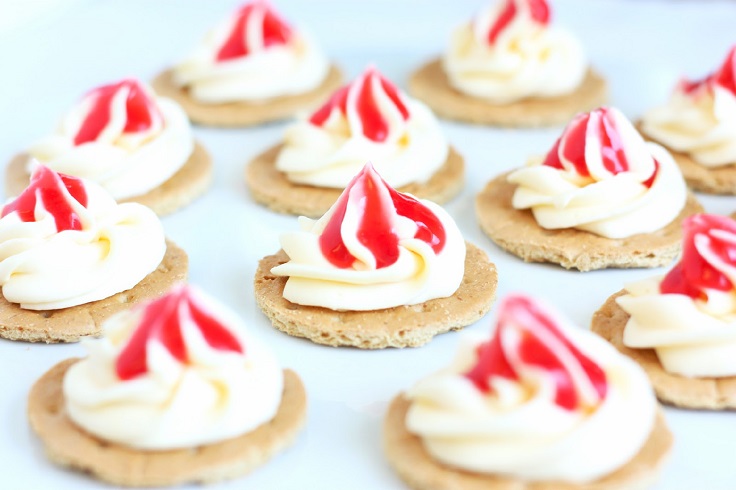 Here's another dessert you can make in a short time – it will take you about fifteen minutes. The pudding on the top of the cookies can be replaced by white or dark/milk chocolate or even ice cream. You can also add berries on top or even crushed Oreo cookies. There are many possibilities, and it's up to you to try them out.
10. Oreo Truffles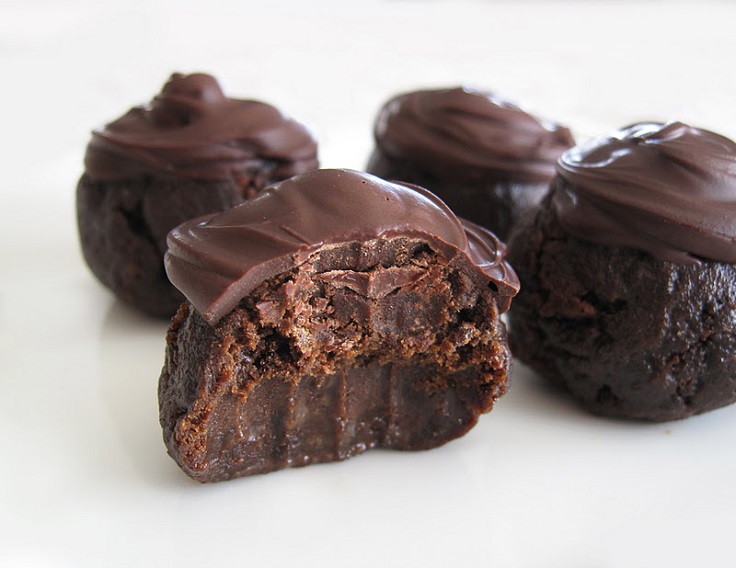 A super delicious combination of Oreo and chocolate. They will definitely be eaten in a short time because they are so petite and perfect, not just for gatherings. Still, you would like to eat something sweet at any time, and because life is quite busy nowadays, it's important to mention that we'll get something great without spending the whole day in the kitchen.