Make-ahead desserts keep for days, weeks, or even for months! Bake when you have time; make sure to wrap them tightly in clingfilm and put them in the freezer. When you expect guests or fancy a homemade dessert, simply open your freezer, get the sweet stuff out and wait until it defrosts.
Whether you have friends coming round for dinner or you want to take the stress out of holiday baking, these easy recipes are your best bet to avoid the last-minute rush. With this collection of 10 Easy Make-Ahead Desserts, you will always have homemade cakes and cookies at home that will surely come in handy during the holiday season as well.
1. Raspberry Pie
Recipe via www.bhg.com
This is a very simple pie that you can prepare in half-an-hour, baking time is 50 minutes, and you have the perfect fruity and summery pie on your table. Wait until it gets cool and place it in a freezer bag. It will keep in the freezer for up to 3 months. If it's not for guests, you can slice it up and freeze them in pieces, each wrapped in plastic.
2. Passion Fruit Panna Cotta
via www.deliciousmagazine.co.uk
Panna Cotta is very simple to prepare, and it will keep in the fridge for up to 5 days. This traditional Italian dessert is light, smooth, and creamy, and since it has to be chilled in the fridge for at least 6 hours before serving, it is a perfect make-ahead dessert. The passion fruit pulp can be added just before serving.
3. Double Choc Cookies
One of the best recipes for a chocoholic who loves homemade cookies is these thick and chewy double chocolate cookies. Next time you bake cookies, mix up a double batch of these and put them in the freezer. You will always have homemade cookies at home to satisfy your sweet tooth. You can keep them fresh for 4-5 months if you put them in the freezer!
4. Flourless Chocolate & Vanilla Marble Cake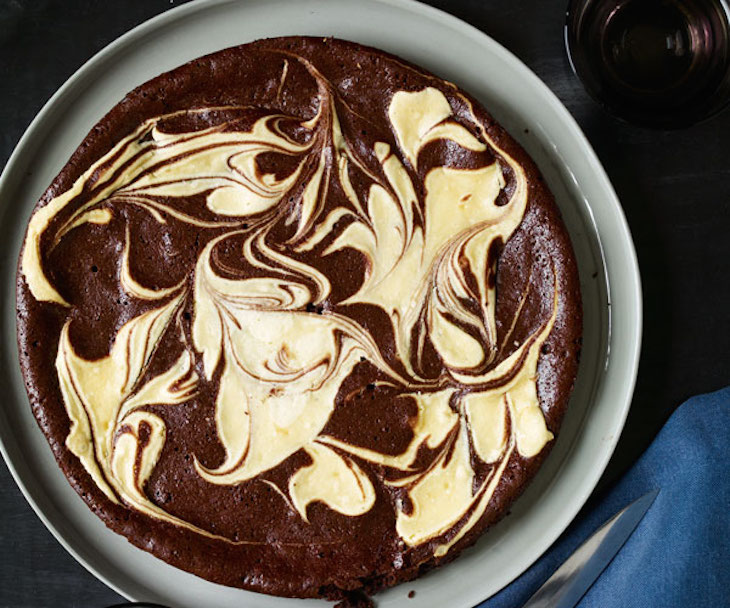 To prepare this beautiful marble cake, you will have to make two different batters. One is the vanilla batter, basically cream cheese, sugar, egg, and vanilla extract. The other one is a chocolate batter made with chocolate, butter, eggs, rum, and sugar. Once you have the two batters, you have to combine and bake. Wrap in plastic and refrigerate the cooled cake first, then freeze for up to one month. To serve, unwrap the cake and set it on a flat serving plate. Cover with plastic wrap and thaw in the refrigerator overnight or at room temperature for an hour or two.
5. New York Cheese Cake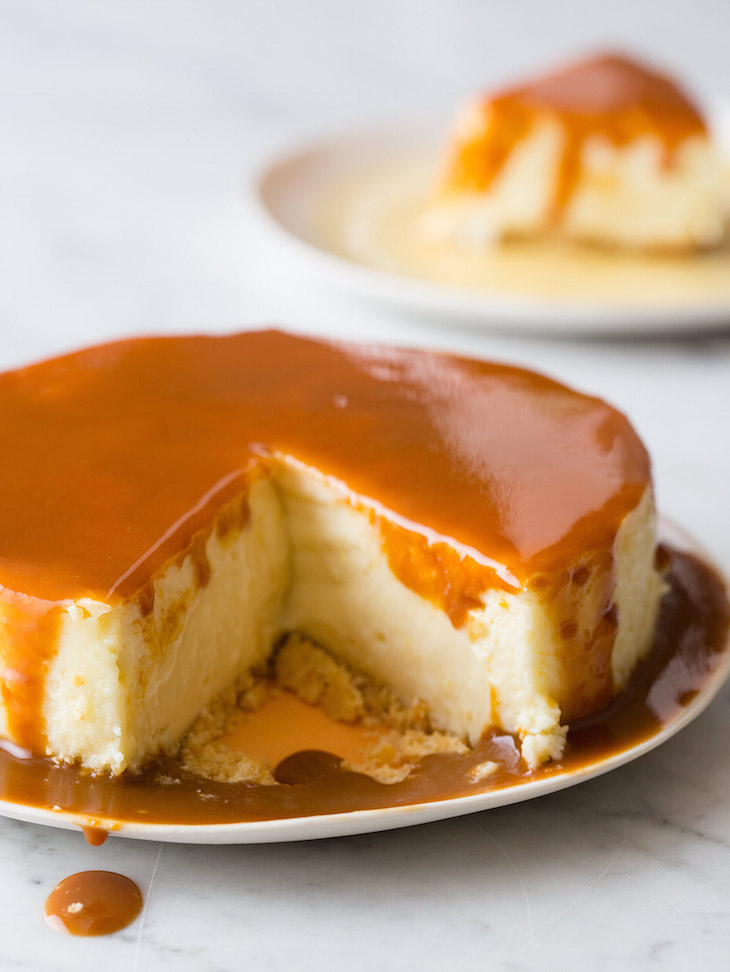 Recipe via www.spoonforkbacon.com
There are not many cakes that can beat all-time favorite New York Cheesecake. Once the cake is ready, it needs time to cool down to room temperature and then to stay in the fridge for at least six hours before serving. This makes cheesecake an ideal choice for a make-ahead dessert. It will keep in the fridge for up to 3 days or up to 2 months in the freezer.
6. Chewy Homemade Brownies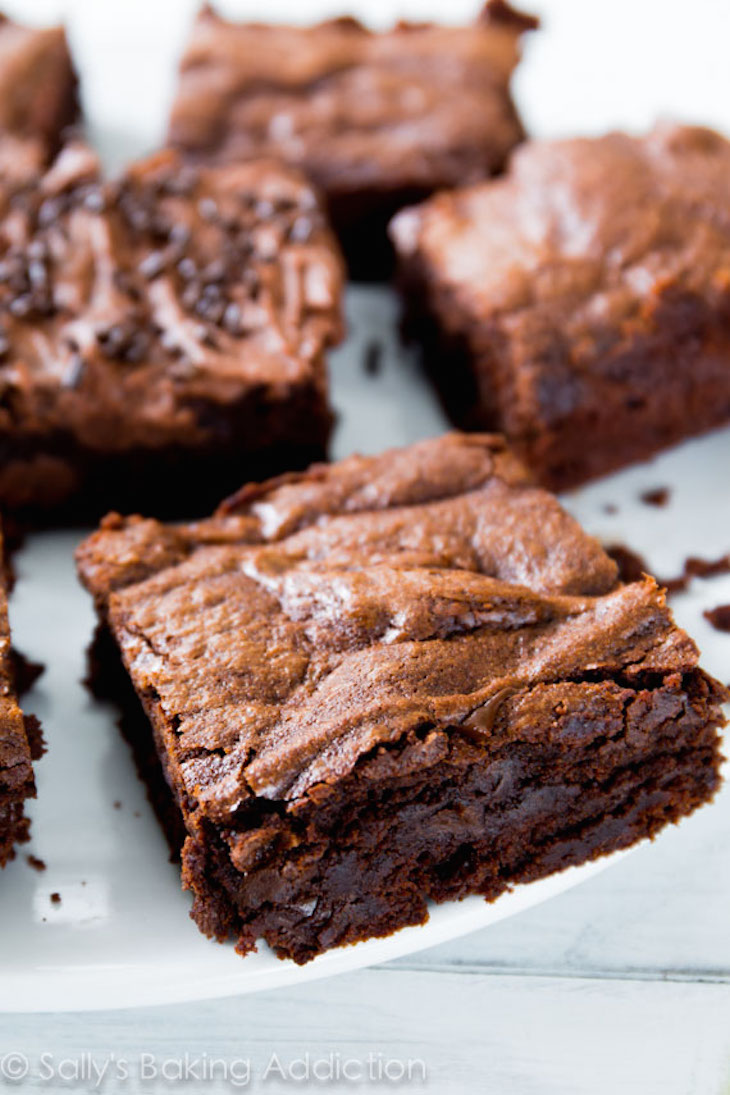 Another classic is the thick, fudgy, chewy homemade brownies. You can't go wrong with this recipe. Brownies are so good that no one will refuse, not even the pickiest ones. Freezing might not be the best idea because of the texture. However, brownies will keep in the fridge for up to 5 days.
7. Strawberry and lemon curd arctic roll
via www.deliciousmagazine.co.uk
To prepare this arctic roll, you will need some baking skills and time, but it totally worths the effort. The filling is a homemade ice cream cooked with fresh strawberries, and the sponge is a basic batter that you would usually use when making a swiss roll. This arctic roll can be made up to 3 months in advance. You just have to take it out of the freezer 10 minutes before serving.
8. Chocolate-Honey Ganache Layer Cake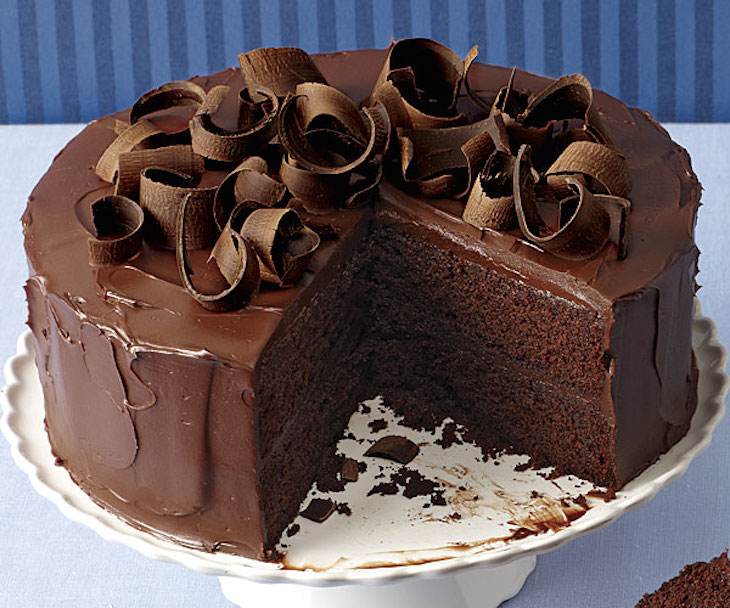 This mouth-watering chocolate ganache cake will be the highlight of your dinner party. The Dutch-processed cocoa powder, coffee, and honey give this cake a beautiful moist texture and an intense chocolate flavor. To get the perfect texture, the layers should stay at least 1 day before serving. This way, the flavor can develop. The same applies to the ganache: it should sit, covered, at room temperature for up to 24 hours as it will thicken as it cools. The layers can be frozen for up to 2 weeks.
9. Mascarpone Semifreddo with Cherry-Port Sauce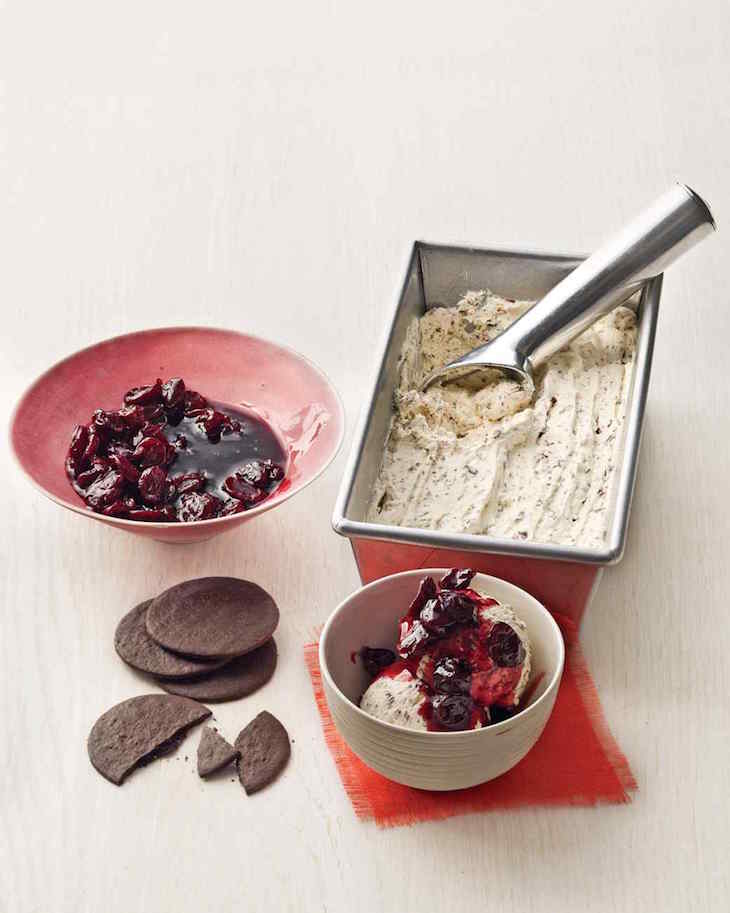 Recipe via www.marthastewart.com
When it comes to desserts, ice-creams are hard to beat. Not to mention the Semifreddo, which is an Italian creation. Frozen desserts are the ultimate make-ahead option as they will keep for weeks in your freezer. For this semifreddo, you'll need mascarpone, heavy cream, and bittersweet chocolate. The sauce is made with ruby port, cherries, and sugar, and you can prepare it just before serving.
10. Lemon Tart
Recipe via www.butterbaking.com
Lemon tart is bright, refreshing, and just perfect after a heavy meal. The flaky and simple crust filled with citrusy cream is a traditional, old recipe. It will keep in the freezer for up to one month. The important step is to make sure you let the finished tart cool to room temperature and wrap well before freezing. Defrost at room temperature for an hour or two.