The first thing that everyone who comes to our home sees is the entryway. If you want your home to leave a good impression on your guests, then make sure to have a lovely entryway that will prove it. This doesn't always mean throwing away so much money – sometimes it can mean declutter and rearranging the furniture!
Below you will find ten ideas on how you can deal with the entryway space. There are examples of different interior designs, from Scandinavian to rustic. Scroll along to see them!
1. Welcoming Entryway
One of the best ways to make your guests feel welcomed in your home is by having the proper entryway! There are few ways you can do this, and one of them is having decorations that would send out that message. Take this for an example – the whole wall is filled with framed art, mostly positive quotes and welcome signs. Not only it serves to make your guests welcomed, but it looks super nice.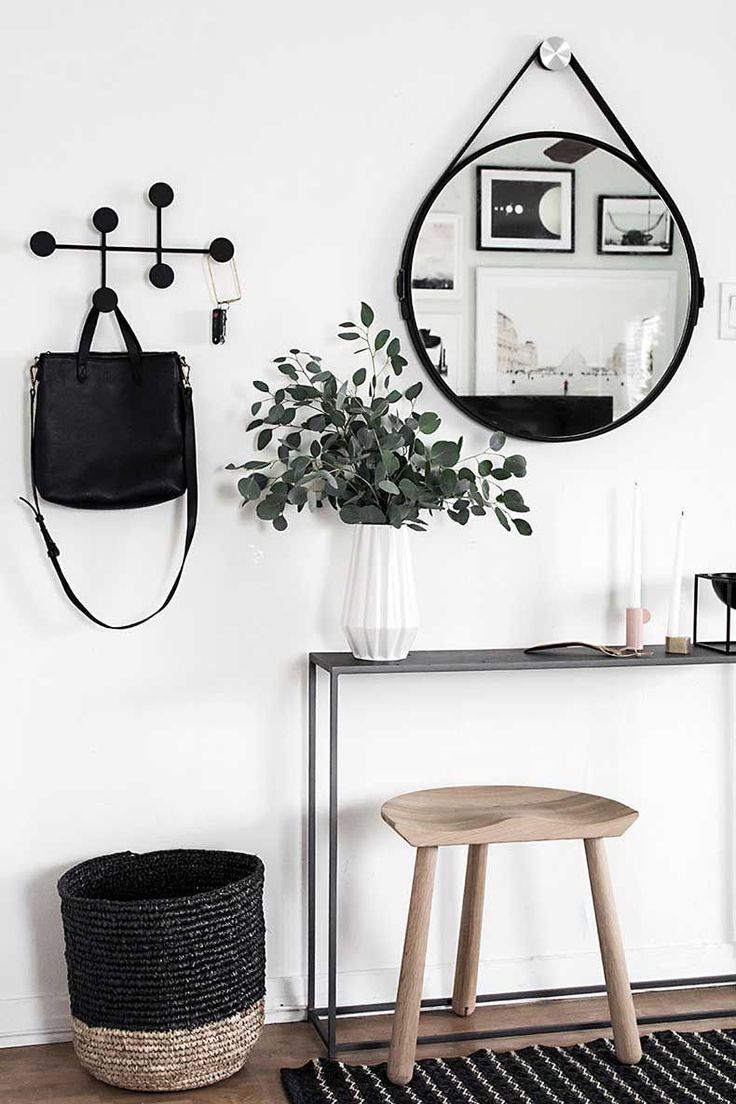 via cutypaste.com
Talking about home interior and not mentioning one of the most popular interior styles is such a pity. There are many reasons why you should choose the Scandinavian style. It can be cheap to create this kind of entryway, as all you need are just a few items that would serve you as both practical and decorative items. Remember to not overcrowd your entryway with things you don't really need. Keep it simple and functional, and the elegance would come along.
3. Modern Rustic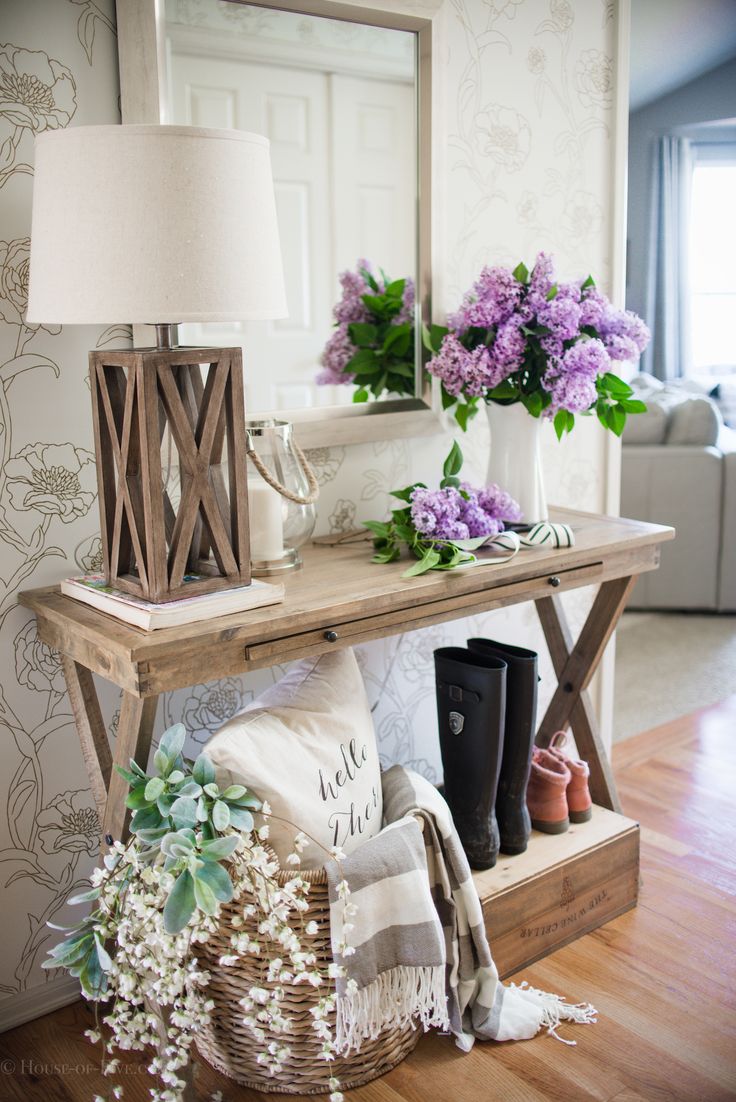 via house-of-five.com
The rustic interior design can make you feel at home so easily because it gives away those home-sweet-home vibes. However, if you're not a huge fan of the traditional rustic style, you can modify it and turn it into more of a "modern" version. For example, you can make the decorative details more rustic while keeping the rest of the room modern.
4. Artistic Entryway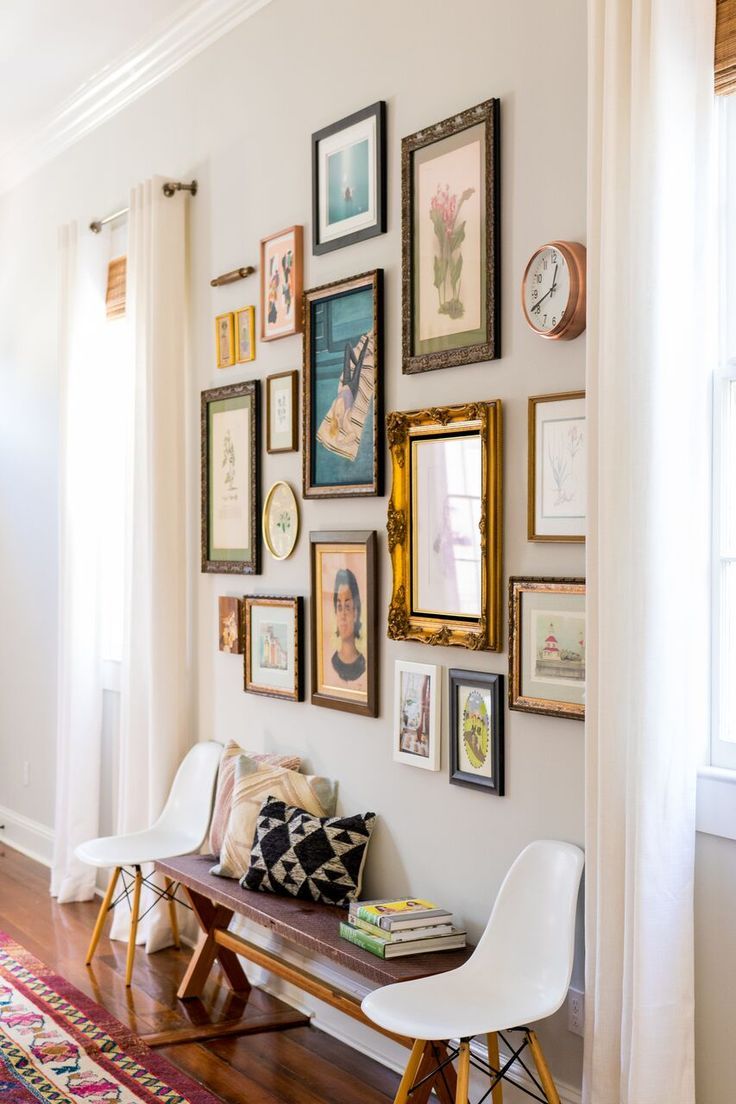 via tesinteriors.com
Feel like you can never have enough art? You can always decorate your entryway with paintings, and it's going to be one of the best ways to decorate it, no matter if it's a smaller or bigger entryway. You can make things a little bit of boho if you add a carpet with no patterns – the same goes for the pillows as well. Your guests will surely look at your wall art!
5. Coastal Cottage Entryway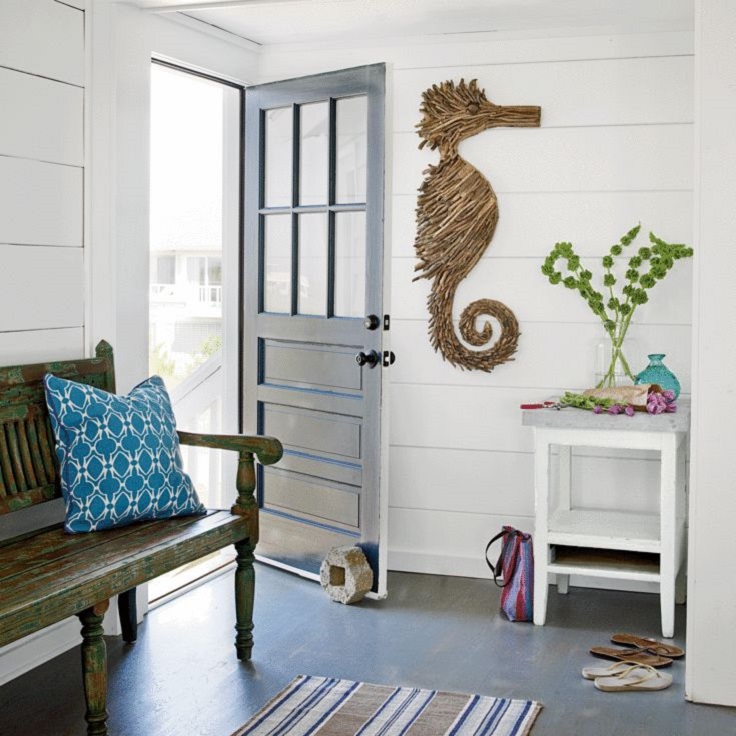 Coastal architecture has its own charm, we have to admit it, and luckily, we don't need to live near the ocean or sea to have this type of interior design in our home. To create this kind of entryway, you need to get decorations in the spirit of coastal life – sea creatures, such as seahorse and shells, pebbles, and mix white furniture with wood.
6. Farmhouse Entryway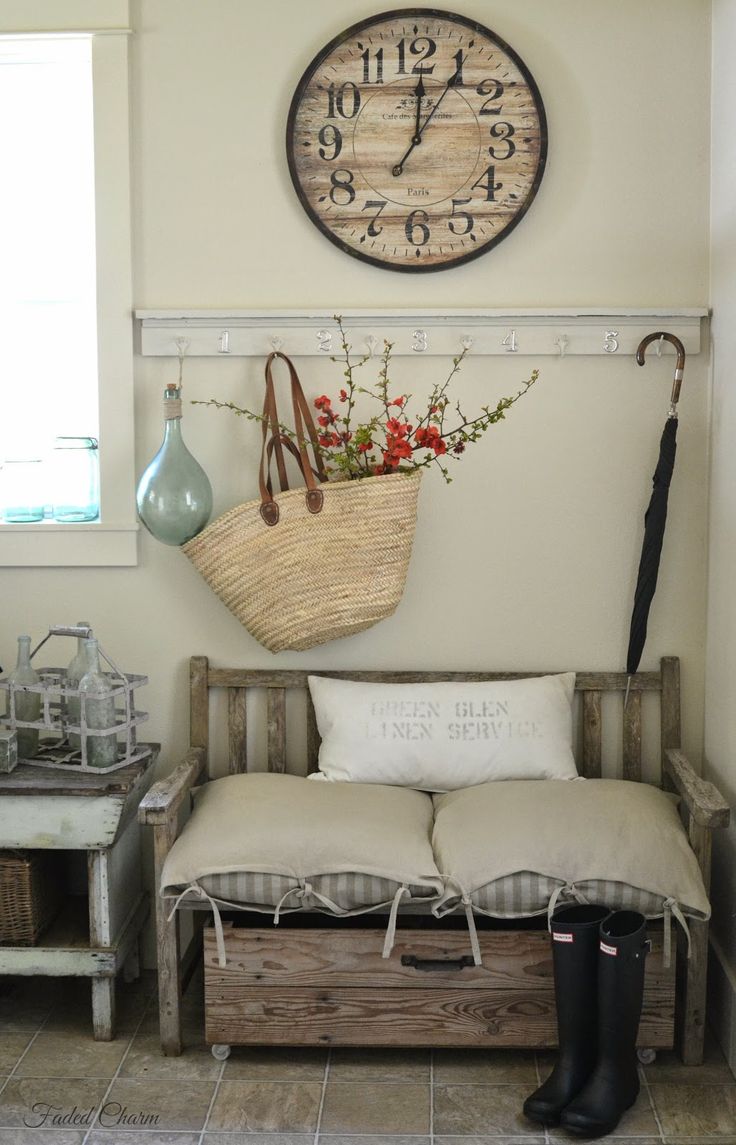 via delightful.EU
The farmhouse style looks incredibly adorable; we instantly fell in love with this entryway! To create this kind of interior in your entryway, make sure to have the right details. Wood items, such as the clock and furniture, will certainly do the trick, but other decorations such as the reuse of the old boots are going to make it so charming as well!
7. Minimalist Entryway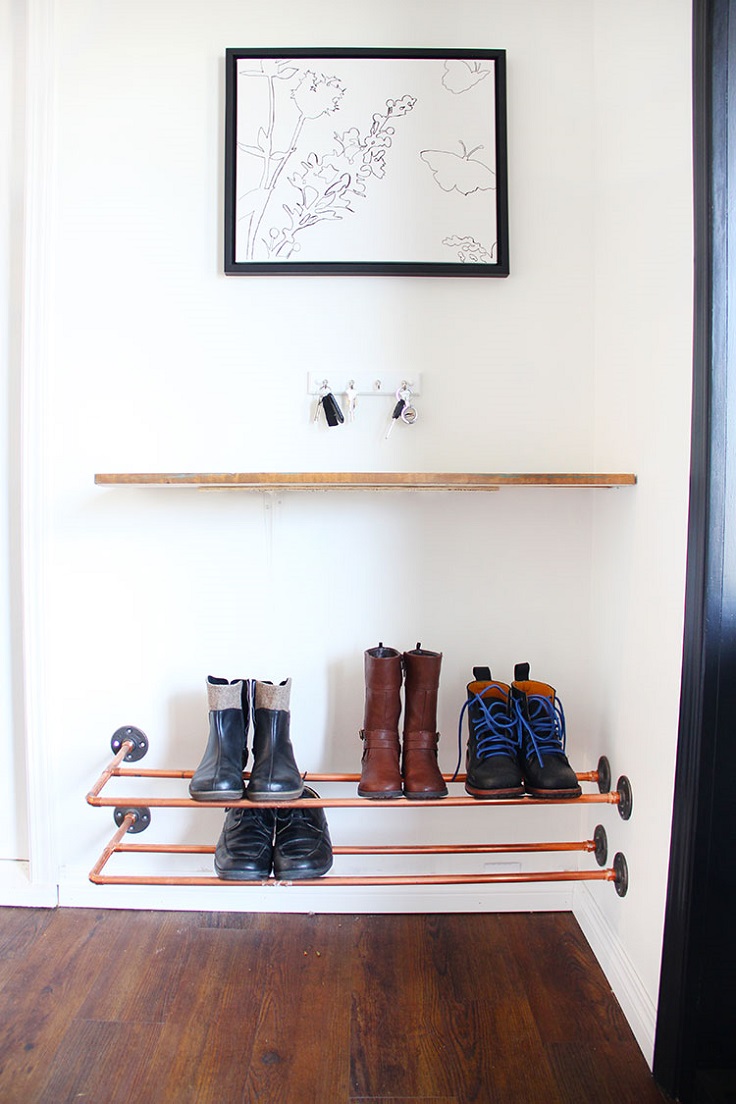 This works especially fine for those of you who have to deal with small spaces. Sometimes the best way to make something more beautiful is to keep things simple. Make sure to have just the items that you really need and throw out the rest. This way, not only will you make your entryway more practical, but you will also make space by throwing clutter away – it will make the room appear bigger and will help the needed items to stand out.
8. Vintage Entryway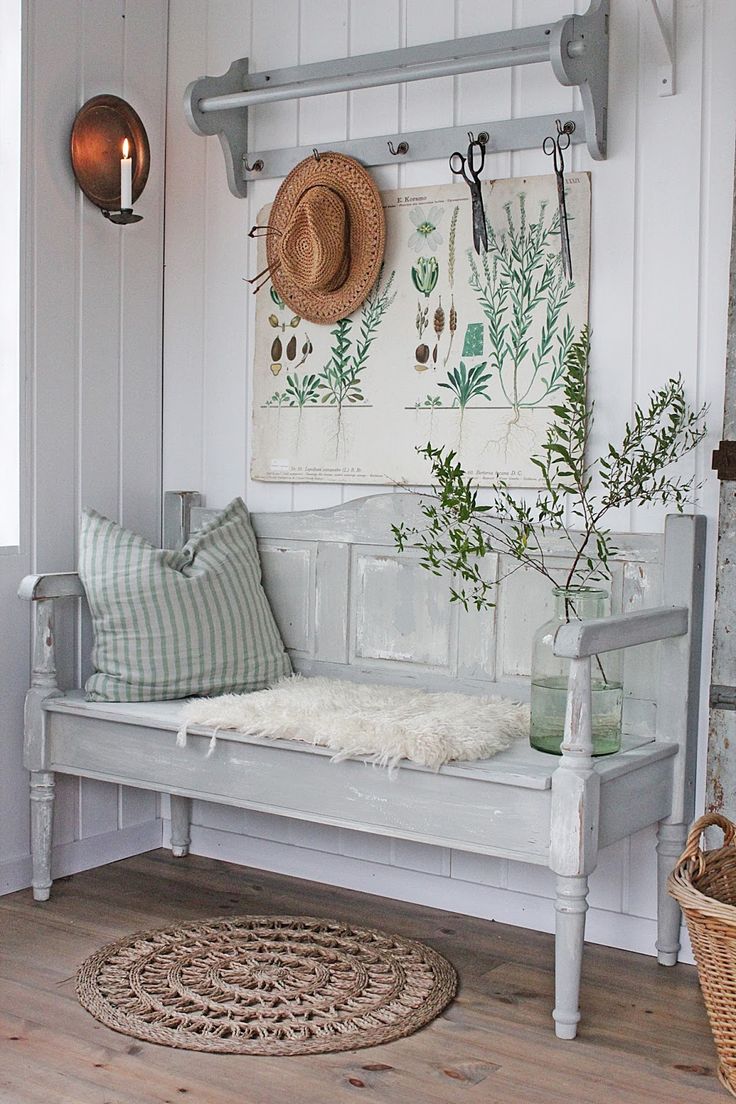 Something about the vintage style makes us dwell over it every time we see something like this! It looks really charming, bright and it can make the entryway the best part of your home. For this, make sure to use old stuff. If you have any old furniture, don't throw it away; instead, you can modify it a little bit to be reusable. Also, use old decors, such as old photos, pictures, or even a nice hat hanging!
9. Classy Entryway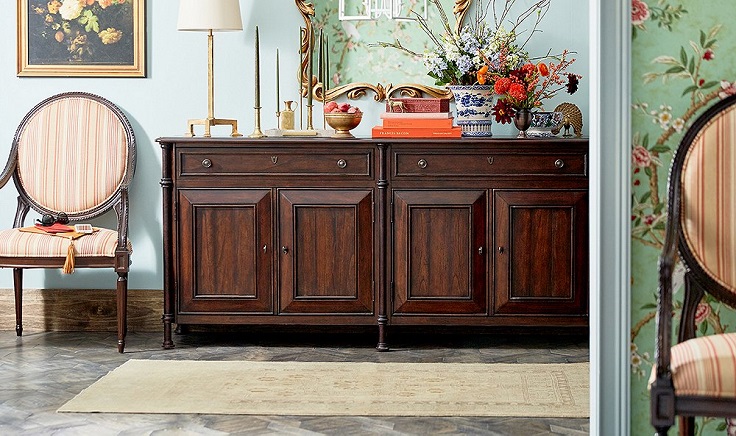 via onekingslane.com
Of course, besides all the minimalist, Scandi, vintage, and rustic styles, you can always go for the classiest options you can have, but that, of course, means that it will cost you more money. Expensive wood furniture, vases, framed wall art, and carpets are just a few of the items that can help you achieve the interior you want. We must admit – it looks so gorgeous!
10. Small Chic Entryway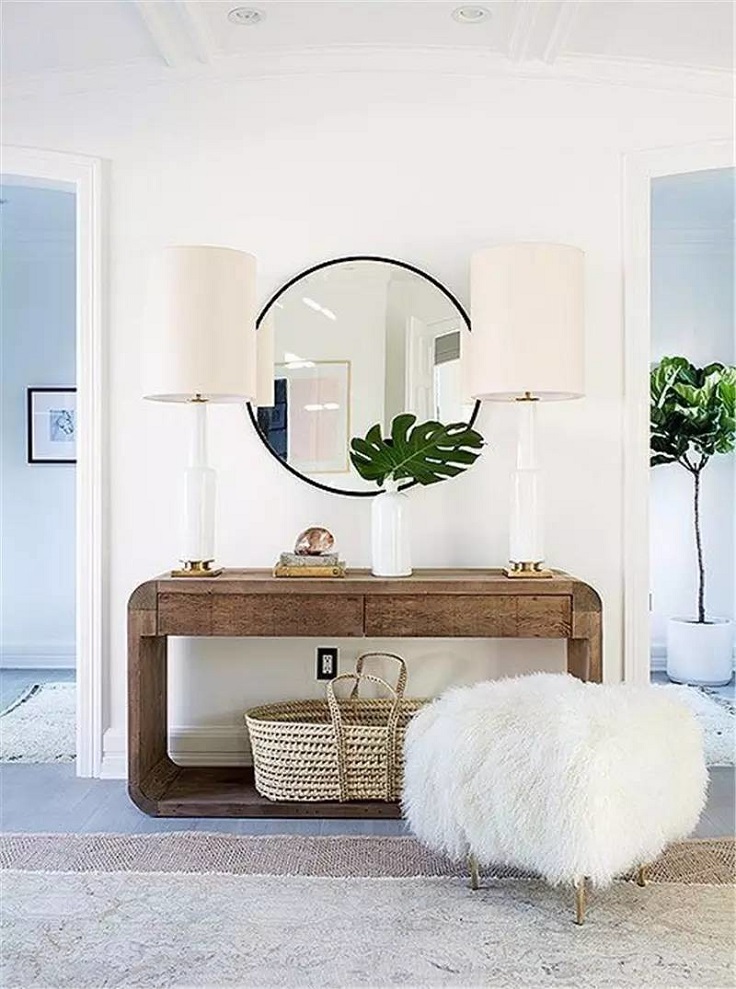 Furry chair, white walls, wood furniture, and big mirror; a few details here and there; these are just a few things that you need to have if you're willing to have a classy, chic entryway. Make sure to have a nice carpet and plants that will stand out from the rest of the room with their colors!