The cuisine of the Philippines have been influenced by many countries for example China, Mexico, Spain and all the surrounding Southeast Asian countries. The Filipino Recipes & food may not be as widely popular and famous as the Thai or Vietnamese kitchen but it is just as delicious and colorful. With more than 7000 islands and rich history the archipelago has an abundance of tropical fruits, seafood and tasty meat dishes and from one region to another, the traditions are very different.
Filipino dishes look Asian but sound Hispanic, like the Chicken Asado, Arroz Caldo or the Fish Sarciado.
We have selected ten delicious Filipino recipes from this exotic cuisine to spice up your cooking a bit!
1. Pancit Canton (Stir Fried Noodles)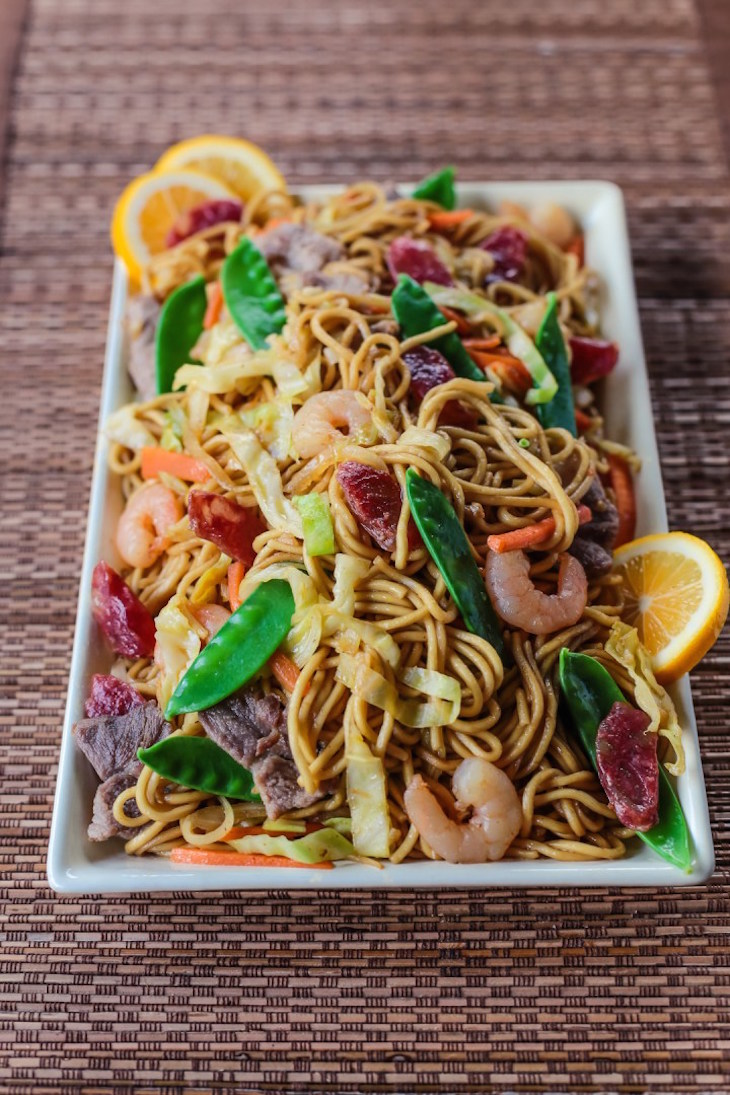 Recipe via www.angsarap.net
This dish is basically the Filipino version of stir fried noodles and like most Asian noodle dishes it is originated from China. Pancit Canton is widely served today, and also believed that it will bring long life as symbolised by the long noodles.  Try this delicious recipe with egg noodles, prawns, pork and crispy vegetables.
2. Chicken Adobo – One of the best Filipino Recipes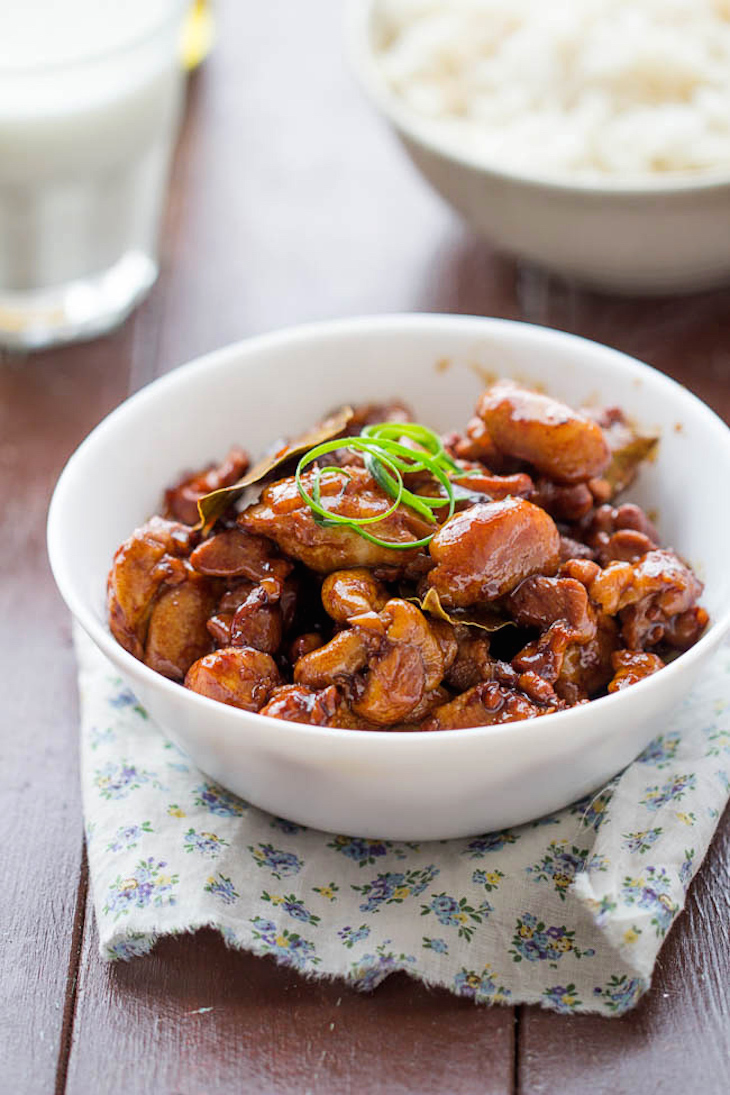 Recipe via www.chinasichuanfood.com
The Filipino Chicken Adobo is a tasty meat dish, often chicken and pork, cooked in vinegar, salt, garlic, pepper, soy sauce and other spices. Don't be afraid of the amount of vinegar, during cooking it will be volatilized leaving behind a well-balanced taste. This cooking style can be applied to different meats or even seafood.
3. Chicken Inasal (Barbecue Chicken)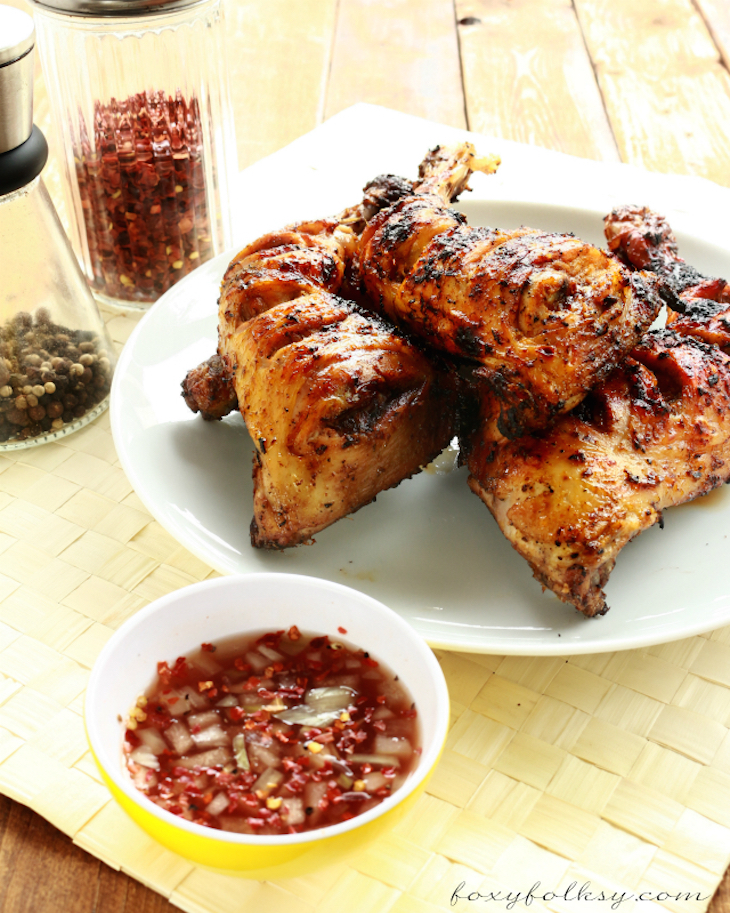 Recipe via www.foxyfolksy.com
Here is a super tasty and unique recipe if you are tired of the usual chicken barbecue. You will need vinegar, lemon or calamansi juice and spices such as lemon grass, ginger and garlic for the marinade. In the Philippines it is usually served on bamboo skewers direct from the grill with rice and a dip of spiced vinegar.
4. Longanisa (Pork Sausages)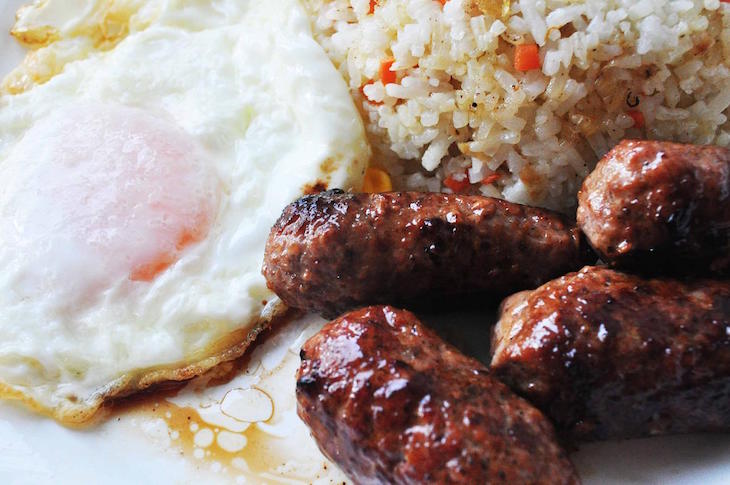 Recipe via www.myfilipinokitchen.com
While the common longanisa in the Philippines is a byproduct of pork (made of any unwanted meat, fat, gut) we don't want to scare you away from preparing this super tasty recipe. You can go for the lean ground pork meat to stay on the healthy side. The recipe includes great tips on how to make nicely shaped sausages!
5. Arroz Caldo (Chicken Rice Porridge)
Recipe via newkidonthewok.com
While here in the West we believe that chicken soup is the cure for cold, flu, upset stomach and more, Filipinos turn to Arroz Caldo, a thick chicken rice porridge. Cooked with ginger, garlic and onion, this Filipino food have excellent benefits to the immune system and this dish will definitely warm you up in the winter.
6. Chicken Asado (Chicken Stew With Potatoes)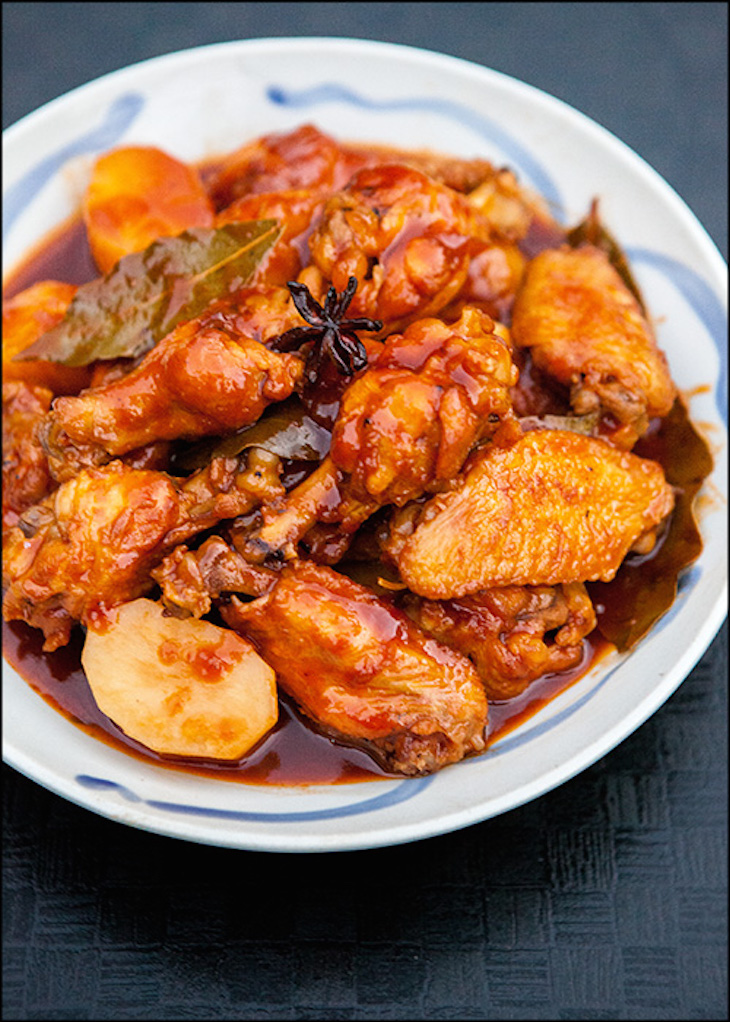 Recipe via theheartoffood.com
The delicious Chicken Asado is a stew of chicken and potatoes in cooked in sweet, rich and tangy tomato-based sauce. You will get the best results if you cook this dish in a pressure cooker for tender chicken and tender potatoes. You don't need any special ingredients just tomato paste, onions, garlic, brown sugar, lemon juice and star anise plus soy sauce for spice and additional flavours.
7. Kare Kare (Peanut Butter Beef Stew)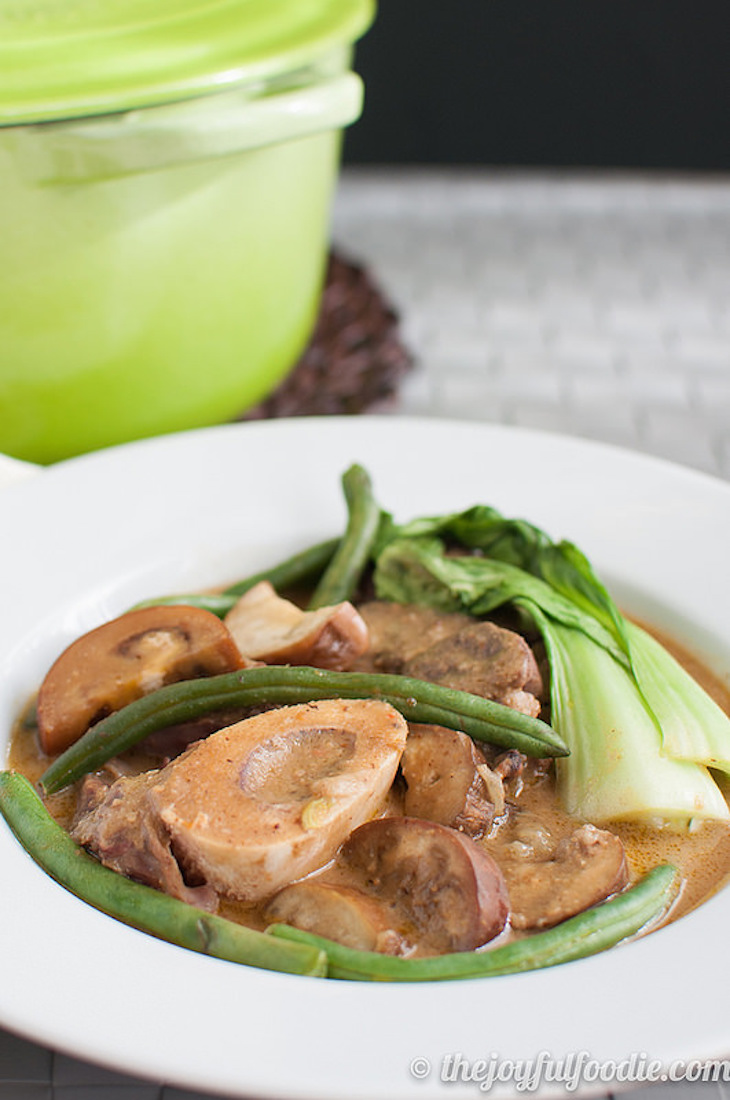 Recipe via thejoyfulfoodie.com
Kare Kare is a Filipino curry-like dish made with peanut butter and oxtail. This recipe uses beef shank (it's easier to get and has more meat anyway). The peanut butter makes the broth deliciously smooth and adds another dimension to the flavor. Alternatively you could use sunbutter or almond butter if you don't eat peanut butter.
8. Fish Sarciado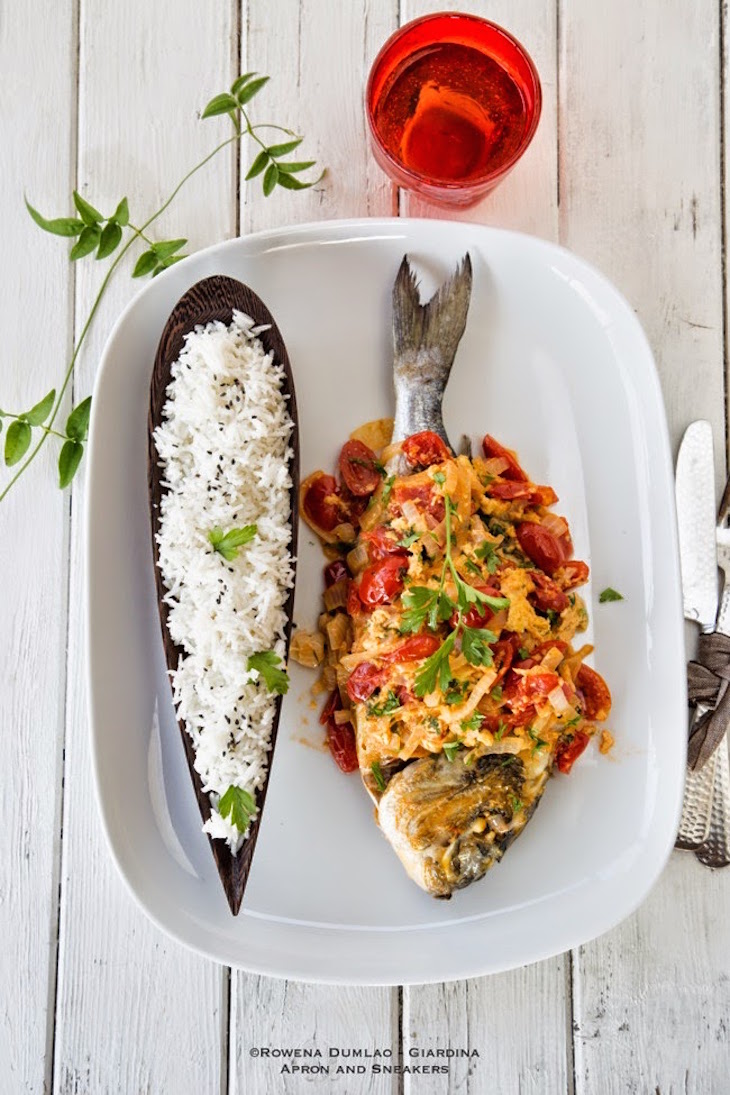 Recipe via www.apronandsneakers.com
This awesome fish dish from the Philippines was originally born to save leftover fried fish. It might sound strange to eat fish with eggs, but they do go well together. To prepare Fish Sarciado you will need basic ingredients and any kind of fish can be used. Serve it with steamed white rice.
9. Ukoy (Crispy Shrimp Fritters)
Recipe via lisaiscooking.blogspot.com
10. Lechon Manok (Roast Chicken)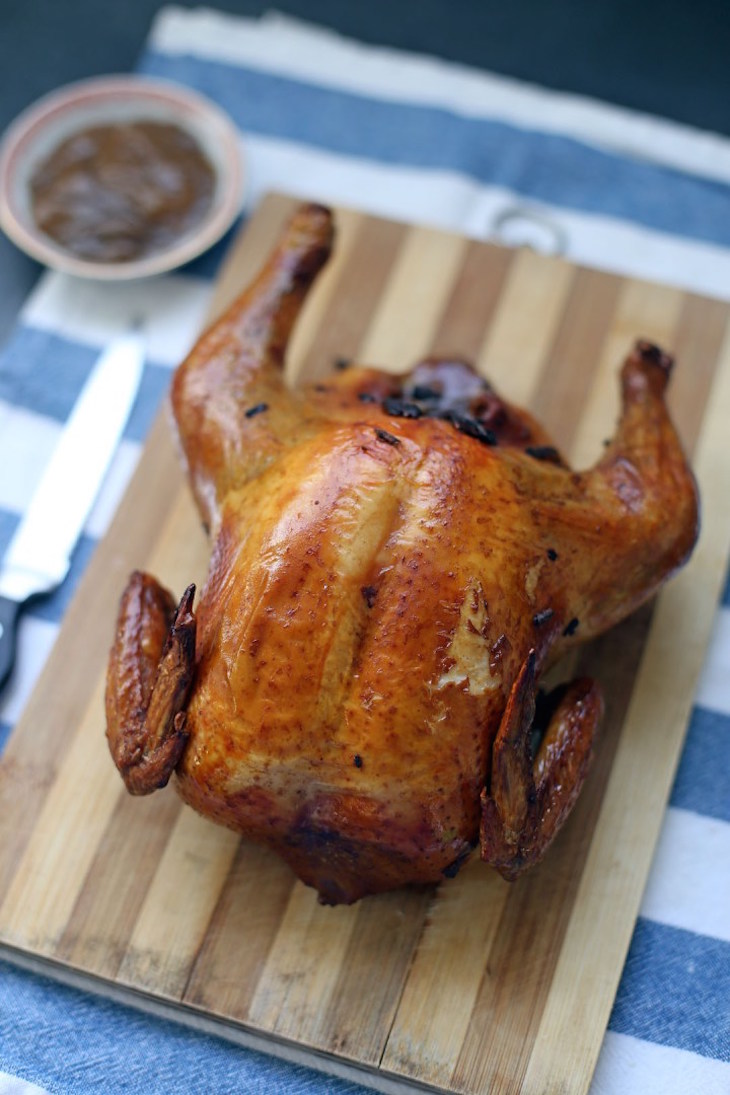 Recipe via www.angsarap.net – For our selection of Filipino Recipes
Lechon Manok is the roast chicken of the Philippines with a unique flavor. It is traditionally cooked in a charcoal spit but it is just as delicious when prepared in the oven. The stuffing gives distinct flavour and aroma to the chicken. It is made of lemon grass, loads of garlic, onion, fish sauce and calamansi juice. The aroma of the smoky, garlicky and lemony chicken roasting will fill your home.