French fries are one of the easiest to make, cheapest to buy and certainly one of the most delicious street food you can find all over the world! Even though though they're called French, historically there isn't proof that confirms it, but history rather says that french fries are maybe actually from Belgium!
We're all used to eating them with salt, ketchup and mayo, but there are lots of other super delicious ways to upgrade the original recipe. Loaded french fries are truly one of the most tastiest fast food that you can prepare at home – check out our ten favorite recipes and let us know which is your favorite.
1. Parmesan Truffle Fries
via justalittlebitofbacon.com
We'll start with the least loaded recipe on the list – french fries covered in truffle oil and and topped with parmesan and paprika. If you'd like a more cheesy experience, feel free to add more parmesan until it gets so cheesy! This is a quick recipe, it just requires to fry the fries and then mix it with the rest of ingredients.
2. Loaded Chicken Satay French Fries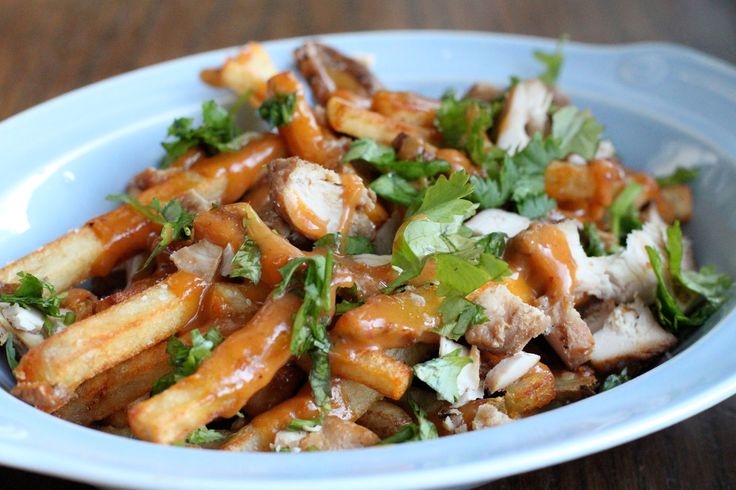 via simplecomfortfood.com
Chicken and fries is a well known combination, but have you ever tried them with a Satay sauce? It's a popular Thai sauce that includes peanut butter, coconut water and curry paste. You might first that all these things won't fit, but you have to give it a try – especially if you're into Thai food. It's a really interesting mix of flavors and it will take you less than 30 minutes to prepare all of this!
3. Chimichurri French Fries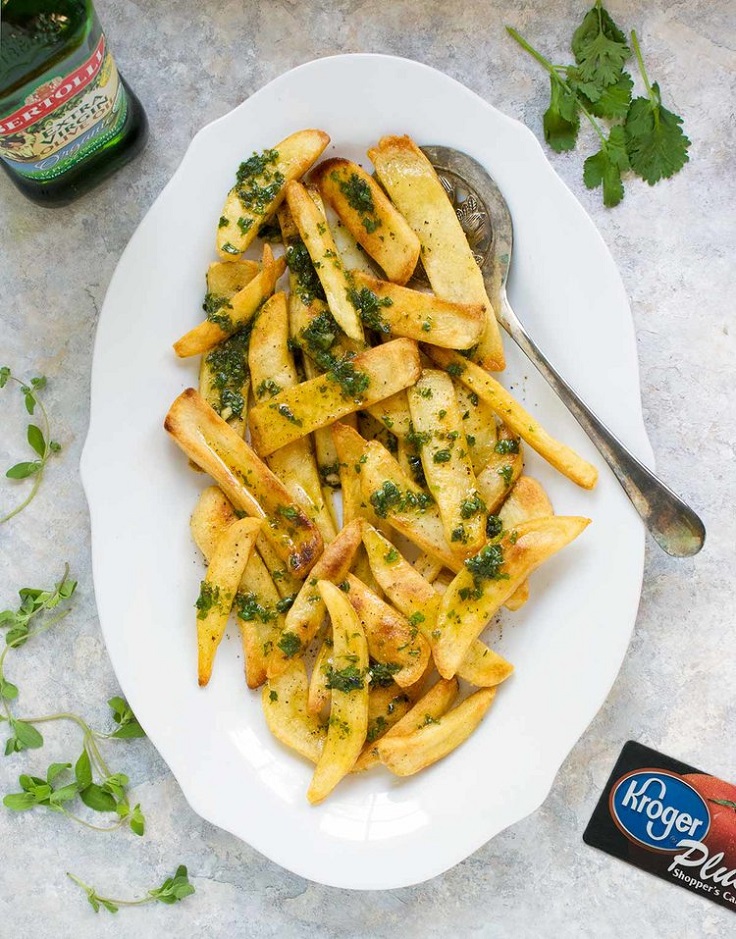 via soupaddict.com
Here's another dipping sauce for your french fries – the Chimichurri sauce! In case you haven't heard of it before, it originates from Argentina and Uruguay and it comes in both green and red versions. It is mostly herb – based sauce, made out of parsley, oregano, cilantro, garlic, smoked paprika and red wine vinegar. Of course, you can add few more ingredients according to your taste, such as salt and olive oil.
4. Chorizo Chili Cheese Fries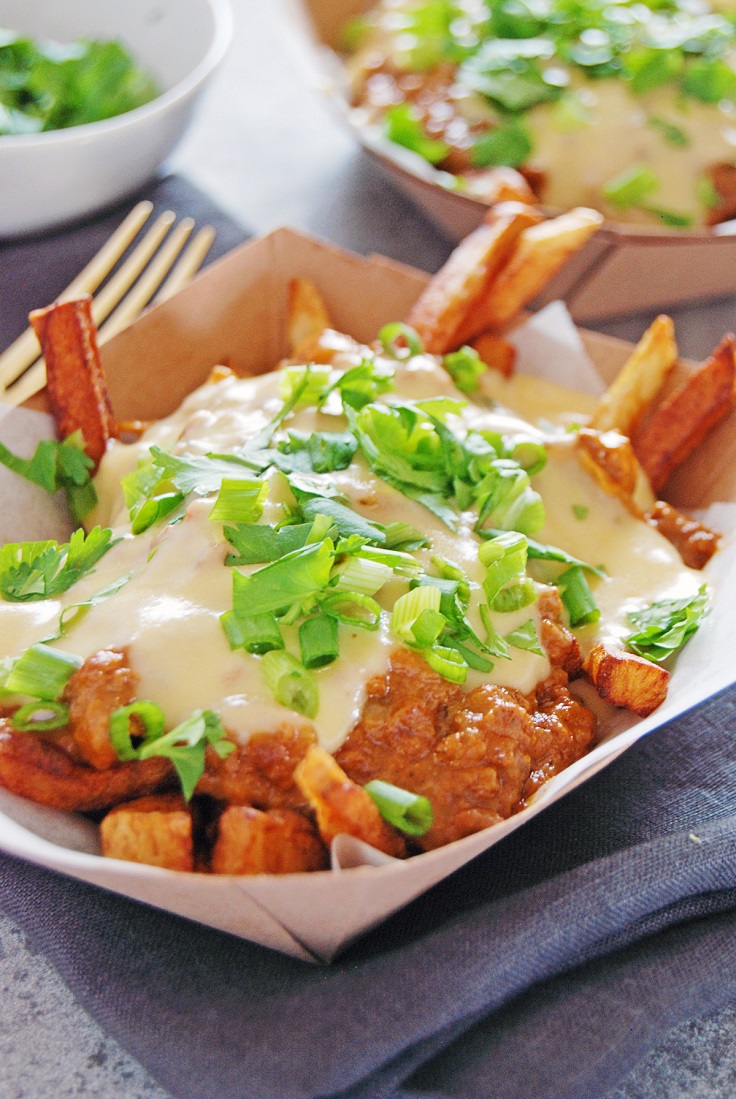 via thecharmingdetroiter.com
French fries with Chorizo gravy and cheese sauce? Yes, please! The whole recipe contains so many delicious herbs and spices, cheese and Chorizo sausages – it's a heavy meal, the one that will make you feel so full after eating it, but you won't regret it because it's super delicious. This recipe requires spending more time in the kitchen, so make sure to have 1 – 2 hours dedicated to it.
5. Loaded Mexican Chicken French Fries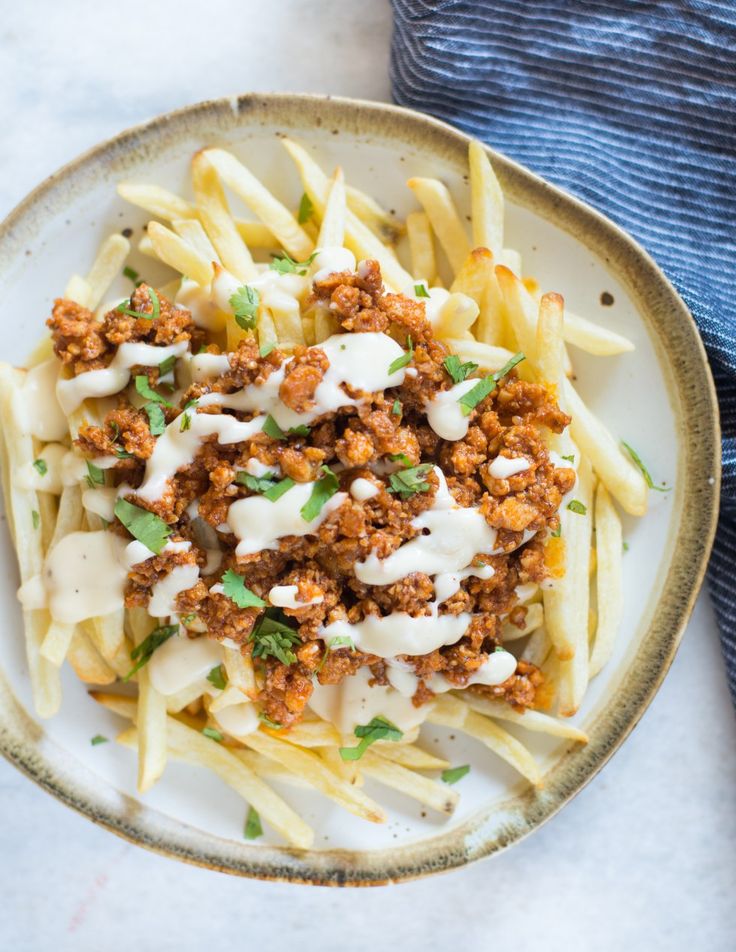 via theflavoursofkitchen.com
Here's another recipe inspired by the Mexican cuisine. All you need to do is to fry the fries, prepare the chicken topping and the cheese sauce. This is one of the recipes that will make you feel so full for the rest of the days, but all the calories are worth it due to the deliciousness, right? If you like the combination of fast food and Mexican cuisine, try this one.
6. French Fries alla Carbonara
via sheknows.com
We've all heard about the carbonara recipe and almost every time it includes pasta as well. However, have you ever really considered mixing the carbonara sauce with french fries? If your first reaction is "what?!" we totally get it you. But, we also have to say that this tastes amazing. You're going to love this recipe, especially if you're a fan of bacon or pancetta.
7. Beef Nachos French Fries
via cakenknife.com
Nachos and french fries? Yes, that's a meal worth cooking for lunch, dinner or even as movie snacks – it's going to be your favorite! Beef and french fries with spices and herbs, topped with both guacamole and sour cream for dipping. It's really simple to prepare every thing from the recipe, but you will need an hour to have it all ready.
8. Fries with Cheddar, Bacon, Pickled Jalapeños, & Ranch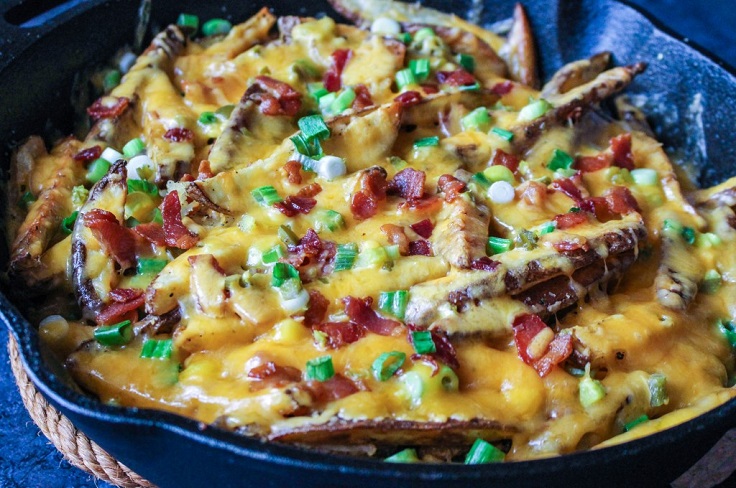 via yestoyolks.com
If you are looking for a great, cheesy experience, then you have just found your new favorite recipe. To prepare this, besides the french fries you will also need olive oil, 4 strips bacon, 2 cups sharp cheddar cheese, ¼ cup pickled jalapeño peppers, ¼ cup scallions and ranch dressing. If you don't use store – bought fries, you can use Russet potatoes and leave their skin for extra crispiness.
9. BBQ Pulled Pork Fries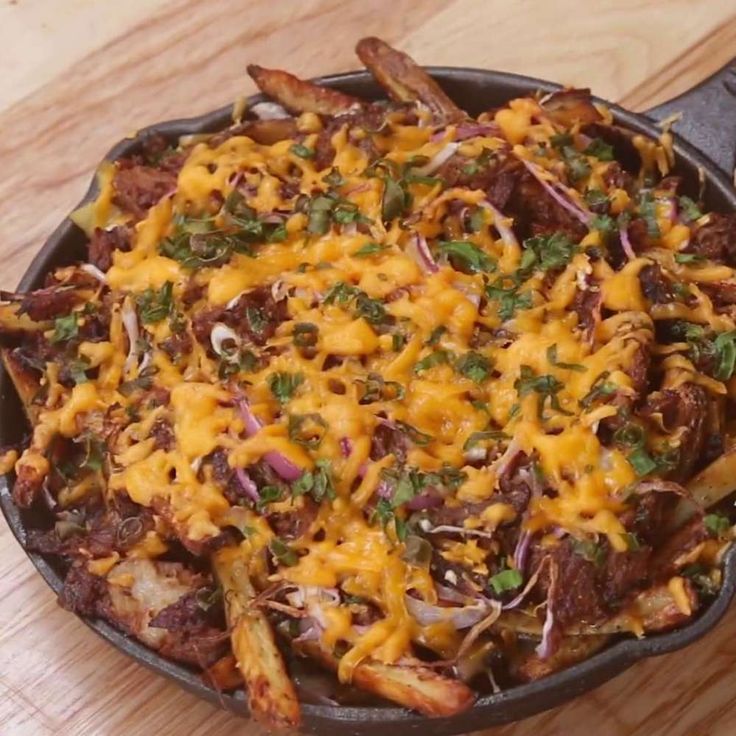 via tasty.co
You can give your Sunday BBQ a little twist and come up with something more creative, but yet equally delicious – if not even more! There's plenty of pork and potatoes included here, so everyone who's a huge fan of this lunch or dinner combination is surely going to get really happy with this recipe. No matter for what occasion you cook this, it's always a good idea!
10. Bacon Cheese Fries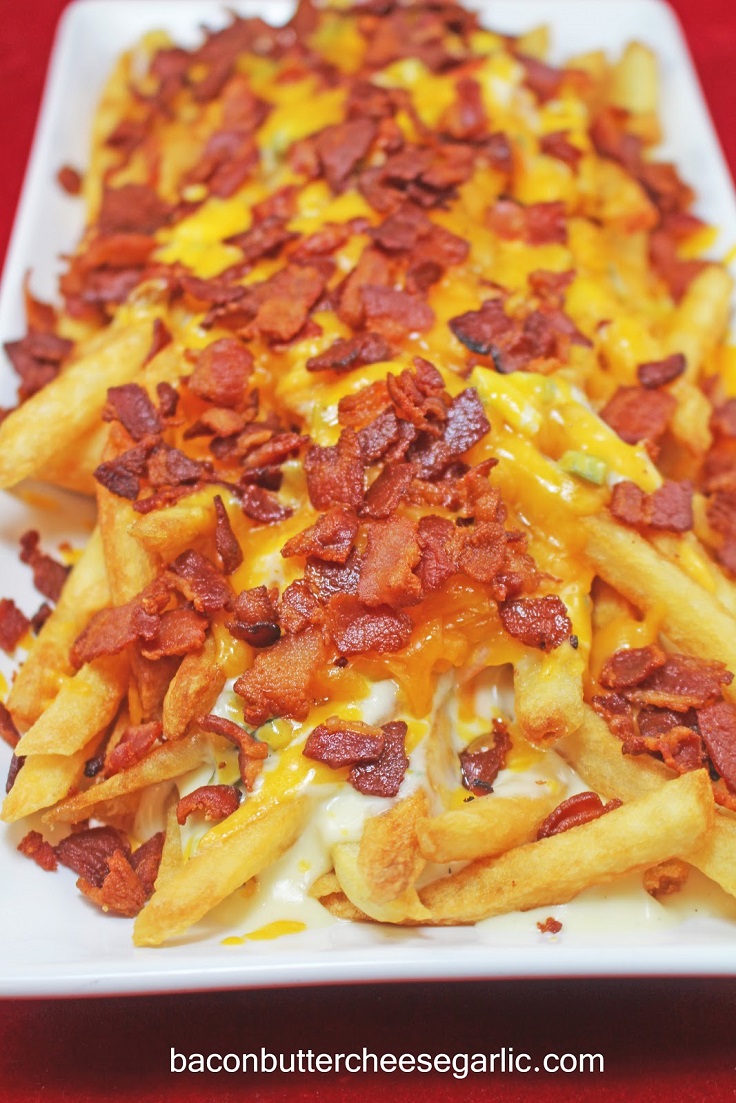 via baconbuttercheesegarlic.blogspot.com
Unlike most of the recipes on the list that meant more experiment and being creative with traditional recipes, this one is more of a classic – bacon, Monterrey cheese, tomatoes and jalapenos. It might seem more like a breakfast recipe, but when you add the french fries you get a delicious lunch or dinner!