Keto stands short for the "ketogenic" diet, also known as being a low-carb diet. In this diet, you eat 80 percent fat while eating carbs is strictly led to a minimum. This means no pasta, rice, sweets, or anything that contains wheat and sugar! However, many find this diet beneficial to both weight and health, so it's up to you to find out what works best for you.
If you're following the keto diet or you're just wondering how a typical keto lunch should look like, then this article is for you. We picked ten delicious recipes that would make the perfect lunch, no matter what kind of diet you're following. Read along and see which recipes made a list!
1. Cheddar-Wrapped Taco Rolls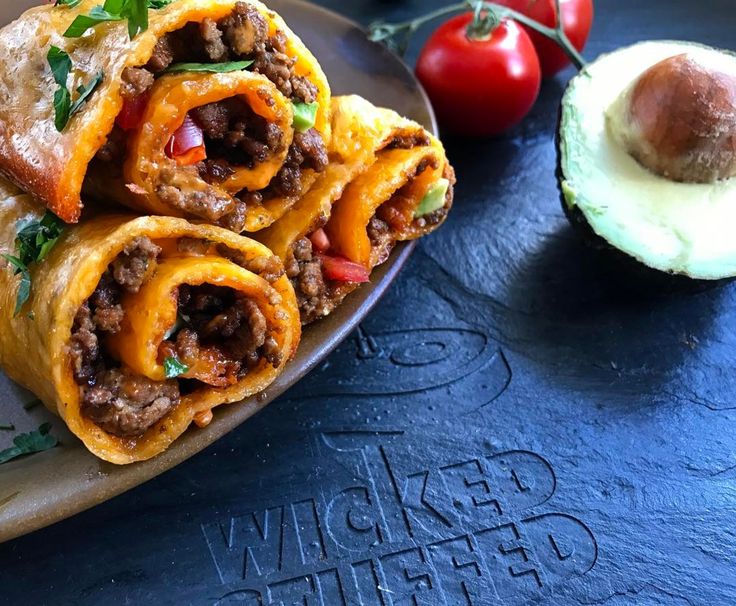 These taco rolls aren't only keto-approved, but they also are grain-free and low-carb. In fact, instead of indulging in tortillas of any wheat-kind, how about a crust made whole out of cheddar cheese? It's tasty, and yet it's going to be so cheesy! Besides this, choose your favorite taco toppings and combine them with the cheese crust. This lunch is also a good idea for a finger-food at parties.
2. Cauliflower Fried Rice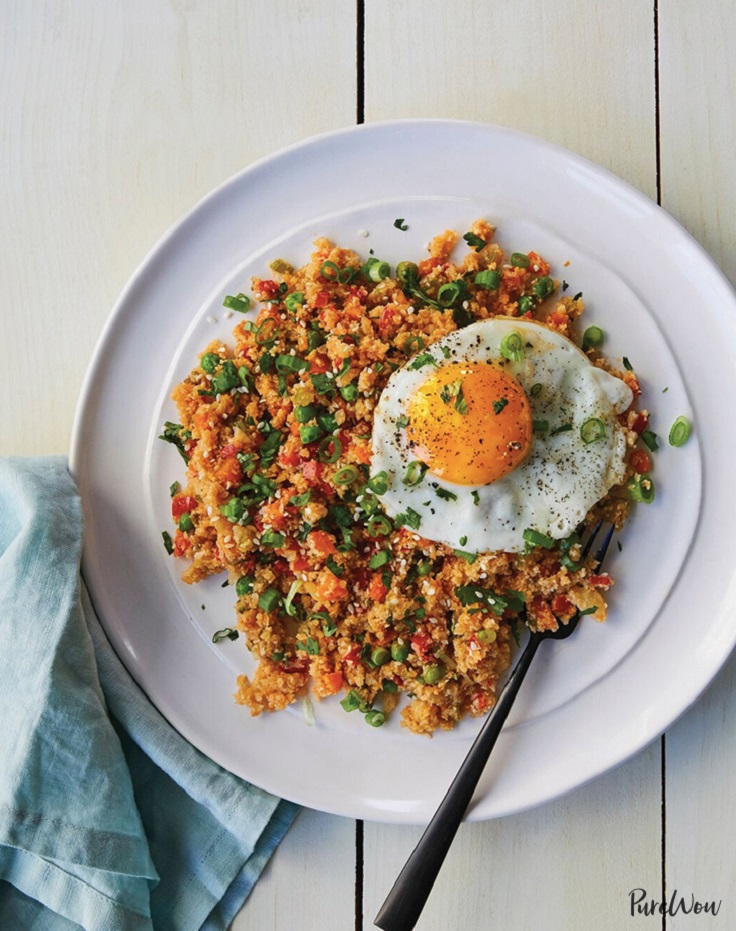 via purewow.com
The cauliflower rice is a quick dish that is going to be ready in less than 30 minutes. It's easy to prepare, and it's healthy for you as well! It's going to make you full without being greasy and hard to digest. Plus, a dish of cauliflower rice contains about 108 calories! You can top the cauliflower rice with a fried egg and garnish with cilantro, scallions, and sesame seeds.
3. Low Carb Bacon Cheeseburger Salad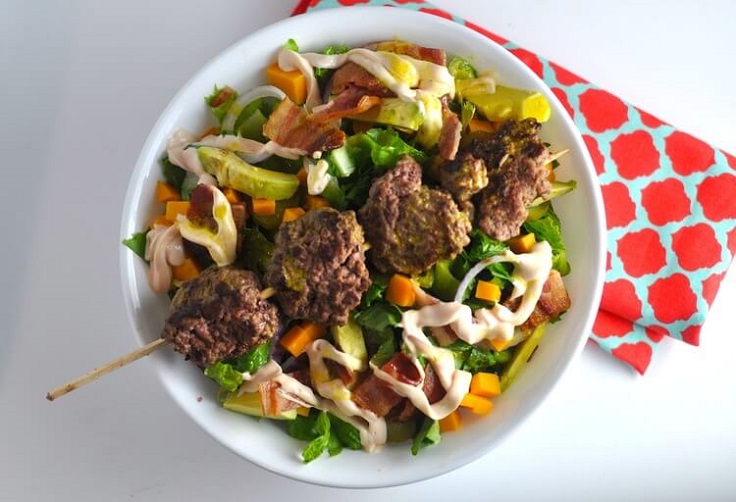 The low-carb bacon cheeseburger salad is a healthier alternative for burger lovers. Eating them won't get us any benefits in the long term, but when you carefully combine the ingredients into a healthy salad, the pleasure will be almost the same, but the benefits will be bigger! For this recipe, you need to prepare the meat and then just make it into a salad full of veggies, herbs, and a little bit of your favorite salad sauce.
4. Lasagna Stuffed Portobellos
Stuffed mushrooms? Yes, please! This low-carb recipe will definitely satisfy your food cravings without loading your body with tons of calories. Plus, this is a very nice recipe for a lunch or dinner with guests, so you might want to save this one. To prepare it at home, you need portobello mushrooms, mozzarella and cottage cheese, Italian sausage, and chopped parsley for garnish.
5. Grilled Lemon Herb Mediterranean Chicken Salad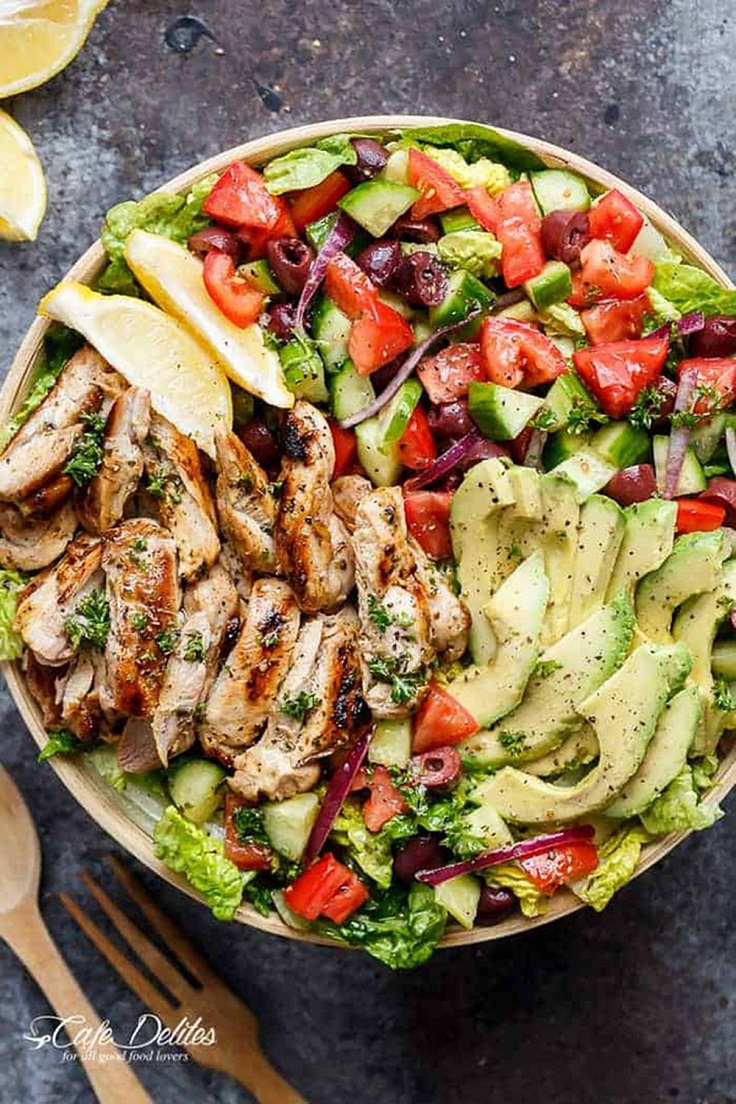 via cafedelites.com
Ready in less than 300 minutes, this recipe will make you change your attitude towards salad as a meal that will get you hungry again in no time. This salad is loaded with so many healthy and tasty ingredients, and the best part is that it contains about 200 calories! Mix your favorite veggies and spices with sliced grilled chicken, and enjoy your super healthy and delicious lunch.
6. Sheet Pan Eggs with Sausage, Asparagus, and Goat Cheese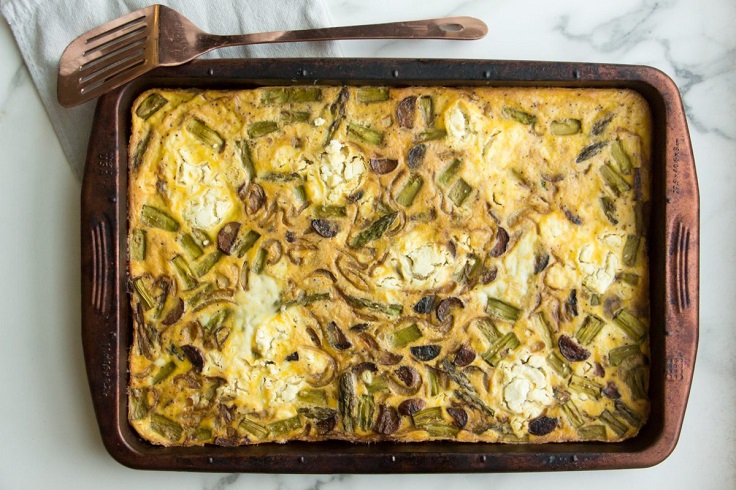 via onnit.com
Eggs play an important role in the keto lifestyle, so many times you will see them included in many recipes! One of our favorite egg recipes is exactly this sheet pan eggs with sausage, asparagus, and goat cheese. It's super easy to prepare, and it also takes just 20 minutes to be ready, which makes it a great recipe for busy days. For serving, you can add sliced avocado or more arugula on top of each egg square.
7. Cheesesteak Casserole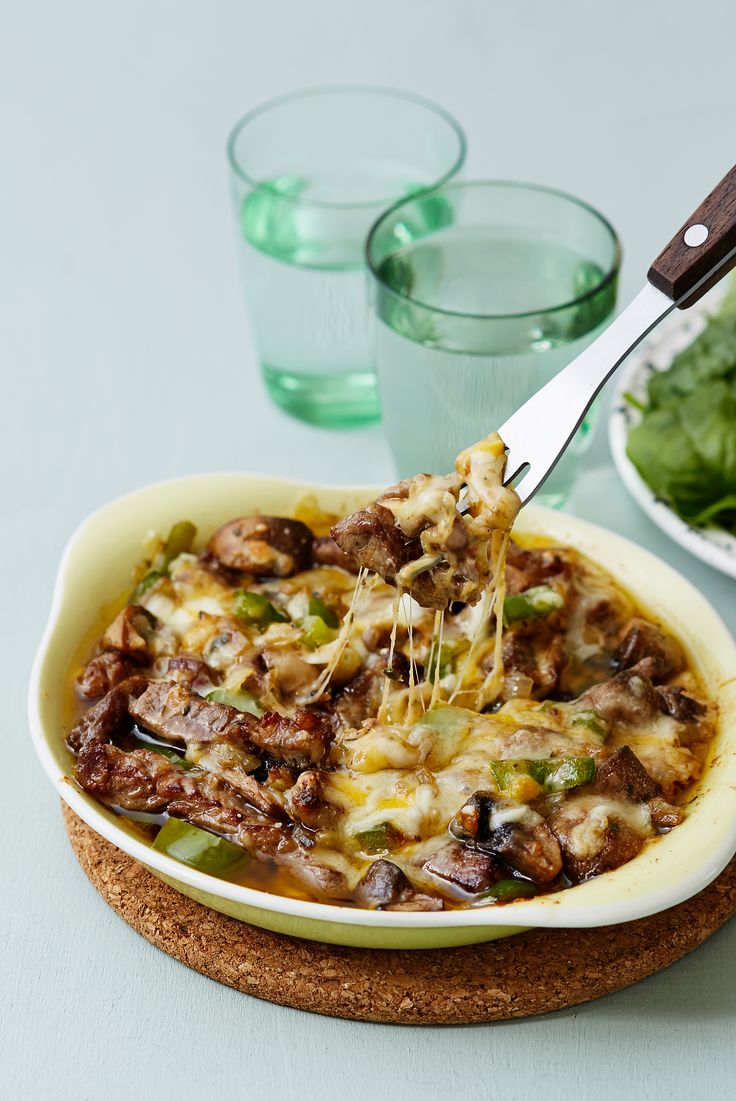 via dietdoctor.com
Forget the Philly cheesesteak – this one is much healthier yet equally delicious! We're talking here about a great casserole with ribeye steaks and Provolone cheese with many other ingredients that make it such a super delicious lunch for any occasion. If you're running short on time, switch from ribeye steak to deli roast beef.
8. 

Chicken Thighs with Creamed Spinach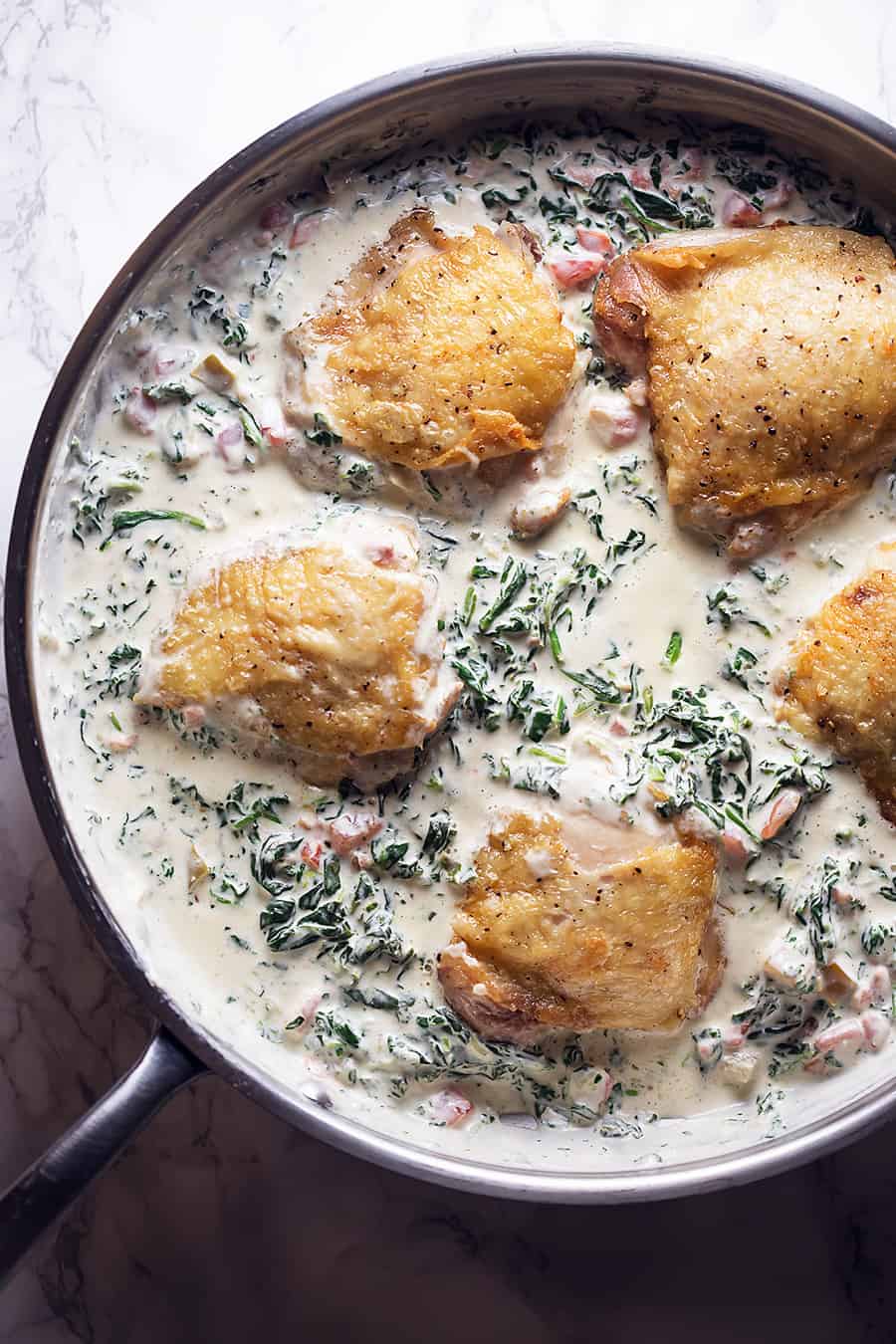 via jenniferbanz.com
Spinach and chicken are a well-known combination, especially when there's creamy sauce added. This recipe will be the lunch you need, and if there are any leftovers of it, you can definitely eat it for dinner. The good thing about the creamy spinach sauce is that it can actually be served as a dip as well, so instead of eating it with chicken, how about some crackers?
9. Buffalo Chicken Meatballs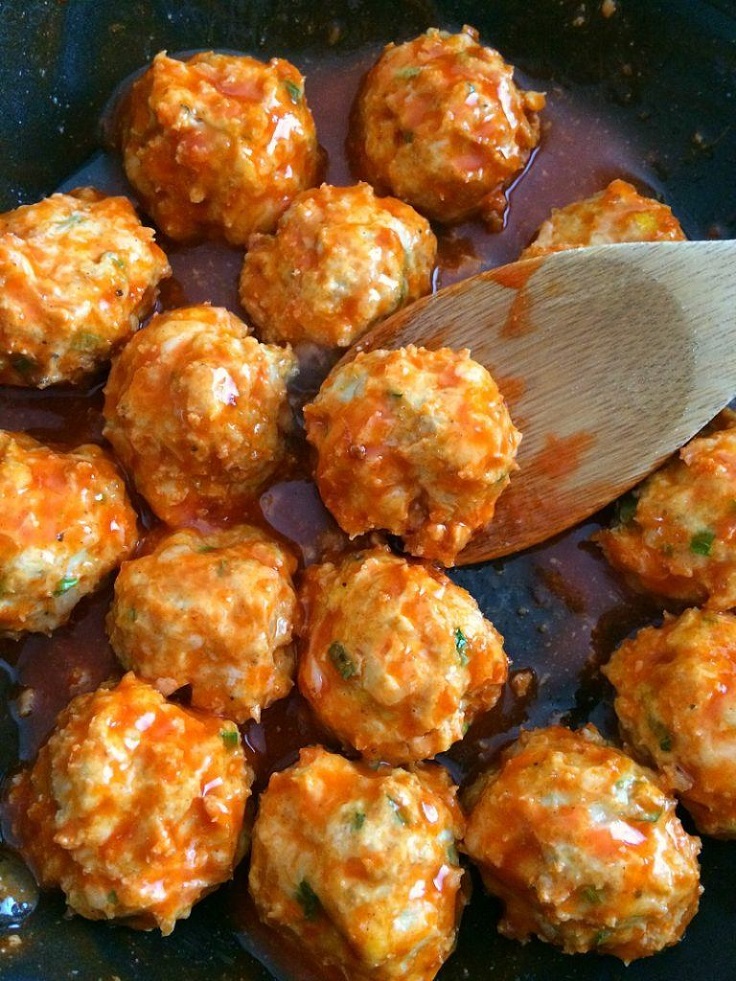 Meatballs are a classic recipe, and it is something that should be in your cookbook, no matter if you're a beginner or already advanced at cooking. Although you use minced meat for the meatballs in the original recipe, in this one, you use ground chicken. You can serve them with veggies or other keto-approved side dishes.
10. Cashew Crusted Salmon with "Ponzu" Sauce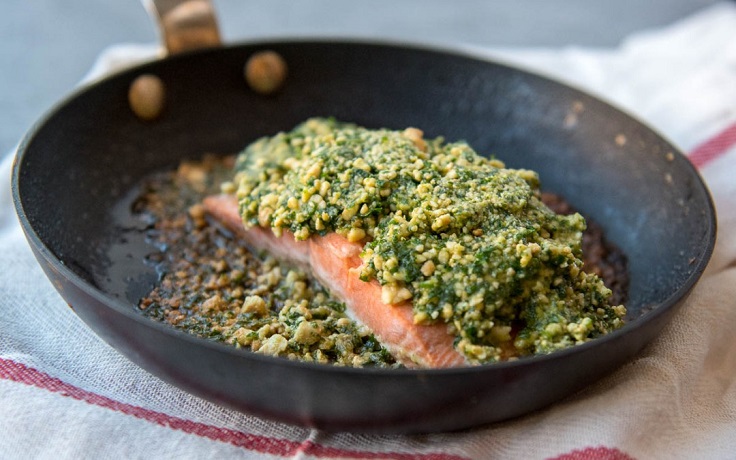 Salmon is one of the healthiest foods thanks to which is very beneficial to our health. It is rich in protein and in omega-3 fatty acids that can reduce the risk of heart diseases and help us maintain a healthy weight. So, it's definitely a good idea to include salmon in your lunch, and we recommend you this salmon with crushed cashews and "Ponzu" sauce. It's super easy to prepare, and it's very delicious!