At first, when you hear about a combination of caramel and onions, you might think that that's something you'll never try; how can those two flavors go well together? But, it's a combination worth trying, and after that, you would like to use it as an ingredient in other meals as well.
Making the caramelized onions is very easy. You cook the onions for over an extended time, and then the sugar of the onions combines with the caramel, and you get an interesting mix of flavors. The next step is adding the caramelized onions in other meals, such as pizza, burger, or salad, whatever that is on your menu that day.
If you are out of ideas on what to prepare for caramelized onions lunch, check out the ten recipes below. They all are simple but very delicious lunch meals.
1. Salad with Caramelized Onions and Sweet Potatoes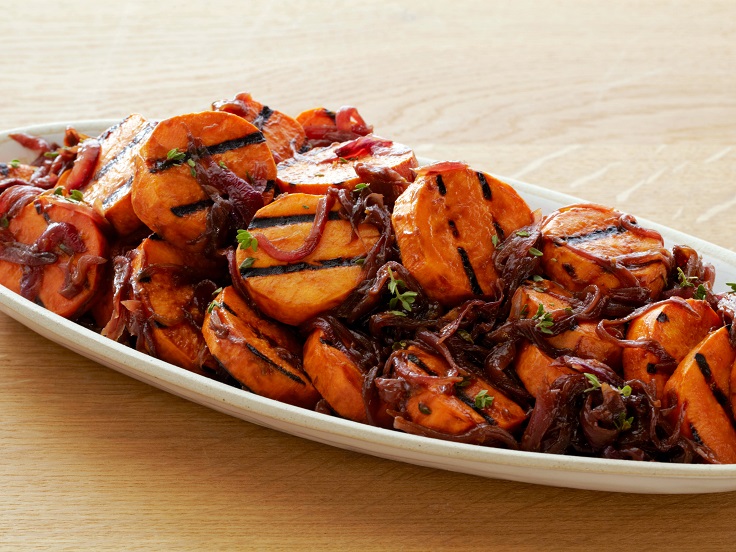 via foodnetwork.com
Making this salad is very easy, and the recipe makes enough for four people. You cook the onion over medium heat until it gets its brown color, and first you add mustard and vinegar. After two minutes, remove from heat and add honey, orange zest, and thyme, and stir to combine. Meanwhile, season the potatoes with salt and pepper and grill them on each side until they are ready. After that, put the potatoes in a bowl and combine them with the onion mix.
2. Chicken Burger with Caramelized Onions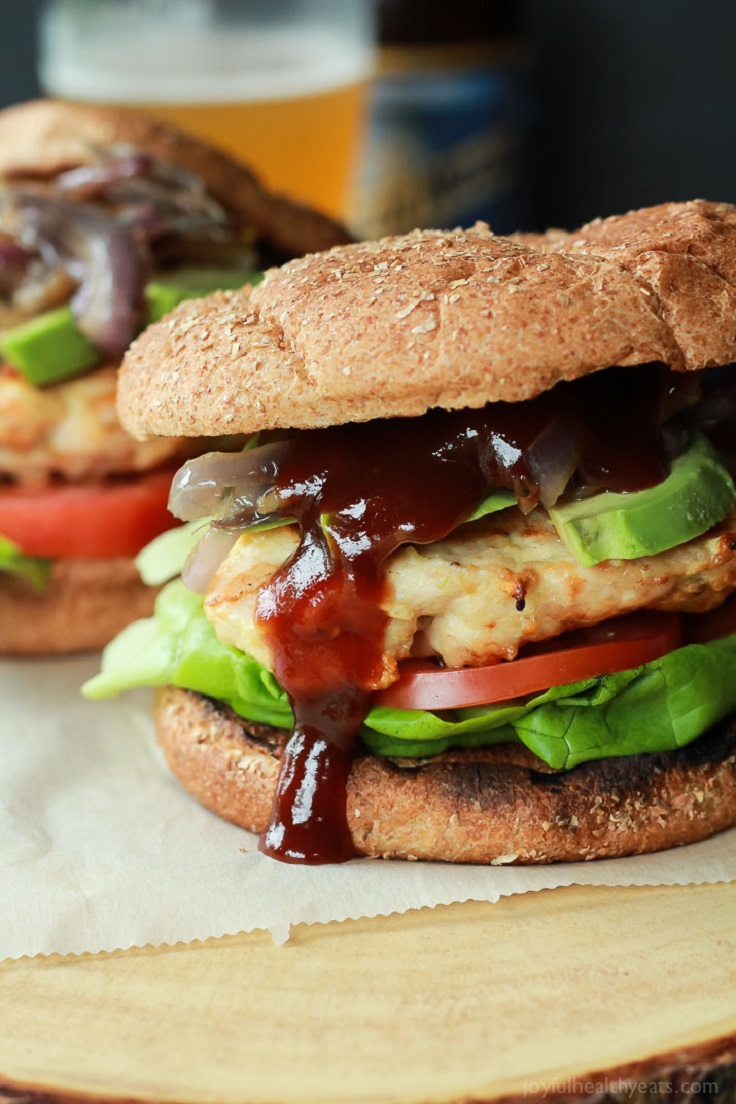 Look at that super tasty burger. The warm bread buns, the tasty chicken, the spicy BBQ sauce, and yes, the caramelized onions on top. You can have this burger in less than twenty minutes – it's that simple! The order goes like this, starting from the bottom to the top: place the lettuce, one or more pieces of tomato, one grilled chicken pattie, one or more pieces of avocado (if you think avocado goes with this at all), then you put the caramelized onion and on top, the BBQ sauce.
3. Acorn Squash, Caramelized Onion, and Goat Cheeze Pizza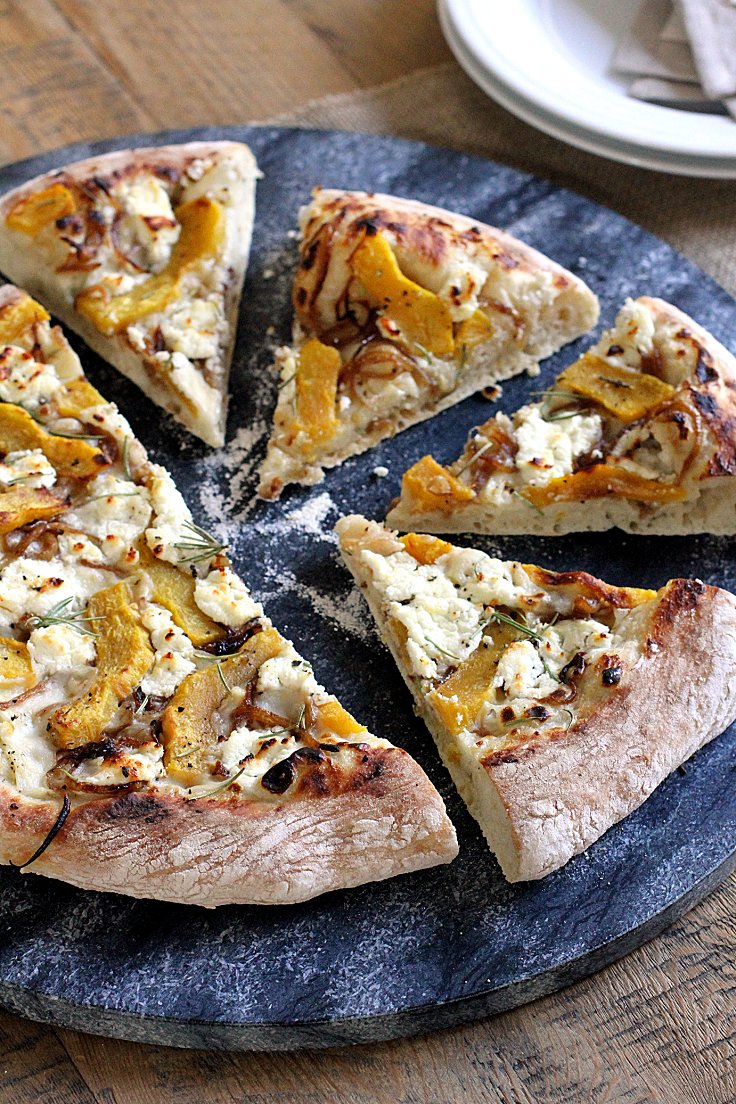 The pizza is always a great choice when it comes to easy, super delicious meals. It will always be a successful choice too, because everyone loves it, and there's no way someone would pass and not take a piece. This recipe doesn't include the classic pizza with pepperoni, mushrooms, or cheese, but it's as delicious as those we are used to eating all the time. This one is super tasty thanks to the caramelized onions, acorn squash, and the goat cheese. The recipe is all about combining different flavors. Besides the caramelized onion, you prepare a roasted garlic béchamel, and you add fresh rosemary and ground black pepper.
4. Potatoes with Caramelized Onions, Mushrooms & Bacon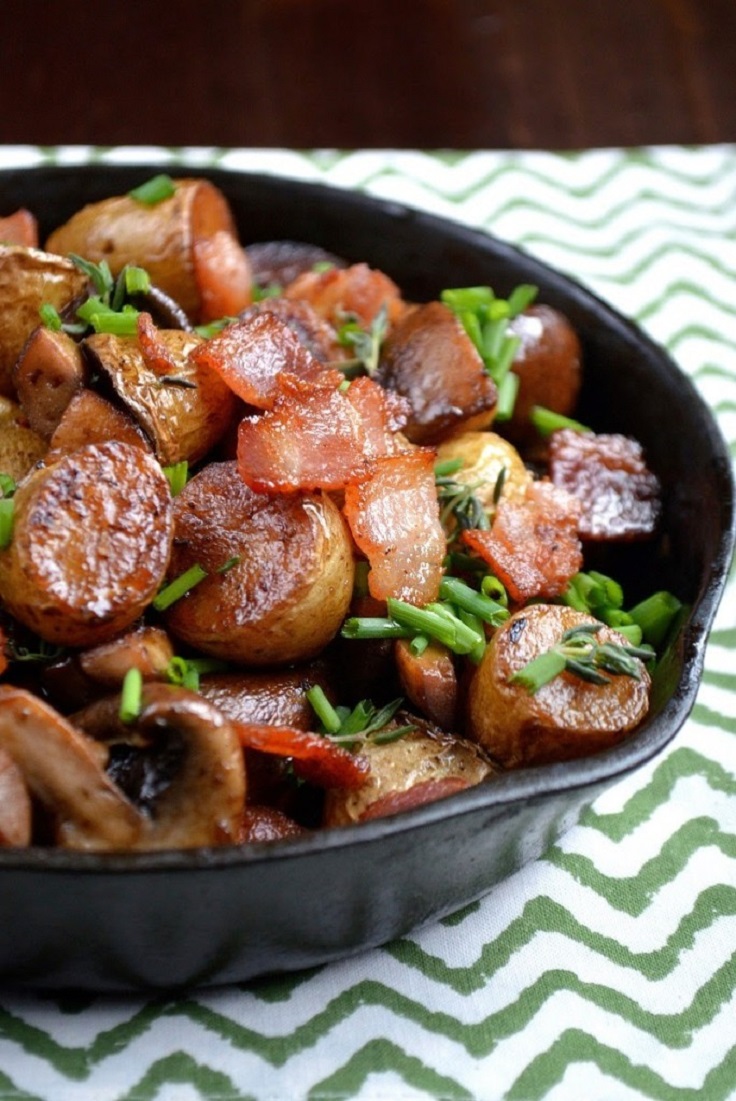 The preparation time for this potato dish with caramelized onions is thirty minutes, and the recipe will make enough for 8 plates. The main thing about making this dish is seasoning the potatoes, the mushrooms, and the onions. The preparing part is very easy. First, you caramelize the onions. Next, you sauté the potatoes until they get crispy and add the mushrooms, the garlic, and the bacon. When everything is well cooked, top with the chives and the cheese.
5. Portabella Mushrooms with Goat Cheese and Caramelized Onions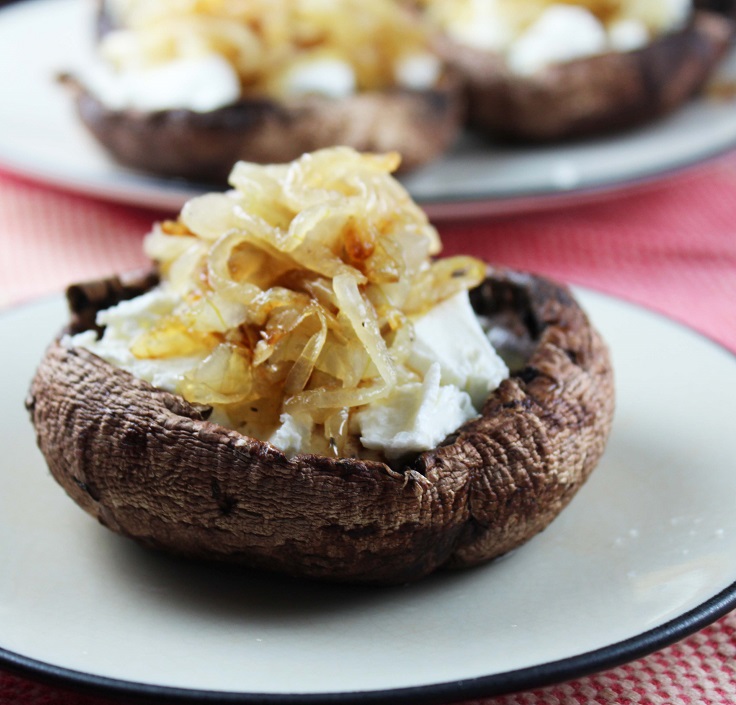 via spiceamecooks.wordpress.com
For this mushrooms meal, first, clean the mushrooms and then put them in a baking pan with a foil and season them with salt and pepper. Bake them for 15 – 25 minutes, depending on the mushroom's size. While the mushrooms are baking, prepare the caramelized onions, and when everything is done, on the top of the mushroom, add one 1 ounce of goat cheese and add the caramelized onions.
6. Caramelized Onions Crostini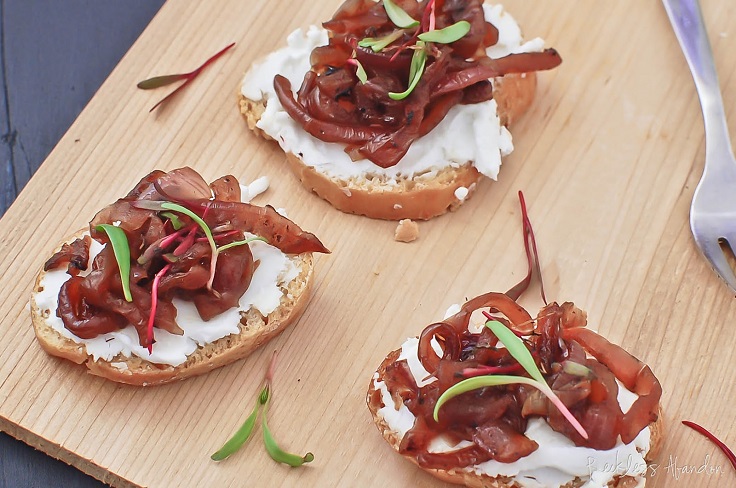 The crostinis are always a good food idea on what to serve at parties or gatherings. They are easy to make, they aren't a heavy meal, and they don't do mess while eating them. This recipe is very simple. The first step is caramelizing the onions, and after that, slice the baguette, put the slices in a baking pan, brush them with oil, and put them in the oven. When they are done, leave them to cool for some time, and then add a thin layer of goat cheese. On top, place caramelized onions and thyme.
7. Pasta with Caramelized Onions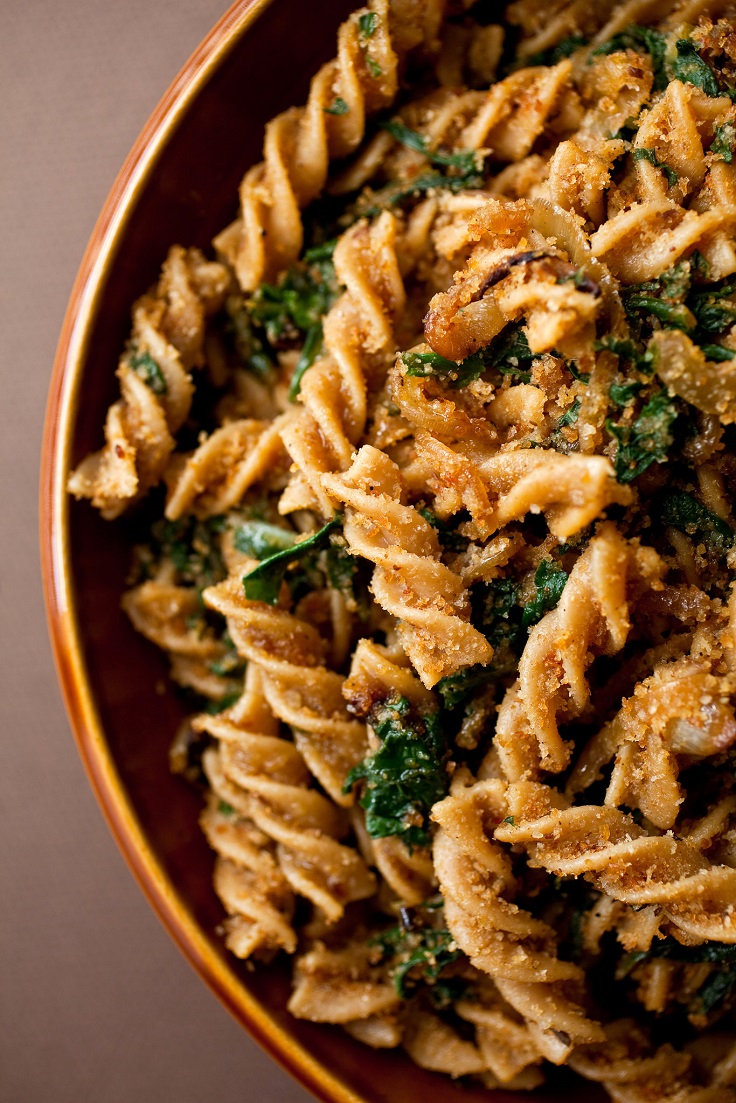 Caramelized onions even go great with pasta. Especially as in this case if you combine it with Swiss chard and garlicky bread crumbs. First, you cook anchovies together with garlic and butter, and you stir in the bread and toast until it gets a golden color. When caramelizing the onions, add the remaining anchovies and the Swiss chard. The final step is preparing the pasta, mixing it with the Swiss chard mixture and the bread crumbs.
8. Chicken Salad with Caramelized Onions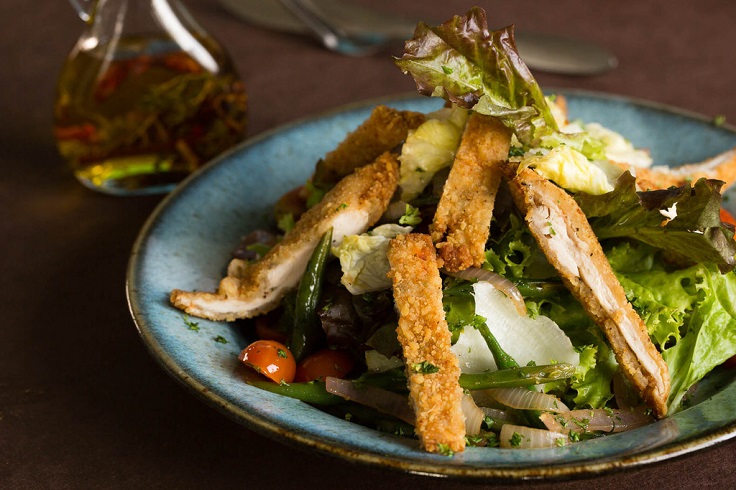 via freshmenu.com
If you are into a more light lunch idea, then the salad is always a great thing too it. It's easy to make, it's healthy and also very delicious. This one is an amazing combination of lettuce, beans, caramelized onions, cherry tomatoes, and chicken schnitzel. Adding spices is a good thing to do, especially if we are talking about oregano, thyme, curry, and so on. The salads are a mix of many ingredients, and don't be afraid to experiment with the food.
9. Caramelized Onions BBQ Grilled Cheese Sandwich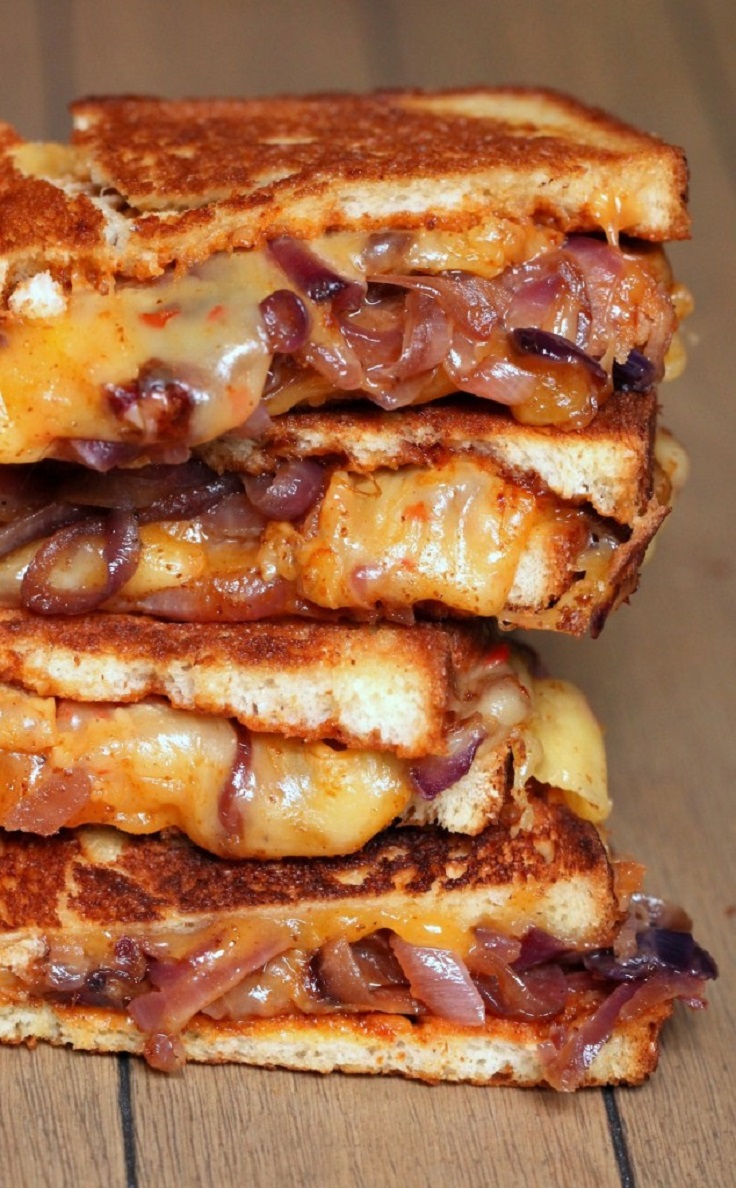 Grilled cheese lovers, you are going to love this sandwich. To make it, you need challah bread, sharp cheddar, spicy cheese, large red onion, butter, and BBQ sauce. When it comes to the cooking part, you cook two sandwiches at a time, and you flip them the moment they get golden, and the cheese starts to melt. If the cheese takes too long to melt, then you should try using a heavy skillet to place on top or to place a lid over the pan.
10. Caramelized Onions Tartlets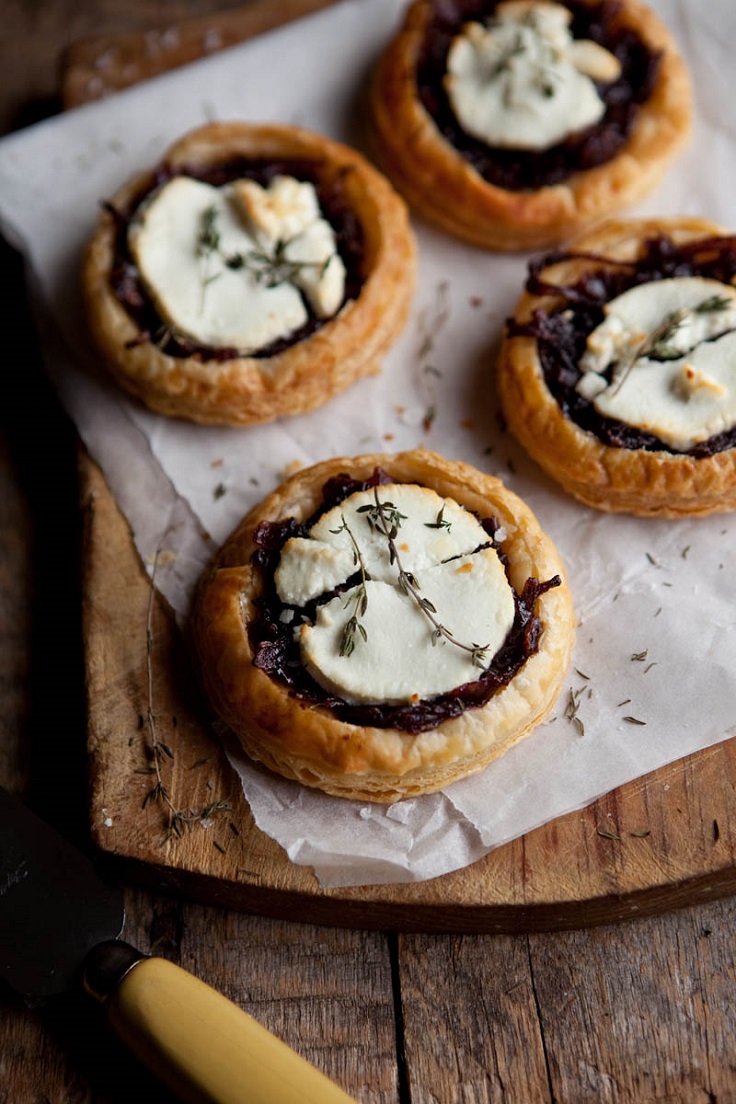 With this recipe, you will get eight medium tartlets in about an hour. But the recipe can be suitable for one bigger tartlet or more mini ones. Also, the tartlets are the best when served warm or cold on their own or combine with a salad. These tartlets also contain goat cheese, and from the previous recipes, it's hard not to notice that this cheese goes really well with the caramelized onions. When you combine these two with a pastry, you get a meal good not only for lunch but for breakfast and dinner as well.