Most parents want their children to make a healthy lunchbox to school. After all, studies have shown that a nutritious lunch helps kids perform better educationally.
Where's the protein? Why no veggies? Where's the oatmeal? That's not enough milk! You want your kids to have a variety of foods but balanced meals.
At the same time, parents want their child actually to eat their lunch! Looking for a healthy, balanced, yet tasty school lunch for your kid?
Don't worry! Here you can find the top 10 ideas for lunchbox friendly alternatives to the humble sandwich for your little ones can feel good about.
1. Disney Character Lunchbox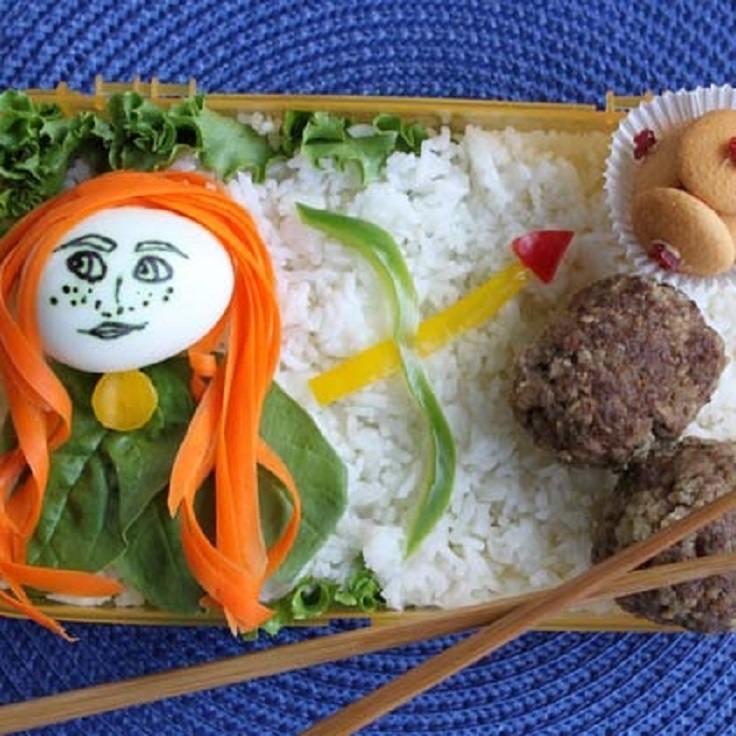 This special school lunch is fit for a princess and draws inspiration from Princess Merida and her Scottish Highlands home. Fill in the background with seasoned rice or mashed potatoes. You can add a hard-boiled egg, baby spinach leafs, carrot, meatballs, and vanilla wafers with dried cranberries for the dessert. Yummy!
2. Mini Pumpkin Pancakes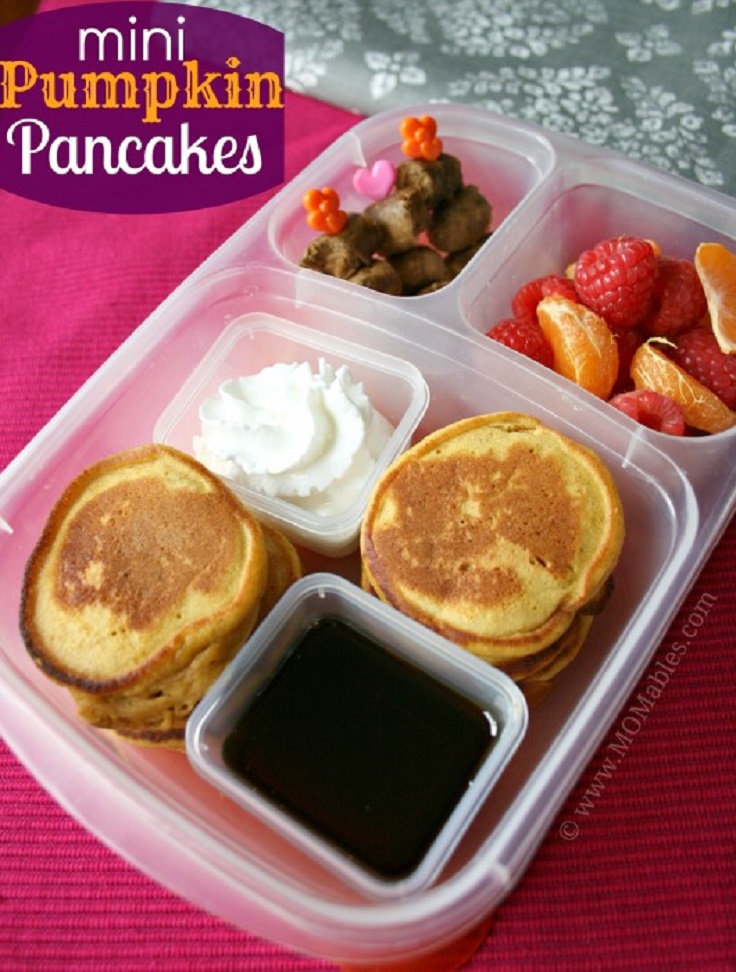 via momables.com
Every kid loves pancakes, so why don't you make it for lunchbox. Here you can find a tasty recipe for pumpkin pancakes. Make some mini pancakes and pack some syrup and fresh whipped cream for dipping. Delicious!
3. Stuffed Brussels Sprouts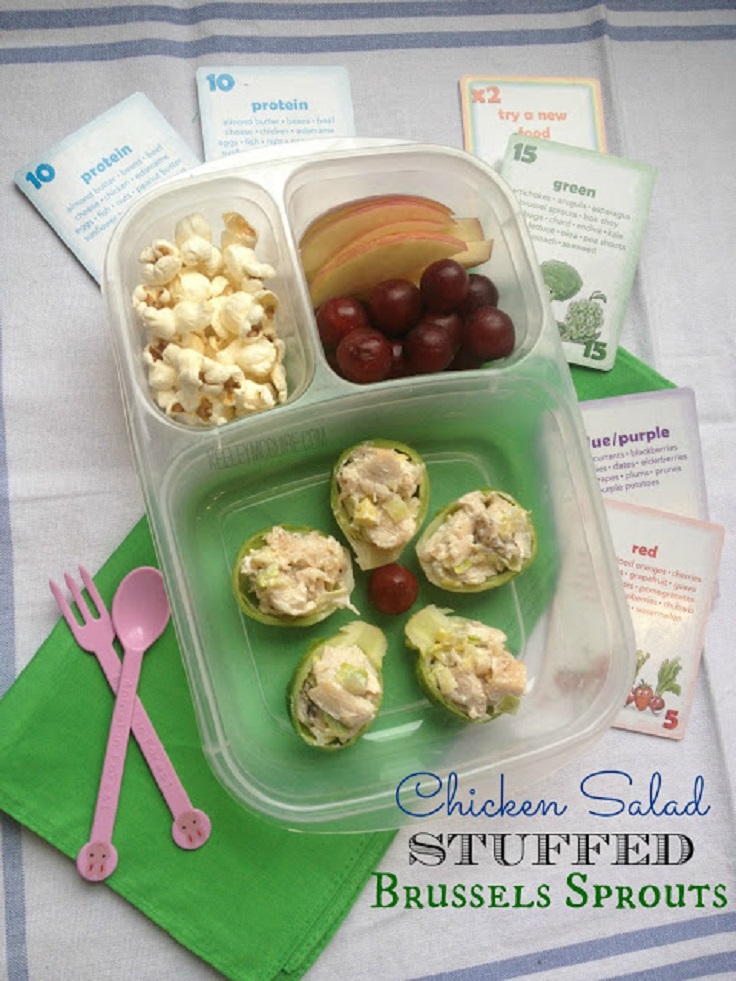 via keelymcquire.com
This is a wonderful idea if you like to introduce a new food to your kids. Brussels sprouts staffed with chicken salad are a great way to add some proteins in combination with vegetables. And for dessert, you can add some apple slices and grapes. Delicious!
4. Healthy Taco Salad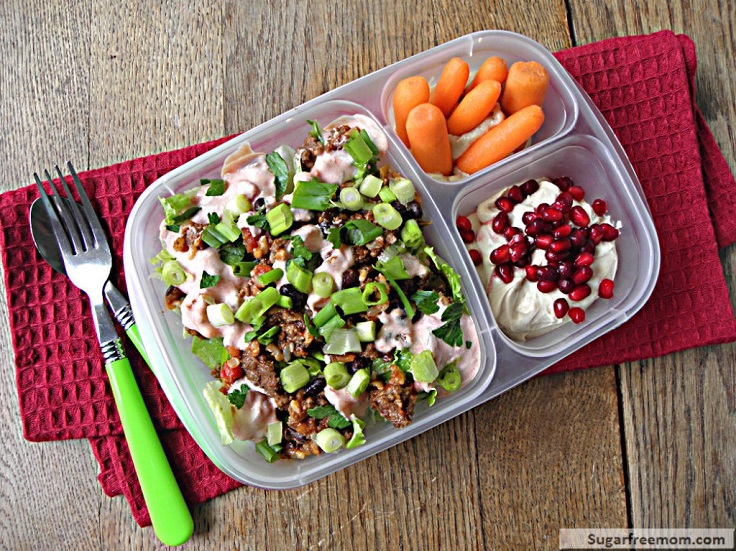 via sugarfreemom.com
This healthy taco salad cooks up quickly on the stove, and it is a totally yummy lunch. You can serve this taco salad with carrot and hummus, and for dessert, peanut butter mousse and fresh pomegranate seeds.
5. Spinach Artichoke Cups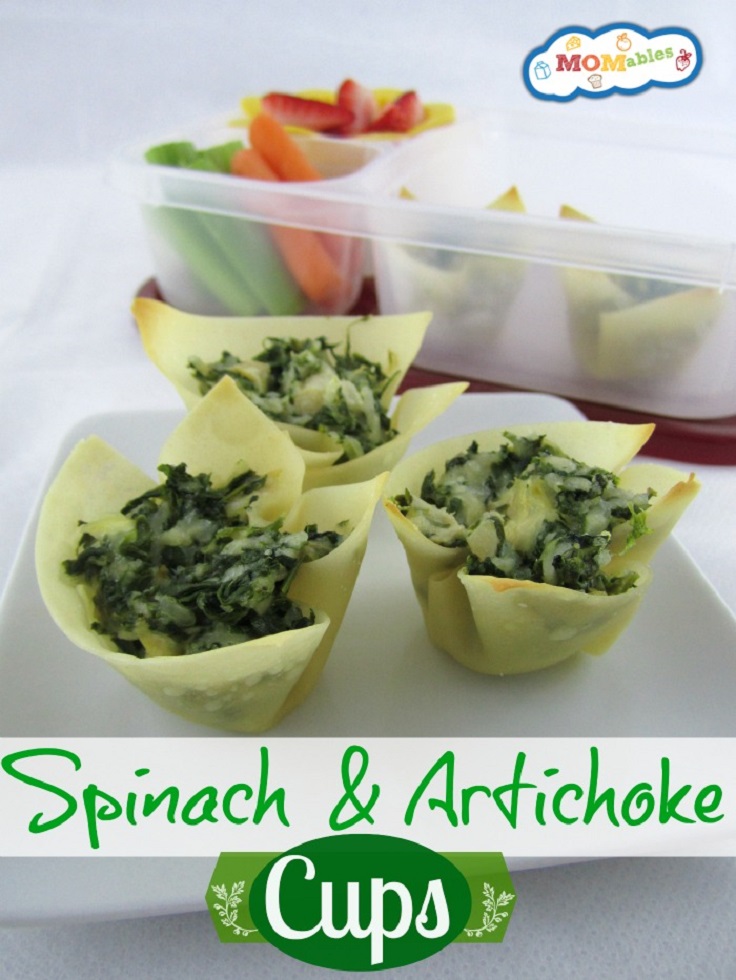 via momables.com
Prepare this delicious spinach-artichoke dip in bite-size form, which is perfect for the lunch box.  You can find here the recipe, all needed ingredients, as well as cooking instructions. These bite-size spinach artichoke cups are not only easy and simple to make, but they are also delicious! You have to try it!
6. Kids Sushi
Here you can find one interesting idea for preparing your kid's lunchbox. Put the heart-shaped rice in the lunch box with the roasted seaweed, sliced peppers and carrots, and edamame. Hmm, Yummy!
7. Cream Cheese and Ham Pinwheels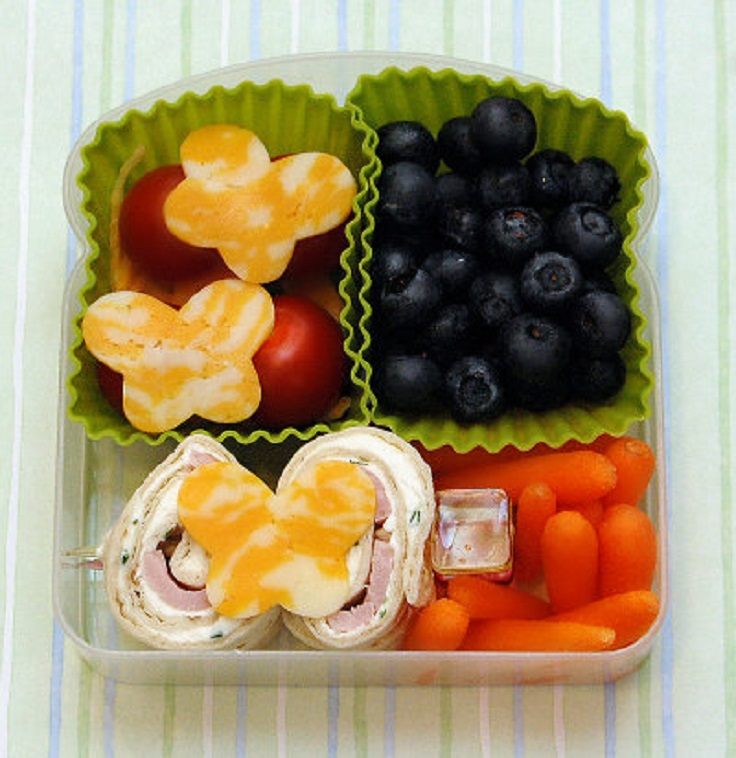 This is one of those recipes that probably everyone has in their back pockets. And the possibilities for ingredients are endless, as shown by this spicy tortilla roll-up. You can add baby carrots, cherry tomatoes, blueberries, a few cheese butterflies, or simply add some of your kid's favorites.
8. Mushrooms and Carrot Pancakes
via theroxbox.com
You can make a basic pancake batter or use Bisquick, then add some mushrooms and carrot. Here you can find the recipe for the pancakes. You can serve pancakes with a variety of fruits and vegetables, along with some sausage.  You can also make a simple maple-balsamic syrup to accompany the savory pancakes. Hmmm, mouth-watering!
9. Carrot-Berry Applesauce Lunchbox
This applesauce is a super-easy way to get three full servings of fruits and veggies, without complaint! You can send it to school in containers or those fun new reusable pouches. This carrot-berry applesauce is very easy to make here; you can find the recipe. Enjoyable!
10. Pasta Based Bento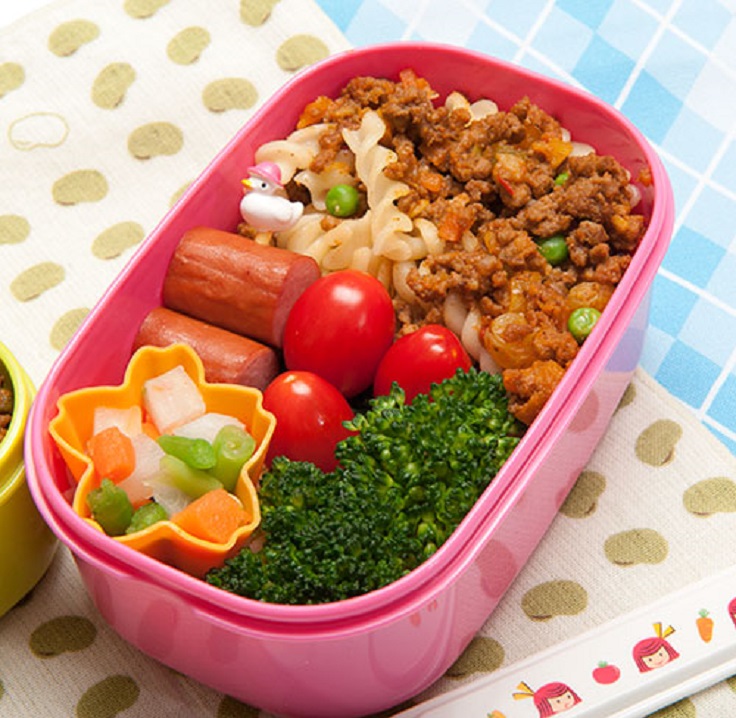 via justbento.com
Here you can find a lovely idea of making bento (single-portion takeout or home-packed meal common in Japanese cuisine). About 2-3 tablespoons of the soboro are mixed with some fusilli (or any short pasta). Two pieces of sausage are skewered with the duck-shaped pick. You can add cherry tomatoes, boiled broccoli with some mayo on the bottom to mix in, and some mixed veggies with tiny cheese cubes in the flower-shaped cup. Delightful!