Chicken, fish, beef, vegetables, especially the grilled, it all is very tasty when it comes to skewers. They are all very easy to make, and what's very important is that they are very delicious. You can combine, so if you are a meat lover, than you can make them with more meat, and if you are vegetarian you can focus more on the veggies.
However, the skewers are a good lunch idea for Sunday barbecues in the backyard, for a gathering with the friends or relatives, or even for a regular lunch. If you are looking for recipes, scroll down and check out these ten, all of them with different ingredients in order to satisfy your taste.
1. Sriracha Shrimp Skewers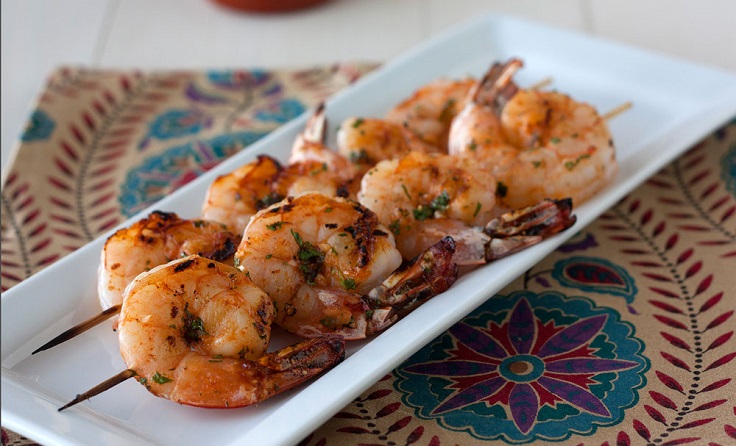 via noshon.it
This is a very delicious combination of large, grilled shrimps glazed with Sriracha sauce, lime and honey. You can't taste the last two that much, but they surely add to the depth of flavor. So what you get is a spicy lunch, but if you're not into that much of spiciness, then you can cut down with the Sriracha. What you need to make this super easy skewers is Sriracha sauce, honey, fresh lime juice, cilantro, large shrimp, salt and black pepper.
2. Caprese Skewers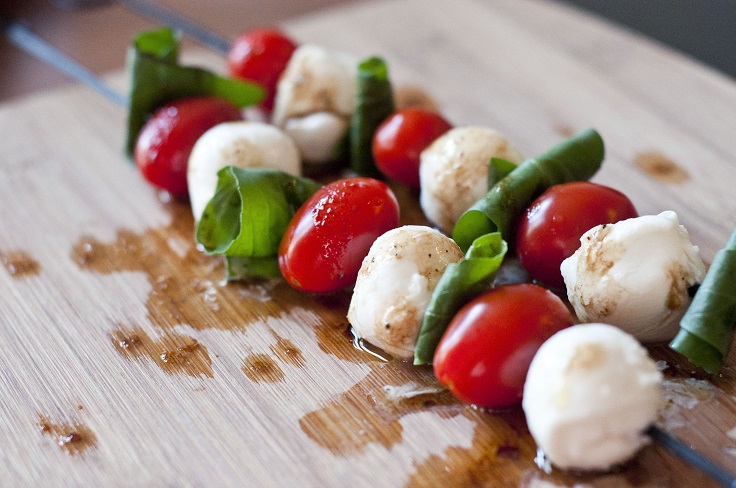 via dishmaps.com
These skewers are very Mediterranean! You can taste the wonderful mozzarella combined with cherry tomatoes, basil leaves, an all this sprinkled with salt and pepper, drizzled with olive oil. You need exactly six ingredients to get these amazing skewers, which are perfect fresh appetizer for any occasion, especially if you are hosting a party.
3. Grilled Chicken Teriyaki Skewers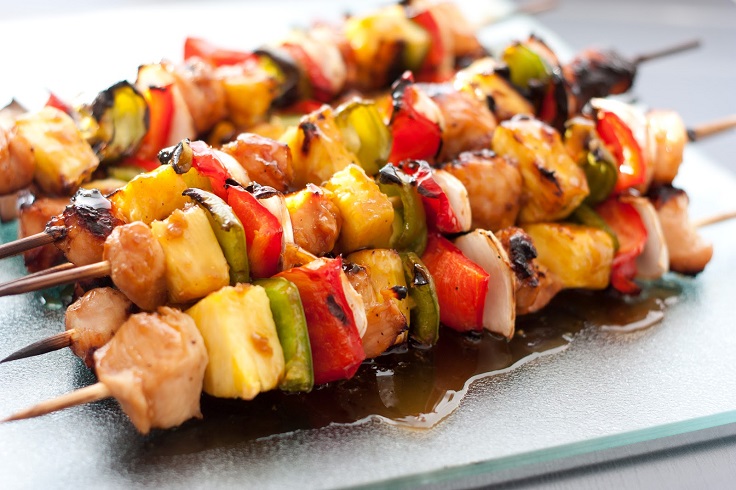 This recipe provides you with fruit, vegetables and lean protein of the chicken, so if cooked with the right oil, the skewers can be even considered as healthy. When it comes to the marinade, you need few ingredients in order to get the taste, such as fresh ginger, soy sauce and orange marmalade. After having the chicken pieces done, then you can brush them with the teriyaki sauce. You can eat these skewers with rice or potatoes, and that's your further choice.
4. Spiced Salmon Skewers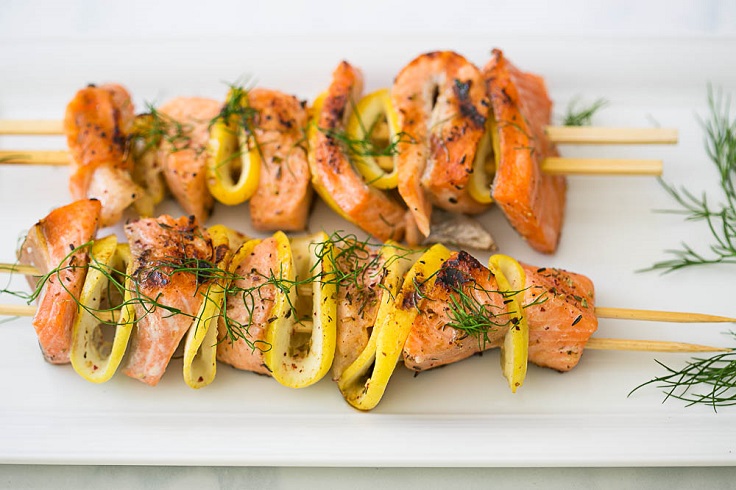 via cooksmarts.com
You only need less than thirty minutes to make these super tasty skewers, so they are a good idea if you don't have the whole day to spend it in kitchen. Besides the salmon, you need other ingredients that add to the depth of these skewers' taste, such as oregano, lemon and coriander. If you want to, you can combine the salmon skewers with rice, potatoes or other vegetables.
5. Coconut and Lime Pork Kebabs Skewers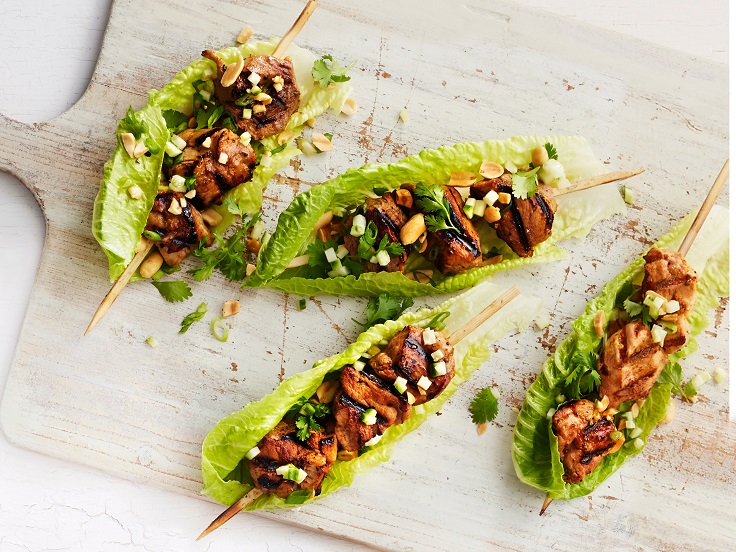 via foodnetwork.com
If you can spend more time at the kitchen and are wondering what to make for you, your family or friends, these skewers are a good idea. They need approximately an hour and half to be made, but the effort you put will be so worth it. You are going to know this when these pork kebabs skewers will be gone in a minute and everyone will be asking for more.
6. Chesapeake Bay Skewers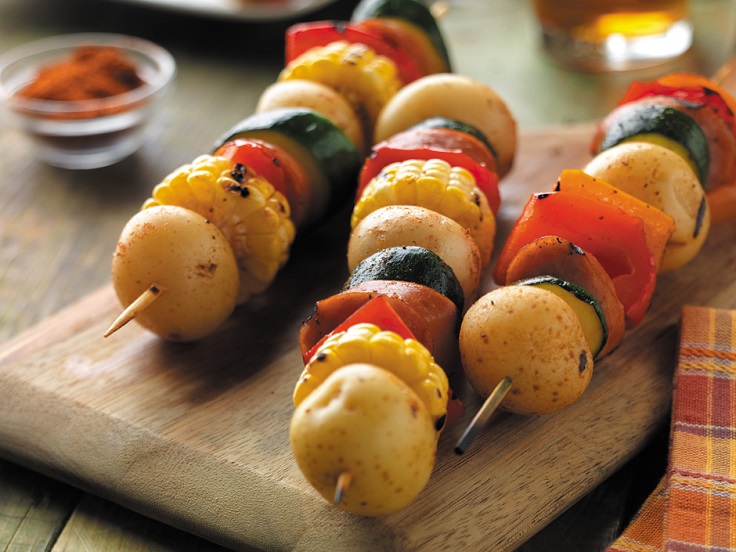 You can keep this recipe as vegetarian, but if you prefer you prefer you can add meat, such as sausages. This recipe is really delicious, and not only that but it also is a light meal, perfect when the day is hot and heavy. What you need to make these skewers are potatoes, corn, zucchini, butter to add some smooth texture and pepper to make it a little bit spicy.
7. Caprese Pita Skewers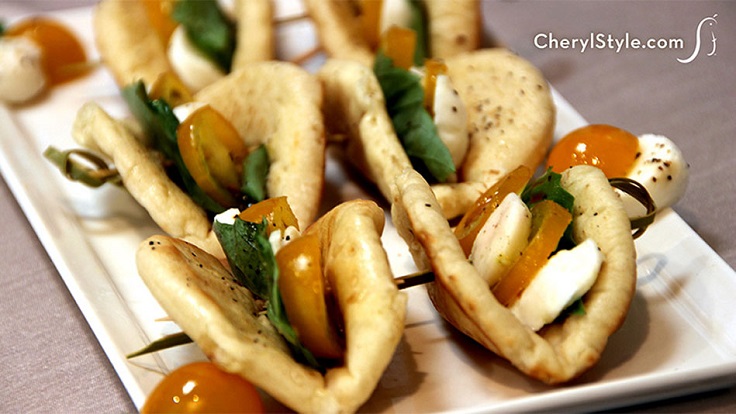 via oprah.com
These pita skewers are one of the easiest lunch/appetzier recipes recipes ever. You only need pita bread, cherry tomatoes, mozzarella and basil. But, these pita skewers can easily turn into a skewer version of the Greek gyro, by putting a pork or chicken pieces and some potatoes inside. Make sure you have more of these, because the gyro skewers would be something quite hard to say "no" to!
8. Citrus Beef Skewers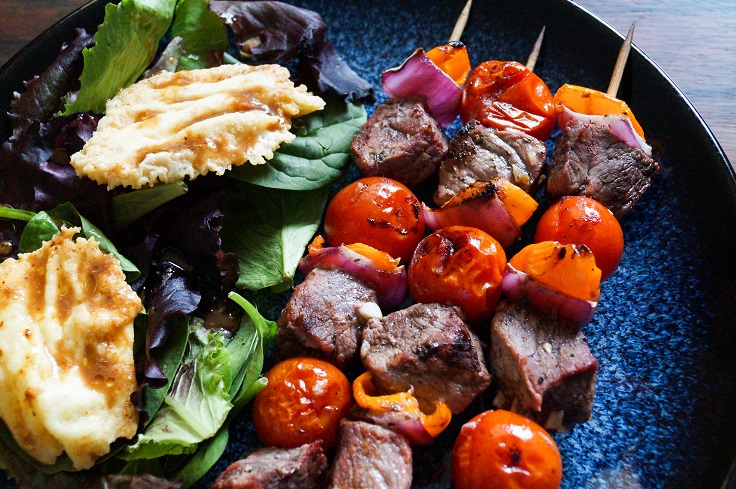 via tarasmulticulturaltable.com
If by any chance you are a beef lover who has three hours to spend in the kitchen, then this recipe is the perfect lunch idea you might be looking for. These skewers have amazing marinade, which includes olive oil, garlic, wine, thyme and grapefruit. Half of this you use for the meat when you leave it in the refrigerator, while the other half while grilling it.
9. Grilled Summer Vegetables Skewers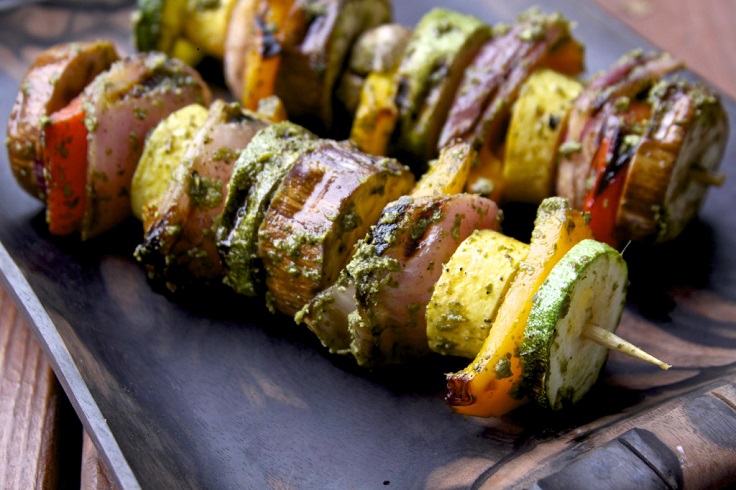 With summer coming soon and the days are warmer and sunny, it's a wonderful idea to grill something in the backyard. If you're not into meat, there's another way to get yourself another tasty skewer lunch. For this recipe, you only need fresh vegetables to grill. In about twenty minutes you are going to have super tasty veggie skewers.
10. Grilled Bacon Wrapped Asparagus Skewers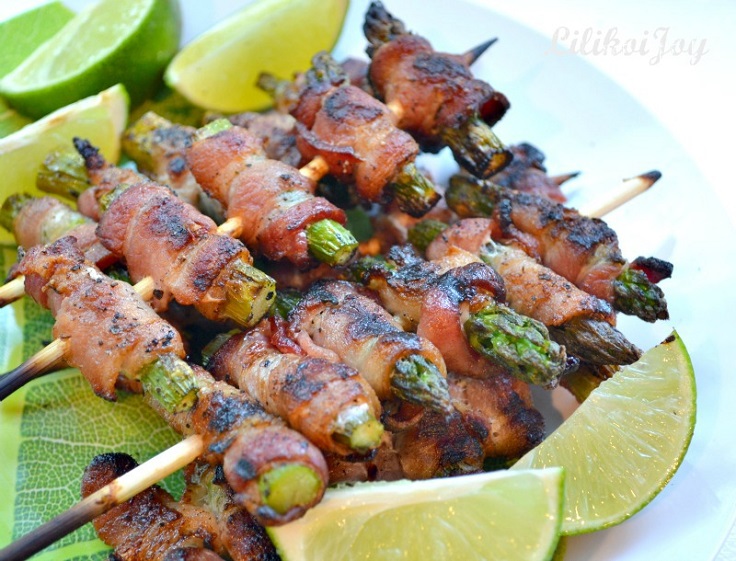 via lilikoijoy.com
Bacon lovers, here's a skewer version for you. Besides the wonderful, crispy bacon, you need asparagus, olive oil and limes. In so few ingredients, you can make delicious skewers for you and your family, not just for lunch, but for other gatherings as well. The recipe is quite easy, you just need to follow the instructions well.