Losing weight is never easy, especially when it comes to food. If you're used to eat all things delicious and greasy, switching to healthy food can be really hard. However, you need to realize that delicious also means healthy!
Ahead you can find ten lunch ideas, all served in bowls. You will see yourself that there is a lot to be tried and that there are many ingredients that you can mix and come up with a bowl full of deliciousness! You will find these recipes extremely helpful if you're willing to lose weight the proper way. Feeding yourself healthy is very important on the long run, so make sure you do your best!
1. Farro & Garbanzo Bean Bowl
via mycaliforniaroots.com
You might want to write down this recipe for busy days, because it's done in just 15 minutes! You need the following ingredients: 8 oz quick-cook farro, 2 tsp olive oil, 2 veggie sausages, 1 can garbanzo beans, 1/2 tsp paprika, 1/2 tsp cumin, pinch salt, 2 big handfuls spinach, fresh cracked black pepper and hot sauce. One bowl contains 586 calories, so you will definitely feel full after eating one bowl. Keeping one for dinner can be good idea as well.
2. Peanut Tofu Buddha Bowl
via popsugar.com
Tofu lovers, this bowl is for you. You need: 2 cups cooked brown rice, 1 cups shredded carrots, 2 cups spinach leaves, 2 cups broccoli florets, 2 teaspoons olive oil, 1 cup chickpeas, 16 oz. extra firm tofu, salt and pepper. What makes this bowl even more delicious is the peanut sauce used as dressing. To prepare your own peanut sauce, make sure you have: 2 tablespoons toasted sesame oil, 1/4 cup low sodium soy sauce, 1/4 cup 100 percent pure maple syrup, 2 teaspoons chili garlic sauce and 1/4 cup creamy or crunchy peanut butter.
3. Teriyaki Sockeye Salmon Bowls
via cravingsofalunatic.com
Salmon is one of the healthiest foods you can eat, so make sure you consume it often. The fish is rich in protein and contains the omega-3 fatty acids that are really important when it comes to our brain functions, cardiovascular health and metabolism. There are plenty of ways to cook salmon, and this bowl is a perfect way to eat it. You need 2 pounds salmon, 1 cup Teriyaki sauce, 3 tablespoons good quality olive oil, 1 bunch broccoli florets, 1 bunch baby bok choy, 1 bunch asparagus and 4 cups prepared basmati rice.
4. Spicy Brazilian Burrito Bowls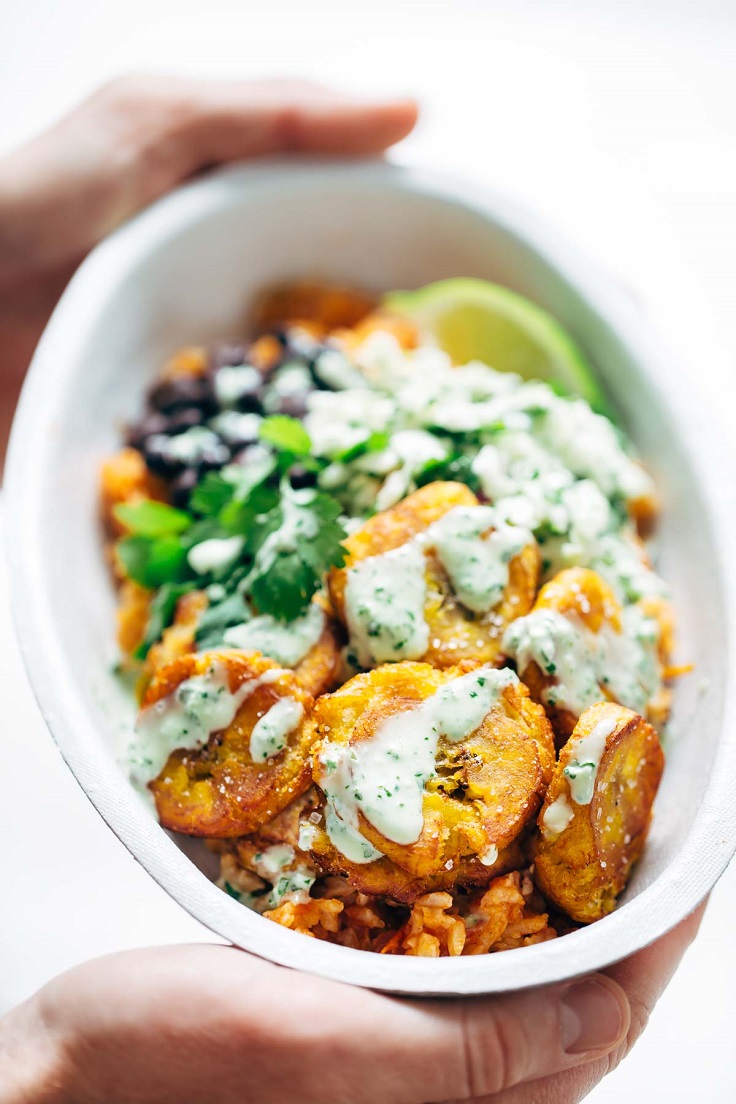 via pinchofyum.com
The recipe is a great way to taste the Brazilian cuisine. There are few things to prepare for the bowl, so first start with the rice. You need 1½ cups white long grain rice, 2½ cups water, 1½ cups salsa, 3 tablespoons tomato paste and 2 tablespoons oil or butter. Next thing to prepare are the black beans and you need 2 14 ounce can black beans and 2 teaspoons of each chili powder and cumin. We move to preparing the garlic cilantro slaw, for which you need ¼ cup each oil and water, ½ cup chopped green onions, ½ cup cilantro leaves, 2-3 cloves garlic, ½ teaspoon salt, juice of 2 limes, ½ cup light sour cream or plain Greek yogurt and 4 cups shredded cabbage.
5. Quinoa Power Bowl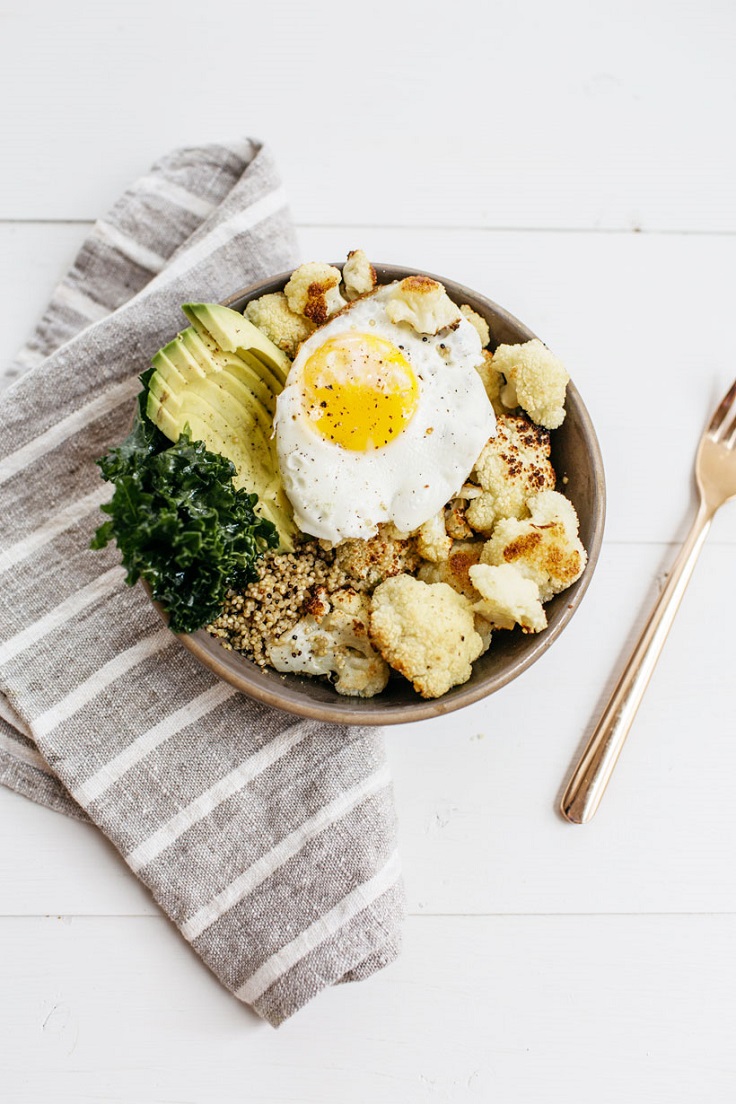 via camillestyles.com
Looking for super fast recipe where you don't need to cook and just toss everything in a bowl? In that case, this recipe is exactly what you need. Make sure you have the following ingredients: 1/2 cup cooked quinoa or any other grain, 1 egg, poached or fried, 1/2 cup any roasted vegetable and you can combine brussels sprouts, cauliflower and carrots, sautéed spinach or kale with garlic, 1/2 avocado and 1/2 cup shredded chicken, but this is optional. Just toss everything in a bowl and enjoy your healthy, delicious meal.
6. Asparagus Pea Pasta Bowl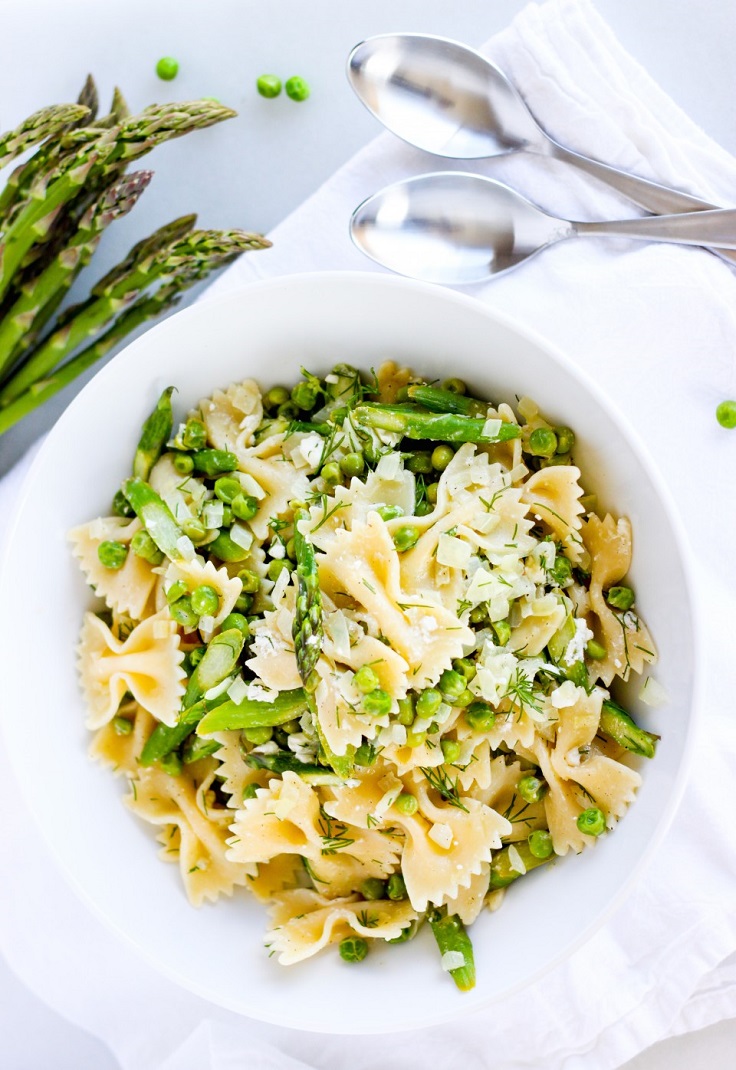 via blog.myfitnesspal.com
One of the food that you need to get rid off or at least eat it as less as possible, if you want to lose weight is the pasta. However, we can indulge this super tasty Italian dish without the meatballs or the sauces. Here's another way to eat it: with asparagus and peas. What you need exactly are the following ingredients: 2 cups uncooked bow tie pasta, 2 tablespoons unsalted butter, 1/2 medium onion, 1 clove garlic, 2 cups bite-sized fresh asparagus pieces, 1 cup frozen green peas, 1/4 cup crumbled feta cheese, 2 tablespoons chopped fresh dill, 2 tablespoons fresh lemon juice, 1/4 teaspoon salt and 1/4 teaspoon ground pepper.
7. One – Pan BBQ Chicken Burrito Bowl
via thekitchn.com
Here's how to transform the regular burrito into a lunch in bowl. To prepare the rice and the chicken, you need to buy the following ingredients: 8 ounces Roma tomatoes (about 2 or 3), 1 cup low-sodium chicken broth, 1 clove garlic, 1/4 medium onion, 3/4 teaspoon ground cumin, 3/4 teaspoon kosher salt, 1 tablespoon vegetable oil, 1 cup long-grain white rice, 1 bay leaf, 1 1/2 pounds boneless, skinless chicken breasts or thighs. To make it even more delicious, add 1 cup frozen corn kernels, 1 (15-ounce) can black beans and 3 tablespoons barbecue sauce. You can also use more toppings, such as cheese, cilantro, salsa or hot sauce.
8. Kimchi, Grains + Greens Bowl
via setthetableblog.com
Preparing a whole – grain bowl is really easy. You need to combine grains, eggs, something pickled or fermented, greens and avocado. For example, from grains you can choose quinoa, rice or farro. You can prepare the eggs the way you like them the most – boiled, fried or pouched. When it comes to fermented veggies, pick kimchi or sauerkraut, and from pickles, choose onions, cucumbers or radishes. So, pick the ingredients that you want the most and toss them all together in a bowl!
9. Vegan Cuban Bowls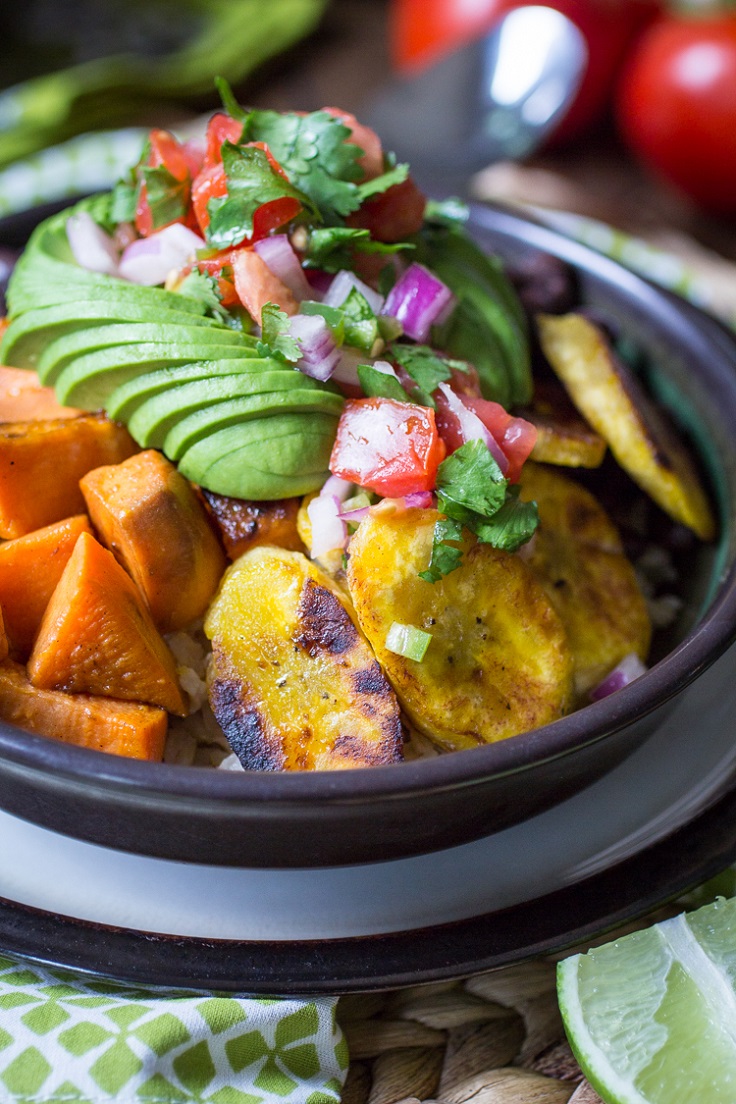 via thewanderlustkitchen.com
No matter if you're vegan or meat lover, either way you're going to love this recipe. You need to prepare two things in order have the bowl ready. First, for the Cuban bowl you need 2 tablespoons coconut oil, 2 cups cubed red sweet potato, 1 tsp. cumin, ½ tsp. salt, 1 large ripe plantain, 1 (14.5-ounce) can low-sodium black beans, 3 cups cooked brown rice, 1 avocado and lime wedges. For the Pico de Gallo, you need 1 cup diced tomato, 3 tablespoons chopped cilantro leaves, 3 tablespoons finely chopped red onion, 1 tablespoon minced jalapeno and ⅛ teaspoon salt.
10. Greek Quinoa Bowls
via peasandcrayons.com
If you can't go to Greece and taste the cuisine, then prepare it at home! It's really easy and delicious. The Greek quinoa bowls take only 15 minutes and we're pretty sure that you're going to eat them right away. What you need for these bowls are the following ingredients: 1 cup quinoa, 1 + 1/2 cups water, 1 cup chopped green bell pepper, 1 cup chopped red bell pepper, 1/3 cup crumbled feta cheese, 1/4 cup extra virgin olive oil, 2-3 TBSP apple cider vinegar, salt and pepper, to taste and 1-2 tbsp of fresh parsley. For extra taste, serve with pita wedges and top with olives and fresh tomatoes.